Libreville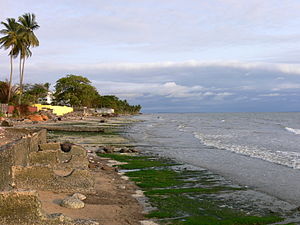 Libreville
is the largest city in and capital of
Gabon
.
Get in
By plane
By train
Libreville is the terminus of the Trans-Gabon railway, connecting with
Franceville
in the interior of the country. There are overnight services at least three times per week with a journey time of about 12 hours for the full length. The railway station, is located about 10 km south of the city centre, near the port.
Get around

The best way to get around in Libreville if you don't have a car are taxis. For a trip from point A to B the fare is negotiated with the driver depending on the distance. Fares will double after 21 hrs. From or to the airport 2000 FCFA, or 4000 after 21 hrs. (1000 FCFA = 1.5 euros, 10 000 FCFA = 15 euros). Taxis are less expensive when shared or for short distances (100 to 500 FCFA). You can usually pay 1000 FCFA in the day or 2000 FCFA to not share the taxi and travel a substantial distance (15-minute drive). The cars are not very secure (broken doors, no seatbelts), but if you insist on careful driving, the chauffeurs will try to oblige. Mini-buses (similar to taxis) are also available for longer routes. Klandos are yellow taxis that shuttle back and forth along the backroads on a fixed route. They cost 100 FCFA no matter the distance.
If you can afford it (expensive by European standards), you can rent a car with AVIS. You will not be allowed to leave the town by rented car. Do not expect to arrive at the airport (especially on Sundays and possibly also outside normal business hours (which includes siesta from 12:00 to 15:00)) and find car rental agencies open - pre-arrange! AVIS may be contacted on scavacas@cfao.com or +241 (1) 74 58 45. While it is reasonably easy by African standards to drive a car yourself in Libreville (provided you know your way around - buy a Gabon guide with maps at the newspaper shop to the right of the international check-in hall), it may not be a very cost-effective solution if you don't plan on moving around a lot.

Talk
In general do not expect people to speak English (except for some immigrant taxi drivers from West Africa). The official and most spoken language is French.

See
Libreville's greatest asset is, probably, the seafront (bord de mer) where people gather daily to relax by the Atlantic Ocean. All along the seafront you will find some Gabonese sculptures (some are 20 feet tall!) looking over the beach.
You could also go in Nzeng-ayong to see the Arboretum de Sibang which is a huge tree sanctuary inside Libreville which groups thousands of local species. (But make sure in advance that somebody will be there to open the gate. Once you are inside apply a huge amount of anti mosquito cream on your skin before entering the woods. The people there will remind you - they are very helpful).
The centre ville is also a nice area to visit, in which you are able to enjoy the nearby ocean breeze.

Do

Libreville is a place where people are very laid back and take things slowly. Don't worry about time and plans, and enjoy the city. There is not an exhaustive list of things to do. It is a true multicultural town; its people are very welcoming and will show you the true aspects of the city.
The Centre Culturel Français (next to Mbolo, the main supermarket) has a cinema and also hosts occasional expositions and concerts.
If you'd like to relax on a nice deserted beach, you could go to the Cap Esterias or to Cap Santa Clara, about 30 minutes by car from Libreville. The latter place can be reached by car during the dry season. During the rainy seasons one would need a real 4x4 to get there.
The Pointe Denis is another popular spot. It is a peninsula across the bay, close to Libreville. The boat trip takes 25 minutes and cost somewhat between 15 and 20 euros (10 000 and 15 000 fcfa) from the Michel Marine(Navette "Orangina") or Port Mole, Navettes "Beaufort", "Castel" and "Internet". The beach there is beautiful, with a stunning view of Libreville's seafront.

Buy
The city centre is great for shopping, yet surprisingly expensive. Mbolo is the main shopping centre, housing a Géant Casino (large French supermarket) and a large pharmacy as well as other shops. Other supermarkets include the Géant Ckdo on the Bord de mer, and Prix Import close by. CK2 next to the Casino Croisette sells whiteware (fridges etc.) as well as household tools, TVs, etc. In the same area, you'll find the Marché Artisanal where Senegalese merchants sell African instruments, jewelery, clothes, paintings, etc.
If you want to see the authentic African side of Libreville, you should go to the gigantic Marché Mont-Bouet. There are bargains a-plenty - but keep an eye on your valuables.

Eat
Eating at any good restaurant ends up costing about $24+ for the meal and drinks. Not cheap but it is usually worth it! There are some high end restaurants that can be compared to the best restaurants in Western metropolises. The standard of quality in cheaper restaurants is high. Try one of the three Papa Union restaurants. A great place to have a meal is the restaurant/hotel Excellence in the quartier Ancien Sobraga. It is run by a Belgian guy, and they serve Python a la sauce tomate. Delicious. The main road leading up into the Louis area (from the seafront near Jeanne Eboli Hospital) has a good range of restaurants and clubs. Costa Sylvia Pizzeria makes a very nice Neptune pizza. The Chinese restaurant opposite Le Warhol's is nice too.
The good thing about Libreville is that one can salad in the restaurants, and there is no need to be afraid of the ice cubes in your drink. The tap water is absolutely ok. Do not try that in any other African city. L'Emir has very good Lebanese food and the owners are friendly.

Drink
The local beer, the awarded Régab, is very good. Beaufort and Castel are OK, if you are not too demanding. The local lemonade, Djino, has many artificial flavours, so many people prefer Orangina, which is really made from fruits, has no additives nor preservatives and less sugar. Imported goods (wine/spirits) are widely available, if you are prepared to pay.
Clubs, restaurants and bars in the Louis area come to life at night. The main street into Louis starts with Le Warhol's: the decor is in true Pop-Art style, the dance floor and lighting is great, good beats, and the entrance fee gets your first round of drinks. Butterflies doesn't seem like much from the outside, but inside its rustic interior, spacious lounge area and well placed dance floor is well worth the visit, and entrance is free. Pakito Lounge bar is a chilled out spot with pool tables and good vibe. The main street also sports Mirage lounge, Hollywood wine bar and other clubs.
The city is pretty lively at night so get out and enjoy.

Sleep
Intercontinental. Tolerable, although not fabulous. Short trip to/from airport. Beers on the pool deck are not expensive compared with most places. They have a pizza oven near the poolside. Feb 2012 update. Hotel is no longer with the Intercontinental chain and is now named the Okoume Palace Hotel.
Tropicana. Very good location right at the beach and very close to the airport - BUT the rooms are very filthy and smelly. Mattresses are 'rubbish dump' material, bedding is nearly see-through with holes, towels - if available - are rags. All single rooms are behind a shebeen with plenty of noise until very late. At 38Euro per night absolutely unacceptable. Food is good and Sunday lunch buffet recommendable.
Le Meridien. Is at the far end of town if you come from the airport. Allow for about an hour ride during traffic jams (Between noon to 1 pm and between 3 to 6 pm. They have a free gym and is a bit more English-friendly (more TV channels, etc.)
Le Dorian/Hotel Leet. These two hotels are owned by the same French owner. They are located behind the old Komo Cinema in the Montagne Sainte neighborhood. Le Dorian has very good value rooms (newly renovated, cost around 50,000 CFA per night). The staff is friendly too.
Hôtel Lotus Bleu. Good mid-range hotel in Montagne Sainte (close to, but not within easy walking distance, from restaurants and Mbolo Shopping Centre) comparable to a good budget-airline: you get good clean basics (bed, bathroom, A/C, TV, empty fridge, free WiFi) and no further luxuries. Good value for money at 35,000 CFA or about 50 Euro (March 2010) per night. Quite strict about checking out at 12:00 the following day if later check-out not pre-arranged. Contact them on +241 (1) 77 81 85.

phone: +241 06603786

Decent mid-range motel-style hotel located in Quartier Louis. Rooms are clean and hotel has free wifi. Continental breakfast available for 8000 CFA (12€). Hotel is within walking distance of M'Bolo shopping center and several restaurants.

Mission Lieberman

phone: +241-6950337

address: Blvd Bessieux

A low-cost place for backpackers.