Lier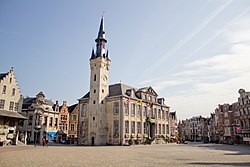 Lier
is a city of about 30,000 inhabitants in the province of
Antwerp
,
Belgium
. Lier is often overlooked by many international tourists, but can make an interesting day out from Antwerp or
Mechelen
. The town is located southeast of the regional capital city of
Antwerp
.
Understand
phone: +32 3 8000 555

address: Grote Markt 58

The one and only tourist office of the town.
Get in
By train
Lier is connected by rail to a number of major Belgian cities, including
Antwerp
,
Mechelen
,
Turnhout
,
Herentals
,
Aarschot
,
Leuven
and
Brussels
. The connection to Antwerp is especially good, from which any other destination within Belgium can easily be reached. To plan your trip, you can consult the website of
NMBS
, the national railway company, for national and international travels. The train station is located fairly close to the city center, only some 10 minutes in walking distance.



By bus

The Flemish national bus company, De Lijn, operates bus lines to Lier from Mechelen, Herentals and other neighboring towns. For more information regarding different timetables (only available in Dutch): https://www.delijn.be.


By car

Lier can be conveniently reached by car. It's located halfway between the E19 (Antwerp to Brussels) and E313 (Antwerp to Liège). Both of them are not really close to Lier, but there is a well developed network of national roads connecting the town with the highways and other close-by cities, like the N10 to Antwerp, N14 to Mechelen and N13 to the E313. Like many towns in Belgium it is a problem, however, to get rid of your car in the city center.

Get around
Public transportation
The public transport company
De Lijn
has a number of bus lines through Lier.
On foot
Best method to discover Lier. Most places of interest are in the center of the city and lay only a couple of minutes from each other.
Bicycle
See
ZimmertorenSmall tower with astronomical display.

Beguinage

address: Begijnhofstraat

UNESCO World Heritage Site

St. Gummarus Church

address: Heilige-Geeststraat 5

14th Gothic church

Town Hall

address: Grote Markt 58

Built in the 18th century in Rococo style. The belfry tower dates back to 1369, and is a .

Prisoners Gate

address: Zimmerplein

The only remaining city gate of Lier, as there used to be 5 city gates in the first city ramparts. The gate was built in 1375. From the 16th century until 1930 it functioned as a prison, which explains the current name for the gate.

Spuihuis

address: Sionsvest

Building erected on a sluice north of the city centre. The building was built in the 16th century.

Belgian military cemetery

address: Mechelsesteenweg

The final resting place of 531 soldiers of the two World Wars. Most of them (490) fell during the First World War. There are also 32 British and 9 Canadian soldiers buried here. They got hospitalized in the military hospital of Lier but passed away of their wounds after the liberation of the city on September 4, 1944.
Do
phone: +32 3 480 80 75

address: Schapekoppenstraat

On river Nete. (Not in winter)
Eat
The Lier tourist office offers a picknick package full of regional specialities. You can pick it up there and enjoy it wherever you want. Orders by e-mail at least 2 days in advance to picknick@lier.be.
A regional dish of Lier is
Liers vlaaike
. It is a spicy cake made of candy syrup and a mix of cinnamon, nutmeg, coriander and cloves. It has been around for more than 300 years and is one of the oldest pastries in the area. Since 2013 it is included on the EU list of authentic regional products.
Quite a few restaurants around Zimmerplein, Grote Markt and the street in between (Eikelstraat). Mostly French and Italian cuisine.

Baja Sardinia

phone: +32 3 488 07 77

address: Eikelstraat 6

Fairly good Italian food. Normal prices. Fast service.

ToscanaBasic Italian cuisine. Affordable prices. Not very busy. Great gelato (ice cream).

phone: +32 3 488 78 89

address: Gasthuisvest 52

Cozy restaurant in a small park right in the city center. Perfect outdoor seating in summer. This is also a nice place for an afternoon drink.
Drink
Most of the nightlife is centered around Zimmerplein in local pubs.
Café Latino

phone: +32 3 290 56 63

address: Zimmerplein 9

Latino inspired bar with cocktails and small dishes.

De Mort

address: Grote Markt 28

Somehow hidden this atmospheric brown bar is an interesting place to have a beer. Signposted Mister 100 Billiard Lounge.
Sleep
phone: +32 3 488 60 36

address: Volmolenstraat 65

The only hostel in Lier. Offers rooms for 1 up to 6 people. Housed in a part of a former convent building.

phone: +32 3 491 08 00

address: Aragonstraat 6

Offers rooms with breakfast buffet or half board. Conveniently located in the city centre.

phone: +32 3 480 80 85

address: Aarschotsesteenweg 4

Medium size hotel, for business customers and tourists. Nice and big rooms. Breakfast only. No bar. Prices include use of the fitness center next door.
Go next