Lightning Ridge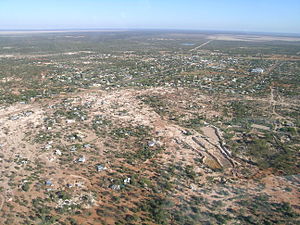 Lightning Ridge
is opal mining town in the north-western corner of the
Australian
state of
New South Wales
. Long time residents will tell you of a time when the town was rough and lawless, populated by those in search of a fortune, or on the run. These days, the town still has an outback feel and it's not just another country town. Tourism is just as big an industry for the Ridge now as mining and artists and designers now call the town home, with galleries and jewellery shops along the main street. After a day of fossicking, mine tours, and soaking in in a hot artesian bath, you can get a decent coffee, a nice dinner, good wine, and a cold beer.
The Lightning Ridge region provides many visual experiences that can't be had elsewhere in Australia.
Lightning Ridge Visitor Information Centre, Lions Park, Morilla Street, Lightning Ridge NSW 2834; phone: (02) 6829 1670, fax: 02 6829 1672. Web:
Lightning Ridge Visitor Information
Get in

Lightning Ridge is easily accessible on a paved road about four kilometres east of the Castlereagh Highway, approximately 75 km north of Walgett.
There is a connecting bus service to the Dubbo XPT, that leaves the Ridge just before 6am, and arrives back in the Ridge before 7pm. It's the best part of a day's trip into Sydney.
There is a airport around 3km from town, with a walking / cycling path into town. Or most motels offer some kind of pick-up. There is no scheduled passenger service, but the runway is long and sealed, and it is simple to get a charter flight if you wish.

Get around

The town has no public transport and no taxi service. However, the Bowling Club operates a transfer service for patrons, and many of the hotels will also assist with pickups from the airport and other locations for their patrons.
You can think of the town as being the town centre, and the mining areas surrounding it. The town centre itself is easily walkable, and you can stroll between the club, the art galleries, cafes, pool and artesian baths.
The mining areas start further out, and it can be hard to get to sightseeing locations outside of the town centre without a car or a tour. There are some half day and full day tours available in town.
A vehicle is required to visit the many interesting out of town sightseeing locations such as Grawin with 'The Glengarry Hilton' and 'Sheepyard Inn'.

See
Amigo's Castle

address: Lightning Ridge

Australian Opal Centre

address: 3/11 Morilla St

The, Displays of opal and fossils.

phone: +61 2 68290221

address: 3 Mile Opal Field, Lightning Ridge

The first level is 11 metres underground with images carved and painted in the sandstone walls and pillars.
The Bottle House and museum, 60 Opal St. Lightning Ridge Open most days 9-5.

phone: +61 2 6829 1130

address: 8 Opal Street

An impressive collection of locally inspired works, in a stylish, air-conditioned setting.
Visit the Walk In Mine to take an underground tour of the opal mines.
The Big OpalSelf-guided tour 30m underground, exploring three dug tunnels. You can see a seam of Opal. Expect to take around 45 mins to walk the mine yourself.
Do
The Lightning Ridge Easter festival with the Lightning Ridge Races is the highlight of the events calendar for the year. Rodeo at night, following by the races on Easter Sunday. If you want a room in a hotel, expect to have to book around a year in advance - or go on the waiting list for a cancellation. Many food trucks and market stalls roll into town as the population swells by thousands.
Lightning Ridge Bore Baths

address: Lightning Ridge Road

Warm artesian waters from the subartesian basin 900 metres below ground level. These waters are therapeutic for tired and aching muscles.

address: Gem Street

Open during the summer months. The Olympic Pool is handy for keeping fit and has good diving facilities. The Water Theme park has a wave machine and other features. Weekends, Public Holidays & School Holidays 11am to 7pm
Go fossicking (noodling) after enquiring at the Visitor Information Centre as to where it is possible to do so. It goes without saying that you can't just fossick across the mining leases, so do check first.
Buy
A black opal at one of the Ridge's opal shops.
Artworks produced by local artists.
Eat
Restaurants, cafes and take-aways cluster on the main street.
address: Agate Street

The Bowling Club is the centre of the town. It is large and well patronised. There are three dining options in the club.
Drink
Sleep
There are two main motels right downtown. There are also caravan parks where you can rent a cabin, park your caravan/RV, or pitch a tent.
phone: +61 2 6829 0542

address: Morilla Street, Lightning Ridge NSW 2834

The Wallangulla Motel consists of 42 self-contained rooms with air conditioning. TVs in all rooms with Foxtel. The hotel is owned and run by the Bowling Club across the road.

phone: +61 2 6829 0380

address: 32 Morilla Street, Lightning Ridge, NSW, 2834

On the main street, central to the Ridge
Stay safe
Be careful around mining areas as there are many deep and dangerous shafts. Take care of your children, too.
Exposure - it can be very hot there in summertime.
Avoid driving at night or dusk due to the risk of collisions with animals. You'll see numerous kangaroos even on the roads close to town.
Cope

The artesian bore water that comes from many of the taps is safe but tastes awful. Drink rainwater if you can find it, or bottled water if you can't.

Go next
Grawin Opal field and the unusual dwellings that are here and elsewhere.
Glengarry and visit the "Hilton" hotel
Take yourself on a Car Door Explorer trip after obtaining a map from the Visitor Information Centre. These four routes are marked by numbered car doors painted in red, yellow, blue or green. This trip will give you an insight into the lives of miners on the opal fields.