Lillafüred
Lillafüred
a small town in
Northern
Hungary
close to
Miskolc
well worth a look.
Understand
Ecotouristic Center Lillafüred

address: H-3517 Miskolc-Lillafüred, Erzsébet sétány 2.

You can get some useful information here. The staff speak at least English, German, Russian, Slovakian. Services: All necessary information about Miskolc - tourism, transport, museums, spa, cultural programs, accommodation and catering, trade and services, hiking in the Bükk, sports, addresses, historic monuments, galleries, exhibitions, etc. Accommodation, booking, entrance tickets for concerts, theatres and other cultural events. Several kinds of Miskolc sightseeing tours. Basic information brochures about Miskolc. You can buy Miskolc Pass Tourist Card here.
Get in
By bus
. From the trams' final stop () take a 5 or 15 bus and get off at in Lillafüred, every half hour. The intercity bus (VOLÁN) toward Bükkszentkereszt also stop at "Palotaszálló".
By narrow-gauge train
. Which run between
Miskolc-Diósgyőr
and Lillafüred with open carriages, 40 min. It then continues its way up to and takes another 20 min. Daily 10:00 - 19:00. Fixed price 800 Ft no matter how far you go.
About 20 min
by car
from
Miskolc
.
Get around
The same buses 5 and 15 can be used for getting around.

See
phone: +36 46 331 411

address: Erzsébet sétány 1

The Lillafüred Palace Hotel is built in the three valleys meet. Palace Hotel was built between 1927 and 1930, according to the plans designed by Kálmán Lux. The main facade of the hotel look to Hamori lake and the stream Sinva, the southern facade to the Lillafüred Valley. The building pass very well to the natural environment. The Palace all sides provide an excellent topic for amateur and professional photographers. The main entrance of the four-story building is the building's most prominent architectural element. The first floor had the luxury suites, dining room, lounge, conference room and a games room. The two lobby mural is: one which depicts King Louis the Great, as soon as you receive a Venetian peace delegation Diósgyőr, this is made ​​in 1830 and Francis Helbing's work; the other theme is the 'Triumph of Belgrade' - a Bela Sandor creation. Now a beautiful hotel with Renaissance style restaurant. The restaurant Mathias attractions of the stained-glass windows that commemorate former Hungarian cities (Bratislava, Brasov, Kosice, Levoča, Bardejov, Kežmarok, Cluj-Napoca, Orava, Hunedoara), mostly Helbig Francis and Francis Kopp's works. Built in the late 1920s in the style of a Renaissance castle. In the winter when it is covered in snow it has a magical feel. Lillafüred Terraced Garden or "hanging gardens": The hillside below the hotel was designed as a reinforcement of hanging gardens. The terraced walkway system leads to the entrance of Anna Cave, which is a sinter cave. A unique architectural and horticultural heritage. The thematic walkway include: an area that offers entertainment for visitors and a playground for children, an upper terrace that offers direct and close views of the Szinva Waterfall with its water falling from the height of 20 meters, a garden that offers a colourful cavalcade of flowers from spring to autumn, a terrace for chamber concerts and solo musicians with a stage and auditorium, a terrace dedicated to poem 'Ode' by Attila József was inspired by his time spent in Lillafüred, it is commemorated with the statue of the poet and some lines from his poem, carved into stone, an exhibition area for statues and art works, a lookout terrace over the Anna sinter Cave, at the feet of the Szinva Waterfall.

phone: +36 46 379375

address: Miskolc-Felsőhámor, Palota Street, 22

Ancient foundry

phone: +36 46 379375

address: Miskolc-Újmassa, Ómassai út

Technician Furnace is a branch of the Hungarian Museum of Transport and Technology. This a ruined 18th century foundry is supplemented with a little museum of science and technology. The Újmassa Blast Furnace,-one of the most important industrial historical monument of Hungary,- reconstructed from its ruin in the 1950s.

phone: +36 46 370703

address: Miskolc - Lillafüred, Erzsébet sétány 33.

A small museum dedicated to the well-known ornithologist and polyhistor

phone: +36 (30) 295 8171

address: Garadna

Little museum.
Do
Boating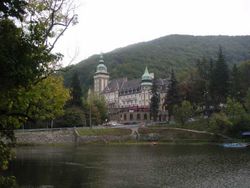 Lake Hámorian artificial lake; rent a boat or just strolling around, good relax place. Eszperanto-spring, Diving Club
Caves
Anna CaveIt has evolved in travertino (freshwater limestone), that is a rare phenomenon. Near the cave entrance is the Szinva waterfall, with a height of 20 metres the highest in Hungary. Guided tours.

(Saint) Istvan CaveA dripstone cave visit with guided tours. The cave is still being explored, but only a part can be visited. Its deepest known area is named Hell. The most beautiful dripstone structures are the Mammut's Mouth, Fairyland, Column Hall and Concert Hall. Due to water filling the cave in 1958 and 1974, the inner caverns are presumably connected with water drains. The air in the cave is very clear and has a high humidity. Patients with respiratory illnesses are treated here.

Szeleta CavePrehistoric human remains were found here.
Hiking and walking
Lillafüred can be a good spot to start hiking. There are two tracks that follow the artificial lake for a little while, and on the other way, go up the hills within the village. The local tourist information centre is no help to get info about hiking path on Bükk national park. Count about an hour to get there from the centre of Miskolc (see getting around).

Miller's Rock

Steven's Rock

FehérkőlápaIt was named ("marsh of the white stone") after a rock, which provides a nice view on the area, and a nearby marsh. The place is within the Bükk National Park. There is a guest house

Trout farmThis is one of the most famous in all of Hungary. Visitors can buy freshly grilled or smoked trout here.

On the south side of Garadna river, about 500 m west of Garadna train terminal, you can find the Sebes-víz Valley and Waterfall.
Events
Climbing competitions are held in every January. Near to Hámor Rock.
Sleep
Budget
phone: +36 46 401670, +36 20 3793625

address: Miskolc-Lillafüred, Erzsébet sétány 21.

Turist Motel

address: Vásárhelyi István sétány

Ask about details in Miskolc at the Tourinform office
Mid-range
phone: +36 46 379 399

address: Palota utca 40

phone: +36 46 533 560

address: Erzsébet sétány 3

This three star hotel and restaurant are in Lillafüred, in the last-century building of Weidlich Villa, on the bank of Lake Hámori, of picturesque beauty. Eight rooms, family friendly place.
Splurge
phone: +36 46 331411, +36 46 400126

address: Erzsébet sétány 1.

133-room hotel built between 1927 and 1930. The neo-Renaissance hotel is one of the best known buildings of Miskolc-Lillafüred, in a picturesque valley.
Connect
Go next
From here carry on over the mountains and into the wine regions.