Lilongwe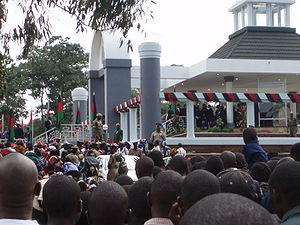 Lilongwe
is the capital of
Malawi
.
Understand
The capital of
Malawi
, Lilongwe has a population of about 1.1 million (2015). It's a very green city, to the extent that sometimes you wonder if there is a city centre at all as buildings in the new town at least are divided by patches of grassy land and trees.
Orientation
Lilongwe is divided into the Old Town (to the south) and the New Town (to the north) with the Lilongwe Nature Sanctuary between the two. The
Old Town
is built around the former village of Lilongwe, while the
New Town
(also called
City Centre
or
Capital City
) sprung up after first president, Dr. Hastings Banda, moved the capital from
Zomba
to Lilongwe. The quality of the roads is excellent compared to countries like Kenya and traffic doesn't tend to be too much of a problem at all. Lilongwe is divided into
areas
. So it is worth knowing if your destination is in area 6 or 43 etc. when using a taxi or asking for directions.
Get in
By plane
Kamuzu International AirportRegular flights to Johannesburg, Addis Ababa, Nairobi, Lusaka, Dar es Salaam. and domestic services to Blantyre. Malawi airlines operates Regional flights to Johannesburg South Africa and three airports in Mozambique. There are no flights to places outside Africa which means visitors from outside Africa must transit one of the above locations. The Kenya Airways flight from Nairobi travels on to Nampula in Mozambique. Tickets appear to be sold for this flight, but it is not clear if it is allowed to travel from Lilongwe to Nampula on just this sector.
The international departure tax that used to be charged for passengers with foreign passports is included in the airline ticket now.
The airport is about a 30-40 minute drive north of town and the taxis charge around (US$20) for the journey from Old Town (presuming you're staying in one of the lodges). This can decrease if you get the taxi from Capital City.
By train
By car
Lilongwe is about 110 km from
Mchinji
on the
Zambia
border. Taxis are expensive (around US$50, depending on your bargaining skills), but you can use a minibus or open back truck (matola) for 500/600 kwacha.
By bus
There are regular bus services from
Johannesburg
,
Harare
and
Lusaka
.
Intercape
has the largest intercity bus route network in Southern Africa.
By boat
Get around
The town is very spread out so getting around can be a bit of a chore. You can pick up taxis from the Lilongwe Hotel (in the Old Town) and the Capital Hotel (in the Capital City). If you're feeling adventurous, you can take a minibus. It's very cheap, but you will be getting very familiar with your fellow passengers. There are several routes you can take, including one that goes from the large blue bank in the new town and drops you off in the heart of the old town, next to Shoprite surpermarket.

See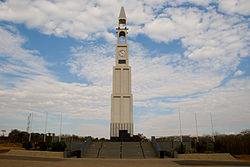 Lilongwe Wildlife CentreIt is back down towards old town by the bridge over the river, look out for the sign. It is a wildlife rescue and rehabilitation centre that provides excellent tours of the centre and its wilderness zone, a wide range of wildlife and good value for money. Volunteer opportunities are available.

Kumbali Cultural Centre

phone: +265 999-933-252

See the traditional Malawian dancing and traditional Malawian drumming. Includes live acoustic Malawian music and traditional Malawian dinner.
Do
Golf Lessons

address: Lilongwe Golf Club

Very cheap compared to western prices with an excellent 18-hole course. Challenging for even pros.
Work
If you're interested in volunteering with animals,the LSPCA
(Lilongwe Society for the Protection & Care of Animals)
takes volunteers from various backgrounds including veterinary, IT, marketing and animal care and management.
The volunteer programme is an affordable with a minimal commitment of 2 weeks required. With a shortage of vets available to the majority of Lilongwe's residents, the LSPCA undertakes vital work in Lilongwe in helping to promote higher animal welfare standards of domestic and farm animals.
As a volunteer, your work would include visiting local schools to educate them about the importance of animal health and care, community vaccination clinics (rabies and Newcastle disease), spay and neuter clinics, and farm day clinics.
Buy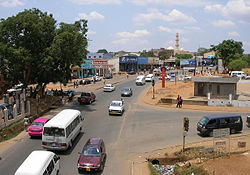 Old Town Mall. Off Chilambula on the left just as you're driving away from the Lilongwe Sunbird. Catering mostly to the tourist, expat, and wealthy Malawian community, Old Town Mall offers two art and craft galleries, a DVD rental shop, grocery store catering - lightly - to expat tastes with imported food and wine and a book store. Serendipity Cafe and Mamma Mia's Italian Restaurant (see below) are here as well.
Crossroads Complex, Mchinji Roundabout. With a couple of decent gift shops, a post office, a petrol station, pharmacy, an Indian grocery, ATMs and a couple of fast food joints - South African brands Steers (burgers) and Pizza Inn. Cappucino's coffee shop and cafe is here too - with good breakfast and lunch and iced coffee.
7-Eleven. No relation to the American outfit, this is just a popular supermarket (complete with in-house butchery and bakery) that stocks a wide range of products local and imported.
Shoprite. South African chain supermarket, smack dab in the center of town and pretty hard to miss. Most of the tourists passing through town will stop here to stock up. The forex in the same complex has closed so you'll need to cross the street and use the one in the mall (don't bother with the guys on the sidewalk). 'The Grill House' is like Nando's - including menu and sauces. There is also a nice, relatively cheap Chicken Inn, which sells ice cream.
Game. Walmart USA-owned Hypermarket opposite Shoprite. Stocks food - a shop for hardware, toys, sport equipment etc. Expensive, but is the only place to buy certain objects - tents for example.
Spar. International chain. Very good bakery, fruit and veg selection and cheap sandwiches, hot lunches, etc. from the deli counter. Expensive food, but sells a good, quality selection. Very Western.
Foodworths. Another popular supermarket with a rather impressive produce spread, sandwiches and other ready-made snacks, biltong, a full bakery, and a nice assortment of meats, dairy, other basic foods, and wine. Very expat. In the same complex as a Total petrol station, on Kenyatta b/t Mzimba and Youth Drive.
Chipiku. Another popular supermarket selling mostly non-perishables plus a few dairy items, locals shop here to stock up in bulk. Cheapest place for imported alcohol, wine and bulk South African cigarettes. Near the corner of Chilambula and Mzimba.
Eat
Budget
There are many local cafes, especially in Area 2, serving cheap meals such as rice, chicken, nsmia, beef.
Shoprite and Spar also have deli counters with hot food, sandwiches and a bakery.
Sana Opposite Diplomats pub, sells meals such as curry, pizza, burgers, etc. Good quality for price.
Chicken Inn Next to Shoprite. Like KFC and surprisingly very good quality. Good chips, and sells ice cream.
Mid-range
Bohemia Cafe, along the road from Don Brioni's. Open for breakfast and lunch. Light meals (breakfast, toasted sandwiches, baked potato, quiche), fresh fruit juice, very good tea and coffee and great cakes. About US$5 for a sandwich, a cup of tea and a cake.
Korea Garden Lodge, 5 minutes walk from Mabuya Camp, Mufusa Lodge or old town. Hotel serving Korean food in the restaurant. Mixed reviews. Around US$30 for a double with shared bathroom, US$55 for one with ensuite (July 2013). The Wi-Fi they give you is very slow. It's better to use the KGL-ZyXEL network with WPA-code: kglogde1 (yes, with the typo).
Kiboko Town Restaurant. A very good, reasonably priced place to eat. Play area for the children and good bar too. Regular live acoustic music is played here too. Good place to interact with guests and meet local expats.
Four Seasons, in new town, is a lovely set of restaurants and small shops set in beautifully kept gardens. An excellent Indian restaurant called Blue Ginger with prices ranging from around 1500-2200 kwacha for curries, there is also another restaurant offering pastas, salads and steaks all reasonably priced. You'll probably need to drive, its near the Capital Sunbird Hotel in the Government District. But well worth the trip - there's also a great bar serving some lethal cocktails!
Spur, South African chain restaurant. Sells steaks, burgers etc. Sells good ice cream, milkshakes and soda floats too! Muslim run - so no pork is served.
Chilli Peppers, An Italian/Mexican themed restaurant up the road past Sunbird Lilongwe in Old Town. Very good place, 1500-2000 kwacha for a main meal. Nachos, fajitas and the pizzas are all good dishes. Pasta and meat dishes not their speciality, but they do it well.
Game complex, Behind the Galito's, Creamy Inn and Pizza Inn complex is Papaya. A nice day time cafe with milkshakes, smoothies and tea/coffee. Sells nachos, wraps and other light bites.
Crossroads complex, Here there is the South African fast food chain Steers (burgers, chips) and Pizza Inn. There's also Cappucino's - a good small cafe offering day time meals and good breakfasts. Plenty of tea, coffee and iced coffee too.

Country Lodge

address: 5 minute drive

From Mabuya Camp. Offers very good Indian and Chinese food. You can also ring up, place and order and have a takeaway (picking it up yourself mind you).
Noble China, On the first turn off after Sunbird Lilongwe in Old Town. Sells good quality Chinese food. Idea is to order different meals and share - the centre of the table rotates around in order to easily swap dishes around.
Splurge
Mamma Mia, Old Town Mall. Lilongwe's fanciest Italian restaurant, much favored by the expat community so reservations strongly advised on weekends. Real Italian pizza, pasta and more, but expect to pay over 2000 kwacha/head for a full meal with a glass of wine, and food quality is a little uneven.
Don Brioni's Bistro, next to the Old Town post office. Serving pizza, pasta, steaks and daily specials. Good food in generous quantities. US$10 for a main dish.
Blue Ginger, in Pacific Parade shopping complex, Area 10. Considered the best Indian in Lilongwe.
Game complex, next to Game there's South African chains off Galito's (similar to Nando's), Creamy Inn (ice cream, milkshakes, waffles, etc.) and Pizza Inn (with buy one get one free on Tuesdays). All located in the same building. Merely a splurge because it's hard to resist the lure of an ice cream or milkshake after your meal. 2000-2500 kwacha per person, Galito's being the cheapest.
If you're not feeling eating out, there's also a pizza delivery service run from Debonairs at Crossroads. 0991630464/0993810397. Between 900 kwacha for small to 2400 kwacha for large pizzas. Also offer hot subs. Minimum delivery is normally 4400 kwacha.
Drink
Drinking is a lot of locals favourite past times, most are friendly however girls should be wary of over-protective Malawian men!
The only beer brewed in Malawi (bar Chibuku - a grainy, sand like beer coming in cartons!) is Carlsberg. Carlsberg is very local (brewed in Blantyre) and comes either normal (known as a 'Green') or Special Brew, Classic, Stout, Elephant or Light. You can also buy 'Kuche Kuche' - still brewed by Carlsberg but coming in a bigger bottle, less percentage and aimed more for tourists. Glass bottles come in a deposit form in Malawi (so expect to pay 25 kwacha extra per bottle, unless you return some). It is possible to buy other beers in certain bars and clubs - for example Castle, Carling Black Label, Kronenbourg and Heineken. However these are more expensive. Ciders and wines also are available but are imported and more expensive.
Malawi also has its own spirits - notably Malawi Vodka, Malawi Gin (surprisingly this is very good quality gin!), Malawi Rum, Gold Label Brandy or the upmarket Premium Brandy and the cane spirit Powers. These are all cheap spirits per bottle, Powers and Gold Label Brandy normally 600 kwacha a bottle. Mixing with the sugary, very tasty Fanta always works and you see many locals doing this! The Vodka, Gin and Powers can also all be bought in 30ml sachet forms.
Harry's Bar, in the old town, is a good place to have a drink and a burger during the day or to slam Malawi gin and tonic with an energetic local and expat crowd on weekend nights. More of a pre-drink place.
Diplomats Pub, (in old town), +265 8553492. Offers good music and cold beers, also a braai (South African word for barbecue, pronounced "brr-eye") outside at weekends. Opens 5PM till 2AM. Great entertainment for the weekend and during the week when no other pubs are open. Popular with locals and expats. Good set of pool tables too (100 kwacha a token) - winner stays on! Also check out Inferno sports bar, behind Diplomats.
Alexsander's Bar Around 10 minutes from the downtown by taxi. This bar used to be the hangout place of the Lilongwe white collar's and expatriates. The bar lies in the ground floor of a building that owned by a Malawi born westerner. This place can be a choice if you want to avoid the crowd and relax.

Chez Ntemba International Nightclub

address: Area 47

The locals' place to be on Fridays and Saturdays. Not the best looked after place in town but guaranteed good music and excellent atmosphere. If the dance floor gets too much there is always the open air area outside where you are always bound to end up talking to a few locals and expats - there's a Braii there too. Entry fee 500 kwacha at weekends. Only place open late on weekdays too - in the smaller side on bar.

Lonely Planet/Oasis

address: Off Chilambula Road

Not the most popular place now, still holds the famous 'Lollipop' club night every couple of months. Serves food at night too.

Chameleon Bar

address: Presidential Way

Chameleon's is a Mzungu (White) owned bar in Lilongwe, run by a Scotsman. You will find more white expatriates in this place. The atmosphere is not very African but you can always guarantee an excellent atmosphere during the week to wind down with a cold green. Drinks and food are available. Friday nights and Sunday afternoons are the busiest time. Don't miss the live Jazz Jam sessions every Sunday afternoon.
Zanzibar Nightclub, known locally as 'Zanzi'. The major nightclub in Lilongwe. Packed every Friday and Saturday night. Normally 500 kwacha entry however this can raise on special events such as music concerts (have featured artists such as the Black Missionnaries and Naeto C.) Be very wary of money, wallets, bags and cameras in this place - lots of pick pocketing has been reported.
The Shack, the place to be on Wednesday nights with lots of locals and expats coming every week. Busy only on Wednesdays, free entry too. If you come early (6PM) you can watch the weekly volleyball league teams play. You can even join one if you get talking. Good place but dies down about 2AM. Very sociable place to be.
Sleep
Budget
There are some lodges near the bus station with rooms for around US$10 a night.

phone: +265 1754978, +265 9 746 239, +265 9 664 651

Camping, A-frames, chalets and dorms. Also has a lively bar, with locally well-known parties - whether organised or not. Also has a pool table, restaurant, BBQ areas and good swimming pool. Popular with expats too. The owners have a fantastic knowledge of Africa, having driven through most of it. Formerly run by and named Kiboko Camp. Camping own tent US$7 per person.
Lilongwe Golf club (camping only), off Glynn Jones Rd, the campsite is not very busy and you might be the only guest there, but it works out a bit cheaper than a room.

St Peters Guesthouse

phone: +265 8-317769

address: Glyn Jones road

Four single rooms, and a dorm with four beds. Hot water showers, garden.

address: Mtandrie Lilongwe

Welcome Lodge

address: Livingstone road area 3

camping/dorm beds/double room

Mufatse Lodge

address: 3 Lister Avenue area 3
Mid-range
Kiboko Town Hotel, in the centre of the Old Town, above Don Brioni's Bistro, tel. +265 1 751 226, +361 9 838 485, KTH@kiboko-safaris.com, . Has its own cafe and a residents-only bar. Used to be the Imperial Hotel. Clean, pleasant and friendly, in a very convenient location. They also run good-value safaris to South Luangwa National Park in Zambia. US$45-75 (all are en suite, more expensive rooms have a bath and TV). They have a very good restaurant and bar too.

Korea Garden LodgeOffers a comfortable and relaxing setting close to downtown Lilongwe but in a quiet residential area. Swimming pool, television, rooms ranging from budget dorm-style to more luxuriant and private.

phone: +265 9071665

address: 4th street old town area 2

5 minutes walk from Old Town. They offer accommodation from dormitories to more expensive self contained double rooms, breakfast inclusive. From US$10 for a bunk-bed in a shared dormitory room, over $28 and up for a room with private bathroom. They have an outside bar, hopefully building a roof for rainy season. Seems to be a little less private than other camps, having an open gate policy. Still a good pre drinking bar for going out and meeting people.
Splurge
phone: +265-175-0333

Crossroads Complex, Mchinji Roundabout. This four-star hotel operated by a South African chain offers modern if somewhat uninspiring comfort. Pool, jacuzzi, gym, speedy wireless Internet and a shopping mall next door. Single/double from US$120/140.

Sunbird Capital HotelAlso uninspiring but comfortable with very similar facilities to Cresta Crossroads Hotel. En suite double rooms from US$110. The hotel does serve pretty good food, the peri peri chicken burger is particularly good, and also there is a small sportsbar. The experience here depends on the day, some of the staff are absolutely fabulous, but some can be a little distracted and inattentive. Do make sure you go for a superior room, the standard ones aren't great.
Connect
4G mobile telephone service is available from Airtel and TNM. BBC World Service can be heard on 98.0MHz.

Stay safe
Transport is not always easy to get at late hours of the night so always make sure you have means of transport to getting back to where you're staying. Taxis are available. Lilongwe is said to be unsafe at night so don't walk alone after dark.

Cope
Embassies
British High Commission Lilongwe

phone: +265 1772 027, +265 1772 179, +265 1772 123

address: Off Convention Drive, Lilongwe 3

phone: +265 1 773 166

address: 16 Jomo Kenyatta Rd, Lilongwe 3
Go next