Lima (Ohio)
Lima
is a city in
Allen County
,
Northwest Ohio
and is the county seat of Allen County.
Understand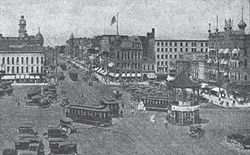 Though the town shares its name with the capital of Peru, it is pronounced 'Lye-mah' thanks to the local vernacular. Founded in the 1830s, Lima became an oil boom town in the late 1800s. The city flourished as an industrial town until the 1970s, when many industries began to leave as part of the Rust Belt decline that affected much of the Midwest. This is evidenced by the sheer number of abandoned factories and warehouses in the city. Yet, Lima remains prominent in the area as a hub for business and local culture.
Get in
By plane
Lima is about a 1 hour drive from Dayton International Airport (
DAY
), a 1 1/2 hour drive from John Glenn Columbus International Airport (CMH), a 1 1/2 hour drive from Toledo Express Airport (TOL), and a 2 hour drive from Detroit Metro Airport (DTW).

By car
From the north or south, Lima is easily accessible from I-75, exits 124, 125 and 127. From the east, Lima can be accessed from State Route 81 or U.S. 30 to I-75 south. From the west, one can take U.S. 30 to State Route 309.

Get around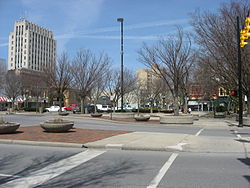 In the city center, the two main hubs are Market Street (running east and west) and Main Street (running north and south). The two streets meet at the center of town, in a small area known as Town Square. It is here that most downtown businesses are, and where weekly "Rally in the Square" events take place during the summer. The yearly "Square Fair" also takes place here in early August.
In the main business district outside of downtown (known as 'Westgate'), main hubs are Elida road (running northwest to southeast) and Cable Road (running North and South). The majority of activities can be found in this area of town, about northwest of downtown. Most restaurants, shopping, activities and the Lima Mall are in this area.
If you take Market Street east out of town it will become Bellefontaine (pronounced 'Bell-fountain') Street, and you will find another business district (known as 'Eastgate') similar to that near Elida/Cable Roads. This is where I-75 exit 125 meets the city, and the Allen County Fairgrounds are about a mile east of this stretch of businesses on Bellefontaine.
Rotary RiverwalkA pedestrian and bike path that goes from Heritage Park in the southern part of the city to downtown at Schoonover Park.
See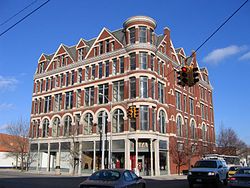 Allen County MuseumThe Allen County Museum is a delightful treat. While focusing on Lima's pioneer days, the lower level celebrates the glory days of Lima, prior to the discovery of Texas Oil. The museum also includes an exhibit on John Dillinger, who escaped the county jail.

Veterans Freedom Flag Monument

address: 1191 Buckeye Road

A monument to veterans stylized as an American flag made out of brick columns.

phone: +1-419-995-8320

address: 4240 Campus Dr

A state college in Lima Ohio.

Ohio State University, Lima Campus

phone: +1-567-242-7272

address: 4240 Campus Dr

Ohio State University's Lima Branch. This campus frequently hosts open events relating to the arts and STEM.

Nickel Plate 779A preserved steam locomotive, and the final steam locomotive built by the now defunct Lima Locomotive Works.

Allen County CourthouseA historic sandstone courthouse built in 1881 using the second empire architectural style.
Do
Lima StadiumA historic stadium where Lima's sports teams play.
Buy
phone: +1 419-331-6255

address: 2400 Elida Rd
Eat
Most restaurants in Lima are of the chain variety, either fast food or sit-down. There is at least one of most major type of restaurant (Texas Roadhouse, IHOP, Applebee's, Olive Garden, Panera Bread, etc.) in town, but there are a few local restaurants worth visiting.
KewpeeEven if you are just passing through, a visit to Lima is not complete without a burger from Kewpee. Founded as a fast food chain in the 1920s, most Kewpee restaurants closed decades later except for the family-owned franchises in Lima, which retain their nostalgic feel. The burgers, fresh from local meat, are spectacular and well worth a stop off the highway.

The Packard GrillFeatures good, cheap food and Packard car memorabilia.

The Milano CafeItalian

phone: +1 419-331-6644

address: 2721 Elida Rd

A local steakhouse
Drink
phone: +1 419-999-9463

address: 306 N Main St
Sleep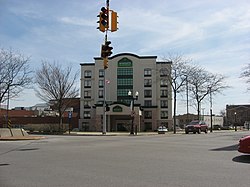 address: 175 W Market St

Upscale accomoation near downtown.

phone: +1-419-225-8300

address: 1933 Roschman Ave

Holiday Inn Hotel & Suites Lima

phone: +1 419-879-4000

address: 803 S Leonard Ave
Connect
phone: +1 419-228-5113

address: 650 W Market St

Lima Post Office
Go next