Limassol

Limassol
(
Greek
:
Λεμεσός
,
Turkish
:
Leymosun
) is the second largest city (after the capital,
Nicosia
) of
Cyprus
. Following the Turkish invasion in 1974, it has become the principal sea port and has also developed into a significant tourist destination.
Understand
Limassol is the second largest town in Cyprus after Nicosia, with population of approximately 200 000. Apart from being a major tourist destination, it is also a principal hub for international business in Cyprus. This gives Limassol a more cosmopolitan feel compared to other district centers. Renovation projects in the old town and old port area are seeking to rejuvenate the historic center, making it more accessible and interesting for sightseeing.

Get in
By plane
Limassol is about 40 minutes drive away from
Larnaca International Airport
(
LCA
) and (PFO).
Larnaca mainly serves traditional airlines, while most of RyanAir flights land in Paphos.
There is a regular shuttle bus service from Larnaca and Paphos airports. Be careful to arrange pick-up from the shuttle bus stops, as they are away from the central areas. Bus driver might provide assistance to arrange a taxi.

By boat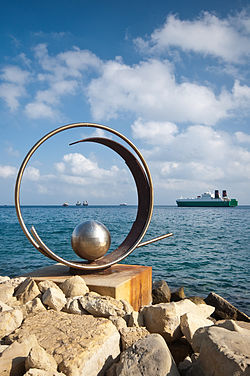 Limassol has the biggest commercial shipment port and a reasonable passenger port, with several regular cruise routes:


By bus
There are special Green Buses which operate intercity. Buses are available for Troodos, Larnaca, Pafos and Nicosia. There are few stops. It is best to confirm timings from the closest CTO Tourist Information Center.
By service taxi
Travel Express run an intercity service using shared minibuses between the major towns in Cyprus. They can pick up from Larnaca and Pafos Airports. They are a lot cheaper than taxis but more expensive than the intercity buses, however, they take you door to door. Bookings need to be made in advance, however, if it's not full you can normally get on the next one.
Get around
The three main roads are:
#The Beach Road
#Makarios Avenue
#Griva Digeni (which transforms into Kolonakou / Spyros Kyprianou later to the east)
By bus
The bus service has been upgraded, with more routes and better schedules, however waiting times may still be long. The principal tourist route is #30, serving the beach road from Le Meridien hotel up to New Port (Old Port after 18:00), which runs approximately every 15 minutes. You can find detailed information and maps on the
EMEL bus company
website. Cost per trip is €1.50. Day tickets cost €5.
By taxi
Taxi is the most popular means of transportation for tourists, but are expensive and it is common to ignore meters. Sharing taxis is also popular, and may work out to a more reasonable fare.
By bicycle
The beach road has a dedicated bicycle lane stretching from the Old Port to the Dasoudi area. Keep in mind that in summer it gets very hot.
There are shared bikes available in Limassol center and along the bicycle lane to the east, operated by
Nextbike
. The easternmost location is near the Grand Resort, more than 10 km from the city center.
See all locations
. Price is €2 for the first 60 min or €8 per 24 hr.
Transport rental
Cars, scooters and bicycles can be hired easily, however locals have a relaxed approach to Highway Code.
See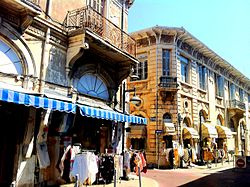 Limassol Old Town: renovated, especially around the Limassol Castle area.

Limassol Castle

Akti Olympion, a 7-km beach-side walking park area stretching from Municipal Gardens to the Old Port.

AmathusAncient royal city.

KourionArcheological site which includes a well-preserved Greco-Roman theatre and other sites of historic importance, namely The House of Achilles, The Altar of Apollo and spectacular views of the Curium Beach.

Kolossi CastleFormer crusader stronghold

Governor's Beach (outside Limassol), long sandy beach with many beach-side fish restaurants, and a beautiful white stone coast to the west.

Lady's Mile BeachLong mostly-pebbly, partly sandy beach with several beach-side fish restaurants. Try watching birds at the salt lake nearby. There is a UK military air base in the area.
Do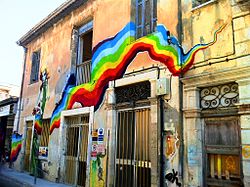 Visit the Limassol Wine Festival, every September.
Party during the Limassol Carnival, every February/March. Truly colorful!
Watch the Cyprus Rally every Autumn.
Get drunk at the Potamos Yermasoyias (aka "Galatex") which has plenty of entertainment in the pubs, night clubs and cafes on the street and in the surrounding area.
Visit one of the traditional buzukia (tavern with live music).
Explore the Limassol Castle and nearby Old Town area.
Visit Anexartisias street in the Old Town, a popular shopping area for both tourists and locals.
Take a stroll on the seafront Akti Olympion in the evening.
Take a walk on the wooden promenade along the sea opposite the archeological site of Kingdom of Amathus.
The Municipal Garden along the beach road is a good place to spend some time and catch some interesting flora. However the zoo is not that great.
Sport
For a taste of local sport, visit the home games of the local clubs:
AEL
,
Apollonas
and
Aris
. All three compete in the first division of the Cyprus Soccer and Basketball leagues. Recently Apollonas' football and AEL's basketball teams have enjoyed considerable success in European competitions. So you never know, you might be lucky and catch a Manchester United visit. Expect double a figure score in such a case. Tickets are relatively cheap when compared to European leagues where on average a full price ticket costs less than €20. However football hooliganism is a problem as of late, so take care.
An annual marathon event takes place every February, the
Limassol Marathon GSO
. Limassol Marathon GSO is expanding into a big athletic celebration where Marathon runners from all over the world will meet to compete and at the same time enjoy a memorable experience race.
Buy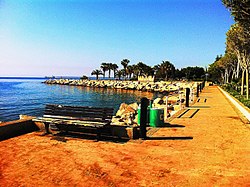 The traditional shopping streets are Ayios Andreas and Anexartisias street. These streets provide an ambiance of the old cobbled path lanes, away from the modern city.
Several western style supermarkets ( Carrefour, Debenhams, LIDL, Orphanidies etc.) are spread across the city and warehouse-style shopping centres have mushroomed on the outskirts of the city. My Mall is the biggest shopping center in the area, located to the west of New Port.
Sea Sponges is popular product of Cyprus, used as a bath/face scrub. Loofa is used as a bath scrub. Available at most tourist/souvenir shops. Also there is a Sea Sponges Exhibition at the roundabout at the Old Port. However, sea sponges may be pricey!
The Lefkara Lace and other lace products may be brought from Limassol or any other city than Lefkara itself, as they may be often over priced in Lefkara, due to a large number of tourists flocking there, especially during the tourist season.
Opening hours for most shops are M-F 09:00-13:00 and 15:00-19:00 (siesta time in between, outside of the tourist area most smaller shops are not open on Wednesday afternoons) and Saturdays 09:00-14:00. Only some convenience stores (Periptero in Greek) would be open 24 hours on all days.
Eat
Kebab can be optimum for a relatively cheap, fresh and filling meal. Be careful with colourful "tourist" cafes since those are often over-priced and offer low quality conventional sandwiches or
English Breakfasts
. Mousaka or Kleftiko are popular, however your best bet (especially if you are hungry), is a
traditional Cyprus Meze
(either of the meat or fish variety), which usually includes a myriad of small hot and cold dishes for a reasonable price.
Try targeting restaurants that cater for the locals. You should not encounter a client/waiter language barrier as virtually everyone speaks English.
All major western chains are present, e.g. McDonald's, KFC, Burger King, Pizza Hut, Friday's, Bennigan's, Goodies, Nandos, et al.!
Budget
Kyrenia Nautical Club, beach-side tavern in Yermasoyia tourist area (opposite Mirage traffic lights). Traditional Cypriot fish meze.
Syrian Arab Friendship Club, Lebanese-style tavern/restaurant with excellent meze in Yermasoyia tourist area.
Ocean Basket, fish restaurant at My Mall.
Mid-range
Draught MicrobreweryRestaurant and bar in the Carob Mill next to the Limassol Castle. Specializes in grills.

Tapas Bar, tapas with a local twist, opposite St. Raphael hotel (next to Chesters). Also known for expensive, but good shisha (hookah).
Pralina Blu, beach-side restaurant and cafe opposite McDonald's / Luna Park in the Yermasoyia tourist area. Mediterranean cuisine.
Splurge
Drink
Drinking water: it is generally safe to drink water directly from the tap. Most apartments/hotels would have a separate tap provided along with the sink, for water that bypasses the storage tank on the roof.
Limassol has the reputation among locals of being the party capital of Cyprus. When
Ayia Napa
hibernates in the winter, Limassol powers on drawing much of the local clientele especially during the carnival season.
The Potamos Yermasoyia tourist area is littered with countless bars and pubs to cater for everyone's tastes and budget. The old medieval town centre is more popular with the locals and offers classier but pricier establishments. Most hotels will also have a variety of in house bars (either with a local or international twist), which are open to non residents too.
Sport is religion here and sports bars abound. Football is in your face everywhere, especially the British and Greek leagues. Being here during a European or World cup competition finals stage is only next best to attending the real thing.
Zivania
is the equivalent local version of
Grappa
or
Eau de Vie
. Drink frozen zivania shots at your peril.
Commandaria
is a sweet dessert wine and a speciality of Limassol is worth tasting especially after a meze.
Mid-range
ChestersIrish-style bar in tourist area opposite St. Raphel hotel. Good selection of beers and food.

Draught MicrobreweryRestaurant and bar in the Carob Mill next to the Limassol Castle. Has its own small beer brewery.

Molly MalonesIrish-style bar in tourist area opposite Elias Beach hotel. Good selection of beers and food.

Pralina Blu, beach-side restaurant and cafe opposite McDonald's / Luna Park in the tourist area.
Splurge
7SeasIn Old Town. Probably the classiest live music nightclub in the town.

DolceNext to Amathus excavation. Nightclub which often has live music and international DJs.
Sleep
Apart from local luxury and boutique hotels Limassol boasts many branches of international hotels. However one can easily find low budget accommodation. An increasingly popular option is private apartment and villa rental.
Budget
As far as renting a
Studio Apartment
(with cooking facilities) goes, there are plenty of them around, and one may find accommodation easily, both long term and short term.
Splurge