Limburg (Netherlands)
Limburg
is the most southern province of the
Netherlands
, encompassing the eastern part of the historical region of
Limburg
or
Limbourg
- the other part forms the namesake
province of Belgium
. Limburg is different from the rather flat rest of the Netherlands as it is remarkably hilly, it remains predominantly Catholic (while the majority of the country is Protestant).
The capital of the Dutch Limburg is
Maastricht
, famous for its medieval old town and the namesake treaty signed there, which basically created the
European Union
.
Cities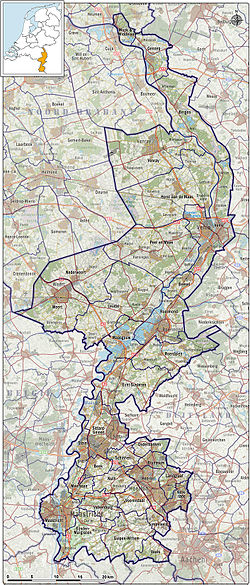 Limburg stretches from south to north over three regions:
Middle Limburg
— capital of the province
Talk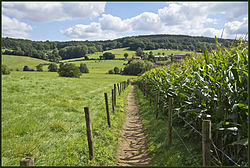 Most people (roughly 78%) in Limburg speak Limburgish in every day life, a regional language closely related to Dutch and German. Dutch is the official language used for practically all forms of official (and most unofficial) written communication. In the larger cities, Dutch is also the main colloquial language. The majority of the people furthermore speak English and German with various levels of fluency.
Get in
By plane
Maastricht/Aachen Airport is a regional airport located near Maastricht.
Brussels Airport can be reached in an hour from Mid- and South-Limburg.
By train
The Dutch railway serves Limburg with regional branches and intercity-branches to
Amsterdam
and
The Hague
. German railway links connect
Heerlen
to
Aachen
and
Venlo
to
Mönchengladbach
by local trains.
Maastricht
is connected to
Liege
in
Belgium
by local train.
Get around
Arriva operates the local railway concession in Limburg, as well as the numerous regional and municipal bus lines within the province.

See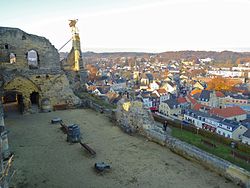 Museum Asselt
Old castles in Eijsden, Hoensbroek, Arcen and Valkenburg
American War Cemetery in Margraten
National Park "De Meinweg" about 8 km southeast of Roermond
Bonnefantenmuseum in Maastricht, with works by Cranach and Brueghel as well as modern artists
Museum De Locht in Melderslo. A museum about life in north-Limburg in 1850-1950, with departments about mushroom- and asparagusculture.
Do
South Limburg is very popular with hikers and bikers. The terrain is very hilly by Dutch standards.
Carnaval is celebrated all over Limburg, typically held during February or early March.
Eat
A typical Limburg food is the Limburgse vlaai, which is a sweet pie which originally comes from
Weert
.
Drink
Limburg is famous in the Netherlands for its local beer. The known local brands of beer in Limburg are:
Go next
Limburg is at "the corner of Europe", with long borders with
Belgium
and
Germany
. You can use it as a starting point to exploring many different regions: