Limerick
Limerick
(Irish:
Luimneach
) is a city in
Ireland
's
Shannon Region
.
Understand
Limerick grew up at the limit of tides and navigation of the River Shannon. In the 9th century the Vikings first raided it then settled, calling it
Hlymrekr
which probably means low-lying and fertile. As elsewhere in Ireland, they were overthrown by the native Irish in the 10th / 11th C, who in turn came under the rule of the Anglo-Normans. In 1205 King John ordered the construction of the castle on the river island in the Shannon, and the English settled in this area of King's Island, with their "Englishtown" protected by massive walls. South across the small River Abbey lay "Irishtown", with the natives firmly put in their place.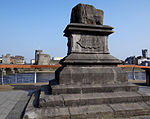 Limerick became a prosperous port, so it was worth fighting for. Some of the many conflicts were the proxy war that was part of the medieval England - Scotland wars; a siege as Oliver Cromwell crushed Royalist opposition in Ireland; and the siege which was the last stand of King James II / VII forces against William of Orange, ended by the Treaty of Limerick in 1691.
The city benefited from local agriculture and by growing trade with North America, with Irishtown rebuilt on a grid pattern as a Georgian city comparable to Dublin, and fine public buildings. It slumped with the Napoleonic wars, with the draining of political power to England, and with the great Irish famine of 1848. Not until mid-20th century did it redevelop, as transatlantic flights began from Shannon and new industry was attracted in to replace bygone trades.
It's spawned many great writers and poets: Michael Hogan (1828-1899) the satirical Bard of Thomond, Jim Kemmy (1936-1997) author of
The Limerick Anthology
, Frank McCourt (1930-2009) author of
Angela's Ashes
, '
Tis
and
Teacher Man.
Other famous local people include the actor Richard Harris, TV presenter Terry Wogan, statesmen Éamon de Valera and Michael D Higgins, and physician William Brooke O'Shaughnessy who pioneered IV therapy and the medical use of cannabis. What the place didn't spawn was limerick verse, which evolved in 18th C England, presumably from a nonsense lyric that referred to the city or county.
Get in
Get around

Public bus services are available in Limerick but the city is quite contained and everything is within walking distance.
Quite easy to get from City Centre out to UL/Castletroy Area and back via the public bus.
Bikes need to be rented weeks in advance. There is only one bike rental shop in town.

See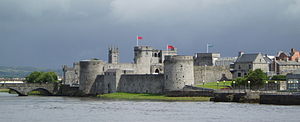 Limerick has a host of attractions. See the
Limerick Coordination Office
for a full events guide
King John's CastleBuilt 13th C by King John over an earlier Viking fortification. The walls, well bashed about over the centuries, enclose a large courtyard.

phone: +353 61 416 238

address: Bridge St

Anglican cathedral founded in 1168, with the tower added in the 14th C. Note the ceremonial Great West Door, the limestone-slab original altar, and the chandeliers. Notable burials include the last High King of Munster, within the nave.

address: Cathedral Place

This impressive RC cathedral is in neo-Gothic style and has the tallest spire in Ireland at 94 m (308 ft). Built in 1861 and designed by the architect Philip Charles Hardwick, it has been in continuous use since. Six bishops are buried here.

phone: +353 61 312 833

address: Customs House, Rutland St

Formed from the personal collection of John and Gertrude Hunt, ranging over Classical, Irish prehistoric and early Christian, and Olmec. Plus rotating exhibitions, eg to Sept 2019 the painters Lavery and Osbourne.

address: Carnegie Building, Pery Sq

Displays all Irish artists, plus large collections of posters and contemporary drawings.
Frank McCourt Museum on Lower Hartstonge Street depicts the author's life and times. It's open M-F 11:00-16:30, Sa Su 14:00-16:00. Tis. They also organise "Angela's Ashes" walking tours.
The fine 19th C Potato Market, on the Quays, is nowadays just a car park.
Lots of confident Georgian architecture on and around O'Connell Street, with the Daniel O'Connell monument perched at the top of the street.
The Treaty Stone, now perched on Thomond bridge, is a rough limestone block used for mounting horses. It was supposedly upon this stone that the Treaty of Limerick was signed on 3 Oct 1691, ending the siege of the city and the war between the Jacobites and William of Orange. The Treaty permitted the defeated Jacobite soldiers to leave for France (which most did), or to enlist in William's army, or to go home. It also ensured protection of the defeated Catholic gentry provided they swore allegiance to King William. But few did so, the Pope proclaimed James as the rightful king, the Catholics were oppressed, and the conflict rumbled on for the next 300 years.
Do
Watch Rugby Union at

address: Thomond Park, Cratloe Rd

They play in the Pro14, the professional pan-European league, and in the European Rugby Champions Cup. They usually play at Thomond Park, capacity 25,000, but some games are played in Cork.
Limerick Football Club. The city's football team play in Markets Field, which is in the city centre. Matches are played on Friday nights and tickets are generally available on match night. tickets cost between €12 to stand, and €15 to sit in the main stand.

address: O'Connell Avenue

Performing arts theatre.

University Concert Hall

Stroll in The Peoples Park, south of the centre by the Gallery of Art.
UL Arena is a large sports facility on the University campus east of the city.
Go to the races at

Limerick Races

phone: +353 61 320000

address: Greenmount Park, Patrickswell, Co. Limerick V94 K858

Opened in 2001 and staging both flat-racing and National Hunt; the previous course at Greenpark closed in 1999.
Learn
Buy
Cruise's Street, pedestrianised, is the main shopping mall.

address: Market House, Mungret St

Weekend market with various stalls and food outlets.
O'Mahony's is a good book shop at 120 O'Connell Street, open M-Sat 09:00-17:45, Sun 13:00-17:15.
Eat
phone: +353 61 314 994

address: 8 Georges Quay

Good Italian & European cuisine.

phone: +353 61 418 872

address: 43 Thomas St

Reliable Italian place.

address: Mill Bar, Garraunykee, Annacotty

Indian restaurant. The city centre branch in Cornmarket Row has closed.

phone: +353 61 609 000

address: 19 Thomas Street

Steak and seafood chain restaurant.

The Grove

phone: +353 61 410 084

address: 11 Cecil Street

For yummy vegetarian food.

phone: +353 61 412 484

address: 38 O'Connell St

Busy Chinese buffet restaurant.

address: 3 George's Quay

Gastro pub on riverside, often has live music.

phone: +353 61 462 030

address: Harvey's Quay

Pizza chain with vegan and GF choices.

phone: +353 61 315 844

address: 56 O'Connell Street

Traditional Italian fare.

address: 116 O'Connell St

Steaks, burgers and Texmex cuisine.
Drink
address: 19 Upper Denmark St

Popular and crowded. Live music most weekends.

phone: +353 61 401 190

address: 3 Little Ellen St

Gastro pub with large outdoor area, does good breakfasts.

address: 17 Upper Denmark St

There are several Flannery's pubs in town, this gentleman is specifically Michael Flannery. Large venue with 3 bars on two levels.

address: Denmark St

Late night bar. Great atmosphere. Live music. Cosy traditional Irish pub.

Molly Malones

address: Ellen St

Be careful with the bouncers. Late Bar and dance floor. Gets crowded. Great place to end a night of partying.

address: 4 Dominic St

Alternative music late night venue, €5 cover charge.

Jerry Flannerys

address: 20 Catherine St

Great pub for watching the rugby on TV.

Micky Martins

address: Augustinian Lane

Good beer selection, Hoegaarden on tap, nice outdoor area.

Tom Collins's Bar

address: 34 Cecil St

Grand traditional pub for relaxing.

address: 3-4 Dock Rd

Has Irish Trad live music and good food. Dolan's Warehouse next door houses techno parties.

The White House

address: 52 O'Connell St

Open mike nights and poetry nights. Wine and whiskey are as much a thing as the beer.

The Still House

address: 56 Thomas St

Great welcoming pub, live music at weekends.

Charlie Chaplin's

address: 24 Chapel St

Good friendly inexpensive bar.

Charlie Malone's

address: 19 Wolfe Tone St

Cozy friendly bar, often has Irish Trad live music, Tuesday is open mike.
Sleep
Budget
phone: +353 61 452160

address: 31 Brookville Avenue, Clareview

Owner Nora is renowned for her hospitality and the full Irish breakfast comes highly recommended. Ensuite rooms with TV available.

Travelodge Limerick Castletroy

phone: +353 61 603500

address: Dublin Rd N7

Budget chain hotel near university. There's another west of town.

Travelodge Limerick Ennis Road

phone: +353 61 457000

address: Coonagh Roundabout, Ennis Rd

Budget chain hotel, there's another at Castetroy east of town.
Mid-range
Splurge
Stay safe
Limerick being a modest sized city, the city centre itself is safe and cosy, even at nights and weekends. Generally as is the case of any of the modern cities in Ireland, use your common sense and exercise caution and you will have a fantastic time.
If you do run into trouble, the police station (Gardai) is on Henry Street in the city center. The number of the local police (Gardai) is +353 61 212 400, note: a non-emergency number. The emergency dial is the standard 112 or 999, as always.

Go next
Drive west past Shannon Airport into County Clare and Ennis and take N68 to Kilrush and Kilkee. This brings onto the wild Mizzen Head, with the grey Atlantic heaving below.
On the road north towards Galway, stop to admire the Cliffs of Moher.
Lough Gur, 15 km south of the city along R512, is a remarkable collection of Neolithic sites and artefacts.
Along the south bank of Shannon, Adare is a very attractive old town, pity about the traffic and the hordes.
Nearby Foynes is where the transatlantic flying boats used to berth, and the likes of Sinatra and John Wayne stepped out to the pop of flash-guns; see the museum and step aboard a plane.