Liminka
Liminka
(Swedish:
Limingo
) is a municipality in the
Western Oulu region
. It was founded in 1477 around the Liminganjoki river, and nowadays it has approximately 10 000 inhabitants.
Understand
According to folklore, the name Liminka derives from a giant named Limmi who was active in the region back in the day.
The parish of Liminka is one of the oldest in the
Oulu
region, gaining independence as a parish in the 15th century.
Nowadays Liminka is one of the fastest growing towns in the region, and it is the youngest municipality in Europe.
Get in
Liminka is a half an hour (28 km/17 mi) drive away from Oulu, making it easy to travel there with both car and public transport.
By plane
The nearest airport is
Oulu Airport
. There are around 10 flights per day each way from Helsinki Airport to Oulu. A fully flexible return economy ticket might cost more than €200 but a non-changeable one-way ticket can go as low as €39 when bought months in advance. There are also some services from Stockholm.
You can take bus line 8 or 9 to the centre (every 15 min) and transfer to any of the lines 52-54 to Liminka. You need to change the bus stop in the city center from Kaupungintalo P to Pekuri E. Be sure to get an "ABC" ticket on the first bus, so that you don't have to buy that separately.
By train
Trains don't stop at Liminka. The nearest station is in Kempele, yet more trains go to Oulu than to Kempele.
Oulu is on the railway main line between Helsinki and Rovaniemi. The day trains complete the journey from Helsinki to Oulu in about 6 hours, while direct sleepers take around 9 hours. The standard price is about €60 (€100 with a berth), if you book early there are offers for about half the price. The newest type of sleeper train carriages have a shower and a toilet in each 2-person cabin. As when going to Rovaniemi, you can also take your car with you on the overnight train. Train tickets are at their cheapest exactly 60 days in advance, as the advance tickets (ennakkolippu) become available at that time.
Citybuses A, B and C take you to the city centre core, where you can change to line to Liminka. You could also walk a kilometre to the bus stop "Pekuri E" and take the bus 52, 52A, 52K, 53, 53A, 53R or 54 without transfer (For the buses 53 and 54 you can also use the stop "Linja-autoasema P", but Pekuri is the safer and faster option) . For Liminka you need the "ABC" ticket, which includes the citybus.
By bus
Coaches coordinated by Matkahuolto connect Liminka to some other cities, but they can be expensive. Oulu has a wider selection of lines, so it's probably best to take the long-distance bus to Oulu and continue with regional public transport to Liminka.
From Helsinki the coach costs about €35. You can try to search for a bargain from the website of
Onnibus
, a cheaper bus company, though nowadays it has raised prices and is listed under Matkahuolto as well.
Coming from Oulu, you can also use bus lines 52-54 of the Oulu public transportation. You need the "ABC" ticket (say that or just
Liminkaan
, "to Liminka"), which is valid 80 min and costs €8.30/4.20 (children: 7–16 years). The last bus to Liminka leaves at 21:45.
Get around
By foot
Being a small town, the core of Liminka is easily walked around in.
By public transport
The public transport in Liminka is operated by
Oulu PTA
. It mainly focuses on getting customers in and out of town, but it can also be used for traveling inside Liminka. The buses 52A and 53(A) get you to the Liminganlahti nature center. The fare for the buses inside liminka are €3.30/€1.70 (children).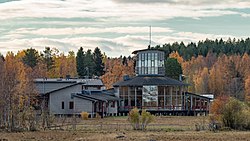 See
phone: +358 206 39 6059

address: Rantakurvi 6, 91900 Liminka

Liminganlahti surely is the most important sight in town. It is one of the most important wetlands in Finland, and a popular spot for birdwatchers from all around the world to visit. It also offers a bird-themed exhibition, cafe and a hotel.

address: Rantatie

The historic museum district holds three museums; the local history museum, Aabraham Ojanperä memorial home, and the Vilho Lampi museum. The Rantatie street is a nice stroll since it holds many pretty, historical buildings as well as the Liminka parish building. On the other side of the small Liminganjoki river there is also the art school of Liminka, which has a lot of nice outdoor artworks, and which is one of the oldest Finnish folk high schools.

phone: +358447521220

address: Kirkkotie 14

The Liminka church has been burned four times, and the current one was built in 1826. It was designed by Anders Fredrik Granstedt and Anton Wilhelm Arppe, and it represents neoclassicism.
Buy

The town center of Liminka has some shops and stores.

Sleep
Liminganlahti visitor centre has a small, yet clean and quality hotel with 6 rooms. There is also a hotel called Place to Sleep Hotel Liminka in the town center. More selection for hotels is found in
Oulu
.
Go next