Lincoln Highway
The Lincoln Highway
covers more than 3,000 miles from
New York City
to
San Francisco
.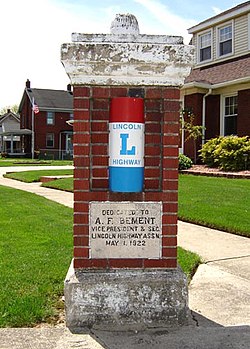 Understand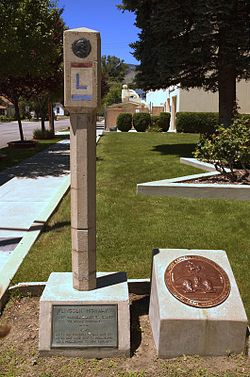 The Lincoln Highway (1913-1930) was the original transcontinental highway in the United States. It was one of various "auto trails", a motley assortment of named routes marked by private organisations and trail associations (such as the Lincoln Highway Association) in the early days of the mass-produced automobile. These routes pre-dated the numbered US Highway system, which was established in the mid-1920s.
The Lincoln Highway ran from
New York City
to
San Francisco
along roads which would become part of US 1, US 30, US 40, US 93, US 50, US 99 and US 48. The exact routing changed various times over the life of both the auto trails and the US Highway system which replaced it, as roadbuilders attempted to bypass crowded downtown areas or find a shorter path to a destination. In many communities the Lincoln Highway is "old US 30", not the current US highway routing.
Together with
Route 66
it was one of few reliable roads across the Rocky Mountains, before the Interstates were built in the
post-war decades
. Today, Interstate 80 serves the vehicles traveling between New York and San Francisco.
Route
New York
New Jersey
Pennsylvania
Entering Pennsylvania via the Ben Franklin Bridge, 30 travels through Philadelphia's
Old City
,
Center City East
and
Center City West
, the historic and commercial centers of the City. It then joins the Schuykill Expressway (I-76) and travels westward before breaking off south of Fairmont Park. It then heads west and becomes known as the "Mainline," the main corridor of the affluent and upscale "Mainline" suburbs in Montgomery and Delaware Counties. Points of interest along this route include:
Independence Hall
Ben Franklin Museum
Once outside of metropolitan Philadelphia, the highway quickly enters
Amish Country
.
West Virginia
Route 30 briefly transverse West Virginia through
Wheeling
.
Ohio
2007 - The Lincoln Highway from
Mansfield (Ohio)
west to
Indiana
, has been resurfaced in most areas, traffic would be considered light. Driving is pleasurable and the area should be considered safe.
Indiana
Towns and cities on the Lincoln Highway, from the east to west,
New Haven
,
Fort Wayne
,
Churubusco
,
Ligonier
,
Goshen
,
Elkhart
,
Osceola
,
Mishawaka
,
South Bend
,
New Carlisle
,
La Porte
,
Westville
,
Valparaiso
,
Merrillville
,
Schererville
,
Dyer
.
Illinois
Entering near
Sauk Village
, the route drives west passing through a number of communities in Chicago's
South Suburbs
and directly into
Joliet
's downtown. From there, it moves northwest, passing to the south of Aurora and due west into Kendall County, entering
Northern Illinois
's closest areas to
Chicagoland
. It crosses the Rock River at Rock Falls and proceeds on a western course toward the
Mississippi River
, entering
Iowa
.
Iowa
Entering
Eastern Iowa
at
Clinton (Iowa)
, Route 30 proceeds due west, hitting a number of small towns, skirting just south of
Grant Wood Country
. The most prominent between Clinton and
Cedar Rapids
are
DeWitt (Iowa)
and
Mount Vernon (Iowa)
, home to Cornell College. From Cedar Rapids, the route connects
Marshalltown
to
Ames
, home to Iowa State. From there, it continues on to
Denison
and then takes a southwest course to
Missouri Valley
where it crosses the Missouri River into Nebraska.
Nebraska
Colorado
Wyoming
Utah
Nevada
California