Lindsay
Lindsay
is a community of about 20,000 people in the
Kawarthas
region of central Ontario 43 km west of
Peterborough
. It began as a lumbering and farming centre, and is home to Fleming College.
Understand
History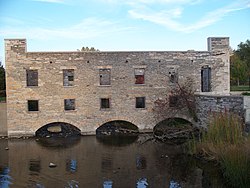 In 1825, settlers began to come to the region, and by 1827, the Purdys, an American family, built a dam on the Scugog River at the site of present-day Lindsay. The following year they built a sawmill, and in 1830, a grist mill was constructed. A small village grew up around the mills, and it was known as Purdy's Mills. In 1834, surveyor John Huston plotted the designated town site into streets and lots. During the survey, one of Huston's assistants, Mr. Lindsay, was accidentally shot in the leg and died of an infection. He was buried on the riverbank and his name and death were recorded on the surveyor's plan. The name Lindsay remained as the name of the town by government approval. Lindsay grew steadily and developed into a lumbering and farming centre.
In 2001, the municipal governments of the Town of Lindsay and the Village of Fenelon Falls were dissolved and merged, with Victoria County, into the new City of Kawartha Lakes.
Get in
By bus
Tok Coach LinesOne bus a day from Toronto's Union Station to the Town of Haliburton stopping at Lindsay (Lindsay Dry Cleaners, 211 Kent St. W, +1 705 324-2166) and Fenelon Falls. For a bus equipped with a wheelchair lifts, contact the Dispatch office +1-800-387-7097 ext. 247, at least 72 hours in advance.
By car
Lindsay is 130 km from Toronto east along Highway 401 and north along Highway 35/115.
Get around
Highway 28 forms a central spine through the Kawarthas and attractions such as Petroglyphs Provincial Park and Stoney Lake are easily accessible from the highway.
Outside of Lindsay, there is little in the way of public transportation - a car is close to being a necessity.
phone: +1 705 324-9411

operates three routesin the former Town of Lindsay

Kawartha Lakes Taxi

phone: +1 705 880 8800

address: 22 Peel St.

Poppa Ed's Taxi and Limosine

phone: +1 705 878-4343

address: 81 Albert St S, Lindsay
See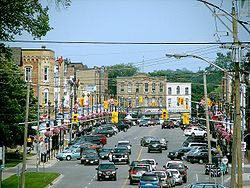 phone: +1 705 324-1780

address: 2nd Floor, Lindsay Public Library, 190 Kent St W

address: 50 Victoria Ave N

A historic jail built in 1863, it's full of fascinating stories and unique regional artifacts.

Lindsay ExhibitionAgricultural fair with animal shows, exhibits, midway rides, a parade, heritage agriculture equipment, demolition derbies.
Do
Buy
address: 401 Kent St W

40 shops and services.

phone: +1 705 328-9133

address: 44 Kent St. West
Eat
Lindsay
phone: +1 705 878-3853

address: 102 William St S

Breakfasts, salads, sandwiches, burgers, mains.

Ziggy's Fish & Chips

phone: +1 705 328-3847

address: 21 Kent St W

British-style fish and chips, and Celtic suppers.

phone: +1 705 878-8715

address: 115 Kent St W

Great breakfasts.

The Grand Experience Family Restaurant

phone: +1 705-324-9444

address: 171 Kent St W

Pizza, wings, pub food in a historic hotel.
Drink
phone: +1 705-878-4312

address: 49 William St N,

13 drafts on tap including Guinness, signature cocktails, Niagara on the Lake wines, gourmet appetizers, burgers and wraps, authentic homemade British fare, diverse entrees, and some traditional curries. Lunch menu and children's menu also available.

phone: +1 705 212-2200

address: 8 Cambridge St N

Brew pub serving uniquely crafted Ontario beer and delicious food made with locally sourced ingredients.
Sleep
phone: +1 705 328-0100

address: 134 Angeline St S

3-star hotel near Fleming College, Lindsay Exhibition Grounds, and Ross Memorial Hospital. Free hot breakfast, indoor heated saltwater pool, fitness centre, free large-vehicle parking, free WiFi, business center and laundry facilities. Each non-smoking room is equipped with a mini-refrigerator and flat-screen HDTV.

phone: +1 705 328-2111

address: 256 Lindsay Street South

2-star hotel near Lindsay Golf & Country Club. 21 rooms. Fridge, microwave, TV, general kitchen, Wi-Fi available, no breakfast provided.

phone: +1 705 324-6744

address: 251 Kent St W

All 16 suites are equipped with comfortable beds, flat screen cable TV, free wireless internet, mini fridge, coffee maker with included coffee, and three-piece bath rooms. Front desk service is available 24 hr.
Stay safe
Blue-green algae
is a toxic form of algae that can be an occasional problem in this region. Do not swim or wade in water where this algae is present, do not drink the water, and do not let pets in the water. Blooms most commonly occur in late summer and early fall. They thrive in areas where the water is shallow, slow moving and warm, but they may be present in deeper, cooler water. Dense blue-green algae blooms may make the water look bluish-green, or like green pea soup or turquoise paint. Very dense blooms may form solid-looking clumps. Fresh blooms often smell like newly mown grass, while older blooms may smell like rotting garbage.
Poison ivy
is common in wooded areas. All parts of poison ivy, including the roots, contain a poisonous substance which causes an irritating inflammation of the skin of most people, the inflamed areas frequently developing blisters and accompanied by intense itchiness.
Go next