Lingshui
Lingshui County
(陵水黎族自治县) is a county in the south east of
Hainan
,
China
.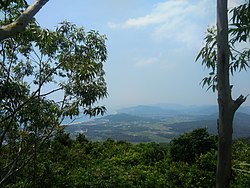 Understand
Lingshui is not as built-up as other parts of Hainan such as
Haikou
or
Sanya
and as a result it retains its unspoilt charm.
The county boasts varied landscapes from beaches and islands on the coast, to mountains and tropical forests in the interior.
The administrative capital and largest town is Yelin (椰林镇).
Get in
By high-speed train
Lingshui's train station is on the high speed rail line which links all the main places on Hainan. As of January 2018, a one-way first class ticket from
Haikou
's Meilan Airport cost ¥115 and a one-way second class ticket cost ¥72. The journey takes approximately 1 hour 15 minutes and there are announcements in Mandarin and English.
By bus
Buses to Lingshui are available from most major cities and towns on the island. Buses from Haikou depart from the Haikou East Bus Station and cost ¥70. Buses from Sanya depart from the main bus station and cost ¥29.
Most buses arrive at the Lingshui Bus Station in Yelin, but there are also direct buses from Sanya to Clearwater Bay (Qingshui Bay 清水湾) and Tufu Bay (土福湾). If travelling to Perfume Bay (Xiangshui Bay 香水湾), however, you will need to change buses at Yelin.
Get around
The main forms of transportation in Lingshui are public buses and taxis.

See
phone: +86 898 83360902

address: Xincun Town, Lingshui

Nanwan Monkey Island is a nature reserve created for Macaque monkeys which are a Class 2 Protected Species in China. There are there are over 2500 monkeys living in the reserve. Be careful, these monkeys are playful and will jump on humans and if hungry, may attack people for sweet drinks or food! There are also some circus-style comedy shows featuring monkeys doing stunts. The reserve is connected to the mainland by China's longest cable car to cross over a body of water. The cable car ride is worth taking just for the spectacular views of Lingshui's coast.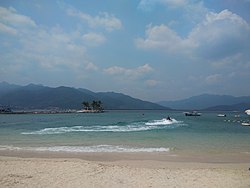 phone: +86 898 83347555 or +86 898 83347033

Boundary Island is a small island situated off the coast of Lingshui. It is very popular with visitors to Lingshui thanks to a combination of the beautiful scenery and a wide variety of activities:
Aquarium: With daily dolphin and sea lion shows.
Watersports such as jet skiing and parasailing are available on the beach.
Diving: the waters around Boundary Island have excellent visibility and diverse sea life.
In addition to this there are several restaurants with great views over the ocean and lots of small stalls selling snacks and refreshments.

phone: +86 898 83470995

address: Yingzhou Village, Yingzhou Town, Lingshui County (海南省陵水县英州镇英州村)

Yetian Ancient Village is a cultural experience centre in Lingshui County which allows visitors to experience the cultures of the Li and Miao ethnic minorities who are indigenous to the area. As well as being built in the traditional style, the workers are all members of the ethnic minorities and are on hand to guide visitors through the centre. Visitors can see how traditional arts and crafts such as silverware, pottery and weaving are made and there are regular performances of their traditional dances.

Diao Luo Mountain National Forest ParkDiao Luo Mountain National Forest Park was created in 1994 by the Chinese Government to protect the tropical forest in the area. It is popular with hikers and travellers who want to escape the heat and sun of the beaches. There are walkways around scenic spots such as Little Sister Lake and Fengguo Waterfall, but asides from that the area is not very commercialised. A hotel can be found in Du Jia Village if visitors wish to extend their stay.

Perfume BayThis stretch of beach is rather undeveloped and thus delightfully peaceful (it will probably be only you for a good kilometer on either side). Visiting here is a delightful and mind-cleaning day trip, especially if joined with some hiking around the surrounding farms. Watch out for strong rip tides and pack snacks.
Do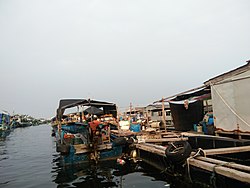 Dan Jia Yu Pai (疍家渔排)— one of Lingshui's most unique features. It's in the harbour of Xin Cun Village, close to the Ticket Office of the Nan Wan Monkey Island Cable Car. Dan Jia Yu Pai is a floating village which has been home to the Dan people for many generations. It is still a working fishing harbour, although the residents have started to diversify and now visitors can enjoy a meal in one of the floating restaurants. Due to its proximity to Nan Wan Monkey Island it is recommended to visit both in the same day.
Eat
Things to eat
Sour Noodles: Each area of Hainan has its own style of Sour Noodles(酸粉)so it's worth giving them a try. This popular dish is sold in both restaurants and on street side stalls throughout Lingshui. On average a bowl of Sour Noodles will cost less than ¥10.
Seafood: You can't come to Hainan and not try the seafood. Seafood restaurants with rows of fish tanks displaying your options are found on every street. Go in and select exactly what you want and they cook it fresh to order.
Pufferfish Porridge: Pufferfish porridge is a speciality of the area and is eaten as a accompaniment to fresh seafood.
Restaurants
phone: +86 898 83308888

address: Narada Resort Perfume Bay in Xiangshui (海南香水湾君澜度假酒店)

Excellent choice of western classics with creative use of local ingredient. Also serving first class hamburgers.
Drink
Coconut Juice: Thanks to the abundance of coconut groves on the island you'll see stalls on every street with mounds of fresh cocounts outside. For a refreshing break, make sure to pick up a fresh coconut and sit back and relax.
Sleep
Badminton Hotel

phone: +86 898 83383333

address: Binhe Road South, Yelin Town (椰林镇滨河南路)

The hotel is next to the China National Badminton Team's Lingshui Training Base, hence the name Badminton Hotel.

phone: +86 898 8338 9888

address: Clearwater Bay Avenue, Yingzhou Town (英州镇清水湾大道)

Xiangshui Bay Marriott Resort & Spa

phone: +86 898 83099888

address: Zone B, Xiangshui Bay Tourism Zone, Guangpo Town (光坡镇香水湾旅游度假区B区)