Linlithgow
Linlithgow
is a small town in the
Central Belt of Scotland
,
Scotland
Get in
By plane:
Linlithgow is 11 miles west of
Edinburgh Airport.
There's no direct public transport, so the choice is:
Tram or bus to Haymarket Station (see Edinburgh#Get_in), then train or Bus 38 to Linlithgow as below;
Hike 15 mins up the airport access road to Glasgow Road, go under the bridge to be on the correct side, look left for the steps up to the 38 bus stop.
Or just grab a taxi.
By train:
trains run from Edinburgh every 20 mins or so via Haymarket, taking 20 mins to Linlithgow. These run 05:00-23:30 and continue west to
Glasgow
Queen Street, the quickest in 30 mins via Falkirk High, the slow trains taking an hour via Falkirk Grahamstoun (change here for Stirling) and Cumbernauld. is at the east end of High Street.
By road:
Linlithgow is on the historic Edinburgh-Inverness-John O'Groats road, but this has been severed by airport expansion and downgraded to B9080 - only use this as a scenic route, or by bike. Cyclists can also use the canal towpath, which links Edinburgh, Linlithgow, Falkirk and Glasgow. The M9 runs just north of town, with restricted junctions: from Edinburgh exit at jcn 3, from Stirling at jcn 4. From Glasgow follow M8 to Dechmont jcn 3 then zigzag north cross-country on Burnhouse Rd.
By bus:
First Scotland East
Bus 38 runs every 15 mins from Edinburgh past the airport to Kirkliston and Linlithgow, taking an hour. It continues west to Falkirk, Larbert and
Stirling
, taking another 90 min. It runs 06:00-22:30 and there isn't a night bus.
Lothian Country Green Arrow
bus EX2 runs every 30 minutes from Edinburgh via the M9 to Linlithgow, continuing to Linlithgow Bridge. The last bus leaves Ediburgh at 19:20 on weekdays, 18:55 and 18:20 on Sundays.
Get around

Linlithgow is small enough to walk around. Town bus L1 loops round the town via the residential areas of Springfield, Braehead, Listloaning and Linlithgow Bridge.
Prentice Westwood Bus 45 / 46 runs hourly to Bo'ness, orbits that town and Grangemouth then returns. Community Bus F49 runs every 3 hours or so between Linlithgow and Bo'ness via Blackness.

See
Linlithgow PalaceRuined but imposing medieval palace. A fort or "Peel" stood here in the 14th C but it and much of the town burned down. King James I rebuilt it, his successors continued to embellish it, and Mary Queen of Scots was born here in 1542. But it became neglected after the monarchy moved to England, part-collapsing in 1607: King James VI&I paid for repairs but didn't resume residence. Bonnie Prince Charlie briefly passed this way in 1745, excuse enough for the Duke of Cumberland to burn down whatever was left. "The Peel" now refers to the parkland around the ruins.

phone: +44 1506 842188

address: Kirkgate EH49 4AL

One of Scotland's finest medieval churches, completed in 1540. It fell into disrepair in the 19th C and the crown steeple (like that of St Giles, Edinburgh) had to be dismantled, but in 1964 an aluminium crown was installed. It remains in use as a Church of Scotland: it's not to be confused with St Michael's RC church nearby, one of Pugin's Gothic creations completed in 1893.

phone: +44 1506 670677

address: 93 High St EH49 7EZ

Small museum of town life: MQOS naturally, plus local industries and features. The prolific Tam Dalyell's typewriter is now among the historic artefacts, amazing it didn't melt in a white heat of keys. The nearby Annet House museum has closed.

address: Blackness EH49 7NH

Blackness was the port for the Royal Burgh of Linlithgow, so the monarchs often travelled this way, and it needed to be stoutly defended. The castle looks like a stone ship about to sail out into the Firth of Forth. Good views of the Forth Bridges.
is an early 17th C mansion, off A904 three miles east of town. It was the home of Tam Dalyell (1932-2017), who coined the "West Lothian Question" on Scotland's position within the UK parliament. The house is closed until further notice, but the extensive grounds remain free to enjoy. The "binns" are the two small "bens" (hills) which the estate ranges over.
See Livingston for Torphichen Preceptory, base of the medieval Knights Hospitaller, and Cairnpapple Hill Bronze Age burial chamber, both in the fields a couple of miles south of Linlithgow.
Do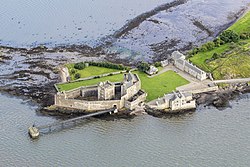 Stroll around Linlithgow Loch for great views of the palace. The path is mostly firm going but there are sometimes quaggy bits after rainfall. It's a freshwater loch, shallow, and stocked with rainbow trout. A couple of islets were probably crannogs, 5000-year old stilt-dwellings. The loch sometimes suffers from agricultural run-off, which promotes the growth of toxic algal blooms in early summer - don't let the dog plunge into any green mush.
Walk or cycle along the Union Canal. About a mile west of town, this sweeps over the impressive Avon Aqueduct, 250 m long and 26 m above the river. The aqueduct, completed in 1821, uses an iron trough to carry the canal, enabling a more slender design than earlier masonry & clay structures. The canal continues west to Polmont then enters Falkirk by a long tunnel. Finally after 9 miles it descends to the Forth & Clyde Canal via locks, tunnels and the ingenious modern Falkirk Wheel.
Eastbound has nothing so spectacular, but pleasant views towards the Pentland Hills, great when the autumn berries are out or there's frost on the hills, and a muddy dog in tow. The canal passes through Winchburgh, loops back to Broxburn, then continues west under the M8 then via Ratho to end at Edinburgh Lochrin Basin after 18 miles.
Boat trips sail the canal, usually just a 30-minute putter from the Canal Centre (south-side of the railway station) across the Avon Aqueduct and back. But the entire canal is navigable, or is intended to be; same for the canal west from Falkirk to Glasgow though there's a long-standing block at Kirkintilloch. Check the Scottish Canals website for current status: this includes a skipper's guide to locks, moorings and similar essentials.
address: EH49 6PL

A 370-hectare country park in the Bathgate hills above Linlithgow. Activities including archery, canoeing / kayaking, climbing, pioneering, orienteering, hillcraft and skiing. Beecraigs also hosts a deer farm, trout fishery, sawmill and campsite, see "Sleep".
West Lothian Highland Games are held in late May in Meadow Park in the nearby village of Bathgate. The next are probably on Sat 23 May 2020 but tbc.
Party at the Palace is a one-day music festival in August. The next is on Mon 12 Aug 2020.
Buy
Linlithgow High Street is home to many small traditional independent shops and businesses.
There are supermarkets at both ends of town. East is Tesco Metro (M-Sa 07:00-22:00, Su 08:00-20:00) in the Regent Centre, and west is Sainsburys (daily 08:00-22:00) in Linlithgow Bridge.
The retail park in Linlithgow Bridge (near Sainsburys) has some large shops such as Argos and Aldi. The town's only filling station is here on Falkirk Road, open 24 hours.
Eat
phone: +44 1506 834532

address: Linlithgow EH49 7LU

Michelin starred fine-dining restaurant (booking recommended), and the less formal but still highly-rated Chop & Ale House (no bookings, just turn up). Particularly proud of its beef, oysters are also a specialty, direct from their own rock pool. Also has rooms, mid-range price.
Drink
address: 1 High Street EH49 7AB

Next to the railway station, the building dates back to 1759, and was converted into a pub in the 1840s. Has good food and accommodation.

address: 65-67 High Street EH49 7ED

Belhaven pub, named for the four ladies-in-waiting to MQOS. Friendly, slick service, wide range of ales and spirits - and no TV! They have a cask ale festival here on the last weekend of May and Oct.
Others dotted along High Street and open daily 11:00-23:00 or later are Platform 3, The Crown Arms, Linlithgow Tap, West Port Hotel and the Black Bitch Tavern.
Sleep
Beecraigs Camping & Caravan SiteOpen all year, with camping, glamping in Little Lodges, and 23 hard-standing pitches for tourers.

phone: +44 1506 848372

address: 13 Avon Place EH49 6BL

A modernised Victorian villa, use subway to reach town centre.
Other B&Bs in town centre are Star & Garter, Court Residence, Palace View and West Port Hotel.

phone: +44 1506 670102

address: Belsyde Country Estate EH49 6QE

Upscale hotel set in rolling farmland. Also with self-catering.
Stay safe

Linlithgow is a small town and is safe, there are no rough areas, but swerve clear of the pubs at closing time.

Go next