Lions Bay-Britannia Beach
Stretching along the eastern shore of Howe Sound,
Lions Bay to Britannia Beach
is a series of small communities and parks offering some gorgeous views, outdoor recreation and 30 km of some of the most spectacular driving in Canada. For many travellers, the area is quickly passed through on the way to Whistler, but if you have the time, there are some options if you want to stop and explore.
Understand

Beginning north of West Vancouver and extending northwards along the coast to Shannon Falls Provincial Park, the area is dominated by Howe Sound and the Coast Mountains. The mountains are steep so there is very little area for settlement, so it makes for dramatic scenery but just a handful of communities and parks — Lions Bay, Porteau Cove, Furry Creek and Britannia Beach.
Historically, the area was important for its logging and mineral resources. These industries have declined so the focus has shifted to tourism and accommodating the spillover growth from Vancouver, Whistler and Squamish.

Get in
By car
The only road in and out of the area is the
Sea-to-Sky Highway
(Hwy 99), which connects the communities to
West Vancouver
and
Vancouver
to the south and
Squamish
and
Whistler
to the north. It is roughly a 30-45 minute drive from Vancouver.
By bus
Translink provides daily bus service, Route C12, connecting Lions Bay to the Horseshoe Bay ferry terminal and Caufield Village in West Vancouver. The bus generally runs hourly. Other communities in the area, such as Porteau Cove and Britannia Beach, are not reachable by bus.
Get around
A car is pretty much the only way to get around. You can cycle, but Highway 99 is hilly and windy, and the traffic moves fast.

See and do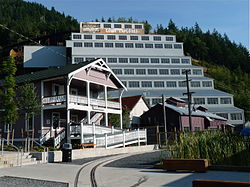 Hiking the Howe Sound Crest
Running along the ridge of the Coast Mountains from Porteau Cove south to the Cypress Bowl ski area in West Vancouver, is the Howe Sound Crest Trail. This 29-km hike passes over or by some thirteen peaks and many lakes, tarns and alpine meadows, including the Lions, the distinctive two bumps seen on the Vancouver skyline. Tackling the entire 29-km hike should be planned carefully as campsites and sources of freshwater are limited. However, if you don't mind walking up a mountain, access points from Lions Bay and Porteau Cove make for popular dayhikes that offer some tremendous views and ample exercise. These hikes access high mountain terrain and are often under snow cover from November through June (and sometimes longer, depending on weather conditions). Trailheads near Highway 99 are:
Deeks Lake Trailhead

address: Porteau Rd exit

This is the northern terminus of the Howe Sound Crest Trail. The hike leads to Deeks Lake and the start of it provides some nice views of Howe Sound. It is roughly 14-km round-trip to the lake and back, with 1000-m of elevation gain.

Lions Bay - Sunset Dr Trailhead

address: end of Sunset Dr, Lions Bay

This is the trailhead for three hikes that access different points The Lions, Mount Harvey and Brunswick Mountain -- on the Howe Sound Crest Trail. These are very steep hikes (1300-1600 m of elevation gain) and fairly lengthy, coming in between 13 - 15 km round-trip. The trail to the Lions is also referred to as the Blinkert Trail.

Lions Bay - Mt Unnecessary Trailhead

address: end of Oceanview Rd

Trailhead for the hike to Mt Unnecessary. Round-trip is about 9.5 km and 1300 m of elevation gain. As with other the other hikes listed here, there are some pretty good views from the top.
Buy
There is a general store in Lions Bay next to the cafe.
There is a souvenir shop at the entrance to the Britannia Mine Museum in Britannia Beach.
Eat
Restaurant options are few in this area. There are a couple of coffee shops/cafes and a restaurant associated with the golf club. More diverse food options are available in
Squamish
and
West Vancouver
.
phone: +1 604-921-2208

address: 350 Centre Rd, Lions Bay

General store and cafe with a selection of sandwiches and baked goods. Drinks include coffee, tea and some local craft beers. There's a small patio outside, which if you don't mind the sound of the highway traffic below, has a beautiful view of Bowen Island and Howe Sound.

Mountain Woman

phone: +1 604-896-2468

address: 50 Britannia Frontage Rd

Fast-ish food and good value if you're in the mood for burgers, hot dogs, fish and chips, poutine or ice cream. Portions are reasonable and the food is not as greasy as you'd expect. The location is unique with the kitchen in a blue bus, a small indoor seating area (with some kids toys) and an outdoor patio.
Sleep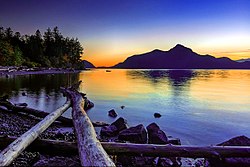 Like restaurants, accommodation options are fairly sparse and lower end. More options are available in Squamish and
Vancouver
.
Porteau Cove Campground

address: Hwy 99 - Porteau Cove PP (see directions above)

There are 44 drive-in sites with electrical hook-up and 16 walk-in sites. Showers and flush toilets are available. Not all facilities may be available during the low season (Nov - Feb).

Porteau Cove Legacy Cabins

address: Hwy 99 - Porteau Cove PP (see directions above)

Log cabins that were built for the 2010 Winter Olympics and now available for the public to use. The cabins are one bedroom with a loft and can handle up to four occupants. They're set just back from the beach at Porteau Cove with a deck that provides views of Howe Sound and the Tantalus Range. Other amenities include a stove, mini-fridge, BBQ, microwave and three piece bathroom.
Connect
Cell phone coverage exists along the highway, although it can get weak at times. If you go hiking, cell signal will be variable. Expect to encounter blind spots.

Go next