Lipari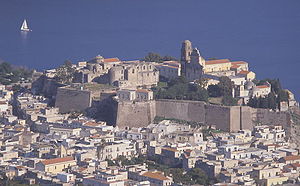 Lipari
is the largest and most populous of the
Aeolian Islands
of
Italy
. It is the primary transportation gateway for the Aeolians, and has some attractions of its own.
Get in
By boat
The hydrofoil and ferry operators
SIREMAR
,
Ustica Lines
, and
NGI
all connect Lipari to other points in the Aeolian Islands and to
Sicily
and the mainland. If you're not bringing a vehicle, try to board a hydrofoil; they're significantly quicker than the ferries, and generally quite comfortable.
By plane
Air Panarea
offers helicopter flights to Lipari on Mondays, Wednesdays and Fridays during the summer. However, they're expensive and don't save much time compared to hydrofoils.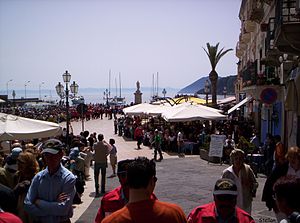 Get around
By bus
phone: +39 090 9811026

The company provides bus services on the island towards Canneto, Acquacalda, Cave di Pomice, Quattropani and Pianoconte.
See
Museo Archeologico Regionale Eoliano

phone: +39 0909880174-0594

address: Via Del Castello

A spectacular (if limited in breadth) collection of artifacts recovered from archaeological sites in the Aeolian Islands, including many from shipwrecks. You'll see more amphorae and burial urns here than you thought existed in the modern world. Most exhibits have English-language captions. Photography generally not permitted.

La CattedraleThe main church of the island. Built in Baroque style, with richly painted vaults.
Do
What you must do during summer is to dive or snorkel at the Faraglioni. The water is crystal clear and swim in such water is something very special. But you must be careful with the currents.
During autumn, winter and especially during spring, trekking on Lipari gives unforgettable experiences. The Faraglioni photo was taken during such a spring day walk.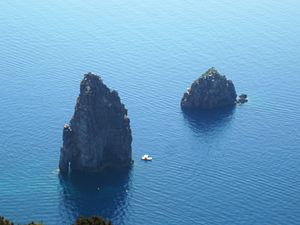 Scooter and vehicle rentals are available for hire near the waterfront. A drive around the island can be quite pleasant - visiting the pumice quarry, other towns, beaches and lookout points.
Trekking
The island of Lipari is ideal for trekking. There are many routes on the island from easy to hard level. The level of difficulty depends on the season. Some tracks are very hard or almost impossible to follow during summer because of the heat. There are maps to be bought on Lipari but one has to ask local people to find some of the tracks.
A short walk downhill can be done on the road from Quattropani to Acquacalda on the north side of Lipari. This can be done even during summer and takes about 45 minutes. You enjoy the view of Salina and the northern Aeolian islands during this walk.
From the Old Kaolin Mine between Pianoconte and Quattropani it is possible to walk to the thermal bath of San Calogero or to the village of Quattropani. Downhill near the sea there is the ruin of a Saracen tower and fifty meters away it is possible to walk down the black cliffs for a bath. Do these to walks during springtime.
From Marina Corta there is a track up to Monte Gallina and Monte della Guardia. You reach the west side of the island and will enjoy the two Faraglioni from upside. You are able to reach the street that takes you from the volcanologic observatory in front of Vulcano, back to Lipari town. You should do this hike late afternoon during summer.
During afternoon in summer you can also make a walk from the church of Santa Lucia in Lipari to Valle Muria, the beach on the west side of Lipari.
Eat
There are several good restaurants on Lipari where you can eat pescespada (swordfish), calamari and other typical Eolian dishes.
address: Via Falcone Borsellino

Kasbah

address: via Maurolico

Le Macine

address: Via Stradale, Pianoconte

A Sfiziusa

address: Via Roma
Sleep
Lipari offers a lot of accommodations, from luxury Arciduca or Villa Enrica to small old fashioned Aeolian villas like Al Monte.
If you come during summer you may want to stay near the sea, such as in Acquacalda or Canneto, or in or near the town of Lipari. You should ask for air conditioning as in most cases the houses are rebuilt with thin walls with no thermal isolation and the rooms get terribly hot. There are older houses with thick cooling walls but these are not easy to find.
During winter time Lipari is ideal for trekking and you could therefore find a house in villages like Pianoconte or Quattropani. One thing to think about is that the houses are not built for heating. So you should bring warm clothes and if possible a "bed heater". The temperature outside can go down to 0-10 °Celsius but very rarely drops below 0 °C.
If you want to stay in a more luxury hotel, try:
If you want to stay in a near the beach hotel, try:
If you prefer a peaceful house ideal for trekking:
phone: +39 338 6407572

address: Vico Himera 3, Lipari town centre