Lipetsk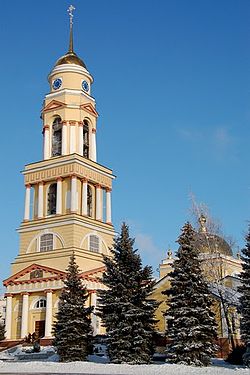 Lipetsk
(
Russian
: Липе́цк
lee-PYEHTSK
), with a population of 508,000, is the capital of
Lipetsk Oblast
of
Russia
.
Understand
Lipetsk is a big industrial center with agricultural background and provincial atmosphere, despite its half million population. The city was founded in the beginning of 18th century, but became a growing regional capital only in 1954, when
Lipetsk Oblast
was formed. That is why it lacks architectural heritage and cultural legacy.
Traditionally, Lipetsk has been one of the most socialistic cities in Russia. For some 10-15 years after Soviet Union collapse the city authorities provided free public transport and telephone service for locals. This costed additional tax to the city business. Now the situation has changed:
Lipetsk Oblast
became one of Russian 6 Special Economic Zones with tax reduction for local companies.
Visited mainly by business travellers, Lipetsk is not a major tourist destination. So, while you are in business trip you can discover the provincial charm of this city. You can also use Lipetsk as a convenient stopover in a road trip from
Moscow
to
Southern Russia
or escape there for a weekend from hustle and bustle of
Moscow
.
Get in
By air
Lipetsk has a domestic airport, which serves flights to
Moscow
(daily),
Saint Petersburg
(2 times a week),
Sochi
,
Anapa
, and
Kostroma
(weekly). Flights are quite expensive: a one-way ride from
Moscow
costs 6,000 RUR.
By train
Train is the most reliable way of getting to Lipetsk. 2 overnight trains go from
Moscow
Paveletsky Station on daily basis, other train connections are with
Saint Petersburg
and
Sochi
.
One way 2nd class ticket from
Moscow
to Lipetsk costs about 2000 RUR / 30 EUR.
By bus
Lipetsk has a good bus connection with Moscow. Several private operators provide 7-10 daily trips from Paveletskaya metro station of
Moscow
to Lipetsk train station and back. Expect 8 hours to go, 600-700 RUR / 15-18 EUR to pay and loud video in the coach for all the way.
Bus collisions are regularly reported on southern directions, so be attentive taking this risk.
By car
Depending on traffic, the road to Lipetsk can take 5-8 hours from
Moscow
. Take road to
Rostov-on-the-Don
and turn left to Lipetsk soon after
Yelets
. Alternatively, turn from to road after
Kashira
, then turn right to Lipetsk after some 200+ km drive. This second way is shorter in kilometres, but worse in road quality and traffic.
Get around

Lipetsk has a Russian standard public transportation system with buses, trolleybuses and marshrutkas. Everything is a bit uncomfortable. The cost of ride is 10 RUR / 0,25 EUR.
Taxis are widespread and inexpensive, but non-English-speaking.

Eat
Cafe "Hutorok" ("Хуторок") near Train station. 24 hours

Drink
Connect
Visa Centers
Italy

phone: +7 4742 519-059

address: Prospekt Pobedy, 29