Lipica
Lipica
(Italian:
Lipizza
) is a village in the
Coast and Karst
region of
Slovenia
. It is famous for the pure white
Lipizzaner
horses that have been bred in the area for 400 years.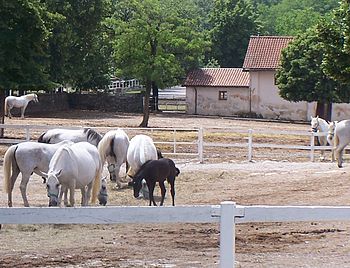 Get in
The closest major towns or cities to Lipica are: Sežana (3km), Trieste (Italy) (10km) and Koper (10km).
From within Slovenia head by car towards Sežana and Trieste (Italy) on the A3 highway. Take the Sežana exit and head south or take Divača exit from the A1 highway and head west. There are several signs that point the way.
From Trieste, Italy take any road towards Opicina or Bazovica. From Opicina follow signs for Sesana (Sežana) or Slovenia and then head south. From Bazovica follow signs for Slovenia. After crossing the border take the second left for Lipica. The journey from Trieste to Lipica by car is around 30 minutes.
There are several trains daily from Ljubljana (2 hour journey) and two per day from Opicina, Italy (10 minute journey) which stop at Divača. From Divača, Lipica is a gentle 20 minute walk.
Alternatively it is possible to take a municipal bus from Trieste (route 39) to Bazovica (about a 30 minute journey) and walk from there across the border to Lipica but the walk may take up to an hour and part of the walk may involve walking alongside a fairly busy road.

See
phone: +386 5 7391 580

Open every day except Monday. First established in 1580, this farm is famous for breeding the Lipizzaner horses that were eventually used by the Habsburgs and the Spanish Riding School in Vienna. Tours of the extensive grounds are available almost hourly from 9AM - 6PM from April to October and the Classical Riding School does a show at 3PM on Tu, F and Su from April to October. €9 for a tour with guide only, €16 for the tour and show.
Do
There is a casino on the grounds of the farm.
The farm has developed several hiking trails that explains the history of the farm and shows off various features of the Karst landscape.
Buy
There is a gift shop near the main parking lot that has souvenirs for all things Lipizzaner as well as prints and crafts.
More shops you can find in nearby
Sežana
.
Eat
There is a restaurant as part of the hotel complex.
If you're looking to get away from the farm, there are a number of small restaurants in the nearby city of Sežana and the village of Lokev.
Sleep
Hotel Maestoso at the main entrance to the farm has a number of single and double rooms. Rooms come with a TV and minibar and some have a balcony.
There are many hotels in the nearby city of
Sežana
if you don't find a free room in Lipica.
Go next
The following places are within easy reach of Lipica: