Listvyanka
Listvyanka
(
Russian
: Листвя́нка
leest-VYAHN-kuh
) is a small town in
Irkutsk Oblast
on the shores of
Lake Baikal
.
Get in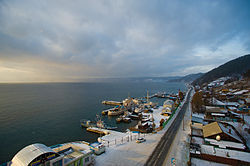 By bus or marshrutka from Irkutsk, mainly from the bus station, however some marshrutkas go from the railway station as well. By boat you can get there from Irkutsk and Port Baykal. You can get to the port in Irkutsk by marshrutka no. 16
By bus
If you go by bus, you have to leave from the autobus station (avtobus stanice). The bus is often full and doesn't take on passengers along the way when it is.
There are at least buses each day, a bus costs (December 2018), it takes an hour and 40 min to get to Listvjanka.
From the train Station to the autobus station (avtobus stanice)
You can get to the autobus station from the railway station by taking tram number 1 or 2 (right in front of the station, take a tram that goes to the right.). Get out after four stops (Central Market), change to tram number 4, ride two more stations, then you can see the autobus station.
Trams cost .
By ship
The port is called Raketa. The boat isn't very expensive, but it can be overbooked. The staff at the port is really unhelpful, so attempt to get tickets online in advance. Travel time: 1h 20 min. It arrives to the pier known as Rogatka.
By train and ferry
Take a
Circum-Baikal Railway
train from
Slyudyanka
to Port Baikal and then a ferry across Angara to Listvyanka. The Port Baikal pier is not far from the railway station, but is not marked, so go with a crowd or ask locals for direction. Regular 6201 train from Slyudyanka to Port Baikal goes 4 times a week, on Monday, Thursday, Friday and Sunday; arrives at Port Baikal at around 19:30 local time. Ferry from Port Baikal to Listvyanka departs at 06:40, 10:45, 15:50, 17:15 and 20:15 (summer 2014). The ferry trip takes 20 minutes and cost in Aug 2013 (one traveller, in July 2014, reported not being asked for payment, but don't count on that). It doesn't arrive at Listvyanka main port, but to a minor port Rogatka cca 2 km from the Listvyanka town center. Catch a minibus on the main road to get to the center ( in July 2014).
See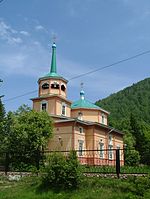 Baikal Limnology Museum. To learn about history of the Baikal, its worlds of animals and plants. To see seals and fish in the aquarium. There is a dendropark nearby.
The big solar vacuum telescope on the hill for registration of sun's activity. Breath-taking view.
St. Nikolay Church, built in the end of XIX century.
Private gallery. Address: 76, Chapayeva st.
Do
Rent an all-terrain vehicle or a bike at Baikal-Visa Info Center. In the winter do dog-sledging. Info-Center is inside the Town Administration building close to the Hotel Mayak. They could help in accommodations, excursions and picking a tour as well as providing information on schedules. E-mail: info@baikalvisa.ru; phone: +7 (3952) 550-464, 792-551, 792-556; fax: +7 (3952) 792-546. Internet access.
Buy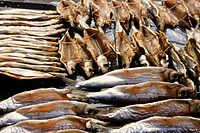 In the market-place there are stalls of fish for sale and precious stones, emblems and amulets. Like everywhere bargaining is right.
Eat

You can try omul, which is a local fish speciality which you can buy from locals at the market. (An omul directly from the market may be more expensive than bought from a further stall.)
You can also try Buriat food at the Buriat restaurant located just next to the market by the shore of the lake.

Sleep
The town has a few hotels (The upper-end hotels have English-speaking attendants). Few hostels can be booked through HostelWorld web.
Hotel Baikal (more expensive than others but with more amenities)
The Park Center unadvertised rooms for $10
Derevenka (not a hotel, they rent wooden cabins on a ground filled with wooden cabin, with view of lake Baikal, around $25 a night)

phone: +7 9526 261251

address: Chapaev street, building # 77A
You can also sleep in the privates. It is cheaper and you will meet locals. Accommodation next to the main road costs around , accommodation somewhere further can by find from (summer 2008).
Go next
Take a ferry across Angara river to port Baikal to ride on a train on the
Circum-Baikal Railway
. Ferry departure times are: 08:15, 11:15, 16:15, 18:15 and 20:45 (as of summer 2014). The 6202 train leaves Port Baikal in the night hours 4 times a week: on Monday, Tuesday, Friday and Saturday.
You can go by boat to Bolshoie Koty, a village in the heart of Baykal national park. You can also go for various excursions on the boats.