Lithgow
Lithgow
is a town that developed around the coal mining industry, just west of the Blue Mountains. With the exception of the nearby Zig-Zag steam heritage railway, it has not long been a recognised as a visitor destination. Lithgow does have many areas of natural beauty close by and some evidence of its history remains around the town.
Get in
Lithgow is immediately to the west of the
Blue Mountains
, approximately an hour's drive from the westernmost suburbs of
Sydney
.
By car
From Sydney and the east take the
Great Western Highway
through the
Blue Mountains
. Lithgow is located at the bottom of the descent of the mountains. The
Bells Line of Road
from
Windsor
is a narrower, quieter road, that avoids many of the
Blue Mountains
townships.
From the west there are a few road links, including the Great Western Highway to
Bathurst
and links to
Mudgee
.
By train
Lithgow is the westernmost terminus of Sydney's electric train network. NSW Trainlink Intercity runs unbooked/unreserved trains to Lithgow departing every one or two hours during the day, and less often throughout the night. The train trip takes three hours from the centre of Sydney and two hours from Penrith in the west.
NSW Trainlink regional trains
booked/reserved services to and from
Dubbo
also stop at Lithgow once a day in each direction, a little faster, but more costly. You can only reserve seats from Sydney a few days before, as seats are held for travellers going to stations not serviced by unbooked trains.
By bus
There are several bus services every day from
Dubbo
,
Bathurst
,
Orange
,
Forbes
and
Parkes
, each designed to meet the trains to Sydney. These buses are run by NSW Trainlink Regional and the local Lithgow Buslines.
Get around

The train station is right adjacent to the main street and shopping area of Lithgow. Taxis are available at the station. The pubs and hotels in the town are walkable and some of the motels are a short trip by taxi.
You can catch a train to Zig Zag - that will take you to the Zig Zag Railway that will hopefully reopen soon. Trains only stop there on request, so talk to the staff before joining the train. The local bus service comprehensively services the surrounding residential areas, albeit somewhat infrequently.
You will need a car to get any further afield, or to see any of Lithgow's natural attractions.

See
phone: +61 2 6351 4452

address: Methven St

phone: +61 2 6352 5414

address: Daintree Close South Bowenfels

Graham Gercken Fine Art Gallery

phone: +61 2 6351 4942

address: 49 Hepburn St

Magnolia Fine Gifts & Gallery

phone: +61 2 6351 3130

address: 80 Main St

address: Wollemi National Park

phone: 1300 76 33 11 (local rate)

address: 4655 Jenolan Caves Road, Jenolan Caves
Do
The
Zig Zag Railway
was one of the most famous attractions near Lithgow. This original section of the western railway is a zig-zag due to the steepness of the descent. The train goes forward along a section of the track, the points are changed, and then it reverses onto the next track section. The track section is long bypassed by the main line, which now winds through tunnels to make its descent. The tourist trains that used to operate on this track section have been suspended after bushfires damaged the sheds and equipment in 2013, and no definitive reopening time has been announced.
You can use the fire trails and dirt roads above Lithgow to get to places like the Lost City rock formations.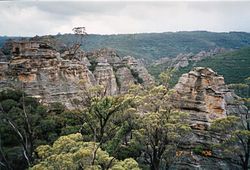 address: Lithgow Showground

Lake Lyell Recreational Area

phone: +61 2 6355 6347

address: Lake Lyell

Jannei Goat Dairy

phone: +61 2 6355 1107

address: 8 View St, Lidsdale

phone: +61 2 6352 3122

address: Sir Thomas Mitchell Dr
Eat
The Old Exchange

phone: +61 2 63524442

address: 83 Main St

No booking needed, fully licensed bar.

phone: 1300 366 466 (local rate)

address: Shop 4, Pottery Plaza Valley Dr

Lithgow Palace Chinese Restaurant

phone: +61 2 6353 1888

address: 1/59 Main St

phone: +61 2 6350 7777

address: 3 Tank St

address: Great Western Highway

Secret Creek Cafe & Restaurant

phone: +61 2 6352 1133

address: 35 Crane Rd

Won Dee Thai Restaurant

phone: +61 2 6351 3346

address: 202 Main St
Drink
There is no shortage of pubs on the main street of Lithgow. In the space of three blocks, you'll find the Commercial, Court House, Lithgow, Tattersalls, and Grand Central. Just pick which ever one appeals.
Across the railway line you'll find Lithgow Workmens club, that likes to call itself 'Workies'. Cheaper drinks, bistro food, and poker machines in typical club surrounds. It's popular, and you may have to queue for the bistro even on a weekday evening.
Lansdowne Hotel

phone: +61 2 6351 3045

address: 137 Main St

Commercial Hotel Motel

phone: +61 2 6351-2312

address: 198 Main St

Court House Hotel

phone: +61 2 6351-3234

address: 1 Main St

Grand Central Hotel

phone: +61 2 63514777 or +61 2 63525954

address: 69 Main St

Lithgow Hotel

phone: +61 2 6351-3379

address: 130 Main St

Tattersalls Hotel

phone: +61 2 6351-3387

address: 151 Main St
Sleep
Several of the pubs in town offer accommodation, only a short walk from the station. The Commercial has motel accommodation attached. In addition, Lithgow has a wide range of accommodation including:
phone: +61 2 6351 2334

address: 45-49 Cooerwull Rd

16 ground floor units, parking at door, off noisy Hwy., fax facilities, parking for heavy vehicles.

phone: +61 2 6352 2477

address: 70 Chifley Roa
Go next
Many of the best destinations suitable for a day trip to Lithgow are eastwards, in the
Blue Mountains
. Good trips into the western side of the mountains include driving up the Great Western Highway or catching a train to
Katoomba
, and driving up the Bells Line of Road to the Mount Tomah Botanical Gardens.
A glow worm tunnel is 40km north of Lithgow on a forestry fire trail. It is an old railway tunnel and the glowworms have taken up residence. The tunnel is a 1km easy and pretty walk from the carpark, use a car with a good ground clearance or 4 wheel drive, and well worth a visit. As the tunnel is long a turns a corner it is very dark in the centre of the tunnel. A torch would be useful in this section, but you can walk carefully and mind your footing without one.
Newnes is also well worth a visit, get info from the local tourist information center on the Bathurst road just outside of Lithgow.