Litochoro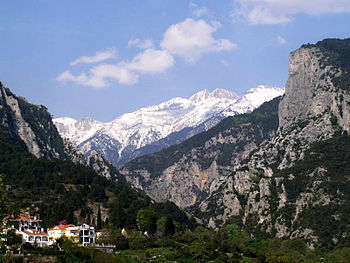 Litochoro
is a town in Pieria region,
Macedonia (Greece)
, Northern Greece.
Understand
Due to its location at the foot of
Mt. Olympus
, Litochoro is very popular among hikers and climbers from all over the world. The seaside settlement of Skala with a large choice of hotels and campsites, is just 5 km away, the archaeological area of Dion is about 10 km north of the town center.
See
phone: +30 23520 81402, +30 23520 82711

address: 15, "Agiou Nikolaou" Str.

Ancient DionA sacred place where the Macedonians regularly gathered to worship the Gods of Olympus, and to make sacrificial offerings, as can be seen from the objects found on the site. According to Ancient Greek writers it was there that King Archelaos organized athletic competitions and theatrical events, and Philip the Second celebrated his victories, as did his son Alexander the Great. In the temple of the Gods of Olympus was a magnificent bronze statue created by Lissippos, which depicted the 25 horsemen who died at the Battle of Granikos.

Dion Archaelogic Museum

Hellenistic Theater
Eat
I Myli

phone: +30 2352 083111
Sleep
Budget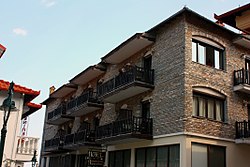 Sylvia Camping

phone: +30 23520 22104, +30 23520 22533

C-class camping

phone: +30 23520 22111-2

phone: +30 23520 81236

address: 1, Nikolaou Episkopou Kitrous Str

Rooms to Let

Viktoria Hotel

phone: +30 2352 082111, +30 2352 84084

address: 5, Georgaki Olympiou Str.

1-star hotel

Park Hotel

phone: +30 23520 81252, +30 6977 873875 (Mobile)

address: 23, Agiou Nikolaou Str

1-star hotel

phone: +30 23520 81398, +30 81498, +30 6951 117 656 (Mobile)

address: 5, Agiou Nikolaou Str

1-star hotel

phone: +30 23520 22122, +30 22124

2-star hotel

phone: +30 23520 81415

address: Central Square

1-star hotel

phone: +30 23520 84328

address: 2, Enipeos Str

1-star hotel

phone: +30 23520 81234, +30 23520 81300

2-star hotel
Mid-range
Olympios Zeus Camping and Bungalows

phone: +30 23520 22115-6

A-class camping/3-star hotel

phone: +30 23520 83931

address: Agiou Dimitriou Str

3-star hotel. 8 Family rooms quadruple with veranda and 4 double. Beautiful view over the town

phone: +30 23520 84059, +30 6947 607750 (Mobile)

address: 35 "Agiou Dionysios" Str

4-star hotel. Eight rooms, doubles, superior doubles and junior suites
Splurge
phone: +30 23520 22222

5-star hotel

phone: +30 23520 22200

4-star hotel

phone: +30 23520 81831

4-star boutique hotel