Litoměřice
Litoměřice
is a historic city in
North Bohemia
with a population of 25,000 people. It is a nice change, compared to the bigger industrial cities in North Bohemia.
Understand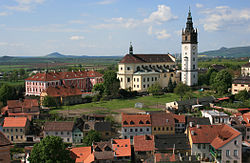 One of the oldest Czech towns located in fertile area on Elbe river. Royal-town status was granted in early 13th century. It was one of the main cities in Kingdom of Bohemia in the Middle Ages. It is still seat of Litoměřice Catholic Diocese and one of the seven Czech cathedrals is there. Litoměřice is surrounded by the
Central Bohemian Uplands
;
Terezin
concentration camp is just a few kilometers from the town.
Get in
It takes 50 min. from
Prague
to Litomerice. Most of the 70 km road is covered by highway - D8. Direct bus is departs from Prague - Nadrazi Holesovice (Metro C line) to Litomerice bus station in centre of the town. It takes 1h10min. Train connection isn't direct and is slower.
From regional capital
Ústí nad Labem
, it takes 25 min. with train and is the fastest option. By car it takes 33 min. (30 km).
Get around
Litoměřice is served by two bus lines, line B and line D. To reach destinations in area around (like
Terezín
), use local buses or trains. Hiking or biking is a good option, landscape is really beautiful.
See
Peace SquareMain square with Baroque plaque column, old buildings (don't miss The House of At the Black Eagle-Dum u Cerneho Orla with well-preserved Renaissance sgraffito) and old Renaissance town hall, now regional museum.

phone: +420 416 731 339

address: Dlouhá 173

History, archaeology and geologic evolution of the Litoměřice region and memorial of Czech poet Karel Hynek Mácha.

phone: +420 416 731 327

address: Máchova 177/5

Part of Litoměřice regional museum, but this is the house where the famous Czech romantic poet Karel Hynek Mácha lived and died.

City walllsWell-preserved Gothic city walls, surrounding historic centre.

phone: +420 416 707 511

address: Dómské nám.

Seat of Litoměřice Diocese. Founded in 1057, rebuilt in early Baroque style. Situated on the hill, it is icon of the city.

phone: +420 416 916 440

address: Mírové náměstí 16/8a
Do
Buy
phone: +420 284 096 111

address: Marie Pomocné 2154/38
Eat
Drink
phone: +420 605 342 836

address: Žižkova 2249

Popular café offering desserts and some local products.

phone: +420 416 534 837

address: Zítkova 784/5412 01

Microbrewery and restaurant.
Sleep
phone: +420 416 737 500

address: Svatováclavská 12

Family B&B in Baroque house in historic centre.

Hotel, restaurant and brewery Koliba

phone: +420 416 732 861

address: Českolipská 2100

Offers wellness treatments, including beer spa.

phone: +420 416 732 506

address: Mírové náměstí 12

Hotel in old Renaissance house.
Go next
Nearby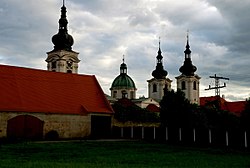 Terezín - if you are once in Litomerice, it's a must to visit Terezín concentration camp, just 5 km form Litomerice
Central Bohemian Uplands - Litomerice is located in heart of protected landscape area with unusual mountains of volcanic origin. You can reach several castle ruins (Hazmburk), hills (Lovos, Milesovka) and look-out towers by walk on well-marked tourist routes, just from the city!
Porta Bohemica (Gate of Bohemia)- Elbe creates canyon-like valley with many meanders.
Úštěk - small historic town with well-preserved gothic houses, 17 km from Litomerice
Ploskovice - 7 km from Litomerice, baroque chateau
Doksany Monastery - baroque monastery, 10 km from the city