Little Rock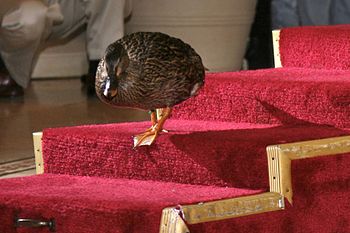 Little Rock
is the capital and the largest city of the state of
Arkansas
. It has a population of about 200,000 with a metro area of over 700,000.
Understand

Little Rock lies at the center of the state, more-or-less where the Ozark Mountains, the Ouachita Mountains, and the Mississippi Alluvial Plain (the "Delta") come together. Traveling east from Little Rock, you traverse flat land nearly all the way to the Mississippi River; traveling west you quickly enter hilly country.
Little Rock is Arkansas's largest city, as well as the state capital and major economic center (although northwestern Arkansas, with Walmart, Tyson Foods, and major trucking firms, is rapidly gaining). Little Rock is home to the state's only medical school, and one of the two branches of the University of Arkansas law school.

History
Little Rock derives its name from a small rock formation on the south bank of the Arkansas River called La Petite Roche (the "little rock"). The "little rock" was used by early river traffic as a landmark and became a well-known river crossing. The original historic "little rock" was later dynamited and used as a foundation for a railroad bridge, but its location can be visited in downtown's Riverfront Park.
Little Rock is located at the first high that upstream travelers on the Arkansas River came to, and so was a logical place to found a settlement. When it became apparent that the original capital of Arkansas Territory, Arkansas Post, was too subject to flooding, the seat of government was moved to Little Rock in 1819.

Climate

Temperatures range can reach above 90°F (32°C) in the summer, peaking in August and September, to below freezing in December and January. The most pleasant times of year to visit are fall and spring; the changing of the leaves in fall is particularly enticing.

Get in
By plane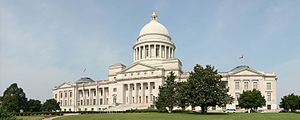 Bill and Hillary Clinton National Airportlies just east of downtown Little Rock, about 10 minutes from the Clinton Presidential Library. It is served by all major airlines. Southwest Airlines is the airport's largest carrier with service to seven destinations. The airport has a single, 12-gate terminal building.
Airlines and destinations
Alliegant: Los Angeles World, Orlando-Sanford
American: Charlotte, Chicago O'Hare, Dallas/Fort Worth, Washington Reagan National.
Frontier: Denver.
Southwest: Baltimore, Chicago Midway, Dallas Love Field, Houston Hobby, Las Vegas, Phoenix, St. Louis.
United: Chicago O'Hare, Denver, Houston George Bush Intercontinental.
ViaAirlines: Austin-Bergstrom
By train
Amtrak
serves Little Rock with the
Texas Eagle
between
Los Angeles
and
Chicago
, however the schedule is not optimal nor reliable. The westbound train from Chicago is scheduled to arrive at 3:10AM, and the eastbound train from L.A. by way of
Dallas
is scheduled to arrive at 11:34PM. The impressive is a reminder of a bygone era and is located at 1400 W Markham St, west of city center.
By car
Little Rock is located at the intersection of Interstates 40 and 30, about two hours west of
Memphis
, five hours east of
Oklahoma City
, and five hours northeast of Dallas. I-530 and U.S. Route 167 also lead into the city.
Interstates 430 and 440 nearly encircle the metropolitan area, and I-630 runs from downtown westward to end at I-430.
By bus
Get around
By train
River Rail TrolleysThe trolley will take you to most of the major downtown attractions, as well as across the Arkansas River to downtown North Little Rock. You can pick up a River Rail schedule from any of the hotels or downtown attractions. It passes by every 15 minutes or so. The trolley is a fun, easy way to get around downtown Little Rock.
By car
If you'd like to see more than Downtown, a car is your best bet.
While taxis aren't as common a sight in Little Rock as they are in Dallas or Atlanta, they are available. You'll definitely be able to find one at the airport, and probably you'll see one pass through downtown if you're patient. A better plan would be to call in advance. You can call Capitol Cab at +1 501 570-9999.
If you're renting a car: I-630 runs from east/west from downtown to the edge of west Little Rock; for most attractions you won't go too far north or too far south of 630.
Be aware while driving that east Little Rock is pretty much flat, whereas west Little rock can get extremely hilly.
By bus
By bike
Little Rock has a large population of cyclists. There is a large mixed use pedestrian and bike loop connecting both North Little Rock and Little Rock's downtown corridors. There are bike rental places that are located along the
Arkansas River Trail
. Try the junction bridge, or the Big Dam Bridge, which is the longest bridge in the world dedicated to pedestrians and cyclists.
River Trail Rentals

phone: +1 501 374-5505
Proceed with caution while traveling downtown in the River Market area. There are no dedicated bike paths other than the Arkansas River Trail, and the River Rail Trolley tracks have deep ruts which can knock off cyclists not paying attention.
See
East Little Rock
The eastern edge of Little Rock is sparsely populated but is a vital economic area, as Little Rock National Airport and Little Rock River Port are located here.
address: 4500 Springer Blvd

Headquarters of the National Audubon Society's Arkansas chapter and a nature education center complete with a park.
Downtown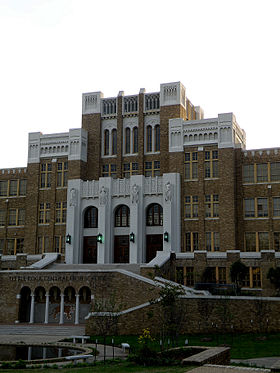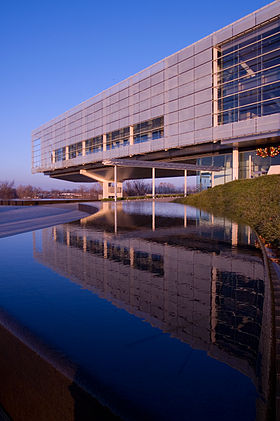 Many of Little Rock's most interesting attractions are found in its downtown area.
Arkansas State Capitol

address: 500 Woodlane St

Completed in 1915, is of some interest as it was modeled after the U.S. Capitol, and as a result, it has been used in several movies. If the legislature is not in session, you may visit the Senate and House chambers. The Arkansas Vietnam Veterans Memorial, Arkansas Law Enforcement Memorial, and a monument honoring the Little Rock Nine are located on the grounds. The Capitol occupies the former site of the state penitentiary.

Butler Center for Arkansas Studies

address: 401 President Clinton Ave

The largest facility dedicated to the study of Arkansas history, housed in two historic buildings (built in 1882 and 1914) adjoined by a present-day structure. The Main Library of the Central Arkansas Library System is next door.

Central Arkansas Library System Main Library

phone: +1 501 918-3000

address: 100 Rock St

The largest public library in Arkansas. The building is the former warehouse of the Fones Brothers Hardware Company (founded in 1865, ceased operation in 1987), completed in 1920. In 1993, the city approved a bond to restore the building, and the library eventually moved there in 1997.

Central High School National Historic Site and Museum

phone: +1 501 374-1957

address: 2125 Daisy L. Gatson Bates Dr.

This National Historic Site is dedicated to the Central High integration crisis of 1957. The visitor center houses a permanent exhibition on the event and the iconic facade of the school can be viewed from across the street. Reservations are mandatory to tour the school as it is an operating school, and you are asked not to enter it on your own.

Daisy Bates House

address: 1207 W 28th St

The home of Little Rock's most celebrated civil rights leader who mentored the Little Rock Nine. The house is a private residence and is not open to the public.

Museum of Black Arkansans and Performing Arts Center

phone: +1 501 372-0018

This museum housed in the historic First Baptist Church celebrates the colorful culture, history, and heritage of African American people in Arkansas.

Gazette Building

address: 112 W Third St

The Arkansas Gazette, founded in 1819 by William Woodruff, has the distinction of being the oldest newspaper west of the Mississippi. It is still in print today, although it is now called the Arkansas Democrat-Gazette as a result of a 1991 merger with the Arkansas Democrat. The Gazette was housed in this building from 1908 until the merger. Today it houses eStem Public Charter Schools.

address: 1 World Ave

Located next to the Clinton Presidential Center, a nonprofit dedicated to caring for the earth and ending hunger and poverty. Visit their internationally recognized Green Headquarters building that has earned the highest LEED award. This is a great place to visit for everyone of all ages.
Heifer VillageLocated behind the Heifer International Center, is an interactive museum and learning center designed to educate the public about a pristine, unspoiled world without poverty and hunger, the stated goal of Heifer International.
address: 200 E Third St

Preserves four historic antebellum homes, also has a gallery with changing exhibits. General admission free.
address: 401 Main St

This 1928 building that now houses Little Rock's local ABC-affiliated television station was once the headquarters of the W. B. Worthen Banking Corporation, and is listed on the National Register of Historic Places. The bank is today still in operation, though its name has disappeared into a triple merger, first by Boatmen's, then NationsBank, and now Bank of America.
phone: +1 479-783-5345

address: 2523 Springer Blvd

Final resting place for more than 25,000 American war veterans; closed to new internments.
MacArthur Park (Bounded by 9th St. to the north, I-630 to the south, Commerce St. to the west, and McMath Ave. to the east) This city park is built around the old Little Rock Arsenal, where Douglas MacArthur was born in 1880. Lots of room to walk around, picnic, and play. Bring a loaf of bread to feed the numerous ducks in the ponds. The park also has two museums within its boundary:
phone: +1 501 372-4000

9th and Commerce. Includes a museum school, children's theater, and a wonderful art gallery. The gallery is home to works of Cézanne, Van Gogh, Jackson Pollock, Georgia O'Keeffe, Rembrandt and Dale Chihuly, to name a few. The Museum School is a great place to learn or develop art skills. Children's Theatre productions are on most weekends during the school year.

MacArthur Museum of Arkansas Military History

phone: +1 501 376-4602

address: 503 E Ninth St

The museum, housed in its namesake's birthplace and the only surviving structure from the Old Arsenal, features military-related exhibits from the nineteenth century to the present. Also located nearby is the Arkansas Korean War Memorial which was unveiled on June 25, 2007.
Mosaic Templars Cultural Center

phone: +1 501 683-3593

9th and Broadway. The original headquarters of the Mosaic Templars (a black fraternal organization, now defunct save for a single chapter in Barbados), destroyed by fire in 2005, has been reconstructed to house a cultural center dedicated to the history and culture of black people.
Mount Holly Cemetery, 1200 S Broadway. Listed on the National Register of Historic Places and known by the nickname "The Westminster Abbey of Arkansas", this historic nineteenth-century cemetery is the final resting place for many noteworthy Arkansans. Among the most notable: David Owen Dodd, the "Boy Martyr of the Confederacy"; Pulitzer Prize-winning poet John Gould Fletcher; and William Woodruff, founder of the Arkansas Gazette, the oldest newspaper west of the Mississippi. Also buried here are 10 former Arkansas governors, 14 former Arkansas Supreme Court Justices, 21 former mayors of Little Rock, and 6 former U.S. Senators.
address: 500 President Clinton Ave

Ste 150. Science and history museum with interactive exhibits. Great for kids.
phone: +1 501 324-9685

address: 300 W Markham

Oldest surviving state capitol building west of the Mississippi. It is now a state history museum, where you can see the old House of Representatives Chamber. The museum also has a permanent collection of history-related exhibits, and temporary exhibits are shown occasionally. If you have kids, don't miss Grandmother's Cottage, a hands-on room where visitors can examine with a variety of objects from the 1920s-30s.
Quapaw QuarterAdjacent to downtown Little Rock is a residential area made up of 19th century Victorian homes, including the Governor's Mansion. Most of the homes are privately owned; however, twice a year (the first weekend in May and the first weekend in December), several of the homes are opened to the public and can be toured. Of note is the Villa Marre, dating from 1881, which was used in the TV sitcom Designing Women as the home of the interior design company.
phone: +1 501 324-9805

address: 1800 Center St

Also seen in Designing Women, as Suzanne Sugarbaker's home. No admission fee for tours, but they must be scheduled in advance.
The River MarketThere are more than a dozen permanent vendors, and Farmer's Markets May-Oct: Tu and Sa 7AM-3PM.
Riverfront Park This beautiful downtown park overlooking the Arkansas River is the site of La Petite Roche ("the little rock"), the rock formation for which the city is named. In addition, the park hosts the annual Riverfest celebration every Memorial Day weekend. An outdoor amphitheater for concerts is also located here.
Robinson Center, Markham and Broadway. One of two city-owned convention centers, connected to the Doubletree Hotel and anchored by the 2,609-seat Robinson Center Music Hall, home to traveling Broadway productions, the Arkansas Symphony Orchestra, and Ballet Arkansas.
Statehouse Convention CenterMarkham and Scott. The second city-owned convention center, adjoins the Peabody Hotel.
Taborian Hall, Ninth and State. This 1916 building is the only surviving remnant of Little Harlem, an African American community that saw its heyday during the segregation era. By 1992, it was vacant and had a huge hole in its roof, and was subsequently restored to house Arkansas Flag and Banner. There is a movement to restore the Dreamland Ballroom on the building's top floor, which once saw the likes of Louis Armstrong, Duke Ellington, and Nat King Cole, to its splendor.
phone: +1 501 324-9716

address: 423 E Capitol

A historic antebellum house that may be rented to host special events.
Union Station, Markham and Victory. Although now a shadow of its former self save for occasional Amtrak service, Union Station still retains most of its late nineteenth-century atmosphere.
William J. Clinton Presidential Library and Park

phone: +1 501 374-4242

address: 1200 President Clinton Ave

The eleventh Presidential Library of the National Archives and Records Administration, and the largest in the system, is dedicated to the Arkansan and the 42nd President. A huge collection of memorabilia from Clinton's two terms as President, including a replica of the Oval Office. Look also for the Clinton School of Public Service - it is housed in an old Rock Island station built in 1899.
Witt Stephens Jr. Central Arkansas Nature Center

address: 602 President Clinton Ave

Features an aquarium, a taxidermy collection, and part of the Arkansas River Trail.
YMCA Building, 524 South Broadway. Bill Clinton was a frequent visitor to this YMCA branch during his years as governor of Arkansas. The building was built in 1928 and added to the National Register of Historic Places in 1979. But in 1995, the YMCA of Metropolitan Little Rock shuttered the branch due to declining membership. The building is now awaiting restoration.
Midtown
The Heights and Hillcrest Two affluent neighborhoods with a small-town charm. Beginning at Stifft Station on Markham St. and ending at University Ave., Kavanaugh Blvd. winds through both neighborhoods, following the route of a now-defunct streetcar line. Cantrell Rd. forms the boundary between the two neighborhoods, with The Heights to the north and Hillcrest to the south. Many of the city's most popular restaurants are located along Kavanaugh, along with art galleries and odd and interesting shops, both funky and upscale. Hillcrest is mix of mid-priced houses and apartments along with fine old houses. The Heights represents more of the old-money Little Rock Country Club crowd. These were the city's most exclusive neighborhoods until the boom in expensive subdivisions in the far west (e.g., Chenal Valley and Hickory Hills).
War Memorial Park A golf course, fitness center, and public swimming pool are all located here. Also features:
phone: +1 501 666-2406

address: 1 Jonesboro Dr

Many different animals from all over the world. In addition, the zoo's entrance plaza contains "Over the Jumps: The Arkansas Carousel", a National Register of Historic Places entry with an unusual distinction - it's the world's only waving carousel.

phone: +1 501 663-0775

The stadium hosts two University of Arkansas home football games, high school football, and concerts. Even if there's no event going on, stop by and look at the Sturgis Memorial Plaza at the stadium's main entrance.
West Little Rock
Not too many years ago Little Rock essentially ended about where I-430 now runs, but the pace of development in the western part of the city has been rapid, in both commercial and residential areas. Big box stores, chain restaurants, new hotels, and apartment complexes and subdivions stretch for miles west of I-630, especially along Chenal Parkway, West Markham Street, and Cantrell, Bowman, and Shackleford Roads.
C. Maurice Lewis Jr. Natural Resource Complex

address: 2 Natural Resources Dr

The headquarters of the Arkansas Game and Fish Commission. You can obtain an Arkansas hunting or fishing license here (it is required by state law, even for non-residents) if you're planning to hunt or fish in the Natural State. If those don't suit your interest, at least just drop by and visit the exhibition gallery.

Pinnacle Mountain State ParkScaling Pinnacle can be accomplished easily in an afternoon. The peak provides a great view of the Arkansas River and the surrounding country. No climbing experience necessary. West trail up the mountain is fairly easy; East trail is much steeper. Several miles of trails allow hikes of various lengths; there's also canoeing and fishing (an Arkansas fishing license is required) on the Little Maumelle and Big Maumelle rivers. Good birdwatching and wildflower-looking. The Ouachita National Recreation Trail starts here and goes all the way to Oklahoma.

phone: +1 501 821-7275

address: 20919 Denny Rd., east off Chenal Parkway

Is home to Little Rock's Unique Botanical Gardens. Wildwood Park has expanded its focus to include a full range of the arts, including the performing, literary, culinary, visual, healing and horticultural arts. A park, pavilions, gardens and 625-seat theatre complex make Wildwood one of the State's most valuable natural and cultural resources.
The drive across the river on I-430, while not a destination in and of itself, offers an amazing view of the city and of the river. Driving North on 430 to cross the bridge also offers a panoramic view north.
North Little Rock
North Little Rock
is an independent city just across the Arkansas River from downtown Little Rock.
Argenta Historic DistrictLocated in the original downtown of North Little Rock next to the new Dickey-Stephens Park, Argenta is one of the oldest preserved neighborhoods in central Arkansas. The neighborhood is a wonderful example of revitalization efforts, where citizens and the Main Street program have worked together since the mid-1990s to turn a neighborhood completely around.

Arkansas Inland Maritime Museum

phone: +1 501 371-8320

address: 120 Riverfront Park Dr

Tour the World War II-era submarine USS Razorback, named after a red-skinned South Pacific whale, not the University of Arkansas mascot (submarines were named after aquatic animals during WWII). Important: Touring the submarine requires climbing ladders and passing through narrow, enclosed spaces. This tour is not recommended for children under the age of 5 or for persons who are claustrophobic. Appropriate footwear and clothing are also necessary - no high heels, flip-flop shoes, or long skirts.

Burns ParkOne of the largest city parks in the country, alongside the Arkansas River. Two golf courses, hiking and bike trails, playgrounds, soccer fields, baseball fields, and a miniature amusement park. It's also home to part of the Arkansas River Trail (see next section), that crosses the Arkansas River over the Big Dam Bridge. And don't forget to check out the 'rocket slide' around that place.

Camp RobinsonNational Guard base with on-site museum (free admission) open to the public.

Dickey-Stephens ParkHosts the Arkansas Travelers baseball team (see "Do" below).

Little Rock Air Force BaseIn the neighboring town of Jacksonville, is the Department of Defense's only C-130 training facility, and has the Air Force's largest fleet of the type.

The Old MillFamous for having been in the introductory scenes of the movie Gone With the Wind (for about six seconds).

address: 1 Simmons Bank Arena Drive

This 18,000-seat indoor arena, recently renamed from Verizon Arena, is second base to the Little Rock Trojans and Arkansas Razorbacks basketball teams (see "Do" below), and also hosts concerts, ice shows, and other events.
The Arkansas River Trail
The circular
Arkansas River Trail
runs from downtown Little Rock, west along the Arkansas River to the Big Dam Bridge, crosses it, then runs back east to downtown North Little Rock, finally completing the loop after crossing the historic Junction Bridge. Soon you'll be able to go all the way to Pinnacle Mountain, once the Two Rivers Bridge west of the Big Dam Bridge is finished. A great place to exercise by walking, running, roller skating, or cycling.
Big Dam BridgeThe centerpiece of the Arkansas River Trail is this long pedestrian and bike bridge over the Murray Lock and Dam, linking Little Rock's Murray Park with North Little Rock's Cooks Landing Park. Absolutely not to be missed.
Do
If you have kids with you, the
Little Rock Visitors Bureau
website has a
kids section
with a wide range of activities.
Annual events
Other events
Sports and leisure
For those who want to get off the beaten path, Little Rock offers a wide range of sports and leisure activities.
Golf is a popular activity in Little Rock; both public and private courses; country club membership may apply.
Movie theatres include
UA Breckenridge Village 12
(1200 Breckenridge Drive, +1 501 224-0992, online ticketing at Fandango) or
Rave Motion Pictures Colonel Glenn 18
(18 Colonel Glenn Plaza Drive, 501-687-0499, online ticketing at movietickets.com), both of which have digital projection, stadium seating and surround sound. Independent films are shown at
Riverdale 10 VIP Cinema
(2600 Cantrell Road, +1 501 296-9955, online ticketing available through theatre's website).
Those looking to take a stroll can walk across the Arkansas River to
North Little Rock
on one of two converted train trestles — the former Rock Island Railroad bridge from the Clinton Presidential Center, or the Junction Bridge from Riverfront Park.
Live theater
Professional and college sports
Buy
address: 6000 W Markham. Midtown mall

Midtowne CenterAcross University Ave. from Park Plaza, features upscale retailers.

Pleasant Ridge Town Center

address: 11525 Cantrell Rd. West

Little Rock's newest upscale center.

address: 3929 McCain Blvd

North Little Rock.

River Market DistrictNumerous retailers downtown.

Shackleford Crossing Shackleford Rd. at I-430.
Eat
Downtown
West Little Rock
Butcher Shop Steak House

address: 10825 Hermitage Rd

Casual, welcoming atmosphere for families and business meetings. USDA choice and prime steaks, hand cut on premises. Also have fish, pastas, chicken and more.

phone: +1 501 223-3000

address: 201 S Shackleford in Crowne Plaza Hotel.

Open daily for breakfast, lunch and dinner. Classic American Cuisine featuring the fine steaks. Locals and guests alike enjoy the friendly service in a sophisticated atmosphere.

address: 14502 Cantrell Rd

California wine country theme. Menu focus on fresh ingredients. Fresh fish, hand-cut steaks, chicken, pasta, etc. Comfortable romantic setting with full bar. Wine Spectator award winner for five years.

Corky's Ribs and Barbecue

address: 12005 Westhaven Dr

Delicious Temptations

address: 11220 N Rodney Parham Rd

Grumpy's Too Neighborhood Bar and Grill

address: 1801 Green Mountain Dr

Izzy's Famous Food Place

address: 5601 Ranch Dr

Southern hand rolled hot tamales, brick oven pizzas, 14 freshly made salads, hand prepared burgers. Group menu is available, as well as separate checks for groups.

address: 11401 Rodney Parham Rd

Fans of Czech, German, Austrian and other central European fare have made this warm west Little Rock restaurant a favorite since 2009. Owner Tomas Bohm has since branched out with a second location in the city's Hillcrest neighborhood, along with the deli and casual eatery District Fare.

address: 1620 Market St

Opened in 2017, this well-regarded newcomer to the city's dining scene offers eclectic options in steaks, seafood, cocktails and more, led by longtime local restaurateurs Louis Petit and Jim Keet.

Purple Cow II

address: 11602 Chenal Pkwy

Two locations offer the same menu - with choices for all family members. The restaurants are the combination of a 50s diner, a soda fountain, and a burger joint, featuring hand-dipped shakes and malts and soda fountain treats; great burgers and a variety of sandwiches, homemade soups and chili; and a popular selection of entree salads; and a daily Purple platter special; on week-ends, brunch items. A smoke-free restaurant.

Sekisui Sushi Bar & Hibachi Grill

address: 219 North Shackleford Rd

Star of India

address: 301 N Shackleford Rd

West End Smokehouse and Tavern

address: 215 N Shackleford Rd
Budget
phone: +1 501 296-9535

address: 1611 Rebsamen Park Road

Reliably good burgers, fries, nachos, and all-American favorites (including apple pie) can be found in this longtime Riverdale neighborhood restaurant.
Cañon Grill In the middle of Hillcrest, this friendly, inexpensive spot offers Mexican-style dishes, from the folks who also own Riverdale's Buffalo Grill.
Damgoode Pies Locations in Hillcrest, on Cantrell Road just outside the Heights, and in downtown's River Market District with some of the best pizza in town.
The Oyster Bar A longtime neighborhood favorite in Stifft Station-Hillcrest with shrimp, oysters, po-boys, and draft Bass and Guinness. A contender for best jukebox in town.
Pizza D'Action A smoky hangout for the young and hip crowd at Stifft Station on Markham Street. (They get around the no-smoking law by declaring themselves a bar and barring the under-21s).
U.S. Pizza There are several locations of this popular locally based chain, including Hillcrest, the Heights, and Rodney Parham Road.

Whole Hog CafeExcellent Southern barbecue and winner of many awards (including some from the renowned Memphis in May World Championship Barbecue Cooking Contest)
Mid-range
Brave New Restaurant

phone: +1 501 663-2677

address: 2300 Cottondale Lane

Good luck finding this place, hidden in an office building in the Riverdale area. Once you get there, though, you'll be in one of the top handful of restaurants in town, where chef Peter Brave offers a menu of fresh ingredients in a setting overlooking the Arkansas River.
Cafe Prego Unpretentious Italian place in the Heights, with an amazing collection of stuff on the walls. Try the Chicken Prego, the focaccia (thicker and breadier than most), and by all means the chocolate creme brulee. Outside seating in good weather.
Ciao A friendly Italian restaurant in a storefront on 7th Street downtown.
Ciao Baci, Located in a cozy Hillcrest home converted into a restaurant (that used to be the original Andre's). Very good appetizers and entrees, extensive wine list, and open very late. A good place for dinner or for just hanging out with appetizers and wine. A little expensive, but good prices for the quality.

address: 1619 Rebsamen Park Road

A Riverdale mainstay since 1981, offering authentic tastes of New Orleans in a menu including poboys, seafood, fish, steaks, and desserts. Full Bar, extensive wine list, handicapped accessible.
Forbidden Garden along west Little Rock's Cantrell Road is the second generation of the longtime Forbidden City Chinese restaurant once part of midtown's Park Plaza Mall.
Franke's Cafeteria Arkansas-owned since 1919, cafeteria-style comfort food is still served from two locations: in downtown Little Rock during weekdays, and seven days a week along Rodney Parham Road in west Little Rock.
Loca Luna Eclectic food: a mix of southern, Southwestern, with maybe a touch of Italian and Mexican. (Example: barbecue chicken pizza with cranberry tequila sauce.) Good nightly specials, or try the old faithful pot roast. Great meatloaf (!) at lunch. Reasonably priced wine. Outside seating.
Mt. Fuji Enjoy the best cuisine from Japan in a fine setting. Also has a gift shop that sells Japanese goods.
Star of India Lots of good Indian food for the money, from a long menu of traditional Indian dishes. Good service, and owner Sami goes out of his way to please customers. Indian beer, too.
Trio's Fine food and fine service in an upscale mini-mall on Cantrell Road. On nearly all locals' lists of LR favorites. Outside seating.
Drink
phone: +1 501-372-8032

address: 323 President Clinton Ave

In the heart of the River Market area downtown.

Crush Wine Bar

phone: +1 501-374-9463

address: 318 North Main Street

Winnner of Best wine list in Arkansas. Located in the River Market area downtown.

phone: +1 501-375-8400

address: 2500 W 7th St

Cheap beer, great food and live music on most nights of the week.
Sleep
The opening of the Clinton Presidential Library in 2004 nearly caused Little Rock's hotels to burst at the seams, and the number of visitors to the city is growing. It would be nearly impossible to list all the best hotels here. The designations of Budget, Mid-range, and Splurge do not necessarily reflect price range, and also apply to the quality of accommodations and amenities.
Budget
address: 3200 Bankhead Dr

Comfort Inn and Suites Airport

address: 4301 E. Roosevelt Rd

address: 1501 Merrill Dr

Central location, gym, outdoor pool.

Comfort Inn and Suites Downtown707 I-30

address: 300 Markham Center Dr

Holiday Inn Express West

address: 4900 Tally Rd

Candlewood Suites

address: 10520 W Markham Rd
Mid-range
Holiday Inn at the Presidential Center 600 Interstate 30, +1 501 375-2100. The closest hotel to the Clinton Library.

AmeriSuites Little Rock/Financial Center

address: 10920 Financial Center Pkwy

Located in the heart of the financial district and only eight miles west of downtown Little Rock.

Hampton Inn & Suites Little Rock Downtown

phone: +1 501 244-0600

address: 320 S Commerce St

Located 2 blocks from the banks of the Arkansas River in the revitalized downtown River Market district.

Hampton Inn & Suites Little Rock

address: 1301 Shackleford Road

Located in the heart of the financial district.

Wyndham Riverfront Little Rock Hotel

address: 2 Riverfront Place

On the north bank of the Arkansas River, in the heart of downtown North Little Rock - one mile (1.6 km) from the downtown Little Rock business district, seven miles from Little Rock National Airport and just a few blocks from the Statehouse Convention Center and Alltel Arena.
Splurge
address: 3 Statehouse Plaza

The state's only full-service Marriott.

phone: +1 501 374-7474

address: 111 W Markham St

Markham & Louisiana. Located downtown across the street from the Peabody and within walking distance of the River Market. Even if you can't afford to stay here, drop in to check out the beautiful lobby.

Courtyard by Marriott Little Rock Downtown

phone: +1 501 975-9800

address: 521 President Clinton Avenue

Right in the heart of the River Market, near the Clinton Presidential Center.

phone: +1 501-372-4371

address: 424 W Markham St

Adjoins Robinson Center downtown and is next to the Old State House.

Hilton Little Rock Metrocenter

phone: +1 501-664-5020

address: 925 S University Ave

Located in central Little Rock, not near downtown, but convenient to I-630.

phone: +1 501 312-9000

address: 11301 Financial Centre Parkway

Full-service hotel with 251 two-room suites.

phone: +1 501-223-3000

address: 201 South Shackleford

Courtyard Little Rock West

phone: +1 501 227-6000

address: 10900 Financial Centre Parkway

phone: +1 501 374-0100

address: 625 W Capitol Ave

An Enchanting Evening - Luxury Log Cabin

phone: +1 501 330-2182

address: 29300 Hwy 300

Private cabin with hot tub.
Connect
Cope
Consulates
phone: +1 501 372-6933

address: 3500 S University Ave
Go next