Liu'ao
Liu'ao
(六鳌, Liù'áo) is a peninsula in
Zhangpu County
of
Zhangzhou
City, in the southern part of China's
Fujian
Province.
Understand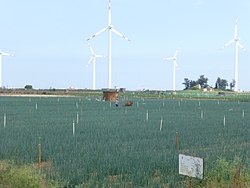 The Liu'ao Peninsula is located in the southern part of Fujian's coastline, south of
Xiamen
and
Zhangzhou
. It is one of the windswept sandy spits sticking out into the Taiwan Strait, along with the Gulei Peninsula farther to the southwest. While most of the peninsula is flat and sandy, it also incorporates several rocky hills, which must have been separate islands in the geological past. To China's ancient mariners, the silhouettes of these hills must have been reminiscent of
ao
, legendary creatures that are depicted as giant fish or turtles. They counted six of them, thus giving the peninsula its name, "Liu'ao" ("Six ao").
Historically, Liu'ao has lived on fish and vegetables. There are still fishing harbors there, and fresh fish and clams abound in local markets; the sandy soil produces sweet potatoes (known locally as 地瓜
dìguā
), white radishes, onions, and other crops. These days, however, Lia'ao's relentless wind has become its main natural resource: many dozens of wind power turbine towers have been erected along the peninsula windy west shore, and more are under construction. Tourism is also developing, with people coming to the peninsula for its beaches and a bit of history.
Administratively, Liu'ao Peninsula is incorporated as Liu'ao Town (六鳌镇
Liù'áo zhèn
); it includes the actual town (urban area), near the peninsula's southern end, and several villages located along the road running to it from the mainland. The town's government, shops, and services are mostly located along the main street of the Liu'ao Town proper.
Get in
By bus
There is a regular bus service from the county seat,
Zhangpu
, as well as (less frequently) from
Zhangzhou
and
Xiamen
.
By train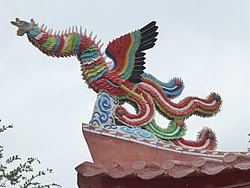 There is no train station particularly close to Liu'ao. The closest one is , served by the coastal rail line,
Shenzhen
-
Xiamen
-
Fuzhou
; maps indicate that Zhangpu's main bus station is adjacent to the train station, so the bus to Liu'ao probably runs from there.
A much more major train station (on the same line, but with more trains, and, in addition, with some trains from the interior of China) is . As of 2015,
Zhangzhou
is building its southern bus station adjacent to its train station; when completed, it is likely to become Zhangzhou's terminal for the bus to Liu'ao.
By car or bicycle
If coming by car or bicycle, you probably will be using the coastal road (Hwy S201), to which Liu'ao's main road (X523) connects on the east side of Shentu Town.
If coming from the west (say, from Guangdong), a more scenic route is possible: one can leave the main road in Jiuzhen Town 旧镇, and follow a small road east, which goes across aquaculture ponds and solar evaporation pools of Zhuyu 竹屿 village. As it approaches the base of the Liu'ao Peninsula, look at signs at road forks, and follow the direction to Dadian 大店
Get around
County Route X523 is the peninsula's main road, running mostly along its western side.

See
In Liu'ao Peninsula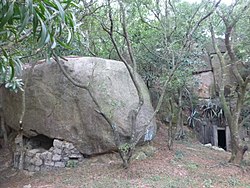 Liu'ao Old FortressIn the late 14th century, during the reign of the Ming Dynasty founder the Hongwu Emperor, a number of fortified towns were constructed along China's southeastern coast to defend the country from pirates (wokou). One of them was located on the slope of a hill a bit inland from today's Liu'ao Town. However, unlike the well-preserved (or extensively restored) towns such as Chongwu or Pucheng (in Cangnan County, south of Wenzhou), little of the Ming fortifications remain to be seen in Liu'ao. A small section of the fortress wall (which looks more like a retaining wall) with one gate has been restored (or, rather, built anew); people come to admire ancient (300-year-old, supposedly) banyan trees growing nearby, take a look at some brand-new temples, and admire the views of a well-preserved traditional neighborhood below, with its characteristic gabled roofs.
Beyond the "Old Fortress", such as there is, an extensive system of trails climbs to the top of the hill. There one can see fortifications of a different kind: a system of tunnels, pillboxes, etc constructed by the People's Liberation Army a few decades ago, and decommissioned later. This may have been associated with the confrontation with the Nationalists, who are in control of Taiwan and Kinmen. While much less extensive than what can be seen on Kinmen, the skilled use of the natural rocks of the mountain in combination with concrete is impressive. Although most of the deeper parts of the tunnel system have been blocked by concrete dams, some of the sections closer to the entrances can be explored by visitors. Bring a flashlight if you intend to do so.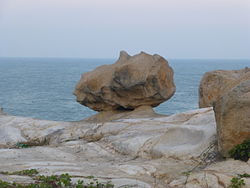 "Liu'ao Abstract Art Gallery""Liu'ao Abstract Art Gallery" (or, literally, "Liu'ao Abstract Picture Gallery") is the name for a section of a rocky promontory separating ??? Bay and Da'ao Bay, where erosion has created a number of unusually shaped stones. Many of them have their own names (see on Baidu Maps or Google Maps), but, as with any abstract art, you can use your fantasy to see things in the stones.
A long beach starts north from the promontory. See "Beaches" below. There is a restaurant and some typical beach amenities near the parking lot.

Feicui Bay (Emerald Bay) ResortVarious tourist traps: sand sculpture park, "ice world", "legendary animals park", all right next to the beach on the Ao Bay. While actively advertised, it probably is not worth the admission for most visitors.
Outside of Liu'ao Peninsula
While located outside of the peninsula itself, you can visit these sites as an easy day trip from Liu'ao (which has more accommodation options than the rest of southern Zhangpu County), or see them on the way to the peninsula.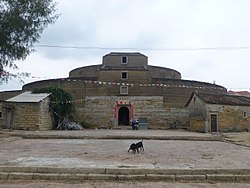 Jinjiang Lou

address: In Jinjiang Village (锦江村)

Most of the famous Fujan Tulou are located a fairly long distance from the coast, in Yongding and Nanjing Counties. However, a few are located in the southern Zhangpu County, an easy day trip from Liu'ao or a short detour on the way to the peninsula, and a true tulou aficionado would not want to miss them. Jinjiang Lou, a large "three-ring tulou", is easily accessible from the Provincial Hwy 201 (S201) west of Shentu Town. Unlike the better known tulous of Fujian's inland counties, which are built mostly of adobe on a foundation of boulders, Jinjiang Lou is a combination structure: its lower part is built of long granite blocks, widely used in the coastal counties' vernacular architecture. Surrounding Jinjiang Lou are many traditional gabled houses, also built out of a combination of granite blocks and adobe.
Jinjiang Lou is home to a number families; please be respectful to the residents.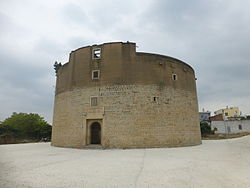 Rui'an LouThis round tulou can be visited on the way to the better known Jinjiang Lou. It may not be well sign posted; you may first identify it with Google Maps satellite view. Unlike Jinjiang Lou, Rui'an Lou has no residents living in it. In fact, it had all its wooden parts and the roof removed, with just the round shell standing. A typical inland-Fujian tulou in this condition would have soon falled apart due to erosion caused by rain. But this round structure built out of a combination of granite and, perhaps, somewhat tougher adobe than used in the interior, endures, like a small Coliseum. Some cracks have appeared though; it is not clear what the authorities and weather are going to do to it (it apparently had some parts renovated), so visit it while it's still standing in its present condition!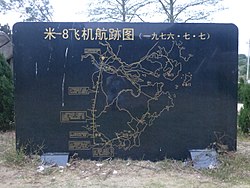 Pi Dingjun Memorial

address: 400 m south of Dongping Village (东平村)

Watch for the sign that says, in Chinese and English, "皮定军将军陵园 General Pi Dingjun Cemetery / (八卦堡)Bagua Castle" on Hwy S201 west of Shentu Town (around the 800 km marker, and just a couple blocks east of the turnoff for Jinjiang Village / Jinjiang Lou, above). Follow a steep winding road north for about 5 km until you see a small parking lot and a statue of the general.
Lt. General Pi Dingjun, apparently a figure of some renown in PLA's history, died in 1976 when his helicopter flew into a mountain near Dongping Village. He (and everybody aboard) is commemorated by a memorial complex constructed mostly in a cultural revolution style, combined with a traditional coastal Fujian turlteback tomb. Most of the complex is right next to the parking lot, but there is a long stairway up the mountain, built out of the local granite (to last for centuries!), to the actual site of the crash. Unfortunately, your climb will not be rewarded by a particularly great view, since the view from that point is mostly blocked by rocks and trees.
The 5-km uphill trip may not be worth it unless you are a military history fan (or an air disaster fan?), but views from the road are pretty good. The visit can be combined with visiting the Bagua Fortress.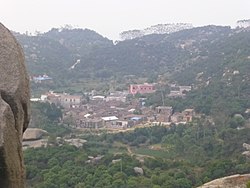 Bagua Fortress

address: Dongping Village (东平村)

In Dongping Village, about 400 meters after you pass Pi Dingjun Memorial (see above). Once in the village, you will see its main square and a new temple on the right (east of the main street). Walk around the temple; that's where the so-called Bagua Fortress is.
This is not really a fortress, but just a community of rather dilapidated local homes that have been constructed in concentric circles, somewhat like the plan of a tulou. This complex appears very distinct on Google Maps satellite view, but may not be as impressive up close.

Xidan VillageA somewhat renovated and cleaned up neighborhood of traditional local gabled homes. Although not a destination in its own right - you can see many such buildings elsewhere in the region - it is only a short detour off X523, and the road to it is well signed. Please be respectful to the residents.
Do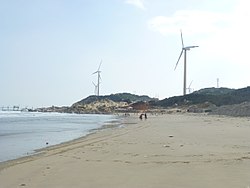 Visit a beachThe peninsula's west coast, facing Jiuzhen Bay (旧镇港) is not easily accessible, as it is used for agriculture and aquaculture. Good sandy beaches are found on the peninsula's east (ocean) coast, primarily in two large bays (Da'ao Bay and ...), which are separated by a rocky promontory (presumably, one of the legendary aoo creatures). Swimming is not officially encouraged, on account of wind and waves, and most tourists come here just to stroll or wade in the shade of wind mills. Nonetheless, the water stays fairly warm into early November. Some people come here for kitesurfing as well.
Signs ask tourists not to dig out clams.

Hike on the back of one of the aoWhile most of the island is flat farmland, the rocky hills-ao are densely forested. There are many trails on the hill above the "Old Fortress" (see above); on some of the other hills, a network of the access roads has been created for the construction of the wind power towers.
Buy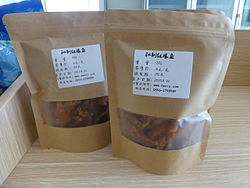 If you come during the sweet potato harvest season, you will see vendors of this crop all along the peninsula's main road. Visitors coming by car or tourist bus are seen actively buying the stuff; presumably, they view it as better than what's sold in markets in their own cities.
There are a number of small stores, along the same main road, advertising "Liu'ao specialties" - mostly dried sea food, such as seaweeds (both
zicai
and
haidai
), squid, and shrimp in various forms.
Eat
More or less upscale restaurants (fàndiàn) can be found all along the main road. Liu'ao town also has a fewer simpler options (two Shāxiàn xiǎochī 沙县小吃 noodle shops, breakfast places, etc). Sweet potato porridge (地瓜粥 dìguā zhōu) appears to be a local specialty.

Sleep

There are accommodation of various types all along the peninsula's main road, with the greatest concentration of them in Liu'ao Town proper. Expect to pay at least Y100 per night.
Camping seems to be possible; a number of businesses advertise tent rental (帐篷出租).

Go next
The Tulou country Fujian Tulou, (Yongding County and Nanjing County)