Liuzhou
Liuzhou
(柳州;
Liǔzhōu
) is the second largest city in
Guangxi
. It is an industrial city, but most of the industry has moved from the city centre and the city is much less polluted than it used to be. It also contains much of interest and is a central location within Guangxi providing access to the rest of the region. It is surrounded by beautiful karst countryside and many minority (Zhuang, Miao, Yao, Dong etc) villages.
Get in
Liuzhou is a major rail hub and has good connections with most areas of China. The small airport offers flights to Beijing, Shanghai, Guangzhou etc.

Get around
Liuzhou has an extensive bus service and some of the cheapest taxis in China. The city centre is easily explored on foot, but some of the parks, etc are a bit further out.

See
Liuhou Park, in the city centre, is a commemoration of Liu Zongyuan, Tang dynasty poet and statesman who was governor of Liuzhou.
Longtan Park set in beautiful karst scenery.
Ho Chi Minh's Residence
Liuzhou City Museum - from Prehistory to the present. Lots of Chinese Ethnic Minority displays.
Ma'an and Yufeng Hill Parks. Wonderful views and caves which have shown evidence of human inhabitation in Neathandrical times.
Buy
Liuzhou Coffins. Miniature souvenir coffins. From the Chinese saying "Be born in Suzhou, live in Hangzhou, eat in Guangzhou and die in Liuzhou." Liuzhou used to be famous for its coffins which were made from the local high quality wood. Today, only miniature versions are available and are popular as good luck charms as the Chinese for coffin can be used as a play on words for "Gain Promotion and Increase Wealth"
Eat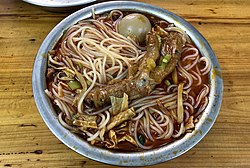 Luosifen, 螺蛳粉, the local speciality. Rice noodles in a spicy broth made from snails. Instant versions are also available in shops for taking out.
Chao luo, 炒螺, snails prepared in wok.
Liang ban niu za, 凉拌牛杂, beef offal, cold and dressed with sauce.
Yun pian gao, 云片糕, sweet, creamy pastry.