Livermore
Livermore
is a suburban city in the
East Bay
region of the
San Francisco Bay Area
. Like its neighbor
Pleasanton
, it lies in the Tri-Valley region; however, Livermore is closer to the Altamont Pass, which separates the Tri-Valley from the vast
San Joaquin Valley
.
Understand
Livermore is a city with nearly 100,000 inhabitants. The city is known for the two laboratories on the eastern side of the city, Lawrence Livermore National Laboratory and Sandia National Laboratory. (Element #116 on the periodic table of elements, Livermorium, is named after the Lawrence Livermore Laboratory.) The city is also in the oil industry, but on a much smaller scale.
Livermore is home to local wineries, excellent scenery, and many parks and trails. The wine country south of the city is dominated by Wente Vineyards and a few other wineries, which vary from factory-like wine tasting destinations to country houses. Livermore wine country, particularly along Tesla Road on the southeast side of the city, tends to have an authentic country feel, highlighted by the hills and mountains surrounding the Tri-Valley and the parks that are scattered through these hills, along with many ranches that have survived the tech boom, the addition of the laboratories, and the success of the wine industry.
Geography
The Livermore Valley is about 30 miles (48 km) east of the first coastal range of foot hills that surround the San Francisco Bay Area. The Livermore Valley has an east-west orientation with mountain passes on the west and east connecting the Bay Area and the Central Valley. The passes are used by railroads and highways to connect the two regions. Livermore Valley is about 15 miles (24 km) long (east to west), 10 miles (16 km) wide (north to south), and surrounded by California coastal range mountains and foothills.
To the south of Livermore is a large area with rugged, mountainous terrain, with elevations steadily increasing the farther south one goes. This region is the location of
Lake Del Valle
and, much farther south,
Mount Hamilton
. The mountains south of Del Valle are located on long ridges that vary from 2,000 to 4,500 feet in height above sea level.
The mountains to the north are generally not as high as those to the south; however, Mount Diablo is nearly 4,000 feet high and most of this height is prominence.
History
Livermore was founded by William Mendenhall and named after Robert Livermore, his friend and a local rancher who settled in the area in the 1840s. Like Livermore's neighbor Pleasanton, the city was fairly small until the 1950s, when its population nearly tripled to 16,000. It has continued to grow steadily and now has a population of about 90,000.
Livermore has the longest-burning incandescent light bulb in the world, which was installed at a local firehouse over a hundred years ago and is still burning today.
Climate
Livermore has a
Mediterranean climate
, although it is close to a semi-arid climate because of its relatively low annual precipitation. It features warm to hot, dry summers and mild to cool, wet winters (Köppen climate classification Csa). Summer (June–October) daytime temperatures average in the 75 to 85 °F (24 to 29 °C) range, but sometimes reach 100 °F (38 °C) and can occasionally approach 110 °F (43 °C). Summer nights, however, are normally much cooler, with lows in the 50 to 60 °F (10 to 16 °C) range.
Usually, there is a strong evening wind in the summer that brings cool air off the Pacific Ocean into the Livermore valley as it heads towards the much hotter Central Valley. This wind is strong enough with an average summer wind speed of about 9 miles per hour (14 km/h) and predictable enough to make the Livermore hills covered with wind turbines mounted in Altamont Pass. The period from June to September is extremely dry and is characterized by clear skies, but in late summer, subtropical moisture occasionally surges into the Livermore Valley, bringing high humidity, monsoon clouds, and, much less commonly, thunderstorms.
Get in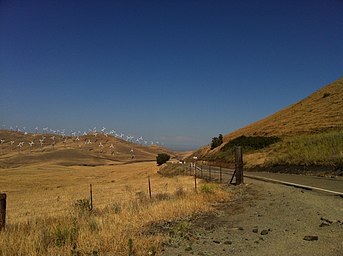 By car
Interstate 580 is the city's main highway, and it connects Livermore to the cities of
Tracy
,
Pleasanton
,
Dublin
,
Hayward
,
Oakland
, and other Bay Area cities. Livermore is a short drive from
San Jose
during good traffic; but during bad traffic, however, the seemingly short distance from
San Jose
to Livermore can become a more than two hours' drive.
CA State Route 84 is another major route in the area, connecting Livermore to I-680 and Fremont. California State Route 84 has its ends on the Pacific Coast and Sacramento - but don't be fooled, there is a gap on Route 84 between Livermore and the Sacramento Delta region. The best way to travel from the Sacramento Delta to Livermore is by taking Vasco Road, which has been upgraded in recent years to a major highway.
Several country roads also connect Livermore with its eastern neighbor, Tracy. These roads are generally one-lane or two-lane and are not designed to take fast and heavy traffic, but if you want to enjoy your drive into Livermore at a leisurely pace, are good options for getting into the city. They include Altamont Pass Road, Tesla Road, and Patterson Pass Road.
By BART
The nearest BART stations are and . However, both of these stations a few miles west of Livermore, so you would probably want to take a WHEELS bus from these BART stations to Livermore.
Visit the BART website for train details. BART trains connect cities in the Bay Area, and run to
San Francisco
and
Oakland
.
By train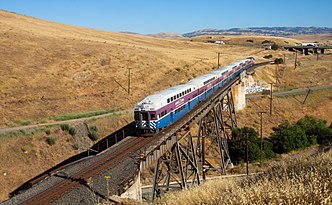 There is also a train station for the Altamont Commuter Express (ACE) train in Livermore. The train takes you to Fremont and San Jose, or to Stockton via the Altamont Pass.
By air
Livermore has a general aviation airport, although it's for local flights, not commercial jets. There are major airports in San Jose —
SJC
, San Francisco — SFO, and Oakland — OAK — that you should use. San Francisco Airport is the best for international flights, but for domestic flights go to either San Jose or Oakland, since these airports are smaller and, especially in the case of Oakland, closer to Livermore.

Get around
By car
There are several major roads in town, including First Street, Portola Avenue, and Jack London Boulevard. However, driving in Livermore can be difficult - many of the intersections (especially near downtown) are at odd angles.
To get across Livermore via the downtown, you have to take two separate but intersecting roads: from the western end of town to the city center, take Stanley Boulevard (also known as Railroad Avenue). From the eastern end of town to the city center, take First Street, which begins in Springtown and continues southwest into the city center.
Livermore Avenue is a 2-to-4 lane road that crosses Livermore from north to south. Its northern end is near Morgan Territory, and the road turns into Tesla Road near Concannon Winery.

By bus
WHEELS is a local bus service that will take you to local towns.

By bicycle
Livermore has a network of paved cycling trails. These are excellent in themselves, but their downside is that only a handful of them actually go into the main Livermore downtown area; the most of the bicycle trail network goes around the Livermore wine country, not in downtown. In short, Livermore's bicycle network is design primarily for recreational purposes, not transportation purposes.

By foot
Livermore's paved bicycle trails may be used by pedestrians as well as cyclists.

See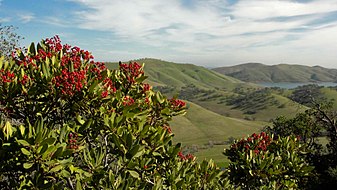 Livermore, like much of the Tri-Valley, includes many notable sights, varying from rows of vineyards to science labs to historic buildings. Areas to the north and south of Livermore feature the area's rolling hills and chaparral country, while the city includes a main street (called First Street) with a beautiful line of plants and several interesting buildings.
phone: +1 925 422-4599

address: 4550 East Avenue

The Centennial Light, the world's longest-lasting light bulb, was originally a 30-watt or 60-watt bulb but now is very dim, emitting about the same light as a 4-watt nightlight. The hand-blown, carbon-filament common light bulb was manufactured in Shelby, Ohio, by the Shelby Electric Company in the late 1890s; many just like it still exist and can be found functioning. The bulb's long life has been attributed to its low power, nearly continuous operation, and dedicated power supply.

Lawrence Livermore National Laboratory

phone: +1 925 422-4599

address: 7000 East Ave

Lawrence Livermore National Laboratory is an American federal research facility, founded by the University of California, Berkeley in 1952. LLNL (Lawrence Livermore National Laboratory) conducts research into the properties and behavior of plutonium to learn how plutonium performs as it ages and how it behaves under high pressure. A Federally Funded Research and Development Center (FFRDC), it is primarily funded by the U.S. Department of Energy (DOE) and managed and operated by Lawrence Livermore National Security, LLC (LLNS). In 2012, the laboratory had the synthetic chemical element livermorium named after it. Access to Livermore Laboratory is limited. Most of the visitors are school students on field trips, who go to the Discovery Center.

Los Vaqueros Reservoir

address: Los Vaqueros Road

Los Vaqueros Reservoir is an expanded reservoir to the north of Livermore. There are hike-able grounds around the lake, although these are sometimes closed for the bald eagles that occasionally settle in the area. The Los Vaqueros watershed comprises 19,300 acres (78 km²) of open space surrounding the 1,500-acre (6.1 km²) reservoir. Water is pumped into the reservoir from a Delta intake on Old River in the Sacramento-San Joaquin Delta when salinity is low, and used for drinking water when salinity in the Delta is too high. The Watershed also serves as a weather data collection site for Mallory Ridge weather station located at the top of the ridge above the Marina. The station has a remote access water station (RAWS), which is maintained by the Los Vaqueros Watershed Staff and linked to the National Fire Weather System. Other benefits of the reservoir include water storage for drought or emergencies, a protected open space, and recreation. There are 55 miles (89 km) of hiking trails in the watershed. The watershed is open for fishing, hiking and other activities year-round. Electric rental boats are available, but no outside boats can be launched on the lake. No swimming is allowed in the reservoir.

Ravenswood House

address: 2647 Arroyo Rd

A historic house now open to the public on certain occasions and run by the Livermore Parks District.
Do
Much of Livermore's wild countryside has been purchased by East Bay Parks and other local organizations that buy land for parks.
Arts centers and theaters
Bankhead Theater

address: 2400 First St

It is the main theater in the area, being much larger than the Firehouse Theater in Pleasanton. It was built several years ago, along with a parking structure near downtown.

Bothwell Arts Center and Recreation Area

address: 2466 8th St

A smaller arts center in Livermore where events are organized. There is also a park near the arts center.

Livermore Valley OperaStages fall and spring productions of famous operas each year.
Parks and trail networks
Arroyo del Valle TrailA couple miles of paved trail through Sycamore Grove Park. It is accessible from either of the two main staging areas.

Brushy Peak Regional Preserve

address: 3899 Laughlin Rd

East Bay Park to the north of Livermore. There are numerous trails into the hills in the park, although you will need special permission to get to the top of Brushy Peak. The West Side Loop Trail is a 2-mile loop trail. The eastern side of the loop trail runs through a flat valley (part of Brushy Creek), at an elevation of approximately 700 feet (210 m). The trail then turns west, steadily climbing a hill, before it turns south and nears the top of the 1,100 foot (340 m) peak. At this point, it begins to come back down the hill and returns to the staging area. The Brushy Peak Loop Trail opened in 2008. It is a 4.4-mile (7.1-km) loop that starts at the Laughlin Staging Area, where the elevation is 640 feet (200 m). The trail follows an old ranch road past several small ponds. The trail turns here, climbing the side of a hill which is covered in eucalyptus trees. The trail continues to rise, becoming a single track trail. It continues to climb through a region of scattered rocks. While reaching an elevation of 1,340 feet (410 m) over a distance of 2 miles (3.2 km), small oak trees are seen. The narrow trail then goes through a pass and winds down the west side of Brushy Peak. At this point, the trail turns south, winding along Brushy Creek until it reaches the West Side Trail. A collection of shorter trails dominate the southeast section of the park. These trails generally go around hills, reaching elevations of 700 feet (210 m) to 1,000 feet (300 m) over grasslands. Windmills can be seen from these trails. The southernmost trail in this region of the park, the Dyer Ranch Trail, connects with Laughlin Road near Springtown.

Del Valle Regional Park. Fairly large park (with camping area) to the south of Livermore. The park largely surrounds Lake Del Valle, an artificial reservoir made in 1968 by damming Arroyo del Valle, a small river. Del Valle Regional Park was then opened to the public in 1970, 36 years after the EBRPD was founded in 1934. Since the reservoir was created, Lake Del Valle has continued to provide a source of recreation for visitors, including hiking, swimming, fishing, and boating. There are lifeguards present at designated swimming areas. The park offers 28 miles (~45.1 km) of hiking, horseback, and bicycle trails; about one-fourth of which is called the East Shore Trail. There are also numerous camping sites in the park. It is the eastern gate for the Ohlone Wilderness Trail, which leads to Sunol and Mission Peak Regional Parks. You can reach the Arroyo staging area in the north of the park by traveling along a narrow footpath which connects to Sycamore Grove Park and the general LARPD (Livermore Area Recreation and Park District) trail network, or you can drive toward the park by approaching it from Del Valle Park Road (via Mines Road).

Livermore Trail NetworkSeveral miles of biking/hiking trails surround the city of Livermore. These go through vineyards and follow ranch lands, as well as following local creeks. The trail network is accessible from the Sycamore Grove Park staging area on Wetmore Road, along with a staging area near Hansen Road at Holdener Park. Two main trails have been created that go around the city of Livermore. The South Livermore Valley Trail extends from Wetmore Road near Sycamore Grove Park, along Wente Street and Concannon Boulevard, ending on Tesla Road at Mines Road. The Arroyo Mocho Trail, which combines City of Livermore and LARPD trail segments, runs from Concannon Boulevard west toward Isabel Avenue.

Sycamore Grove ParkSycamore Grove Park, which connects to Del Valle Regional Park, has several miles of trails through an olive orchard, sycamore groves, a collection of abandoned wineries, and several trails in the hills near Livermore. There are two staging areas for Sycamore Grove Park: one is the Veterans Staging area, which goes through Veterans Memorial Park to connect to Sycamore Grove, and the other is along Wetmore Road.
Buy
phone: +1 925 292-2868

address: 2774 Livermore Outlets Dr.

There are several stores in the north of town along Las Positas Road.
Eat
phone: +1 925 579-2858

address: 2491 First Street

This is probably the only Cajun-style restaurant in the Tri-Valley. There is a music program that includes some Dixieland music along with other genres. There is one other Backyard Bayou restaurant in Union City.

phone: +1 925 449-3124

address: 777 Rincon Ave

Casa Orozco

phone: +1 925 449-3045

address: 325 South L Street

Donut Wheel

phone: +1 925-447-8190

address: 2017 First St

On the corner of First and L Streets, this Livermore staple marks the west entrance to the main downtown area.

phone: +1 925 456-2200

address: 2205 First Street

The other Strizzi's Italian restaurants are in Pleasanton and Fremont.

Zephyr Grill and Bar

address: 1736 First St
Drink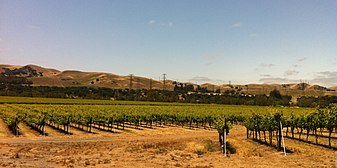 Wineries & vineyards
The
Livermore Valley
, which contains many wineries,
is considered to be wine country
and produces some of California's best wines.
Livermore is one of the oldest wine producing regions in California
, and is home to Concannon, Cresta Blanca, and Wente wineries; all are California Historic Landmarks. Most of the Livermore Valley wineries are just south of the City of Livermore itself.
Bent Creek Winery

phone: +1 925 455-6320

address: 5455 Greenville Road

Concannon Vineyard

address: 4590 Tesla Rd

Large winery/vineyards in Tesla Road Wine Country.

McGrail Vineyards

phone: +1 925 215-0717

address: 5600 Greenville Road

Mitchell Katz Winery

phone: +1 925 454-9463

address: 2481 Buena Vista Avenue

Murrieta's Well

phone: +1 925 456-2395

address: 3005 Mines Rd

Retzlaff Vineyards

phone: +1 925 447-8941

address: 1356 Livermore Avenue

Vineyards and wines available; live music program runs year-round.

Wente Vineyards

address: 5050 Arroyo Rd

There is a golf course, restaurant, and winery along Arroyo Road. Wente has a more industrialized location along Tesla Road as well.
Coffee shops
Panama Bay Coffee Co.

phone: +1 925 245-1700

address: 2115 First St
Sleep
Connect
Since Livermore is close to
Silicon Valley
, expect internet access to be widespread.
Cope
Livermore's main city newspaper is the
Independent
, but there are other newspapers in the greater East Bay.
In Livermore, there is an important community location: . This church has over the years built up a congregation in the thousands and many of the locals attend the church regularly. This makes it a connection for many of the local inhabitants of the
Tri-Valley
.
Go next