Liverpool
Liverpool
is a city in
Merseyside
,
England
, within the historic county boundaries of
Lancashire
, famed for its football teams, the Grand National horse race, music (including The Beatles), vibrant nightlife and its links with the arts and culture.
The city served as one of the leading ports linking
Europe
to the
Americas
, expanding to become England's second most populated city by the census of 1861, before slowly declining after 1921 as levels of transatlantic shipping dropped. Before airline travel, many Europeans migrating to the New World passed through the city, particularly the
Italians
and
Irish
; to this day the city enjoys a large Irish community, with impressive cathedrals for both Anglican and Roman Catholic faiths. In the 18th and early 19th century the port also acted as a gateway for the slave trade, with echoes of this period still evident in places around the city (Penny Lane is named after a slave ship owner, for example).
A comprehensive regeneration of the city centre has caused an influx of new shops, boutiques, and large performance/conference arenas near the waterfront; this has resulted in an upturn in population figures. The regenerated city now plays regular host to national and international conference, media and music events; examples include major political party conferences, the BBC Worldwide Showcase, the MTV Europe Awards, and the Global Entrepreneurship Congress.
Understand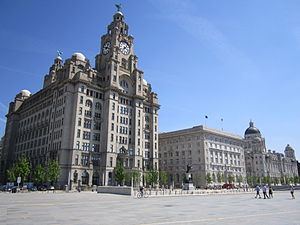 Liverpool is a city with great cultural heritage and was awarded the title of
European Capital of Culture 2008
, with the famous
Pier Head Waterfront
being a
UNESCO World Heritage
site since 2004. Liverpool is home to the Royal Liverpool Philharmonic Orchestra and is also renowned for nurturing the talents of a wide range of musicians and band such as The Beatles, Gerry and the Pacemakers, Frankie Goes to Hollywood, Echo and the Bunnymen, and Elvis Costello. The city possesses the largest national museum collection outside of
London
and has a fascinating and turbulent history as a great world maritime centre. Liverpool is home to
Europe's oldest Chinatown
. The famous
Grand National Horse Race
takes place in the outskirts of the city (Aintree). It is also home to two very successful Premier League football clubs, Liverpool and Everton. People from Liverpool are called
Liverpudlians
, or more popularly,
Scousers
. The latter name comes from the local lamb stew recipe, scouse.
Get in
By plane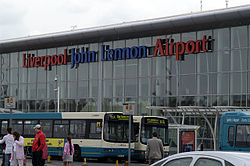 Liverpool John Lennon AirportAround 160 flights arrive daily from within the UK and Europe. The airport is well-served by low-cost airlines including Easyjet and Ryanair. For a complete listing of airlines and destinations, please see the
destination list.
Immediately outside the arrivals area you will find a taxi rank and bus stops. Taxis to the city centre cost around £12 for the 20-minute journey.
Several bus routes go directly to the city centre from the airport:
The No. 500 Airport Express runs every 30 minutes and takes about 45 minutes to reach the city centre. Cost is £2.60 adults, £1.40 students, £1 children, £5 families.
The following local buses cost £2.30 to get into the city centre. They are as quick and cheaper to use than the Airport Express:
The No. 80A, run by Arriva, runs every 15 minutes and takes 45 minutes to the city centre.
The No. 82A, also run by Arriva, runs every 30 minutes and takes around 40 minutes to the city centre. This runs direct to Paradise Street interchange without stopping elsewhere in the city centre.
The No. 86A (Arriva) runs every 15 minutes during the day and now runs through the night, every half hour. This takes a little less time than the 80A as it is a more direct route down Smithdown Road. Journey time is 40 minutes but may be longer at peak traffic times.
The No. 81A also serves the airport, but does not go into the city centre. It may prove useful if you want to visit Woolton or the north of the city, as the route goes round the city ring road, Queens Drive, and terminates in Bootle.
The 80A and 86A also stop at
Liverpool South Parkway station
. It's a 10-minute journey from where a frequent train service runs to the city centre in about 15 minutes. This may be a better option at times of peak road traffic (8AM-9AM, 5PM-6PM).
The airport has two onsite carparks and
Skypark
is nearby.
The airport offers a Fast Track service, which for a charge, means you can bypass the queue at security, but this tends to be worthwhile only for first flights of the day or if you risk missing your flight.
Manchester Airport
(
MAN
) can also be used and may be a better option. It is about a 45-60 minute drive away from Liverpool. Direct train services also run between Liverpool Lime Street Station and Manchester Airport operated by Northern Rail. Manchester Airport serves a variety of long haul destinations in North America and Asia, as well as short haul services throughout Europe.

By train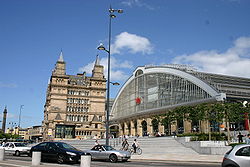 Wikivoyage has a guide to Rail travel in the United Kingdom.
Liverpool is served by Liverpool Lime Street station which is in the heart of the city centre. Trains arrive frequently from many parts of England. Trains from London Euston arrive on the south side (right when viewed from the main entrance), while those from Manchester arrive on the north side. The Wirral line (detailed in the Merseyrail section below) stops in a tube tunnel under the station.
Liverpool is only about two hours from London by train. There's a train about every hour, with extra weekday evening peak services from London, and it's not too expensive to get there. You can get a saver ticket for £60 on the day of travel, or for as little as £8 if you book a couple of weeks in advance. Tickets are released three months in advance.
There is a direct train from Manchester Airport to Liverpool every hour at peak times (around 6:30AM–7:30PM). In addition, it is possible to reach Liverpool from Manchester Airport by changing at Manchester Piccadilly or Manchester Oxford Road.
Other main services:

Birmingham, 1 hr 30 mins – 1 hr 45 min, half hourly
Manchester, 50 min – 1 hr 10 min, 5 trains an hour (3 fast to Piccadilly and Oxford Road, of which 1 via Earlestown and 2 via Warrington, 1 slow to Oxford Road (extra services in peak times) and 1 slow to Victoria)
Leeds, 2 hours, hourly
Sheffield and Nottingham, 1 hr 30 min and 3 hours respectively, hourly
By bus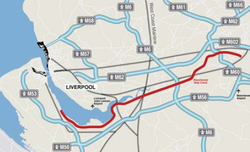 National Express, the UK's largest scheduled coach company, uses Liverpool One Bus Station. London is 4-5 hours away by coach and is served by a half a dozen services per day. Manchester is served by an hourly service taking a similar time to the train (except at rush hour). Manchester Airport can be reached by coach in under one hour, six coaches run per day.
Megabus operates a network across the UK. There is one bus daily from London to Liverpool. Journey time 4–5 hours. Prices also start at £1 and then increase depending on how far in advance you book. Megabus use the Liverpool One Coach Station.

A Park and Ride scheme aims to provide easy access to the city centre, for more information see National Park and Ride Directory.

Liverpool One Executive Travel provides an executive 16-seat minibus service from all airports, seaports and other locations. Prices vary depending on distances. Call 07761042952 or visit the website for further information.
By boat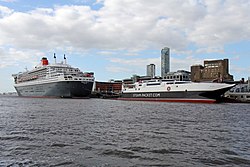 Liverpool Cruise Terminal opened in the city centre in 2007.
Isle of Man Steam Packet services aboard HSC Manannan operate between Douglas and Liverpool city centre during summertime. At other times of the year, ferries dock at Birkenhead, on the other side of the Mersey; for Liverpool, take the train or Mersey Ferry.
Gladstone Dock, Port of Liverpool, in neighbouring Bootle, has P&O Ferries to and from Dublin.
For leisure boats coming from inland, there is a direct connection between the Mersey and the Leeds and Liverpool Canal.

Get around
The
Liverpool City Centre
map by Andrew Taylor has a scale of 1:3,500, i.e. 18 inches to one mile. The map is so detailed it even names shops and so on. It can be bought at News from Nowhere in Bold St.
Liverpool City Centre is walkable, but those with mobility impairments or who are feeling lazy may prefer buses, Merseyrail, or taxis (including Uber, Ola, and local Delta as well as well as plentiful black cabs).
By ferry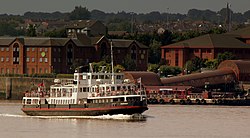 phone: +44 151 639-0609 (Head Office)

Probably the nicest way to get to the Wirral and back. Immortalised by the hit song Ferry Cross the Mersey by Gerry & the Pacemakers, the Mersey ferries offer a fun day out and a good way to see Liverpool from afar.
By public transport
By bus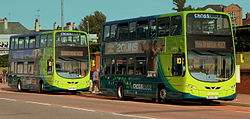 Buses run out from the centre regularly from Liverpool One Bus Station in Canning Place (mainly to the south) and Queen Square Bus Station in Roe and Hood Sts. (mainly north/east). Both bus stations have travel centres with staff who will assist with which bus to get and from where. These travel centres also stock free transport guides and detailed timetable leaflets for each bus and train service. Highly recommended are the free 'map and guide' leaflets of the four main transport subdivisions of the Liverpool metropolitan area: Liverpool, Wirral (west), Southport (north) and St. Helens (east); these giant fold-out street maps show at a glance the route of every bus service (individual service leaflets are required for timetable information).
By Merseyrail (Underground/Metro)
Liverpool and the surrounding region is served by an excellent mass-transit system, which is indispensable for the visitor who wishes to explore outside the city centre.
Due to the short distances involved, and the few central stations, the Merseyrail network is of limited value for money getting around the City Centre as the stations can be usually be walked between in the time it takes to descend, travel, and ascend (with the possible exception of James Street to Lime Street). The network has several gaps in coverage as the latest expansions of the City Centre (such as the Baltic Triangle and North Docks) do not have stations where the train passes through - for different reasons, the Knowledge Quarter (University district) also suffers from poor Merseyrail connectivity, with the nearest station down a steep hill. Merseytravel has pledged to fix these issues in the future with new stations and a proposed light-rail network respectively, but these are yet to come to fruition.
Locals almost never refer to Merseyrail as the "metro", "subway", or "Tube", but rather by the brand name "Merseyrail" or simply "the train". It is also common for locals to complain about the quality of service, as breakdowns occasionally happen and the system is dogged by frequent construction work and industrial action.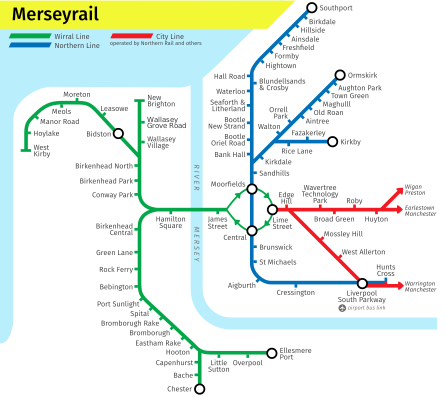 The two Merseyrail lines are:
Northern Line (blue): This runs south-north from Hunts Cross to Southport, with branches to Ormskirk and Kirkby. Each branch runs at least twice an hour from 6AM (8AM on Sunday) to midnight, as does the main line, & the Ormskirk and Kirkby branches run along the main line as far as Liverpool Central.
Wirral Line (green): Trains on this line serve the city centre in a loop (James Street > Moorfields > Lime Street > Central > James Street), before running through a tunnel under the Mersey to Birkenhead. There, they branch out to West Kirby and Chester, with further branches to New Brighton and Ellesmere Port. Each branch runs at least twice an hour from 6AM (8AM on Sundays) to midnight, and all 4 branches run onto the loop.
Merseytravel also manages:
City Line (red): Not really a Merseyrail line, but a collective name encompassing all mainline local services from Lime Street. It has 4 branches, unusually named "books" after the booklets the timetables are distributed in:
Book 1 serves the Liverpool to Manchester route via Warrington.
Book 2 serves Liverpool South Parkway, branching out there to Runcorn and Crewe (local half-hourly; expresses to London and Birmingham also use this line), and to Warrington Central and Manchester Oxford Road & Piccadilly (local half-hourly, express half-hourly).
Book 3 services, along the world's first mainline railway, run to Manchester (hourly stopping trains to Victoria, hourly expresses to Oxford Road and Piccadilly (local services half-hourly, expresses half-hourly).
Book 4 connects Liverpool with St Helen's and Wigan North Western, and more recently Blackpool. Local services at least twice an hour run 6AM (9AM on Sundays) to midnight. Hourly express services continue to Preston. On their previous journey into Lime Street, many of these expresses came via South Parkway, which may be beneficial to passengers bearing luggage.
The City Centre is served by four stations. The Wirral line serves all in a clockwise loop, while the Northern line runs both ways north-south and serves Liverpool Central and Moorfields. City line trains use ground-level platforms at Lime Street.
Moorfields is located on a small one-way street between Dale and Tithebarn Sts. in the business district.
is in a prominent position in the north-east of the city centre. It is closest to the museums on William Brown St.
Liverpool Central is in a shopping centre accessed from Ranelagh and Bold Sts. It is most convenient for the shopping area & cathedrals.
is accessed by lifts on James St. or a steep ramp (limited access, rush hours only) on Water St. Nearby sights include the Liver Building on Pier Head.
Liverpool South Parkway, on the City and Northern lines. It is the closest station to John Lennon Airport, to which it has a shuttle bus.
An important side-note for visitors switching from Merseyrail to the National Rail network is that Liverpool Central is the central station
of the Merseyrail network
- the main-line station which other cities may refer to as a central station is
Lime Street
, which is just around the corner. In addition, some locals may refer to services on the
City Line
as the
Northern
, named after the regional train operating company, which should not be confused with the
Northern Line
run by Merseyrail
.
====Ticketing====
Saveaway, Solo and Trio travel passes can be purchased from travel centres or Merseyrail stations. Liverpool and its surrounding areas are divided up into areas, each sub-divided into zones: the cost of each ticket typically depends upon how many zones/areas you want to travel in. If a journey takes you outside the boundary allowed by your ticket, you can typically purchase a regular ticket on the bus or train to cover just the extra required.
Solo and Trio passes are weekly, monthly or annual travel passes, usable at any time of the day. Solo tickets may be used only on buses; Trio tickets may be used on buses, ferries or Merseyrail trains. The pass may only be purchased from Merseytravel centres, but it can be renewed (up to three days before expiry) at any travel or train station in Merseyside.
'Walrus' cards are smart travel cards that are ideal for the majority of short term visitors. They are cheap, off-peak (after 9:30AM M-F, all day Sa & Su) single-day tickets that cover buses, ferries and Merseyrail trains. They may also be used by more than one person (although not at the same time). They are £3.90 for unlimited off-peak travel in 'Area C' (covering the city centre, west out to Huyton, north to Crosby and south to Speke), and £5.20 for an 'All-Zone' ticket covering the whole of the Merseytravel area (perfect for visiting the Wirral, Chester or Southport). Cards are available from all stations, Travelcentres, and shops displaying the yellow 'PayPoint' sign.
Adult bus fares on the main operators are:
Arriva flat fare of £2.30 throughout the Liverpool area, £3.70 for Liverpool area Day Ticket, £4.40 for Northwest area.
Stagecoach flat fare of £2.00 throughout the Liverpool area, £3.30 for Liverpool area Day Ticket, £3.60 for Northwest area.
Arriva and Stagecoach Day and Weekly tickets may be used on either companies buses on new Quality Partnership Routes 10/10A/10B/10C (Huyton,St Helens), 86/86A/86D/86E( Speke,Airport,South Parkway), 53/53A (Crosby,Aintree), 14/14X (Croxteth,Kirkby). Similar flat fares are available from the other operators as well. There are a few night bus services on a Saturday night costing £3.00.
(All prices correct as of April 2017.)
Some buses, such as early morning and hospital services, have a fixed fare of £1.10. This includes the City Centre Circular buses C1 to C5.
If you plan to travel a lot, a pass presents much better value. Generally speaking, you save money with two or more train trips or three or more bus journeys.
As of 2019, both major bus companies accept contactless payment (including Apple Pay, although unlike London you still have to buy a ticket from the driver). Having spare cash is recommended as this is still transitional and some buses may not be equipped.
By bike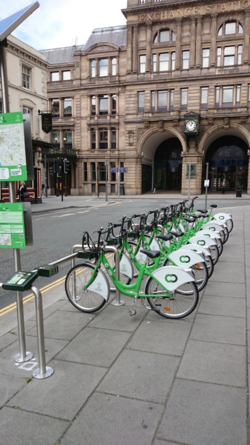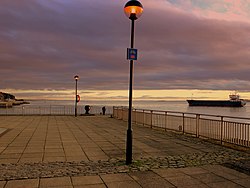 National Cycle Route 56, National Cycle Route 62 and 810 run into Liverpool.
A useful cycle map of Liverpool called 'Liverpool Cycle Map' is apparently jointly issued by Merseytravel, the Liverpool City Council, and Travelwise Merseyside. It is free and can be ordered at 0151 330 1253, or http://www.letstravelwise.org/content227_Cycling.html. You might be lucky to be given one at a store, such as GIANT.
phone: +44 151 374-2034

address: 39 Pilgrims Way, Bisley, Surrey, GU24 9DQ

Liverpool's citybike cycle hire scheme offers bike hire from more than 140 stations across the city. It's the largest public bicycle hire scheme in the country outside London and there will soon will be a total of 1,000 bikes available to hire spread across 160 locations. You need to register if you want to participate (available by internet or phone call). If you want to hire a bike for a longer time at a stretch, Citybike may not be too convenient.

address: Parliament St, opposite Grafton St

A bicycle dealer which also rents out bikes of the very upmarket type. Their policy seems to be not to rent out locks to avoid any responsibility if the bike gets stolen (which seems an unusual idea, but that seems to be what they do), so be prepared to bring a lock or buy one from them. Nice staff.
Talk
English is the main language, but it is spoken with a very distinctive
Scouse
accent that has strong Irish and Welsh influences, and differs greatly even from that of the surrounding areas. There was historically a large
Welsh
-speaking population in Liverpool, to the extent that the National Eisteddfod was held in the city three times between 1884 and 1929. While there is still a Welsh-speaking minority, most Welsh-descended people adopted English as their sole native language over the course of the 20th century. Due to the city's status as a port city and waves of immigration over the centuries, Chinese, Italian, French, and Spanish are spoken by some. Indeed, Liverpool is home to Europe's oldest permanent Chinese community. In some parts, South American Spanish is spoken due to immigration from Latin America. Creole languages can be heard occasionally due to the large Afro-Caribbean community.
See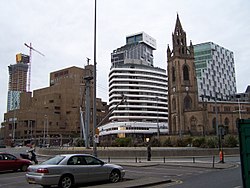 Liverpool is particularly famous for its architecture, to the point where English Heritage consider it England's finest Victorian city. Once dilapidated and dirty during the dark times of the 1980s, modern Liverpool presents its architecture with full civic pride.
Pier Head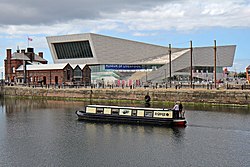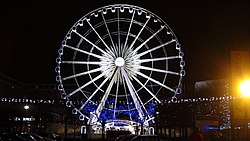 The harbour of Liverpool has played a very important role in modern history of the city. The wharf area drained by the Mersey River gives to the city an air of antiquity, which is quite strange and interesting because of the contrast between modern buildings and conventional buildings. The Pier Head has been recognised as a World Heritage Site by UNESCO.
phone: +44 151 478 4545

address: Pier Head, Liverpool Waterfront, Liverpool L3 1DG

A large museum all about the city of Liverpool itself and its history from ancient inhabitants of the area to its modern revival. Not to be confused with the World Museum, which is more "general" in scope. The free John Lennon and Yoko Ono "Double Fantasy" exhibit is operating until 3 November 2019.
Royal Liver BuildingIconic symbol of Liverpool waterfront. This 1911 skyscraper still dominates the distinctive Liverpool skyline. It is the home of the legendary Liver Birds that sit on top of the building looking out across to the Wirral. The river-facing face of the clock is six feet larger in diameter than that of the clock tower at Westminster.

address: Pier Head

A film telling a story using The Beatles as a theme.

Canada Boulevard

address: The Pierhead

Runs the entire length of the Three Graces frontage and consists of a boulevard of maple trees with plaques laid into the pavement listing the Canadian ships lost during the Second World war.

phone: +44 151 519 0915

phone: +44 151 236 6768

address: 19 Mann Island, L3 1BP
Albert Dock
Albert DockThis is one of the more sophisticated places in Liverpool and is situated in the largest collection of Grade I listed buildings in the UK. Old warehouses have been converted into shops, apartments, restaurants, pubs, hotels, galleries and museums. For fans of the old This Morning with Richard and Judy TV programme, this is also where the 3D island weather map was in the centre of the dock on the water.
phone: +44 151 709 8651

address: Keel Wharf, L3 4FN
City centre
St George's Hall

address: Lime St

A mammoth of a Greco-Roman-style building which was built by wealthy merchants for the people of the city. It is arguably the finest neo-classical building in Western Europe, and has been thoroughly restored for Capital of Culture Year. Inside it has one of the best church organs in Europe. On the outside it has a selection of classical murals which were thought quite shocking in their day (due to the shameful female nudity).

address: William Brown Street, L3 8EN

This is a fine building and well worth a visit. It contains an excellent collection of British rocketry exhibits, as well as the best Egyptological collection outside London.

Liverpool Central LibraryThis is another fine building, boasting a beautiful circular reading room.

phone: +44 151 478-4199

address: William Brown Street, L3 8EL

A nice neoclassical building opened in 1871, which forms an ensemble with the Central Library.

Liverpool Town HallBuilt in 1754, the Official Residence of Liverpool's Lord Mayor is an elegant stone building, having two fronts; one towards Castle Street, the other towards the area formed by the New Exchange Buildings. Each front consists of an elegant range of Corinthian columns, supporting a pediment, and are themselves supported by a rustic base. Between the capitals are heads, and emblems of commerce in basso-relievo; and on the pediment of the grand front is a noble piece of sculpture representing Commerce committing her treasures to the race of Neptune.

phone: +44 151 794-2348

address: Ashton Street, L69 3DR

The University of Liverpool's museum comprising their art collection and artefacts housed in an amazing Gothic building which coined the term 'red brick university'.

phone: +44 151 709-6868

address: The Old Stable Yard, Smithdown Lane, L7 3EE

In the early 1800s, a Liverpool tobacco merchant, Joseph Williamson, funded the construction of an enormous labyrinth of tunnels under the Edge Hill area of Liverpool. Nobody knows his reasons for doing so though many guess it as an act of philanthropy, using his wealth to provide jobs and training for thousands of Liverpool workers. There is also a Williamson's Tunnels Heritage Centre.

phone: +44 151 702-5324

address: School Lane, L1 3BX

The Bluecoat is the oldest Grade 1 listed building in Liverpool's city centre, dating back to 1717. Following a £14.5 million redevelopment, it re-opened in March 2008 with a new wing of galleries and a state-of-the-art performance space. It showcases talent across artistic disciplines including visual art, music, literature, dance and live art. It helps nurture new talent by providing studio spaces for artists.

phone: +44 151 707-4444

address: 88 Wood Street, L1 4QD

Offers exhibitions, film and participant-led art projects. The building is home to three galleries (showing four exhibitions per year), a beautiful café operated by the team behind LEAF on Bold Street, a cosy bar and four film screens.
Religious buildings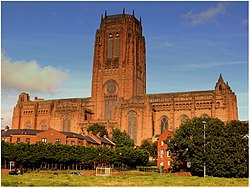 Our Lady and St Nicholas churchThis is the city's parish church and home to the third Liver Bird (there are in fact three of them, not two).

Metropolitan Cathedral of Christ the King

phone: +44 151 709-9222

address: Cathedral House, Mount Pleasant, L3 5TQ

Catholic. Affectionately known by the locals as Paddy's Wigwam or "the Pope's launching pad". Visit on a sunny day as the stained glass ceiling looks fantastic!

phone: +44 151 709-6271

address: St James Mount, L1 7AZ

It may not look like a wigwam, but is so imposing that the architect of Lord Derby's tomb claimed that no self-respecting church mouse would live there. As a result, he incorporated a mouse into the design of the tomb - it's just under Lord Derby's pillow. Liverpool Cathedral is one of the finest examples in the world of Gothic revival architecture. The building is truly vast, as the largest religious building in the UK and one of the largest cathedrals in the world. On a clear day, the tower affords breathtaking views over Liverpool, Merseyside and beyond, with some of Manchester's skyscrapers visible if weather permits.

Princes Road SynagogueThis is an impressive combination of Gothic and Moorish architecture by the Audsley brothers. The colourful interior has to be seen to be believed. Tours can be arranged through their web site.

Greek Orthodox Church of St Nicholas

phone: +44 151 724-3500

address: Princess Road, Toxteth, Liverpool, L8 1XB

Dedicated to St Nicholas the patron saint of seafarers. Built between 1865 and 1870, it was the second purpose built Greek Orthodox Church in England. The architecture of the building is a typical example of the Byzantine style as used in many Eastern Greek Churches. A typical feature is the four domes of the building. Henry Summers, a master builder who built many fine buildings in the city, was commissioned to build the church.

address: Percy St, L8 7LT

St Philip Neri ChurchByzantine inspired design, built between 1914 and 1920

phone: +44 151 709-7763

address: 138 Park Lane, L1 8HG

St Luke's Church

address: on the corner of Berry St and Leece St

St Luke's Church was badly damaged during the Liverpool Blitz in 1941, and remains as a roofless shell. It now stands as a memorial to those who were lost in the war, and is also a venue for exhibitions and events (such as, open-air cinema).
Around Liverpool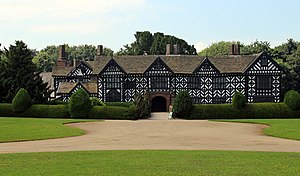 phone: +44 151 427-7231

address: The Walk, Speke, L24 1XD

This is a half-timbered Tudor house set on large grounds. It has parts dating back to the 1530s. Easily accessible from John Lennon Airport, as these days it is practically at the end of the runway.

Croxteth Hall and Country ParkThis is one of Liverpool's most important heritage sites, one of "the finest working country estates in the North West" and was the winner of the European Capital of Culture 2008. The park is at the heart of what was once a great country estate stretching hundreds of square miles and was the ancestral home of the Molyneux family, the Earls of Sefton. After the death of the last Earl it was given to the City of Liverpool. The estate has four main attractions - The Historic Hall, Croxteth Home Farm, the Victorian Walled Garden and a 500-acre country park including the new Croxteth Local Nature Reserve. A new addition to what's on offer at Croxteth is the West Derby Courthouse. Dating from the reign of Elizabeth I, this is one of the oldest public buildings in Liverpool.

Sudley House

address: Mossley Hill Road, Aigburth

An art gallery which contains the collection of George Holt in its original setting. It includes work by Thomas Gainsborough, Joshua Reynolds, Edwin Landseer and J. M. W. Turner.

Wavertree Botanic Gardens
Guided tours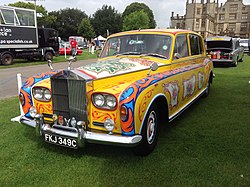 For those in a hurry there are a number of operators offering guided tours, either using their own transportation or offering their services as "hop-on, hop-off Guides" on your coach or offering guided walks.
The best way of getting an overview of the city, is by taking the
City Explorer
open-top bus run by Maghull Coaches. With 12 stops you can hop on and off all day. Qualified local guides provide the commentary and can answer your questions about the city. For Beatles fans, there is the
Magical Mystery Tour
which will take you around the places associated with the Beatles both in the city centre and in the suburbs. For a more tailored tour, there's
Liverpool Entente Cordiale Tours
. Their Liverpool tour guides can plan a walk for you or hop on your coach and guide you around the city. They offer tours in English or French.
Do
phone: +44 151 702-5324

address: School Lane, L1 3BX

The Bluecoat (not to be confused with The Bluecoat School, which is a grammar school in Wavertree) is a world-famous prestigious school dating back to the 18th century, and is one of the oldest arts schools in Europe. It hosts arts exhibitions as well as music and literary events, but also offers tuition in fine art, music and literature.

phone: +44 844 800 0400

address: Kings Dock, Liverpool Waterfront, L3 4FP
Music
The Liverpool Philharmonic Orchestra Hall

phone: +44 151 709-3789

address: 36 Hope Street, L1 9BP

One of the world's great orchestras. Go for a pre-concert drink in the Philharmonic pub over the road then sit back and let the music carry you away.

phone: +44 151 559-3773

address: 90 Seel St, L1 4BH

A concert venue which hosts things like Jazz concerts with well-known artists. Nice size (might accommodate around 400 people; there are no seats).

phone: +44 151 236 9091

An annual festival celebrating the Fab Four. A vast list of gigs performed by bands from all over the world, the annual Beatles Convention, plus screenings and other events looking back on the Beatles' career and their relationship with their home city.
Theatre
Comedy
Comedy nights are featured on Friday and Saturday at Baby Blue, a nice club on the exclusive Albert Dock. Check online for more info and tickets.
Also for laughs, try Rawhide at the Royal Court Theatre, which showcases some of the best in regional and national comedy talent.
Every June or July there is a fortnight-long Liverpool Comedy Festival
which takes place in venues across the city. One event not to be missed is the now legendary
Drink up Stand up
pub crawls which includes four pubs, four comedians, one compere (host) and a megaphone!
Comedy, in Birkenhead across the river Mersey, has a stand-up comedy night called Laughter at the Lauries.
Arts
phone: +44 151 702-7400 (information), +44 845 604 7083 (ticket office)

address: Albert Dock, L3 4BB

A fine modern art gallery. A definite visit for arty folk. The Turner Art Prize was hosted here in 2007-2008, the first time the award was held outside of London.

Static Gallery

phone: +44 151 707-8090

address: 23 Roscoe Lane, L1 9JD

phone: +44 151 703 0107

address: 21 Mann Island, L3 1BP

Discover more about architecture in the heart of Liverpool's UNESCO waterfront. The centre offers a variety of walking tours around the local area.
Museums
phone: +44 151 478-4499

address: Albert Dock, L3 4AQ

Dedicated to the maritime history of the city, complete with galleries on customs and excise and emigration to the New World. There are also a number of vessels to see, such as the Mersey river tug Brocklebank and the river cargo carrier Wyncham. A museum permanent gallery is devoted to the Titanic, Lusitania and Empress of Ireland, ocean liners lost at sea from 1912-1915 with a total of 3,700 fatalities.

phone: +44 151 478-4499

address: Albert Dock, L3 4AX

"Our aim is to address ignorance and misunderstanding by looking at the deep and permanent impact of slavery and the slave trade on Africa, South America, the USA, the Caribbean and Western Europe. Thus we will increase our understanding of the world around us." Dr David Fleming OBE, director, National Museums Liverpool

phone: +44 151 227 2008

address: 1-3 Rumford Street, Exchange Flags, Liverpool, Merseyside L2 8SZ

A museum in the once a top-secret nerve centre in World War II Britain. This command centre based in Liverpool's city centre is underground and was the key communication point to Britain's gallant fleet of Royal Navy warships based in the Atlantic ocean.

phone: +44 151 709-1963

address: Albert Dock, L3 4AD

The Beatles began in Liverpool. The Beatles Story is the only museum in the world that is entirely Beatles-themed, with exhibitions such as their instruments and other artifacts. Other attractions based on The Beatles include their homes, Penny Lane, commemorative statues, Strawberry Fields and others.
Sports events
Better view from up here?
Spioenkop
is Afrikaans for "Lookout Hill" - a steep hill 25 miles west of
Ladysmith
in
KwaZulu-Natal
, South Africa. In 1900 Ladysmith was besieged by the Boers; British troops stormed the hill to try to break their lines, and held it for 24 hours in a bloody and bungled battle. Gandhi was a stretcher-bearer here, and Winston Churchill in the thick of it as a war correspondent. The Lancashire Fusiliers and the Royal Lancasters, both with many Liverpool men, were heavily engaged. The British eventually withdrew, but succeeded in relieving Ladysmith four weeks later.
In England, 19th C football crowds just stood around the pitch, jostling for a view. At the big clubs this became unmanageable so they erected earth embankments, and later built stadia. Arsenal's was the first to be called "Spion Kop", closely followed by Liverpool then other clubs: both referred to a steep terrace for home supporters behind the goals. These give a great view of action around the near goal, but on a misty winter evening it's sometimes hard to see what's happening around the far goalmouth.
But that was a familiar feeling to those fans' Victorian forebears. The British assault on Spioenkop took place in night, fog and confusion. Had they taken the nearby main summits as intended, they would have routed the Boers. Instead, as daybreak burned away the mist, they found themselves on a lesser hill from which they couldn't bombard the enemy, and couldn't defend. They'd captured the wrong Kop.
phone: +44 151 260-6677

address: Anfield Rd, L4 0TH

Liverpool play in the Premier League, the top tier of English football, and their women's team plays in the Women's Super League. The men are one of the most successful clubs in the country, having won six European Cups. Their fans are famous the world over for the unique atmosphere they create at Anfield and the singing of "You'll Never Walk Alone" on match days. Matches against Manchester United and against Everton are especially intense affairs with near-capacity crowds. Anfield has a capacity of 54,000.

phone: +44 871 663 1878

address: Goodison Rd, L4 4EL

Everton play in the Premier League, the top tier of English football, and their women's team plays in the Women's Super League. The men are one of the oldest football clubs in England; their fans are known as "Toffees". They play at Goodison Park, capacity 40,000, 2 miles north of city centre.
Go to the races at

Aintree

address: Ormskirk Rd L9 5AS

This course is renowned as home of the Grand National, the most formidable jumps race in the world, held in April each year. (Liverpool is mobbed when it's on.) They hold other jumps races in winter, but few recently, as the grandstand was being rebuilt. Now this is complete, there will presumably be an expanded race programme at Aintree, but this hasn't yet been announced.

Liverpool International Tennis Tournament

phone: +44 7950260165 (mobile)

address: Liverpool Cricket Club, Aigburth Rd, Liverpool, Merseyside L19 3QF

the longest running and largest tennis exhibition in Europe
Learn
Liverpool is home to three universities:
The University of LiverpoolLiverpool's oldest university established in 1881, it generally outranks the other two in national league tables for both teaching and research.

Liverpool John Moores UniversityEstablished 1823 as a college, this is the second largest university in Liverpool, boasting modern facilities and improved teaching.

phone: +44 151 291 3000

address: Hope Park, L16 9JD

Established 1844 as a college, it is in Childwall and Everton. Hope attracts students from some 65 countries worldwide and has enjoyed many successes as of late.
Although not strictly in Liverpool, two more are within its sphere of influence:
Edge Hill University (Ormskirk), a former teacher training college and now full university in a somewhat rural location.
University Centre St. Helens (St. Helens), the newest university centre in the region offering courses in business, social sciences, art, and STEM subjects.
Buy
Although the main shopping street in Liverpool is dominated by the same chain stores you'll find in any other large UK city, Liverpool has many distinctive shops of its own, including:
Gostins Arcade

address: 32-36 Hanover Street

An alternative shopping centre which is definitely worth a look. The small shops inside sell goods ranging from books to tattoos.

Grand Central Hall

address: 35 Renshaw St

An alternative shopping centre which is definitely worth a look. The 40 small shops inside sell goods ranging from alternative clothing to used furniture.

address: Liverpool One, Paradise St

Landmark development opened in 2008, redefining the city with three levels of shopping and entertainment and even a park. Offers a mixture of familiar highstreet chains and fashionable boutique stores

address: 35 Whitechapel, L1 6DA

This shopping centre focuses on designer-label fashion and has more than 40 stores.

The BluecoatLocated in the heart of Liverpool's shopping district, the Bluecoat houses a number of specialist independent retailers offering an eclectic range of products. Stocking the best in contemporary craft, design, fashion and homewares, the shops at the Bluecoat should be your first destination in the city for the unique and the unusual: Display Centre, Drum, Landbaby, Purlesque, Robert Porter.

phone: +44 151 709-0916

address: 125 St Georges Way, L1 1LY

Clayton Square Shopping Centre

phone: +44 151 709-4560

address: Great Charlotte St, L1 1QR

Petticoat Lane Arcade

address: Petticoat Lane Arcade, 102 Bold Street, L1 4HY
The upper part of Bold St (where it is not pedestrianised) has a number of independent dealers. There are also many nice cafes and restaurants in between.
phone: +44 151 708-7270

address: 96 Bold Street, L1 4HY

A left-leaning bookshop which is impressively stocked on political topics (even as regards journals and newspapers), but has an interesting choice of books on other topics, too.

phone: +44151 236 9082

address: Mathew St, Liverpool L2 6RE

The famous Cavern Club is part of the shopping centre

address: Stanhope St, L8 5XJ
Eat
There are various pubs serving food across the city centre and its suburbs. The two main areas are the City Centre and Lark Lane about three miles from the city centre in Aigburth. There are various restaurants on Allerton Road (near Liverpool South Parkway) as well. Expect to spend £10-15 for a meal for two. Check with your hotel first if they allow food delivery. There is also quite a number of places to eat in Liverpool One.
City Centre
Student District, Georgian Quarter and Hope Street
Bold Street (upper part)
Bold St has a nice mixture of independent shops and interesting places to eat.
Chinatown, Ropewalks and East Village
Chinatown is Berry Street, Duke Street, Roscoe Lane, Parr Street and Seel Street.
Liverpool One
Commercial District, Dale Street and Victoria Street
Pier Head and Albert Dock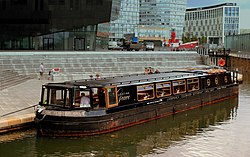 Lark Lane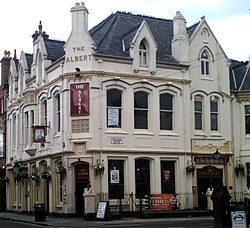 Lark Lane is about 2.5 miles to the south of the city centre, a very pleasant (and less stressful than the city) place and is one of the better places to eat out. The road, which connects Aigburth Road with Sefton Park, is home to many unique restaurants, cafés and other shops. It is quite isolated, i.e. you will only find residential areas around it, but the street itself is worth the trip. Most pubs and bars serve real ales. Some choice picks include:
Drink
Liverpool's nightlife is both famous and infamous, with Rough Guides placing a night out in the city at number three on their list of fifty things to do before you die. There's a huge selection of pubs, clubs and bars to suit a variety of music and atmospheric tastes. Friday and especially Saturday nights are the busiest nights, although a few bars are busy with students throughout the week. The areas around
Mathew Street
and
Concert Square
with nearby
Wood Street
are the main two nocturnal focal points. There is a good mix of locals and students. It is best to dress smart for the majority of bars and clubs (such as "Society" and "Garlands"). Notable exceptions are places like
Le Bateau
, the
Krazy house
, the
Caledonia
and other places of a similar alternative style. Like any major UK city, it is pretty safe out at night. The local police have had a heavy presence on a Friday and Saturday night to combat any problems and are largely succeeding. It is pretty busy getting out of the city centre at the end of a weekend (especially at the start of university term time - Sep/Oct). There are plenty of black hackney cabs which congregate at various taxi ranks. The Merseyrail system works until about midnight, whilst there are a series of dedicated night buses which run from the main bus stations, usually for a flat fare. All modes of transport tend to become very busy from around midnight.
Liverpool is home to the Cains brewery which produces a large selection of cask beers.
Dr Duncan's, St John's Lane – This is the premier pub for the local Cains brewery. It has a fine reputation and consequently is full of middle-aged professional drinkers. The pub has the full range of Cains beers, including Dr Duncan's IPA. Rudimentary bar menu, but good busy atmosphere on the weekend.
The Dispensary, Intersection of Renshaw and Leece Streets – Another of the local Cains brewery houses. Charming Victorian bar area. Usually has two rotating guest beers, plus a large selection of bottled beers and ciders.

The Globe

address: 17 Cases St

A small, often cramped. This is a traditional Liverpool pub, with no-nonsense barmaids. Usually busy after 5PM and during the weekend, acting as a refuge for husbands abandoned by, or having escaped from, their shopping-mad spouses. Always a good variety of guests.

phone: +44 151 709-4802

address: Charlotte Row, Unit 1/3, 53 Great Charlotte St, L1 1HU

The Crown

address: 43 Lime St

Next to the station. Most likely the first pub you will see upon arriving in Liverpool.
The Pilgrim, Pilgrim Street – Located off Hardman Street, this pub serves the best breakfast in town, £4 for a king size feast. You also get to share the pub with stag parties and students wondering what happened the night before.

The Canarvon Castle

address: 5 Tarleton St

Established for about 200 years, this small and homely pub was named after Lord Carnarvon. Packed full of collectors items - model cars, lorries, handcuffs and truncheons - it attracts a mixture of clientele. Serving good quality real ales, the pub is also popular for its range of hot snacks including the well-loved Carnarvon toasties.
Pig & Whistle, 12 Covent Garden. This pub has been refurbished and transformed into a rather fake-looking pub.

Peter Kavanagh's

address: 2-6 Egerton St

An unusual and old-world hideaway can be found just outside the city centre. Built 150 years ago, the walls are adorned with art deco murals painted in 1929 and the snugs are themed with various artefacts such as musical instruments and chamber pots. The friendly atmosphere makes this a favourite with artists, locals, travellers and musicians. George Melly, a famous jazz player is known to frequent this pub when visiting the city. If you're in for a tradional English breakfast, this pub serves great black pudding and all the fixings from noon to 4PM.

Poste House

address: 23 Cumberland St

Most nights has a gay friendly bar serving cheap cocktails upstairs from the main pub.
The Brookhouse Smithdown Rd. Used to be one of Liverpool's pubs was a hangout of bands of the late 1980s such as the La's. It's now most popular with students, and is known for its Liverpool games when locals lead the Liverpool chants and become the vocal cords of this old pub.

The Old Post Office

address: School Ln

Friendly pub famous for its steak and mixed grill meals. Great for watching sports as there are three TVs including one big screen.
The Vines, Lime Street – A stylish club.
GBar, Eberle Street – Popular gay-friendly club with two floors. Upstairs, 'The Church' offers funky house music and campy classics in the 'Love Lounge'. Downstairs 'The Bass-ment' pumps out quality vocal house music. Open Th-M. Costs £5-7 for non-members.
Chinatown, Ropewalks and East Village
Chinatown is Berry Street, Duke Street, Roscoe Lane and Seel Street.
phone: +44 151 707-8560

address: 41b Slater St, L1 4BX

A small cocktail bar in a basement room. Combines the feeling of being in a bombed-out house with that of being in a living room.
Seel Street
HeebiejeebiesA large, lively, destination venue with live music and open air courtyard. Open until 4AM at weekends. (Photo ID required for entry.)

Heebies BasementA late night bar-come-club playing a broad spectrum of electronic music including Hip Hop and indie. No drink costs more than £2.50. Open F Sa until 5AM and Tu-Th until 4AM. (Photo ID required for entry.)

The PeacockA pub with a wide drink selection and free BBQ every Friday at 6PM. Has an intimate club room upstairs open Thursday - Saturday. Electic tunes downstairs Su-Th until 2AM, F Sa until 3AM.

Alma de Cuba, Seel Street. Hispanic and Cuban themed bar and restaurant in a magnificently converted Roman Catholic church.
Concert Square, Fleet Street, Wood Street, Duke Street
Concert Square is situated behind Bold Street, where you'll find a range of the trendier bars. Most bars are open M-Sa until 2AM. They include
Lloyd's
,
Walkabout
,
Modo
and a minute away near Slater Street is
Baa-Bar
. This district usually has the youngest crowd drinking here.
Baa Bar, Fleet Street - The City's leading shooter bar. This is the place to go if you like £1 shots, good music and a great atmosphere. Baa Bar Fleet Street has been rocking concert square for over 20 years, with the biggest DJs in Liverpool. Its extensive 32-strong shooter menu and newly refurbished upstairs terrace makes it stand out from the crowd, in an area where competition is fierce.
O'Neills, Wood Street – Part of the O'Neills chain but don't let that put you off. Its managed by two real Irish men who know what a real Irish bar means. Good beer, food and good music is always on hand here. You also might bump into a few Liverpool FC players drinking in the corner.
The Krazy House, Wood Street – The club provides three floors. K1 with rock and metal, K2 with indie and K3 with Punk/R&B/Dance, all combined with constant cheap drinks. It attracts a crowd of skate punks, students and metal heads. You'll hear R&B and dance music on Thursday, punk and new wave on Friday and new metal on Saturday night.
Le Bateau, Duke Street – The home of Liverpool's premier alternative club night, Liquidation every Saturday, which is also the city's longest running weekly club night spread across two floors. Plus Adult Books on Tuesdays, Shoot The Messenger on Wednesdays, Indication on Fridays. Cheap drinks every night, plus a Royal Rumble pinball table. Very friendly and popular with a mix of locals and students all year round.
The Swan Inn, Wood St – Liverpool's only rocker/metalhead pub, it actually has quite an eclectic mix of customers during the week, ranging from construction workers to businessmen, all side by side sharing pints. In the evenings and weekends, this gives way to the alternative/rocker scene. Pub quiz every Thursday evening and a legendary jukebox. Listed with the local CAMRA group.
Mathew Street, Temple Court and North John Street
An older crowd will drink in this district.
phone: +44 151 236-1965

address: 10 Mathew Street, L2 6RE

Although the original Cavern Club—a former bomb shelter in the basement of a Liverpool warehouse—was filled in in the 1970s, it was re-excavated and recreated in the 1980s using many of the same bricks. Today it continues as a live music venue, not to mention a tourist attraction. Many of Britain's most popular groups played its stage in the 1960s, most famously The Beatles, who made almost 300 appearances here between 1961 and 1963.

The Cavern Pub

phone: +44 151 236-4041

address: 5 Mathew Street, L2 6RE

Sister pub of the Cavern Club opposite. Similar atmosphere with another stage and memorabilia on the walls.

The Grapes

phone: +44 151 255-1525

address: 25 Mathew St, L2 6RE

The Beatles' favourite pub. They would drink here before and after their many gigs at the Cavern Club, and there is a corner of the pub dedicated to them. It even has a photo of them sitting down in seats that are still there today.

Flanagan's Apple

phone: +44 151 227-3345

address: 18 Mathew St

phone: +44 151 243-1080

address: 7 Whitechapel, L1 6DS

Hogshead

phone: +44 151 236-8760

address: 18-22 North John St, L2 9RL

phone: +44 151 236-8820

address: Watson Prickard Building, North John Street, L2 4SH
Dale Street, Moorfields and Tithebarn Street
Sometimes considered the commercial district and is populated by office workers during the week.
The Ship and Mitre

address: 138 Dale St

Consistently voted one of the top cask ale pubs in Liverpool by the Merseyside branch of CAMRA. Has a wide, and frequently changing, variety of guest ales. It also has a large selection of bottled foreign beers (though this selection pales slightly in comparison to that of other pubs in the area). Hot and cold food is served in the afternoons and evenings.
Rigby's, Dale Street – This cask ale pub dates back to Lord Nelson and has been refurbished by the Isle of Mann Okell's Brewery (to become their first UK mainland pub). Good atmosphere. Busy on weekend nights and also does meals in the bar.

The Railway Hotel

address: 18 Tithebarn St

Over a hundred years old, this old Victorian pub has several original features, many of which would interest the historian as much as the beer lover. The tall ornate ceilings, wood panelling and traditional bar create an inviting and impressive atmosphere. Surrounded by stained glass windows, the lounge, snug and dining areas are well decorated. An open fireplace and displays of old prints add to the comfortable ambience.

Ma Boyles Oyster bar

address: 2 Tower Gardens

Secluded pub in the business area of the city. Set below street level, the high ceilings and terracotta walls create a relaxing ambience with a separate dining area and a cosy drinking den. The much-acclaimed menu includes dishes such as hot lamb and mint sauce pitas, and of course the local delicacy of Scouse and red cabbage.

The Lion Tavern

phone: +44 151 236-1734

address: 67 Moorfields, L2 2BP

Excellent pub, particularly for cheeses.

First National Wine Bar

phone: +44 151 236-6194

address: 2-8 James Street, L2 7PQ

Queens Goose

phone: +44 151 231-6841

address: Derby Square
Pier Head and Albert Dock
A favourite district for tourists.
phone: +44 151 709-0470

address: Britannia Pavilion, Albert Dock, L3 4AD

Bar, cafe and steakhouse.

phone: +44 151 709-3116

address: 33 Wapping

Just over the road from the Albert Dock, this unique pub is a great place to escape from the glossy and expensive bars on the Albert Dock. Serving good food and real ale at good prices, and with a friendly atmosphere. The basement houses Wapping Beers, a small brewery. Take the opportunity to taste one of their own beers as fresh as it comes.
Student district
Universities of Liverpool and John Moores students from the student residential areas descend here during term time.
phone: +44 151 709-7097

address: 32 Hope Street, L1 9BX

Part bar, part club, split between two floors. Upstairs there is the lush front area replete with orange leather booths and over-table televisions which usually stream the live action from downstairs. At the back is the kitchen, which during the day serves a range of freshly cooked meals. Downstairs the intimate gig venue has hosted some of the biggest names in music, and is an important venue for local musicians. Free Wi-fi.

The Caledonia

phone: +44 151 709-5909

address: Catharine Street, L8 7NH

Underground, alternative music venue in a pub. DJs and live bands throughout the week. First Friday of every month is the infamous "It's Not Bangin", with classic dub reggae, soul and disco playing. Well worth a visit..
The Philharmonic – Located on the corner of Hope Street and Hardman Street, this Tetley heritage pub is opposite the Liverpool Philharmonic Hall. Formerly a gentleman's club, there are two small, snug rooms and a larger dining room to the back with leather sofas and an open fire. The gentlemen's toilets are grade 1 listed and ladies may ask permission to view them at the bar. Excellent food served both from the bar and in the dining rooms upstairs. Usual cask beers include Timothy Taylor's Landlord, Caledonian Deuchars IPA and Tetley's.
The Cambridge – Located at the corner of Cambridge Street and Mulberry Street. This pub is at the heart of the University of Liverpool and has a great atmosphere. It is very popular with both students and lecturers.
The Augustus John, Peach St. This is an obligatory hang out for Liverpool's students. Like most student pubs, the bar area gets packed during September and October.

Roscoe Head

address: 26 Roscoe St

Fly in the Loaf, Hardman Street, Today it arguably serves the finest quality and variety of cask ales in the city centre. The Fly in the Loaf has a good mix of students and local regulars. It includes bar meals and wide-screen televisions for football and is one of the few Liverpool pubs that regularly show rugby league.

Ye Cracke

address: 13 Rice St

This pub was a favourite haunt of John Lennon's uncle and hasn't changed much since then. Can get quite dodgy at night.

The Blue Angel

phone: +44 151 709-1535

address: 106-108 Seel Street, L1 4BL

Popular with students especially student doctors.
Baltic Triangle and the Brewery Village
To the south of the city centre, the bohemian Baltic Triangle has transformed over the past few years from moribund industry to the coolest place in the UK according to The Times. At the heart of the district is the former Cains brewery, which is now a large and ultra-trendy collection of bars, pubs, clubs, markets, and food stalls.
phone: +44 151 708 2890

address: 67 Greenland St, L1 0BY

Home of the legendary Bongo's Bingo nights which are now franchised out all over the UK (must be booked in advance).

address: 9 Bridgewater St, L1 0AR

Tiny and cosy art-filled micro-pub owned by an artist couple who are also the only staff. Very friendly atmosphere with selection of craft beers.

phone: +44 345 557 1288 (non geographic)

address: Cains Brewery Village, L8 5XJ

Blacklight-lit, irreverent, junkyard themed indoor mini-golf course and bar (games must be booked in advance).

Birdie's Bar & BBQ

address: Cains Brewery Village, L8 5XJ

Outdoor bar with cocktails and street food vendors.

address: Cains Brewery Village, L8 5XJ

Spanish wine bar.

Black PearlPirate-themed bar.
Bongo's Bungalow, Brewery Village. Spin-off bar from Camp and Furnace.
Brewery Tap, Brewery Village. Classic pub that hasn't changed since the brewery was open.
Craft Minded, Brewery Village. Craft beer bar inside a steel-framed shed. Chimney visible from far around.
Dockleaf, Brewery Village. Bar with roof terrace.
Hippie Chic, Brewery Village. Burning Man-style tent with bar. Connected to the Yellow Submarine Bar next door.
Yellow Submarine Bar, Brewery Village. Former movie prop from Hunt for Red October turned floating hotel now turned Beatles-themed bar (on dry land). Connected to Hippie Chic next door.
Peaky Blinders, Brewery Village. Warehouse turned into bar themed around the hit TV show, parts of which were filmed in Liverpool.
Punch Tarmey's, Brewery Village. Subterranean Irish bar with fantastic interior and glass portholes in the floor to the aquifer far below, formerly used as a water source for the brewery.
Tank Room, Brewery Village. Craft beer bar.
Downtown, Brewery Village. Bazaar of food and drinks vendors with a New York City theme. Not as large as the Baltic Market but very close by.
On Air, Brewery Village. Movie studio themed nightclub set in a giant recreation of a village up the walls of a former industrial unit. Live music on-stage. Connected to Birdie's.
Sleep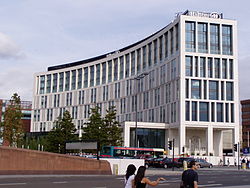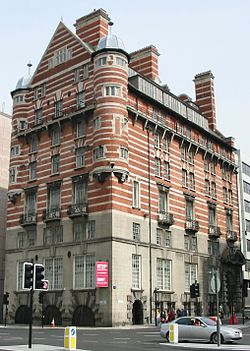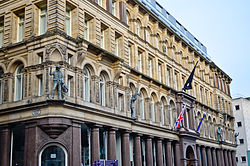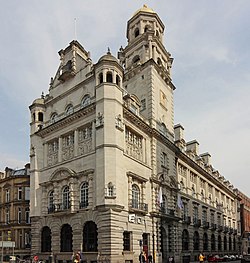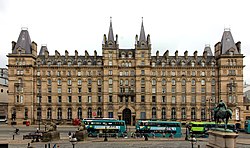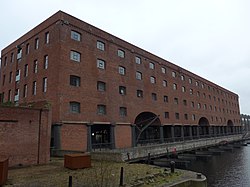 There are a number of hotels in the city, ranging from budget guesthouses and lodges to 4-star international properties. Liverpool has no 5-star hotels but two in grade I listed buildings (Premier Inn and Holiday Inn Express), three in grade II* listed buildings (30 James St, Titanic Hotel and Marriott Aloft) and a further eight hotels in grade II listed buildings (Doubletree Hilton, Crowne Plaza Liverpool Airport, Hard Days Night Hotel, Racquet Club, 62 Castle St, the Richmond Aparthotel, Adagio Aparthotel, Britannia Adelphi and Radisson Red (opening 2020)).
Budget
Belvedere Hotel

phone: +44 151 709-2356

address: 83 Mount Pleasant

A B&B run by an old lady. Basic room. Shared toilet and shower. Price includes full English breakfast in the downstairs living room. 2 minutes from Lime St. station.

phone: +44 151 709-8104

address: Chaloner St

phone: +44 151 708-7272

address: Queen's Dock

phone: +44 151 707-1089

address: 1 Falkner Square

This hostel features free coffee, tea, and toast (with jam and peanut butter). Very comfortable beds (dormitory style), and a great mix of international travellers to befriend. The hostel has friendly staff, led by their wonderful boss and hostel proprietor, Kevin who tells a Beatles story or two, and leads a free Beatles tour every Thursday night which ends up at The Cavern Club.

Bankhall Hotel

phone: +44 7528190759

About 2 km from the city centre. All rooms are private. Free internet/Wi-Fi.

phone: +44 151 603-2800

address: 27 Wapping

phone: +44 7916 495468

address: 53 Everton Rd

Free Wi-Fi (which works very well), price includes a breakfast buffet (yes, all you can eat), free coffee, cocoa and tea during the rest of the day, Friday Night karaoke (with free shots for anyone who dares to sing) and just a chill and great atmosphere. Many come to stay a few nights, and then they end up staying for a few weeks or even longer. No doubt, you'll make many new friends here.

phone: +44 151 709-5570

address: 56-60 Mount Pleasant

Dormitories only.

phone: +44 151 709-8135

Cheap hostel accommodation near to town.

phone: +44 1229 432378

address: 1 Princes Rd

Cheap hostel accommodation near to town. Communal kitchen and dinning area. Free hot showers. Plasma TV with Satellite. Computer kiosks, Wifi access. Full central heating. Free bedding. Garden. Secure cycle storage. Lockers and luggage store. Laundry facilities. Secure car park. Continental breakfast included.

phone: +44 151 709-8888

address: 25 Tabley St

Cocoon International Inn

address: 4 South Hunter St (Off Hardman St), Liverpool, L1 9JG

A hotel without breakfast. Staff is there 24 hrs and usually not very busy, very friendly and willing to help with minor quirks. Single room (2015) £38.
Mid-range
phone: +44 151 709-7090

address: Lime St

phone: +44 845 838 0500

address: Ranelagh Pl

Grade II listed building.
Waterfront
phone: +44 870 990 6432

address: East Britannia Building, Albert Dock

The hotel is in original warehouse, has been well transformed and has the vaulted ceilings. While room allocation is mostly luck some rooms have classic views over the dock; others of the new Liverpool Arena. Early booking essential; cheap/discounted rooms now impossible to find because of the high demand/location. No hotel parking - nearby at about £12/day. Grade I listed building, Britannia Pavilion.

phone: +44 871 984 6030

address: Brunswick Dock, Sefton St

phone: +44 871 423 4931

address: Britannia Pavilion, Albert Dock, L3 4AD

Grade I listed building, Britannia pavilion.
Splurge
phone: +44 151 294 3970

address: Royal Insurance Building, 1 N John St, L2 5QW

Grade II
* listed building
phone: +44 151 709-2020

address: Cater House, 113 Mount Pleasant

Close to shops, restaurants and nightclubs. Adjacent to both universities and two cathedrals.

phone: +44 151 236-1964

address: 41 N John St

The Beatles-themed hotel boutique hotel in Liverpool City Centre. Grade II listed building.

phone: +44 151 708-4200

address: Strand St/3 Thomas Steers Way, L1 8LW
Waterfront
phone: +44 151 559-3356

address: Stanley Dock, Regent Rd, L3 0AN

Grade II
* listed building
* listed building
phone: +44 151 945 1000

address: King's Dock
Stay safe
Crime rates in Liverpool are low compared with most other large cities in the UK. You are no more likely to be a victim here than most other European cities. However, as in other cities, you should observe a few simple precautions. Don't leave valuables on display in an unattended car, for example. Even an empty car will get a smashed window from time to time, so try to park yours at private parks when the night comes. Try to stay aware of your surroundings and be discreet with cash, expensive camera equipment, etc.
Scousers are mainly gregarious and friendly people, but there are still many who seek to take advantage. You will find, however, that Mancunians and Scousers get along much better than the stereotype suggests and you will very often come across each in each other's city. Be particularly aware of people who approach you in the street with stories of having lost their train fare home. These are typically begging techniques.
Stay on the beaten track at night and stick to the many themed pub and bars and avoid some of the larger dance clubs as these are more suited to streetwise locals or people who understand Liverpool culture well, although to be fair, most Scousers will welcome anyone to their city, and especially their clubs! Be prepared to wait for a taxi at night and don't be tempted to walk back to your hotel unless you are close by. Although Liverpool is a quite friendly place, a slightly sinister side appears after hours.
Some of the City's districts should be avoided by non-locals. Areas such as Croxteth, Dovecot, Everton, Huyton, Kensington, Kirkdale, Norris Green, Page Moss, Stockbridge Village and Toxteth are seeing some serious issues with gang related violence including increases in gun and knife crime and several murders have been recorded.
Around the city centre, be aware there are
many
homeless people, especially around William Brown Street near the museums. Unlike, in, say, the
United States of America
or other parts of the United Kingdom, these are less likely to pose a threat to you, and although they may beg for money, they tend to be friendly and often want to talk about their backstories openly with you. Give them money, but
at your own risk
, as long as it's small change.
Also, older women
may
(and often
do
) flirt with younger men, but accept this part of the Liverpool cultural milieu. This also applies to the homelessness situation mentioned above, which much the same situation tends to happen. This should
not
be confused with prostitution (mentioned below). It is explicitly
not
solicitation, and is just flirting.
Although prostitution is legal in the UK, solicitation is illegal and it is a fact of life in most cities, Liverpool being no exception. The "Red Light" areas are as follows: around Netherfield Road North and the Shiel Road area of Kensington. Although quiet during the day, there is a lot of business at night and particularly on weekends. Women walking by themselves have been known to be approached by men looking for prostitutes and people in vehicles have been known to be approached by prostitutes looking for business.
Avoid Manchester United shirts, which worn in the wrong place makes you an easy target for abuse or worse even assault, especially on match day.
A friendly manner, a polite smile, and a sense of humour go a long way in this city, but a sensible approach to travelling is, as always, advisable.
The
1989 Hillsborough Stadium Disaster
, when 96 Liverpool FC fans were killed, is still a very sensitive subject that is best avoided. Carrying or reading
The Sun
newspaper, which made extremely offensive and false claims about Liverpool fans' behaviour during the disaster, holding them culpable for the deaths, is practically guaranteed to attract negative attention. This is especially true around people who may have been drinking. Most local shops do not sell the paper and a strong boycotting movement exists in the city to this day.
Be aware that the streetlighting (Urbis Evolo 2, shown
on the right-hand side of the picture
) is brighter than you might expect, and drive more cautiously. These streetlights are common across the city centre and in Kensington. Drive much more cautiously if you see them. These are less common outside of Liverpool. Americans may be used to bright lights, but Evolos are
really
bright.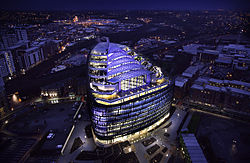 Go next
Chester
- A beautiful historical city on the River Dee, which is famous for its Roman ruins and city walls. It is also the Gateway to North Wales and the delights of Llandudno and Snowdonia National Park. At the end of a branch at the end of the Merseyrail (metro) Wirral Line, trains taking 41 minutes from Liverpool Central.
Crosby
- Just north of Liverpool with Anthony Gormley's Another Place famous sculptures on the beach. Merseyrail Northern Line takes 20 minutes from Liverpool Central to Blundellsands station.
Manchester
– Once the home of the industrial revolution, it has now swapped its chimneys for skyscrapers, and mill workers for urbanite accountants and designers. It is also the home of the most successful football club in England, Manchester United FC. Well worth a visit and is easy to get to; hourly local trains from Lime Street run to Manchester Victoria taking 56 minutes, expresses to Victoria or to Oxford Road and Piccadilly taking 41. Also accessible by coach/bus.
Birkenhead
– Across the Mersey, Birkenhead has a football club called
Tranmere Rovers
. Although this club has always lived in the shadow of Everton and Liverpool, it has a long tradition and a great family atmosphere. Well worth a visit. Ferries ply across the Mersey from Pier Head to Birkenhead Woodside. It takes 3 minutes for a train to go from Liverpool James Street to Birkenhead Hamilton Square; Add 2 minutes for each additional stop if getting on earlier around the loop, & add 3 minutes for Birkenhead Central (shopping centre & Priory) or 7 for Tranmere Rovers' local station, Rock Ferry.
Port Sunlight
- It was built as a model village by Lord Lever and contains the Lady Lever Art Gallery, a marvelously eclectic collection of objects, similar to the Burrell Collection in
Glasgow
. Twenty minutes on the Wirral line.
West Kirby
- Boasts a superb beach. There is also a 52-acre marine lake which has sailing and windsurfing. 36 minutes by Wirral line.