Livingston (Scotland)
Livingston
is a large town in
West Lothian
in the central belt of Scotland, built as a "New Town" from 1963.
In the 12th century a Flemish man, De Leving, built a fortified tower (long gone) and the settlement of Levingstoun or Livingston grew up around it. In the 19th C West Lothian became urbanised when the shale oil industry developed, but the Livingston area remained farmland until the 1960s. Then five "new towns" were built rapidly to relieve congestion in Glasgow, four of them on greenfield sites (East Kilbride, Glenrothes, Cumbernauld and Livingston) while the fifth was built onto the existing town of Irvine. Livingston was laid out on a grid, with A899 running north-south and A705 running east-west, and a chequerboard of residential estates. These include Livingston Village, Bellsquarry, Craigshill, Howden, Dedridge, Ladywell, Knightsridge, Murieston, Adambrae, Deans and Eliburn. The town has expanded to engulf Polbeth, West Calder, East Calder, Mid Calder, Uphall and Pumpherston, and the population is some 56,000. It was run by a development corporation (a "quango") until 1997 then local government transferred to West Lothian; Robin Cook was its MP from 1983 until his death in 2005.
Get in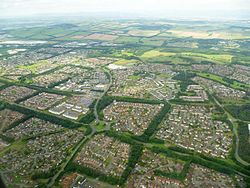 By road
The M8 (Edinburgh-Glasgow) runs to the north of Livingston and the usual approach is to exit at jcn 3 and turn south onto A899. Otherwise follow A71 which runs south of town.
By bus
Lothian Country
Bus X27/28 runs daily from Edinburgh every 30 mins via Heriot Watt University at Riccarton to Livingston, taking an hour, and continuing to Deans and Bathgate. Bus 287 also plies between Livingston and Bathgate; change there for Bus 29 to Falkirk.
First Bus 600 runs from Edinburgh Airport every 30 mins via Ratho, Newbridge, Kirkliston, Winchburgh, Broxburn and Uphall taking an hour to Livingston, and continuing to Whitburn.
Stagecoach Fife X51 runs hourly from Glasgow Buchanan station to Livingston, taking an hour, and continuing via South Queensferry and over the Forth bridge to Dunfermline, another hour.
Blue Bus 77 runs M-Sat every 2-3 hours from Lanark, taking 40 mins.
Livingston is on Almondvale Ave between the two main shopping centres.
By rail
The basic assumption of a 1960s New Town is that everyone should drive, and railways are old hat. So the town straggles between two railway lines, neither particularly convenient.
is next to Carmondean Shopping Centre between Eliburn and Deans. It has trains from Edinburgh every 20 mins via Haymarket, Edinburgh Park and Uphall, taking 20 mins. These continue west via Bathgate and
Glasgow
Queen Street (50 mins) to Helensburgh or Milngavie.
is by the Murieston shops and has trains from Edinburgh every 30 mins via Haymarket, Slateford, Kingsknowe, Wester Hailes, Curriehill and Kirknewton, taking 30 mins. These continue through West Calder, Shotts and a dozen other halts, taking up to an hour to reach Glasgow Central.
Get around

SD Travel Bus 31 runs hourly from Livingston to Linlithgow and Torphichen, continuing to Bathgate. There's no bus along the lane to Cairnpapple Hill but it's an easy bike ride.

See
phone: +44 1506 414957

address: Millfield EH54 7AR

Mostly for pre-teens, with museum, farm and narrow-gauge railway. Rides & slides & animals. The railway is 762 mm gauge, hauled by a rinky-dinky industrial diesel, and runs weekends April-Sept plus daily in summer school holidays.
, 3 miles north of Livingston, is a 4000-year old ritual complex with Bronze Age and early Christian tombs. The burial chamber has been roofed over by a modern concrete dome but you can shimmy in. It's open daily April-Sept 09:30-17:30, adult £6.
, 3 miles northwest of Livingston, has been a religious site at least since the Bronze Age. In medieval times it was a base for the Knights Hospitaller of St John of Jerusalem, providing shelter and treatment for pilgrims. In 1298 Edward I of England was injured by his own horse before the Battle of Falkirk and was treated here. It's open daily April-Sept Sa Su 13:00-17:00, adult £2.
Do
Walk the Almond Valley. The best of it is downstream: use the car park on Pumpherston Rd (by the bottle bank) and follow the riverside trail. From the weir this follows a feeder sluice to the Union Canal, which spans the valley by an impressive aqueduct.

Deer Park Golf and Country Club

phone: +44 1506 446699

address: Golf Course Road EH54 8AB

Country club with spa, swimming pool, ten-pin bowling and golf course: yellow tees 6193 yards par 72.

phone: +44 330 133 1620

address: 11 Beveridge Square EH54 6QF

Escape games: teams of 2 to 12 are locked in a room and have to solve a series of riddles, clues and puzzles to escape within the hour.
Watch football (ie soccer) at

address: Almondvale Stadium, Alderstone Rd EH54 7DN

They play in the Scottish Premiership, the top tier of Scottish football. Their home ground is the 9000-capacity Almondvale Stadium aka "Tony Macaroni Arena".
Vue Cinema is a multiplex in the main shopping mall at Almondvale Ave.
West Lothian Highland Games are held on the last Saturday in May in Meadow Park in the nearby village of Bathgate. The next event is expected to be on Sat 30 May 2020 but tbc.
Buy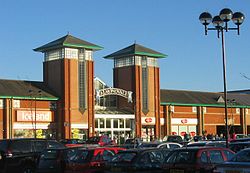 The core of Livingston is an extensive shopping area, bisected by Almondvale Avenue. The area east of the avenue is Livingston Centre and has more eating places. West side is the Designer Outlet; Vue Cinema is here. Together they have over 250 stores, generally open M-W F 09:00-19:00, Th Sa 09:00-20:00, Su 10:00-18:00. These 250 are relentlessly the same as each other and as any other retail unit in the country, not least by lying empty: as of mid-2019 only about half the units are occupied.
Eat
There's no stand-out, but lots of budget places in the main mall of Almondvale, with others in the villages of Uphall and Mid Calder.
phone: +44 1506 885138

address: 35b Main St, Mid Calder EH53 0AN

Small restaurant with good selection.

Tony Macaroni

phone: +44 1506 410505

address: The Hub, Almondvale Cres, Livingston EH54 6QX

Large Italian restaurant on two levels.

phone: +44 1506 441832

address: 149a Uphall Station Rd, Pumpherston EH53 0PB

Basic Chinese, sit in or take away.

Sapphire

phone: +44 1506 417272

address: Units 2 & 3, Bankton Centre, Murieston

Basic Chinese, eat in or takeaway.

Imperial Palace

phone: +44 1506 438656

address: 14 Marrfield Terrace, Uphall Station EH54 5PY

phone: +44 1506 884514

address: 15 Bank St, Mid Calder EH53 0AS

Cheap and cheerful place, byob.

Zaika

phone: +44 1506 461561

address: 1 Follyburn Place EH54 6BF

This is nowadays just a takeaway.

Frankie & Benny's

phone: +44 1506 465420

address: Unit 10 Dedridge N Rd, Livingston EH54 6XG

Budget chain eatery.
Drink
Brucefield Farm

phone: +44 1506 417788

address: Brucefield Industrial Estate, Rutherford Square EH54 9BU

Family-friendly carvery, does takeaway.

Lime Kiln

phone: +44 1506 410661

address: Almondvale Boulevard EH54 6QT

Family-friendly but erratic eating place.
Beefeater Restaurant & Pub is within the Premier Inn at M8 jcn 3, open daily 07:00-23:00.

Livingston Inn

phone: +44 1506 413054

address: 2 Main St Livingston EH54 7AF

Pleasant old pub with food, has rooms.
Harvester on Almondvale Ave is a chain pub with food open daily 09:00-20:00.

address: Unit 1, Livingston Designer Outlet, Almondvale Avenue EH54 6QX

JD Wetherspoons pub with food
Sleep
Connect

Good signal everywhere. The larger pubs and hotels have free wifi.

Go next
Linlithgow has an impressive ruined medieval palace, birthplace of Mary Queen of Scots, and the coast is attractive around Blackness Castle.
To discover if they made a better job of Scotland's other four New Towns, see East Kilbride, Glenrothes, Cumbernauld and Irvine.