Llandudno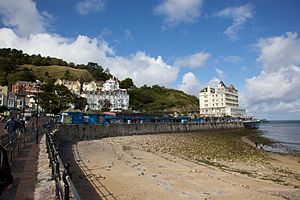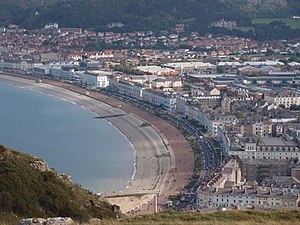 Llandudno
is a Victorian-era seaside resort situated on the picturesque north coast of
Wales
. Once a favourite of Queen Victoria, Llandudno still retains an old-world charm that sets it aside from other British seaside resorts. Llandudno is set between the cities of
Bangor
and
Chester
and is easily accessible by road and rail.
Understand
Llandudno has the distinction of being the largest seaside resort in North Wales. It lies between two notable carboniferous headlands, the Great Orme and the Little Orme  with the Irish Sea on one side and the estuary of the River Conwy on the other with sunset views of Puffin Island. It is these headlands and the two waterfronts, the North Shore and the West Shore, that give Llandudno its special appeal.
Although settlements have existed on the Great Orme since the Stone Age and an Iron Age hill fort survives at Pen-y-Dinas, Llandudno was developed as a seaside resort in the Victorian era. As such, it has Victorian charm - large Victorian houses, fine hotels lining the bay, a pier, boat trips round the headland, Punch and Judy on the wide promenade, an excellent lifeboat service, and a fine theatre with ballet, opera, orchestral concerts, ice shows and pantomime in season.
Llandudno has a prominent Welsh speaking community, greatly increased by the frequent visitors from rural communities further inland whose primary day-to-day language is Welsh.
As a simple mnemonic for English speakers, in Welsh the double LL is
pronounced
as (thl). The U is usually pronounced as an I. So Llandudno is pronounced (thlan-did-no)
Get in
By train
Llandudno railway station
By car
From
England
: From the M6, take the M56 in the direction of
Chester
, North Wales. Take the M53 in the direction of A55, North Wales at the end of the M56. This becomes the A55, stay on this for 30 miles or so until you see signs for the A470 turn off. From here follow signs for Llandudno.
By plane
Nearest airports are
Liverpool
John Lennon Airport
 and
Manchester Airport
but only Manchester is directly linked by train (from airport by train to Manchester Piccadily, then change train). From Liverpool airport: take a bus to
Liverpool Lime Street station
, then take a train.
By bus
Local buses operate from
Rhyl
(every 12 minutes),
Bangor
(four per hour),
Caernarfon
,
Llanberis
and
Llangollen
but there are no daily long distance coach services to Llandudno.
National Express
has a daily service from London calling at Llandudno Junction (three miles away). There is a weekly National Express service to
Newcastle-upon-Tyne
on Sundays.
Get around
See

Do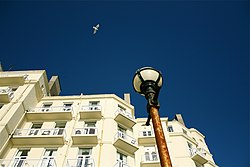 phone: +44 1492 577877

address: Victoria Station, Church Walks, LL30 2NB

Ride the traditional tram (built in 1902) to the summit of the Great Orme, enjoy the visitor centre and visit Randolf Turpin's Bar in theSummit Complex.

Walks over the Great Ormeperhaps visiting Saint Tudno's church.

Marine DriveWalk, cycle, drive or ride a coach around. There is a toll of £2.50 for cars but that includes free parking at the summit car park, which is reached by a side road via Saint Tudno's Church. The toll is generally not in place after 7PM.

Cable carfrom the Happy Valley to the summit of the Great Orme.

Happy ValleyWalk and enjoy the magnificent views.

Haulfre GardensWalk and enjoy the magnificent views.

Llandudno Ski and Snowboard Centre

phone: +44 1492 874707

address: Happy Valley

artificial ski slope and toboggan run

North BeachRide a donkey or just enjoy the sun

paddling pool

address: North Shore Beach

Take a dip in the lovely, large pool , on the east end of the promenade.

West ShoreRide a donkey or just enjoy the sun

phone: +44 1492 549060

address: Bodafon Road

a working farm that includes a bird of prey sanctuary (lots of owls included).

Rock poolsTake the stairs on the west side of the pier to some rock pools (at low tide only!).
Buy
Llandudno has long been considered North Wales' 'heavyweight' shopping destination. There are two major modern retail parks behind venue cymru including a bowling alley.
Amidst the wide boulevards and Victorian awnings of the main shopping street, you'll find lots of independent shops and family businesses alongside big high street names
The famous colourful stick of rock with inner layer spelling out Llandudno.
Eat
Llandudno is home to many food venues catering for all tastes and budgets.
Budget
Cheaper venues include:
phone: +44 1492 860023

address: 7 Gloddaeth Street

Pub/Bistro of the J. D. Wetherspoon chain. Be aware that there is often a very long wait for food here at peak times, owing to the popularity and sheer size of the venue

phone: +44 1492 877910

address: 69 Mostyn Street

Italian & Bistro. Llandudno's famous traditional ice cream, which has been serving freshly made ice cream for the past century.

phone: +44 1492 875600

address: 114 Mostyn Street

Trendy bar/bistro with decent selection of good quality sandwiches, pizzas and wraps
Medium range
For those seeking a medium priced meal, there are several Italian and other ethnic cuisine restaurants in the town:
phone: +44 1492 877188

address: 56 Madoc St

Self-described on their page as a family friendly food pub.

phone: +44 1492 870070

address: 11 Mostyn Avenue

Italian Recommended.

phone: +44 1492 877777

address: 25 Lloyd Street

Italian

phone: +44 1492 874422

address: 29 Lloyd Street

British/Continental Licensed Restaurant

phone: +44 1492 875928

address: 1 North Parade

Bangladeshi

phone: +44 1492 876585

address: 139A Mostyn Street

Bistro Frankly the best of its kind for miles around! Hence the queues to be served most nights.Good food and friendly service.

Jasmine House

phone: +44 1492 874201

address: 39 Mostyn Street

Chinese

phone: +44 1492 868555

address: 21 Augusta Street

Chinese with a hint of Japanese
Splurge
More up-market venues in the town include:
The Empire Hotel

The Seahorse

No.1s Bistro
Drink
Llandudno has experience an advent of European style cafe culture in recent years. Coffee houses have sprung up all over town. These include:
Cafe Culture

Waterstone's Cafe

Upstairs At Clair's

Fortes

Badgerswhich specialises in traditional-British lunches and pastries
Night Life
Though not on a par with the likes of Blackpool, Llandudno does have a vibrant nightlife scene with several popular bars and clubs. Busier in the summer months when tourists swell the ranks of revellers, a decent night out can be found in Llandudno all year round owing to the sizeable local crowd.
Along with the obvious Friday and Saturdar nights, Wednesday can also be busy with certain nightclubs offering popular reduced rates. Llandudno's 'trendier' bars can be found in the area of Upper Mostyn Street (walk down the Promenade towards the Cenotaph, then turn left down Gloddaeth Avenue).
Venue CymruIs a modern building on the promenade that has a large music stage and also a theatre hosting major shows. It often sells out for popular gigs and comedy so its worth checking well ahead of your visit, what's on.

FountainsA popular bar offering a varied drinks menu. Quieter atmosphere in the upstairs section, live DJ in the basement.

The Fat CatGood food, well-made cocktails.

Club 147Popular on Friday and Saturday nights when '147' as it is commonly known transforms into a fully fledged nightclub. Also shows sports evens (but be warned; during international football or rugby matches, the crowd supports Wales and anybody but England (with tongue firmly in cheek!)

The PalladiumThe flagship Welsh pub of the J.D. Wetherspoon chain set in a former cinema. A very impressive sight. Crowded and often rowdy on weekends. Known locally as Wethers to the extent that some locals would not recognize its official name.

The Cottage LoafA stalwart of Llandudno nightlife for decades, the Loaf is located beside the rear entrance to the Palladium. Local beers, live music, quiz nights and a great atmosphere.

The King's HeadSituated beside the tram station. Offers a good variety of drinks, live music and quiz nights. Popular with young and mature crowds alike. Hosts outdoor local music evenings during the summer months. (Headstock)
Llandudno has two full sized night clubs, both located about a mile away from the centre of town (down the Promenade towards Craig-Y-Don).
Broadway BoulevardVery popular with the local crowd, Broadway is a large nightclub that attracts some well-known DJs. Drinks offers are available during the week (Wednesday night being the most popular). Be on your best behaviour, though; the door staff are strict and local Police pay close attention to revellers.
Gay Scene
Llandudno could certainly be seen as a Gay-friendly town when it comes to nightlife. The bars in Upper Mostyn Street attract a decent crowd.
Sleep
Owing to its origins as a Victorian resort, Llandudno has a vast array of family run B&Bs (service consisting of a basic room with a generic cooked breakfast). Llandudno has a wide variety of hotels, ranging in size and quality.
Budget
phone: +44 1492 877430

address: 14 Charlton Street

4 Star
Medium range
phone: +44 1492 877 466

address: Vaughan Street, The Promenade

The Imperial overlooks Llandudno bay and features 98 stylish rooms, an award- winning fine dining restaurant and a health and fitness center with indoor swimming pool.

phone: +44 1492 877370

address: 13 Abbey Road

A gorgeous boutique style hotel in central Llandudno providing a relaxed and friendly atmosphere and a large car park.

phone: +44 1492 878101

address: 6 Penrhyn Crescent

phone: +44 1492 339871

address: 24 N Parade

Seafront Hotel with front garden overlooking the Pier.

The Broadway HotelBuilt in 1865 this Victorian Hotel sits proudly on the edge of the Town Centre and 200 yards from the seafront.

phone: +44 1492 874869

address: 83 Church Walks

phone: +44 1492 871150

address: 13 North Parade Llandudno, LL30 2LP

33 en-suite rooms are available, fully equipped with LCD TV and DVD player, hospitality tray and individual toiletries. Free WiFi available.

Lauriston Court

phone: +44 1492 877751

address: 11 North Parade Llandudno Conwy LL30 2LP

33 en suite rooms, equipped with an LCD TV, DVD player, individual toiletries and a hospitality tray. There is a licensed bar and also free WiFi Internet access.24 hour reception service. There is also parking available.

address: 30 St Davids Road

Wi-fi, garden and home made marmalade!

phone: +44 1492 871100

address: Deganwy Avenue

Adcote House is a 4-star bed and breakfast that offers comfortable bedrooms and suites for adults only. A period style has been created to reflect the Victorian home, alongside contemporary facilities and amenities. All rooms are en-suite. Recipient of Green Tourism awards.

Great Orme LighthouseFortress style built in 1862, now a hotel

St Tudno Seafront Hotel Llandudno

phone: +44 1492 874411

address: St Tudno Hotel & Restaurant, North Parade Promenade, LL30 2LP

On the seafront overlooking views of the bay, Victorian Pier and beach. The hotel has 18 bedrooms in a Victorian-style terrace property and also has an on site restaurant serving breakfast, lunch, dinner and afternoon tea.

phone: +44 1492 543131

address: Old Highway, Colwyn Bay, LL28 5YF

Holiday park in Upper Colwyn Bay, with views of Snowdonia, Conwy Castle and the Conwy Estuary.
Splurge
phone: +44 1492 860555

address: 73 Church Walks

address: The Promenade, LL30 2LG

North Wales Premier 4 Star Hotel and Visit Wales Gold Award Winner. Wales.
Stay safe
Llandudno is considered safe by any standards, though as with any other tourist destination, it is easy to fall into a false sense of security about your own safety. Note that Llandudno is also a fully functioning medium sized town and is therefore subject to the same difficulties as any other town.
Trouble associated with nightlife (drunkenness, anti social behaviour) is not uncommon. The Police take a robust response to incidents and maintain a visible presence on busy nights. Door staff can be strict and entry can be refused to pubs, bars and clubs.
Without the risk of overstating it, as with any town, there are areas in Llandudno which tourists should avoid, though these areas are not areas where tourists would normally travel. These areas include:
The area behind and around the ASDA supermarket, opposite Parc Llandudno
The council estate behind the Llandudno Rugby Club
Parts of West Shore, particularly the council estate and King's Road
The area around Llandudno Hospital.
Respect

The massive annual influx of tourists is something that local people are used to. People from Llandudno are generally friendly, welcoming and appreciative of the economic boost that tourists bring to the town.
One issue that can arise is during international football matches. Hoards of fans wearing England strips and filling out the pubs should remember that the Welsh will rarely share their support for the England team and will often (in the spirit of good fun) cheer on the opposing team... Even if it's Germany! Don't make an issue out of this, it is not meant to offend. Plus, you are in Wales after all!

Go next
Conwy - fantastic castle and walled town, just 5 miles away from Llandudno. Walk the town walls for free, many stairs leading up to them are throughout the town.
A cycle path now exists between West Shore Llandudno and Conwy, very flat and car free. Also suitable for pedestrians.
A 'working' riverfront where you can find a riverfront pub for a drink and an ice cream stand that also sells hot drinks along with 'The smallest house in the UK'.
There's Conwy Butterfly Jungle just outside the town walls (now closed)
A sightseeing boat that takes a 30 minute ride up and down the Conwy River (runs mainly on school holidays).
Various independent shops in the town and various independent cafes (including the Tower Coffee House, built into one of the wall turrets, right across from the castle and giving great views of the river).
If you'd like a free place to relax and maybe a read, Conwy Library also has great views of the river from its upper lounge.
You can also take a walk from the river front, through the gate and find your way along a riverfront walk, at the bottom of Bodlondeb. The walk takes you around Bodlondeb, where you can make your way to Conwy Marina, where there is an upmarket pub with a large outside dining area overlooking the marina.
There are many hill walks around Conwy as well (National Trust gift shop under Aberconwy House sells some maps, there's also an independent bookshop in the town).
Aberconwy House, 14th-century merchant's house run by the National Trust.
Plas Mawr (The Great Hall), one of the finest surviving town house of the Elizabethan era to be found in Britain, run by Cadw (who also run Conwy Castle, see about a joint ticket for both!).
Chester - Roman walled city, 50 miles away (one hour by train).