London/Camden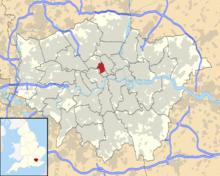 Camden
is an inner northern district of
London
. Its heart lies in Camden Town, a neighbourhood known for its market and the colourful nightlife. Camden is home to three of the most important railway stations in London: King's Cross, St. Pancras and Euston.
Understand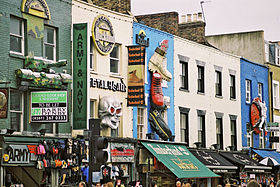 For half a century
Camden Town
, the centre of Camden, has been the hub of alternative culture in London, be it punk, goth, hippie or emo. The area is home to large markets selling an extremely wide range of products from glowing t-shirts to didgeridoos, mostly from independent stalls. With some of the capital's most varied cuisine, great live music and an
anything goes
attitude, Camden is one of the most vibrant and interesting of all London districts.
The area has its origins in the early 19th century as a suburban town on the road leading north from London. Later, it developed as a service centre around the railways, canals and other transportation. Virtually the whole of Camden was traditionally a working class, inner-city area with large estates of run-down public housing and some very seedy areas indeed. Inevitably though given its convenient inner London location, considerable gentrification has occurred across the district. Nevertheless, a friendly community atmosphere remains in the area which has bred such different people as singer Amy Winehouse and Labour politician Ed Miliband.
Orientation
The district of Camden, as covered here, is larger than Camden Town and smaller than the London Borough of Camden. This is for the sake of usefulness: the former is a rather small historic area and the latter simply an administrative unit, but don't be surprised by seeing contradictory uses of the term "Camden". As the term is used here, the Camden district roughly corresponds with the northern half of the Metropolitan Borough of St. Pancras, which existed until 1965.
Three of the main London railway stations are located in the south of the district. They are all along Euston Road, which is a part of the ring road around inner London. King's Cross and St. Pancras International are just across the street from each other (they're served by a single tube station), and slightly further to the west is Euston. A number of important main roads also converge in or around Camden.
For the traveller, it may be useful to divide the district of Camden into four areas. In the centre is
Camden Town
, with Camden High Street and Chalk Farm Road as its main thoroughfare. The Northern Line underground runs through this area and it's where most locations of interest are to be found. To the southwest of Camden Town is
Euston
, with its eponymous railway station but little else apart from office blocks and council housing. To the southeast is an area known as
King's Cross
, which contains the King's Cross and St. Pancras International railway stations. The King's Cross area used to be known for prostitution, drugs and crime, but today most of the area is being redeveloped and has become a lot more up-market. Finally, northeast of Camden Town is
Kentish Town
, linked to the rest of Camden by Kentish Town Road which branches out from Camden High Street. This is an interesting area, in some ways Camden Town's smaller sibling, it's quieter than it's neighbour to the south but has many of the same characteristics.
Get in
By tube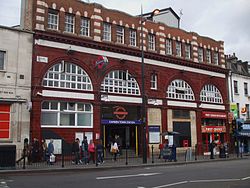 The district is served by the following tube stations in fare zones 1 and 2:
Mornington Crescent and Camden Town stations are situated at either end of Camden High Street, whilst Chalk Farm is also near the Roundhouse and Camden Market.
The Northern, Piccadilly and Victoria lines are part of the "Night Tube," with trains running overnight on Fridays and Saturdays.
By bus
Getting to Camden by bus is easy from almost anywhere in North or Inner London, with major bus stops near:
At night, routes N5 and N20 roughly follow the same route as the Northern line, and can be used as an alternative to the London Underground when the service is closed.
By Overground
Camden is connected to the London Overground by two stations on the North London Line and one on the Watford DC Line. This is most useful if arriving in Camden from either East or West London, as most other options from those areas require going in to the centre and then back out to Camden.
Camden Road (North London Line)
Kentish Town West (North London Line)
Euston (Watford DC Line)
By rail
Major railway stations include:
Euston can be reached directly from destinations such as Birmingham, Manchester, Liverpool and Glasgow. Camden Town is within walking distance. There is a London Underground connection to Camden Town, using the Northern line (). Alternatively, use bus routes 168 or 253 from bus stop "A".
St. Pancras International is served by:
*trains from the East Midlands (Bedford, Leicester, Nottingham, Sheffield)
*trains from Kent (Canterbury, Ashford International, Margate)
*Thameslink trains from Gatwick and Luton Airports , Cambridge, Peterborough, South London and Brighton
*Eurostar services from Paris, Brussels, Amsterdam and destinations in Mainland Europe
King's Cross is a short bus or tube ride form Camden Town, which is two stops away on the Northern line (). Alternatively, use bus routes 46 or 214 from bus stop "T".
The station is served by trains from the North East (Leeds and Newcastle), Edinburgh, Peterborough, Norfolk, Cambridge and Hertfordshire.
There is also a station at served by Thameslink trains from
Luton Airport
, destinations in Central London, South London and Hertfordshire.
By bicycle
Getting to Camden Town by bike is easy.
From the Southbank, Blackfriars or Bloomsbury, cyclists can follow the predominantly traffic-free . The route is signposted towards Camden Town and Kentish Town, with both destinations approximately 20 minutes' cycle from Bloomsbury.
From King's Cross, the is a traffic-free cycle route to the Kentish Town and Camden Locks. The path is shared with pedestrians, so from King's Cross, it takes about 10 minutes to cycle to Camden Market.
From Maida Vale and Primrose Hill, the runs traffic-free to the Camden and Kentish Town Locks. The path is shared with pedestrians, but from Primrose Hill, it only takes around 5 minutes to cycle to Camden Market.
Bicycle parking can be found on Parkway (opp. Caffè Nero) and Camden Road (outside the World's End pub).
Cycle Hire
Santander Cycles
can be used in the Camden Town area. You can dock your bike at several locations, including at:
Camden Road station
Hawley Crescent (opp. Camden Market)
Greenland Road (opp. Camden Town station)
Harrington Square (opp. Mornington Crescent station)
There are no docking stations in Kentish Town, but other bike-sharing schemes extend across the whole district, including
Jump
and
Lime
.
See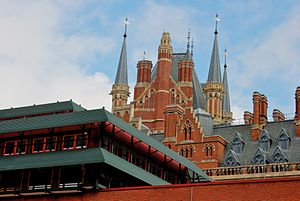 Regent's CanalYou can walk or cycle along the canal through east London all the way to the Thames (3 hr). The St. Pancras lock is directly north of St Pancras station. Regent's Canal was once a lifeline for trade and industry in London with narrowboats and barges ferrying goods to and from North London. The canal winds its way from the Grand Union Canal near Paddington in West London, past Regent's Park, Camden, Islington and Mile End to Limehouse, where it meets the Thames. From Camden Lock you can walk upstream along the canal to Regent's Park and on to London Zoo. It is a great way to approach the Zoo and a good way to avoid the traffic. Downstream of Camden is less pretty but still an interesting walk, taking you through the Islington Tunnel (one of the longest tunnels in the British canal system) and out in to East London. Whichever way you go along the path, watch out for cyclists!

St. Pancras Old Church and cemetery

address: by Pancras Rd

Hidden away behind St. Pancras railway station is what is believed to be one of the oldest sites of Christian worship in England. There has been a church on the site since at least around the year 314. The current church is mostly a 19th-century structure, but it contains some traces of an older Norman structure. Surrounding the church is a cemetery, today transformed into a public park that contains a memorial to Mary Wollstonecraft who was originally buried there before her remains were moved to Bournemouth.

St. Pancras International railway stationOrnate Neo-Gothic architecture, used in the Harry Potter films.
Do
There are several nice
walks
along the canal, but the main focus of Camden are the shops, restaurants and nightlife.
phone: +44 20 7387-6864

address: 100-110 Euston Rd, NW1 2AJ

Theatre named after George Bernard Shaw and famous for showing high quality, non-mainstream productions.
Buy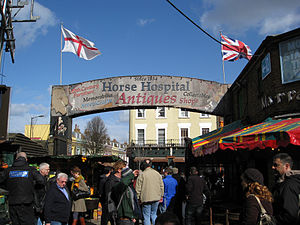 Camden Town markets
The markets in Camden Town are why most people come to Camden. Several markets are packed into the area between Camden Town and Chalk Farm tube stations, and in the weekend it can be difficult to distinguish one from another. With increased tourism, the markets have become more commercial and less unique than they once were. However it is still possible to find some great things to buy - clothes, art, books, records - simply by persisting through the most commercial bits and going on through to the more interesting parts deeper inside the markets.
The Lock MarketMany stores mainly focused around music and clothing. This is the market most people mean when they talk about the "Camden Market".

The Stables MarketThis is the largest of Camden's market areas, featuring hundreds of stalls selling everything from African art to beds to fetish clothing to antiques. This is probably the best place in London for interesting clothes, including vintage, goth, cyber and general club-wear. Cyberdog is an experience just to look at, and the extreme basement contains some distinctly adult items. Burleska and Sai Sai are among a number of corest stockists.

Camden Lock VillageThe three-storey market that stood here burned down in 2008. It has reopened since, but the area just contains a number of small stalls. The owners are trying to get planning permission for re-development.

Inverness Street MarketThis is a small market selling a range of common goods such as fruit and vegetables, cheap clothes and other bits and bobs. The Inverness Street Market is the smallest market in Camden, but it's the original local market in Camden predating the others by decades.

The Buck Street MarketThis is the first market you see turning right out of the tube station and it has a big sign declaring it "The Camden Market". However, it only sells only the typical funny t-shirts, knock-off designer boots, keyrings, etc., that you can find in practically every city in the world.
Shops
In addition to the markets, there are a large number of interesting shops dotted all around the area.
Take a long slow wander down
Chalk Farm Road
(it will need to be slow, the sheer number of people makes walking quickly impossible!), checking out the amazing collection of boots and leather that dominate it. Of special note are:
Amsterdam of LondonProbably the finest purveyor of curious things in London. They also sell weed and hash smoking paraphernalia.

Resurrection RecordsThe home of alternative music in North London.
Other shops include:
Eat
Camden has some of the most varied cuisine in all of London. A key part of Camden's food scene are the many stalls offering quick and tasty food from every country possible. Quality varies, but generally it is good and cheap. Stalls tend to be in and around the Lock and Stables markets, but they appear everywhere. A perennial favourite has been the donut and cake stall located next to the bridge, as have the many Chinese and Thai stalls nearby. Camden also contains a large number of more formal restaurants, many of which are relatively inexpensive and open after the stalls have closed.
phone: +44 20 7267-0718

address: 72 Chalk Farm Rd, NW1 8AN

Tasty moules frites without taking the Eurostar, with deluxe décor. The beer menu is intense, and one can catch a good bargain with their "Full Moon Specials".

Chop Chop Noodle Bar

address: Euston Rd

Selection of the usual Chinese/oriental dishes to either eat in (even if you have only got half an hour you can be in and out with time to spare) or takeaway (they give you a plastic fork with your takeaway without even being asked). Very filling with big portions. Quality is not great but you can not argue with the prices. Licensed and drinks are certainly no worse than what you would pay in any London pub.

phone: +44 20 7482-9003

address: Old Dairy Mews, 61 Chalk Farm Road

A lovely family-run Italian cafe and gelato parlour with attentive staff! Perfect for families of Roundhouse-gig goers and people wanting a great ice cream or lunch/dinner. Whilst not at its original location, the business dates back to the 1930s.

phone: +44 20 7372-4699

address: 228 Belsize Road

A great modern European restaurant in the West Hampstead/Kilburn area serving high quality food at great value for money prices. They have a party offer for groups of 12 or more.

phone: +44 20 3376 9911

address: Camden Market, Chalk Farm Rd

South African restaurant. Decor includes 20 foot tall warrior statues and carved wooden murals on the walls and ceiling.

St. Pancras International Station

address: Pancras Rd

A selection of cafes at the station. Convenient for a quick bite.
Drink
Camden has a great nightlife, with lots of cool bars, pubs, clubs and restaurants.
Pubs, bars and cafes
address: 33 Kentish Town Rd

The dress code is strictly alternative and the pub has got a late night license for Fridays and Saturdays. DJs every night and some gigs. The artwork on the walls was produced by Robin, the barman.

address: 94 Parkway, NW1 7AN

A bit rowdy and often quite packed, this pub and music venue has played a pivotal role in British music. It is well known for producing the 1980s band Madness and helping a great many other groups along their path to glory. Worth a stop, just for the atmosphere.

address: 57 Mornington Terrace, NW1 7RU

A more refined side of Camden, this pub is part of a chain in North London attempting to apply a little class. It has a fine selection of beer and cider, including a selection of Belgian beers both bottled and draught. The food is always good and the staff always friendly. There is a large, semi-covered outdoor seating area with heaters.

phone: +44 20 7916 7929

address: 30 Inverness Street, NW1 7HJ

A nice pub where the likes of Blur and Pulp and a load of other Britpop bands from the 1990s used to drink. Prices are reasonable, there are two pool tables, and the general atmosphere is laid back and friendly.

phone: +44 20 7428 5979

address: 2 Castlehaven Rd

Tucked away in a side street close to the Stables Market, this two-story pub has a small garden and a roof terrace. There are sometimes concerts upstairs. A favorite of the late Amy Winehouse.

address: 5 Parkway, NW1 7PG

Food, drink, and music (jazz, soul, blues). Every Saturday the place turns into a great 1980s music club, with "I love the 80s".

The Misty MoonA fairly average pub.

address: 80-82 Eversholt Street, NW1 1BX

A nice pub away close to Euston station.

The World's EndLocal landmark and a good meeting point. It is large, with two separate bars and a lot of seating. Food is served at the weekend.
Clubs and music venues
Sleep
Budget
phone: +44 20 7388 8900

address: 55-57 Bayham St, NW1 0AA

Part of the Smart Backpackers chain of hostels, on the street next to Camden High Street.

phone: +44 20 7388-1012

address: 50 Camden High St, NW1 0LT

On the corner of Camden High St and Plender St, which is home to a small morning market. Belushi's bar on the ground floor.

phone: +44 870 7706044

address: 79-81 Euston Rd
Mid-range
Splurge
phone: +44 20 7666-9000

address: 100 - 110 Euston Road

It is equidistant from the St. Pancras and Euston railway stations. This former corporate Novotel was taken over and completely refurbished by Accor's upscale Pullman brand. It features rather spacious rooms and interesting views from upper floors, as well as modern decor and fitments and all the creature comforts expected from an upscale hotel.

phone: +44-20-7841 3540

address: Euston Road, NW1 2AR

This is the rebirth of the former Midland Hotel, inside the palatial listed Neo-Gothic building above St Pancras Station. Definitely outside the budget of many travellers, but for architectural aficionados this is one hotel that should be stayed in at least once in a lifetime.
Stay safe

Camden has long had strong associations with drugs, in particular cannabis and magic mushrooms. Even during daylight, you are likely to be offered weed or hashish. These dealers will usually accept no for an answer. Remember that these drugs are still illegal, streetside dealers are not to be trusted and often just steal your money if you look interested. Also, there are many undercover police around to catch you.
Walking around Camden at night is generally fine, but gangs of youths can seem threatening, and best avoided if alone. At night walking on well lit streets, such as Camden High Street, is a good idea but take a taxi if you are feeling insecure.
Fake goods are found in abundance in Camden. Most of the time its fairly obvious (Bolex watches, etc.), but be careful when purchasing - refunds are not common. Fake DVDs are mostly terrible quality.

Go next
Three very good parks are within walking distance of Camden:
Regent's Park lies along Camden's western edge, a beautiful planned garden where you can get away from the fast pace of London life.
Primrose Hill, immediately to the north of Regent's Park, is easily within walking distance of Camden and has the best views over London.
Hampstead Heath is less than 3km away from the heart of Camden Town, or just a few tube stops away.
For shopping,
Tottenham Court Road
with its famed electronics stores lies south out of Camden, close to Euston. At the other end of Tottenham Court Road is
Oxford Street
.
Looking further afield, from St Pancras International you can catch the Eurostar for
Paris
,
Lille
or
Bruxelles
.