London/East End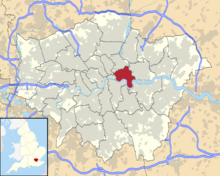 The
East End
is a district of inner
London
, stretching out from the edge of
The City
to the River Lea. Highlights include the large cluster of Sunday markets and the nightclub area of Shoreditch.
Understand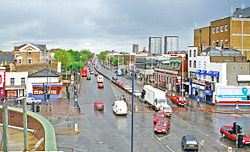 The East End is the home of "Cockney Rhyming Slang", a dialect of English where words are substituted for other words which they rhyme with. For example "apples and pears" is cockney slang for "stairs"; "plates of meat" is slang for "feet". The East End is perhaps now more famous than ever due to the long-running and hugely popular BBC TV series
EastEnders
, a soap opera about the life of people living in Albert Square, Walford, which is a fictional location.
Exploring the East End can be a great way to get off of the main tourist track, while staying in walking distance of the historic centre of London. A good place to start is to go east from Spitalfields into the nearby
Brick Lane
neighbourhood.
The East End consists of many small and quite distinct neighbourhoods:
Mile End
is an increasingly affluent neighbourhood about one mile (hence the name) from the
City of London
along the Whitechapel Road. While not as vibrant as its neighbours in
Bethnal Green
and
Brick Lane
, it has a charm of its own which makes this district worth a visit. It is rich in history and contains some very interesting relics of London's industrial past. The district was created just at the time when London was expanding at its fastest rate and as such contains areas which are a microcosm of the Victorian city. It also suffered greatly from German bombing in World War II and the slum clearances of the 1960s which saw many fine Victorian houses bulldozed to be replaced by sub-standard communal housing.
Whitechapel
runs from the edge of the City of London at Bishopsgate in the West to Cavell Street in the East, and from Commercial Road in the south moving to the
Brick Lane
area in the north. It became particularly notorious in 19th century for the gruesome murders of Jack the Ripper (once known as 'The Whitechapel Murderer'), in the days when poverty and prostitution were common in this area. It is still a largely working-class area but has attracted a large Bangaledeshi community which has made Brick Lane what it is today. Many aspiring artists moved here for the cheap rents but still central location. Tracey Emin (one of the not-so-Young British Artists (YBAs) of the 1990s) has a studio in this area, and can be seen wandering around in the day. The Royal London Hospital gazes across at Whitechapel Tube station and is famous for nursing Joseph Carey Merrick (the 'Elephant Man') in his final years.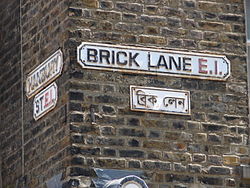 Brick Lane
is a small but diverse neighbourhood, named after a long road starting in Whitechapel and running north into Shoreditch. The area has come to be known as "Banglatown" because of many of its inhabitants and proprietors originating from the
India
subcontinent (especially
Bangladesh
). You can see evidence of this on the bilingual road signs which were placed to help immigrants in the 1980s who were unable to speak English.
Although now largely a Bengali neighbourhood, within living memory, Brick Lane was a Jewish district. As well as some obvious remnants of this history such as a few remaining beigel (US/Canada: bagel) delis, there are some more subtle ones too, such as small synagogues in the back streets. Many of the larger synagogues have now been converted into mosques. Before that, it was a Huguenot area. The Huguenots settled in the area and became well known for silk weaving. The markets here date back to the 16th century, when the area was a stop on the main eastern exit road from London. The neighbourhood, now complete with its own annual festival, is now most famous for its curry restaurants, markets, speciality shops and vibrant but relaxed nightlife.
Shoreditch
stretches from Old Street station to Kingsland Road in the London Borough of Hackney. Culturally though this is part of the East End. This was once an area largely populated by skint artists but they were scattered once the wave of design and media studios and commercial art galleries rolled in. Although the area is still underdeveloped in many ways, this is one of the best places to go out drinking in London, simply because there are so many different bars, pubs and clubs dotted all over this area and many of these stay open past 11PM.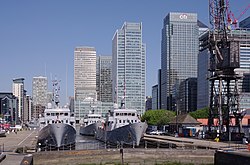 Docklands
This area stretches from the edge of the
City of London
along the river to Beckton. The area encompasses the historical docks of the port of London, which declined after the Second World War. The area has been extensively redeveloped since the 1980s resulting in a doubling of the residential population. This is now predominantly an area of giant offices and mid to upmarket housing, although elements of its historic purpose can still be found. For travellers, the major feature of interest is the Canary Wharf development, home to some of London's tallest buildings. However, there are also other areas of Docklands that are of interest to those with more time to explore the area. Area of modern day Docklands include Wapping, Limehouse, the Isle of Dogs and Royal Dock:
Wapping
is immediately east of the City of London on the banks of the Thames. Although largely gentrified in recent decades, there are still many cobbled streets and the warehouse conversions has been done sympathetically in many places, and there are several excellent riverside pubs. The giant News International facility (which publishes
The Times
and
The Sun
newspapers) is here.
Limehouse
extends from the edge of Wapping to Canary Wharf. By-passed by the Limehouse Link road tunnel, it is a quiet, predominantly residential area and there are a few riverside pubs of note a well as facilities serving the massive business community at Canary Wharf.
The
Isle of Dogs
lies to the south of the Canary Wharf development, and is a mixture of light industrial, office and residential areas, with a large park at Mudchute that contains a City Farm. At Island Gardens there are noteworthy views across the river to Greenwich.
The
Royal Docks
extend east where redevelopment has proceeded at a slower pace than most of the rest of Docklands. The former docks are now stand alongside London City Airport, although the arrival and departure of aeroplanes still spills over them onto the campus of the University of East London. The Excel Centre is also to be found here.
Surrey Docks
and
Rotherhithe
on the south of the river are sometimes included in descriptions of Docklands.
Get in
By Tube
Mile End
(Zone 2) is one of the best-connected stations in London, with access to the Central, Hammersmith and City, and District Lines. There is also a District Line station at Bow Road and Docklands Light Railway stations at Bow Road and Devons Road.
For the west side of Whitechapel get off at
Aldgate East
(Zone 1) Tube station (Hammersmith & City & District Lines), to take you directly to the Whitechapel Art Gallery and near the bottom of Brick Lane or
Whitechapel
(Zone 2) (Hammersmith & City & District Lines, and London Overground East London line) will take you to the east side of Whitechapel Road.
Liverpool Street
(Zone 1) Tube station is a 15-minute walk from Whitechapel.
The Jubilee line extension to Canary Wharf links the Docklands with the main Tube network.
By Docklands Light Railway (DLR)
Much of Docklands used to be poorly connected to the rest of London, with the development of the Docklands Light Rail (DLR) and the extension of the Jubilee Underground line, transportation has become much easier and more efficient. If visiting Canary Wharf, you might like to arrive by DLR to experience the views from the train on approach and leave by the Jubilee to see the impressively large station, which has been compared to a cathedral.
Most of the DLR stations are, unsurprisingly, in the Docklands. There are three stations on the Canary Wharf development (Fare Zone 2) and are a short distance apart so you don't need to use the DLR to get around within Canary Wharf:
Heron Quays is best for interchange with the Jubilee line.
By train
London Overground's East London Line connects various stations in the inner East End, running through Hoxton, Shoreditch High Street, Whitechapel, Shadwell and Wapping, before crossing the river to Rotherhithe, Canada Water and beyond.
See
Canary WharfA vast shopping, eating, entertainment and (primarily) business complex, home to Britain's second tallest skyscraper, One Canada Square. Now increasingly lively at weekends as well, but still at its most impressive during the week. Spectacular main exit from the Jubilee line Tube station. There is a substantial amount of information about the history and the architecture of the development on the website of Canary Wharf Group, the company that owns the development.

Christ ChurchTowering, white 18th-century church.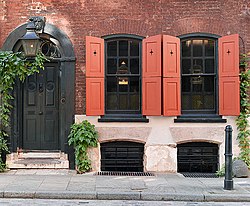 phone: +44 20 7247-4013

address: 18 Folgate Street, E1 6BX

Built as a townhouse belonging to a wealthy Huguenot merchant family in the 18th century, the late artist Dennis Severs has returned its interior to how it might have looked in those early days. But this is no mere museum; there are no exhibits or glass cases. Instead, Dennis Severs' House offers a completely immersive journey into the past with each room appearing, feeling and smelling as if its occupant had just left. A must for history lovers.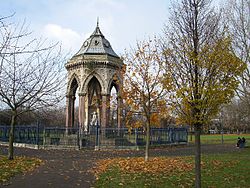 phone: +44 20 7001-9844

address: No 1 Warehouse, West India Quay

Tells the story of the development of the Docklands from Roman and Viking times to the present day.

phone: +44 20 7729-9721

address: 196 Brick Ln

Exhibits an eclectic variety of contemporary art and street art by British and International artists, focusing mainly on exhibiting emerging and mid-career artists. They present an integrated programme of exhibitions, including solo-shows as well as group exhibitions, introducing innovative developments in painting, sculpture, photography, performance, video and works on paper.

phone: +44 20 8983-5200

address: Cambridge Heath Road, E2 9PA

The Victoria and Albert Museum's East London branch has a focus on childhood and is particularly known for its large collection of toys throughout the ages. Great for children of all ages.

Victoria ParkAt 87 hectares this is the largest open green space in the district.

phone: +44 20 7522-7888

address: 80-82 Whitechapel High St

Whitechapel has been a champion of Modern Art since 1901, and has held exhibitions of greats such as Picasso, Pollock and Frida Kahlo and supported British Artists such as Gilbert & George and Lucian Freud. The space continues to hold regular new exhibtions with additional linked events on Thursday evenings. There is a cafe and a small art bookshop. Free entry. There are excellent facilities for disabled people (visual, hearing and physical).

phone: +44 20 7702-2789

address: Graces Alley off Ensign St

Wilton's Music Hall is the oldest Grand Music Hall in the world. Built in 1858 it has had a long and colourful history. Wilton's has been the haunt of Victorian sailors (and their ladies), become a Mission, survived two world wars, being a rag warehouse, being forgotten, becoming derelict and has ended up as a theatre once more. It is now a performance space offering entertainment of as wide a variety as puppetry to poetry and has launched a capital appeal to save it from crumbling.
Do
Walks
Tower BridgeIf you feel adventurous then spend a sunny Sunday afternoon walking the north bank of the River Thames to Tower Bridge in the City of London.

Regents CanalWalk up the Regent's Canal.

Green BridgeWalk over the Green Bridge, a unique structure that joins Bow Common to Mile End Park with its urban nature reserve, taking the park over the busy A12 road, ensuring uninterrupted greenery for several miles, from the bottom of Bow Common to the top of the beautiful Victoria Park.
Other
phone: +44 20 7739-1743, +44 7799 776 016

address: 20 Rivington St

A friendly, qualified art guide will take you round a selection of the most interesting exhibitions on at the moment and also talk about the history of contemporary art in East London.

phone: +44 844 504 808

Guided walking tours of the East End's most interesting street art, led by young, enthusiastic and knowledgeable guides.

Cineworld Cinema

address: 11 Hertsmere Rd

phone: +44 20 7069500

address: 1 Western Gateway, Royal Victoria Dock

Exhibition and conference centre. The venue hosts such public events as the London Boat Show, the British Motor Show, London MCM Comic Con, the London Triathlon, and many others. It was a venue for the 2012 Olympics and Paralympics for sports such as boxing, table tennis, and fencing.

CycleHire a bike and cycle around the island. There are lots of cycle paths and great riverside views of the City of London and Greenwich.

Canary Wharf Ice RinkA café and bar, and the only genuine Central Park style skating in London, in the smart Canada Square park surrounding by glittering office tower blocks. Winter only.

Jack the Ripper TourFor those of you with a morbid fascination with this 19th-century murderer, this will hopefully feed your curiosity. Approx 2 hours. Book through website.

phone: +44 20 7600 5030

address: 62-64 Globe Rd London E1 4DS

Paintballing centre.
Buy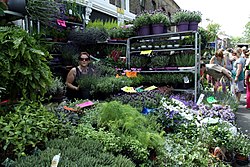 The undoubted highlight of East End trading life was the street market, operating under a grudging acceptance from the authorities and offering bargains with big suggestions that the cheap price may be related to a dodgy road to market.
Sunday
was the main market day due to the Jewish heritage of the area, and therefore attracted a large influx of shoppers before shops were allowed Sunday trading elsewhere in London. The (more controlled) current markets are a treat of variety, stretching out in short walk from Liverpool St or Shoreditch stations. During a Sunday morning relaxed walk, allowing 2–3 hours, you can visit the four main markets,
Petticoat Lane
,
Spitalfields
,
Brick Lane
and
Columbia Road Flower Market
, have lunch and a shandy or two, whilst taking in the ever-changing diversity. New markets are opening en route all the time, but real surprises are most likely to be found around the north Brick Lane/Cheshire St area which most resembles the spirit of the original markets, having many stalls operating on the edges of both market and legality.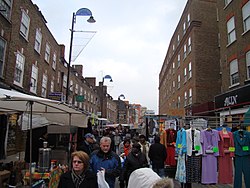 Petticoat Lane Market

address: Middlesex St

Traditionally the East End market where nearly anything could be found (legal or not) now mostly cheaper mainstream clothes. Main market Sunday, smaller market M-F in Wentworth St.

Spitalfields MarketThe traditional fruit and vegetable market for The City moved into the suburbs in 1991. The existing buildings were threatened with complete demolition by developers, but saved partially by local action and the establishment of an organic market on the empty site. It has slowly been shrunk to a third of its size by development in the area. It still features a good variety of clothing, crafts and food stalls and shops, but very little organic anymore. M-F - upmarket stalls operate on the edge of the new buildings. Towards end of week more eclectic stalls can be found in old market area. Sunday hosts the full market in both old and new areas but tends to be increasingly more expensive and exclusive as traders are squeezed for higher rents.

Brick LaneThe Whitechapel end of Brick Lane is filled with South Asian (mainly Bangladeshi) shops and restaurants, selling music, spices, tasty sweets and sari material.

address: 110-112 Cheshire St

Secondhand clothing (male and female).

address: 101&107 Brick Ln

Secondhand clothing (male and female).

Brick Lane MarketSelling second hand clothes, bric-a-brac, books, household goods and electronics.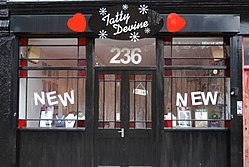 phone: +44 20 7739-9009

address: 236 Brick Ln

Little shop specialising in accessories for men and women, such as volume level brooches and newspaper print ties.

Whitechapel MarketA small street market selling food and spices, clothing, jewellery, carpets and the odd dodgy stereo.

1 Canada Square Shopping Mall

address: 1 Canada Sq

A shopping centre with the usual High Street shops, plus a John Lewis department store and a Waitrose food store which has the most stunning range of produce. Pleasant upmarket shopping centre, made up of three arcades: Canada, Cabot and Jubilee Place. The three arcades encircle Jubilee Park and the Tube station, and house over 200 shops, bars, restaurants and cafes that are open seven days a week. A relaxed shopping environment, especially good for clothes.

Roman Road Market

address: Roman Rd, Bow

A mix of traditional goods, from high street brands to fish, Roman has it all. Market runs Tuesday, Thursday and Saturday until 5PM.
Eat
Canary Wharf
There are many restaurants in Docklands clustered around the new developments of Canary Wharf. Some of the best are listed below:
Café Rouge

phone: +44 20 7537-9696

address: Mackenzie Walk

Waterfront Parisian Bistro. Wide selection of food and wine in a relaxing setting.

Carluccios

phone: +44 20 7719-1749

address: Nash Ct

Authentic Italian cafe with all Italian dishes developed by Antonio Carluccio. There is also a genuine Italian deli with take out lunches, meats, cheeses and a range of branded products and gift items.

The Fine Line

phone: +44 20 7513-0255

address: Fisherman's Walk

Lunchtime menus include a mixture of continental and international meals. A snack menu is available in the evening. Two mezzanine areas at the bar for private party bookings.

First Edition

phone: +44 20 7513-0300

address: 25 Cabot Sq

International cuisine with continental and Far Eastern influences compliment a wide range of fresh seafood. Extensive wine list served by the glass. Private affairs welcome.

Gaucho Grill

phone: +44 20 7987-9494

address: Westferry Circus, Canary Riverside

The Argentinian cowboy, the gaucho, made famous the tradition of cooking fresh meat over charcoal grills. The large horseshoe bar offers traditional South American cocktails and beer.

Itsu

phone: +44 20 7512-5790

address: Second floor, Cabot Pl E, Canada Place

Conveyor-belt sushi restaurant, more on the side of "fusion" than traditional. Japanese Sushi along with a wide range of dishes reflecting a strong Asian and Vietnamese influence. Take-away boxes are available. Fresh cocktails, sake and Japanese beer at the relaxed bar.

Nandos

phone: +44 20 7513-2864

address: Unit 24-26, Jubilee Pl

Traditional Portuguese-style food, specializing in their famous Peri-Peri chicken flame grilled to perfection. Family style atmosphere is relaxed and always friendly. A chain restaurant.

Plateau Restaurant Bar and Grill

phone: +44 20 7715-7100

address: 4F, Canada Place

Modern French restaurant, part of the Conran restaurants group. More informal Bar and Grill includes steak grills and hearty regional French dishes. Two bars.

Quadrato

phone: +44 20 7510-1857

address: Westferry Circus, Canary Riverside

International classics for breakfast and northern Italian cuisine for lunch and dinner. The Tuscan Sunday Brunch and cocktails at bar Quadrato should not be missed. Watching chef Sebastiano Spriveri at work is a main attraction.

Royal China

phone: +44 20 7719-0888

address: Westferry Circus, Canary Riverside

Popular restaurant with a great view of the Thames River. Decorated with Royal China gives a contemporary feel. Enjoy dim-sum and an extensive menu.

Scu-zi

phone: +44 20 7519-6699

address: Westferry Circus, Canary Riverside

The funkiest restaurant and bar on the Thames river. Pastas, pizzas and salads are complimented by a first class selection of wines, spirits and cocktails.

Sri Nam

phone: +44 20 7715-9515

address: The North Colonnade, Cabot Square

Fine dining restaurant offering authentic Malaysian, Thai, Chinese, and Singaporean cuisines. A wide variety of drinks, cocktails and snacks are offered. Private dining rooms available by request.

Waitrose Food and Home

phone: +44 20 7719-0300

address: Canada Pl

Six eateries under one roof: Waitrose Steak and Oyster Bar, Salad and Juice Bar, Tapas Bar, Moshi Moshi Sushi Bar and many other options.

Zizzi

phone: +44 20 7512-9257

address: Westferry Circus, Canary Riverside

Serves authentic pastas and pizzas. During the summer a large riverside terrace affords sweeping views over the River Thames. A chain restaurant.
Mile End
There is a cluster of good eateries at
Bow Wharf
, just a few minutes north of Mile End station.
address: 2 Grove Road, London, E3 5AX

A cosy restaurant serving burgers with unusual and exotic ingredients, along with more traditional fare such as chicken or beef. Salads and steaks also available.

The CrownRemarkable gastropub, see "Drink" below

Orange Room Cafe

address: Burdett Rd

A good place for chilled-out lunches.

Saucy Kipper fish & chip shop

address: Roman Rd

ZeeraA decent, if slightly pretentious, Indian restaurant. One of several restaurants under the Green Bridge.
Brick Lane
Brick Lane was once home to a thriving Jewish community, and while much of that community has since left, one of the reminders of that community are the surviving shops selling the
beigel
(US/Canada:
bagel
), a quintessentially Ashkenazi Jewish type of bread.
Wander up Brick Lane, and you will be pounced on by countless touts trying to persuade you to enter their client's restaurant. Try to go on a recommendation if you can, otherwise take pot luck.
Unfortuntately many of Brick Lane's curry restaurants have become victims of the success of the area. Most restaurants now employ pushy touts, who will hassle you to eat in their client's restaurants. The discounts may sound tempting, but they frequently inflate the prices simply so they can offer you a 'deal'.
The largest concentration is between Woodseer Street and Fournier Street. The old-style, flock wallpaper curry houses have now largely given way to shiny, light wood and aluminium restaurant for the tourists and City workers. Whichever style you go for, though, it's always worth checking that they've got a licence to sell alcohol before taking up a table. A lot of the restaurants will allow you to bring you own alcohol along.
Bengal Village

address: 75 Brick Ln

Good food, good value, pleasant atmosphere and good service.

Brick Lane Beigel Bake

phone: +44 20 7729-0616

address: 159 Brick Ln

A local institution, Beigel Bake is more celebrated of the two and rated by some as the freshest most delicious beigel you will ever have. Their salt beef is more highly rated than Beigel Shop and a salt beef beigel with mustard and pickle is highly recommended for a post-clubbing snack.

Britain's First & Best Beigel Shop

phone: +44 20 7729-0826

address: 155 Brick Ln

While less celebrated than its near neighbour, Beigel Shop is still well worth a visit. While Beigel Bake is a local institution, it is reflected in its limited range. As a result, Beigel Shop works harder for your cash, providing a wider range of fillings and an excellent sausage roll, making it the preferred destination for those who aren't enamoured with salt beef.

New Tayyabs

address: 83-89, Fieldgate St

Long established and arguably the best South Asian restaurant in the Whitechapel area. Serves traditional food in a pleasant if slightly frenetic atmosphere. Good value and with fast efficient service. Particularly recommended are: the mixed grills to share and the delicious mango or banana lassi drinks which are similar to milkshakes. Book or arrive early on Friday or Saturday as the restaurant is so popular you may have to queue.

Lahore KebabhouseGood value, extremely friendly staff and able to cater to big groups (up to 20 people). Plus, it has a BYOB licence, keeping costs down.
Other places
Tas Firin

phone: +44 20 7729-6446

address: 160 Bethnal Green Rd E2 6BG

Great Turkish grilled food, pretty much for carnivores only.

phone: +44 20 7739-1164

address: 332 Old Street, EC1V 9DR

The banh mi sandwich is a crusty baguette filled with terrines, meats, lightly pickled vegetables, fragrant herbs and almost always mayonnaise.

Pellici's

phone: +44 20 7739-4873

address: 332 Bethnal Green Rd E2

Possibly the best greasy spoon caff in the country (and one of very few left), this old pad, frequented by celebrities from X-Factor winners to the Krays, is well worth the effort. Cheap as chips by the London standard and well worth the value for money.

phone: +44 20 7480-6356

address: 2 Marble Quay, St. Katherine's Dock

Expensive Indian cuisine. Tandooris, Biryanis, and other specialties. View of the docks, full bar.

phone: +44 20 7729-1147

address: 93 Columbia Rd, E2 7RG

Family-run Spanish restaurant established in 1982. Amazing Spanish food. Great for lunch when at the flower market.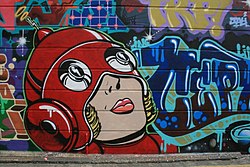 Drink
address: Wilton's Music Hall, Graces Alley off Ensign St, E1 8JB

The Mahogany Bar was built around 1725 and has always been a public house, trading under many names over the years including the Albion Saloon and the Prince of Denmark. In 1828 it was luxuriously and elaborately refurbished with a magnificent mahogany bar and fittings which was unprecedented for a pub interior at that time and arguably set the look for the iconic Victorian pub. The fixtures and fittings of this bar have been stripped away over the years but the atmosphere lingers on. This is the charming bar inside the dilapidated Wilton's music Hall. Visit on a Monday for free live music from 8PM.
Canary Wharf
Many of the bars on the Canary Wharf development are indistinguishable chain bars, although they are very popular with office workers on weekday evenings, particularly Thursday and Friday. Most are closed at weekends, but there are usually one or two open if you want to visit then; the area is generally
very
quiet at this time, which you may or may not consider a good thing. Nearly all have outside areas adjacent to the water which can be pleasant in summer.
Fisherman's Walk
, to the north of North Colonnade, has three adjacent bars:
The Cat & Canary

The Fine Line

Davy's
Immediately across the dock,
West India Quay
has several bars:
Wetherspoons PubAlthough the view is not so good, is probably the cheapest pub in Canary Wharf.
Mackenzie Walk
, to the south of South Colonnade, has a number of bars and restaurants. The following are two 'real' pubs:
Gun18th-century pub with real fires, a terrace where you can sit and stare at the Millennium Dome over the river, and pistachio nuts behind the bar. A haven of warmth after a trek through JG Ballard-style Docklands wasteland (empty streets, vast satellite dishes and rusting industrial machinery).

The SpinnakerNothing particularly to recommend this place, except that it is a real pub, a rarity in Docklands.
Other options
:
Waitrose's Wine BarPleasant and good-value place to sit and sip, though it closes when Waitrose around 9PM.
Mile End
The Palm TreeA traditional East End boozer. Now set in the middle of Mile End Park, originally it was surrounded by houses and a factory. Its incongruous surroundings only add to the charm, however. You may recognise the interior from the number of film and TV appearances the pub has made as an "authentic" location. On Saturday nights the locals crowd into the front bar for a sing-song and the back bar is jammed with trendy students from Queen Mary's college. The presence of a student population mean this pub has less a threatening air than other East End locals.

The Morgan Arms

address: Coborn Rd

Locally well-known boozer. The attached restaurant also serves some tasty, albeit pricey fare.
Brick Lane
Verge Bar

phone: +44 20 7739-0552

address: Corner of Brick Ln and Bethnal Green Rd

It is open everyday for food, flat whites, espresso and cocktails. It has outside seating for you to watch the exciting Brick Lane World go by or you can relax on a sofa inside a gaze out of the huge windows that open to the Brick Lane. A grand spot to relax with the papers and their excellent Bloody Mary on Sunday Morning.

phone: +44 20 7247-6095

address: 150 Brick Ln

This club/bar is made up of three areas: downstairs a loungey bar with low-lit sofa seating everywhere and chilled out music, the main room with a full on sweaty dancefloor (where the headline DJs/bands perform) and an upstairs bar which is mix of the two, plus a large cobbled area outside for the summer. Mon-Thur is mainly live music, and the weekend has the line up of eclectic DJs playing a variety of hip-hop, house and rock music. Charge on the door for gigs, on F Sa usually free before 9PM, £5 after. No dress code.

Old Truman BreweryA large, lively place, which features a large courtyard and several floors for drinking and dancing. Hosts salsa classes too.

Cafe 1001Contrary to the name, this is another club/bar with a courtyard, which has a gourmet BBQ, next to the entrance. Can get very crowded on the weekend, with several other bars in the enclousre and the famous Rough Trade record store, which supports gigs (sometimes, surprise performances from a big band like Radiohead).
Shoreditch
Pubs
Bar Kick

phone: +44 871 332 2959

address: 126-127 Shoreditch High St

A two-floor bar with plenty of table football machines to thrash away at. If you can not get a table the bar has a few sofas to wait for your turn in the quirky surroundings. It is a friendly place, where there is a mix of trendy boys and girls and suits from the city.

Catch

phone: +44 20 7729-6097

address: 22 Kingsland Rd

A slightly shabby but friendly bar on the small strip of bars on Kingsland Road. Downstairs they have limited seating and draught beer, but upstairs is where it is happening. In the week you can catch live bands and on the weekends there are DJs playing xfm music mixed with a bit of cheese. It is also free to get in. Bargain.

phone: +44 20 7251-4195

address: 168–172 Old St

If you are into pubs and pub food, and especially the J.D. Wetherspoon concept, this is a very good spot. It is priced a notch under its more central sister pubs. The extensive menu consists of a good selection of general healthier pub food (pastas, salads, vegetarian burger, etc.), but also traditional food like potato & mash, fish & chips. For a good deal, go for the 2-for-1 at £6.99.
Clubs
phone: +44 20 7739-5949

address: 333 Old St

Cargo

phone: +44 20 7739-3440

address: 3 Rivington St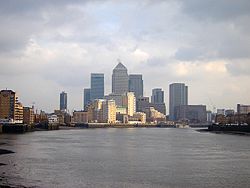 Sleep
Budget
phone: +44 20 7517-1100

address: 1 Baffin Way off Preston Rd, E14 9PE

An economy London hotel in the Docklands area. The 87 guestrooms have a satellite TV and internet access. On site cafe. City Airport is 5 km from the hotel, and there is secure onsite parking for up to 30 cars.

City Hotel

address: 12 Osborn Street

A fairly average two-star hotel at typical London prices, however the rooms are clean and provide the basic facilities you need. The area isn't pretty but you are close to where all the action is.

The RE Hotel London Shoreditch

phone: +44 20 7613-6500

address: 419-437 Hackney Rd, E2 8PP

The RE Hotel London Shoreditch is one mile (8 minutes) from London's financial district "The City" of London and near Liverpool Street Station - close to Stansted and City Airport and 15 minutes from the London Olympics 2012 Park - Stratford.

Travelodge London DocklandsAffordbable for London. It is a modern branch of the ubiquitous budget hotel chain, but is well located almost next to East India DLR station, which has links directly to central London, and is just a few stops from Canary Wharf. Ask for a room on the front to avoid the busy road at the back.
Mid-range
Britannia International

address: 163 Marsh Wall

Extremely modern three star hotel.

City Hotel

address: 12 Osborn St

WiFi £5/day.

phone: +44 20 7474-0011

address: 272-283 Victoria Dock Rd

phone: +44 20 37437336
Splurge
phone: +44 20 7510-1999

address: 46 Westferry Circus, Canary Wharf

Five-star hotel and the most upmarket hotel in the area with views across the Thames or Canary Wharf, offering the kind of 5 star luxury to be expected from this chain.

Hilton Docklands

phone: +44 20 7231-1001

address: 265 Rotherhithe St

On the South bank of the River Thames, the hotel has a great view of Canary Wharf.

Marriott West India Quay

address: 22 Hertsmere Rd

Looking out over Canary Wharf's beautiful district, the Marriott combines elegance and comfort to create a welcoming environment.

Ramada London Docklands Hotel and Suites

phone: +44 8701 118779

address: 2 Festoon Way, Royal Victoria Dock

Four-star hotel with waterfront position and modern comfortable accommodation and including suites for longer stays.
Stay safe
The East End in the past had a deserved bad reputation due to its high rates of crime and poverty. Today though, The East End is generally much safer and just the normal precautions after dark are advisable. People of the East End have pride in their home, so it would be wise to tread carefully around regulars in pubs and bars in places as they can be confrontational. In the same vein, avoiding mention of
football
is helpful in keeping things smooth.
Go next