London/South Kensington-Chelsea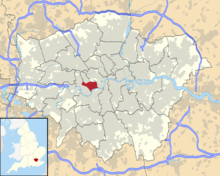 South Kensington-Chelsea
is a district of central
London
. It is one most densely populated places in London and most affluent areas in the world.
For travellers, the main points of interest are Albertopolis, containing several of the UK's major museums, and the shopping around Knightsbridge and Sloane Square.
Understand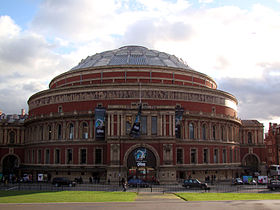 This district is defined as the southern part of the Royal Borough of Kensington and Chelsea (
RBK & C
), from the Thames in the south to Kensington High Street in the north, also taking in Hyde Park in the east and the area around Kensington Olympia in the west. It includes the area south of the Royal Parks commonly known as
High Street Kensington
and
South Kensington
west to
Earl's Court
and
Olympia
and south to
West Brompton
,
Sloane Square
and
Chelsea
.
Hyde Park
and
Kensington Gardens
combine to form the largest green space in metropolitan London and provide a real oasis in the heart of this vast city.
South Kensington
hosts four of London's largest and finest museums, its oldest and one of its most famous concert hall, and is home to the venerable Imperial College.
High Street Kensington
leads to a long line of shops and department stores, offering a less hectic version of Oxford Street, and
very
upmarket stores in
Knightsbridge
. Sloane Street connects Knightsbridge to Chelsea via Sloane Square and is lined with luxury brand boutiques.
Chelsea
is an extensive riverside area of London that extends broadly from Sloane Square in the east to the World's End pub in the west and down to the River Thames. The
King's Road
marks the main thoroughfare of Chelsea.
The district contains the second largest population of American immigrants in the United Kingdom, many of whom work in the financial sector in
the City
, while others are connected to institutions such as the American International University, which has a campus just off High Street Kensington. Many local shops, from convenience stores to supermarkets, stock American products in their ethnic food sections. South Kensington is sometimes called the "21st arrondissement" because the number of French expatriates living there would make London the sixth largest French city. The community results in many French cafés, delicatessens and other businesses in the area. Knightsbridge is known for its Russian and Arab populations, with the accompanying restaurants and institutions they bring.
The whole of the district contains some of the most expensive residential property in the world but is a little more downmarket towards its western edges.
Albertopolis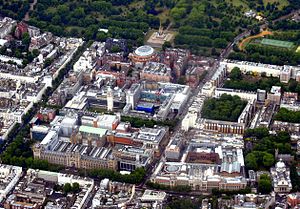 Following the success of the Great Exhibition of 1851, of which he was a key figure, Prince Albert, husband of Queen Victoria, proposed a cultural hub to continue the Exhibition's work and to promote both arts and sciences together in one area. Profits from the Exhibition were used to purchase land, which was then in the countryside, and begin an ambitious plan for the area. The prince was so influential that the project became known as "Albertopolis", first in mockery and later with affection. The first building, the South Kensington Museum (now the Victoria and Albert Museum), opening in 1857. Today Albertopolis, loosely the area around Exhibition Road, contains a collection of world-class museums, universities, conservatories, and other cultural institutions. Its tradition for innovation continues: in 2012 Exhibition Road was redeveloped and converted into a shared space for pedestrians and motorists, with no kerb to separate them.
History of Chelsea
Chelsea's modern reputation as a centre of innovation and influence originated in a period during the 19th century when the area became a veritable Victorian artists' colony: artists such as Dante Gabriel Rossetti, J.M.W. Turner, James McNeill Whistler, William Holman Hunt and John Singer Sargent, as well as writers such as George Meredith, Algernon Swinburne, Leigh Hunt and Thomas Carlyle lived and worked here. A particularly large concentration of artists existed in the area around Cheyne Walk (pronounced
Chey-nee
) and Cheyne Row, where the pre-Raphaelite movement had its heart.
Following the Second World War, Chelsea, like many other formerly prosperous areas became rather run down and poor. It became prominent once again as an artistic centre, Bohemian district and hot spots for young professionals in the 1960s. The Americans called this period "Swinging London" and the King's Road became the definition of style and fashion and both the Beatles and the Rolling Stones lived in the neighbourhood.
In the 1970s, the "World's End" area of the King's Road was home to Vivienne Westwood's shop ("Sex"), and witnessed the genesis of punk music and style with many Mohawks to be seen on the road against the background of the closed down shops. Thereafter, working class youth culture was priced out of the area and gravitated to Camden, Islington, Ladbroke Grove, Brixton and Brick Lane.
In the 1980s, the rise of the Sloane (archetypally Princess Diana) and the Mohawks gave way to twin set pearls, pink Polo shirts and what an American would call a "preppy". Chelsea seems to have settled into stylish affluence and aspiration.
Get in
By Tube
This is a large district, served by a similarly large number of Tube stations, in Zone 1 if not otherwise noted, and three Tube lines:
By bus
Like most parts of Zone 1 (Central London), this area is well connected by a variety of bus services. Here is a general list of the bus routes serving each major destination in this area:
South Kensington Museums: 14, 49, 70, 74, 345, 360, 414, 430, C1
Knightsbridge: 9, 14, 19, 22, 23, 52, 74, 137, 414, 452, C1
High Street Kensington: 9, 23, 27, 28, 49, 52, 70, 328, 452, C1
Sloane Square: 11, 19, 22, 137, 170, 211, 319, 360, 452, C1
King's Road Chelsea: 11, 19, 22, 49, 211, 319
Earl's Court: 74, 190, 328, 430, C1, C3
Hyde Park Corner: 2, 9, 14, 16, 19, 22, 23, 36, 38, 52, 73, 74, 82, 137, 148, 414, 436, C2
The most useful buses for visitors to this area are:
9: from Aldwych via Trafalgar Square and Piccadilly Circus serving Hyde Park Corner, Knightsbridge, Royal Albert Hall, and High Street Kensington (to Hammersmith)
11: from Liverpool Street Station via the City of London, St. Paul's, Aldwych, Trafalgar Square, Westminster, and Victoria Station serving Sloane Square and King's Road Chelsea (to Fulham)
14: from Warren Street Station via Tottenham Court Road, Shaftesbury Avenue/Soho, and Piccadilly Circus serving Hyde Park Corner, Knightsbridge, South Kensington Museums, and Fulham Road (to Fulham and Putney)
19: from Finsbury Park and Islington/Angel via Tottenham Court Road, Shaftesbury Avenue/Soho, and Piccadilly Circus serving Hyde Park Corner, Knightsbridge, Sloane Square, and King's Road Chelsea (to Battersea)
22: from Oxford Circus via Regent Street and Piccadilly Circus serving Hyde Park Corner, Knightsbridge, Sloane Square and King's Road Chelsea (to Putney Common)
74: from Baker Street via Oxford Street and Marble Arch serving Hyde Park Corner, Knightsbridge, South Kensington Museums, and Earl's Court (to West Brompton, Fulham, and Putney)
211: from Waterloo Station (near South Bank/London Eye) via Westminster and Victoria Station serving Sloane Square and King's Road Chelsea (to Fulham and Hammersmith)
C1: from Victoria Station serving Sloane Square, Knightsbridge, South Kensington Museums, Earl's Court, and High Street Kensington (to White City/Westfield London)
All of these routes use iconic London red double-deck buses, except C1. They typically operate at least every 10 minutes. The usual TfL fares apply.
See
Museums
Exhibition Road and Cromwell Road in South Kensington are home to several world class museums and all have free entry, only charging for special temporary exhibitions. They do accept (and encourage) donations if you feel you have enjoyed your visit.
Each of them more than justifies a full day's visit. It's probably more rewarding to spend your time on a relaxed visit to one or perhaps two of the South Kensington museums, giving yourself a chance to breathe in the atmosphere of the institutions and wander through some of the less obvious galleries, than it is to attempt to fit all of them into one day.
Parks and gardens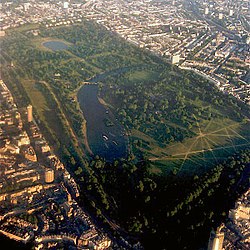 This area, while urban, is not lacking in green areas. Many residential squares have gated gardens in their centre, although only the residents will usually have keys to access them. Many other green areas will be open, however. The dominant green area is, of course, Hyde Park and Kensington Gardens. These royal parks are contiguous and often mistaken for just one park, called Hyde Park, although they are officially separate and have different opening hours. Together they are one of the larger metropolitan parks on Earth and cover more land than some small countries. The parks are popular for urban bird-watching as they hold over a hundred different species, from common urban birds and waterfowl to kestrals, owls and parrots. Flocks of the latter, ring-necked parakeets, have established themselves throughout London, although no one knows from where they came (one theory is that they escaped from the filming of
The African Queen
in 1950, although there are records of urban parrots as far back as the Victorian period).
phone: +44 20 7352-5646

address: 66 Royal Hospital Rd SW3 4HS

Garden founded by apothecaries in the 17th century to the medicinal properties of plants. It was only opened to the public in the 1980s when it became a charity. The heat-sink caused by its thick walls, combined with the general waste heat of London itself, keeps the garden much warmer than it would otherwise be at this latitude. Due to this, the garden contains the world's most northerly example of a grapefruit outside of a greenhouse, and the largest fruiting olive tree in the country. The collection contains thousands of different plant species.

Hyde ParkThe eastern half of the twin parks. Of the two, Hyde Park is open for longer and has more open, unwooded land; it is often host to concerts, fun fairs and events.
Diana Memorial Fountain

Rose Garden

The SerpentineThe Serpentine is a small, artificial lake within Hyde Park which contains a range of waterfowl and fish. It was first made by damming the River Westbourne but it is now fed by three boreholes. The western end of the lake is actually in Kensington Gardens, in which it is called The Long Water.

Speakers CornerBy custom, in this far northeastern corner of the park (by the Marble Arch Tube stop near Mayfair), people are free to say whatever they like about who and whatever they like. Worth checking out to see the lunatics and exhibitionists spouting off.
Kensington GardensThe western half of the twin parks and the half that is often forgotten in public consciousness. It tends to be more formal than its neighbouring park and it closes at dusk, while Hyde Park is open until midnight.
Albert MemorialHighly detailed, Gothic-style monument to commemorate Prince Albert, husband of Queen Victoria. Opposite the Royal Albert Hall.

Diana Memorial PlaygroundDiana, Princess of Wales Memorial Playground

Elfin OakA 900-year-old tree stump carved and painted to feature elves and small animals.

Italian Gardens

phone: +44 20 3166-6000

address: Palace Green, W8 4PX

A royal residence which is still used by some members of the ruling family. Much of it is however open to the public and it is a very popular tourist attraction perhaps due as much to its association with Princess Diana as anything else. The King's Gallery here is a magnificent Regency period court drawing room and contains some impressive paintings including a Van Dyke. Also a nice restaurant on site called The Orangery.

The Round PondA pond that is round. Deckchairs can be hired for £1.50. The park benches and grassy areas are free.

The Serpentine GalleryA nice free art gallery, near to the Serpentine. Each summer a pavilion next to the gallery is designed by a different architect, which then houses various cultural events.
phone: +44 20 7937-7994

address: 99 High Street Kensington, W8 5SA

High above High Street Kensington is an unlikely place to find ornamental gardens. Nevertheless, three themed gardens can be found here: a Spanish Garden, a Tudor Garden and an English Woodland, covering 1.5 acres of rooftop. They were created in the 1930s by the owners of what was then the department store underneath. You can gaze at a stream and its resident flamingos while looking over the rooftops of Kensington. A restaurant and nightclub can also be found up here.
Roper's Garden

address: Cheyne Walk

Small green area, with benches, by the Thames. Created in the crater of a World War II bomb site, it contains an ancient cherry tree to commemorate the visit of Gunji Koizumi, the man who introduced judo to the country. Named after Margaret Roper née More, to whom the area was a gift from her father, Sir Thomas More, on her marriage to William Roper.
Blue plaques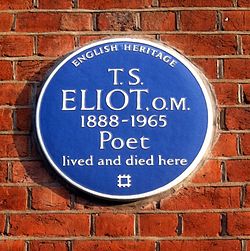 Blue plaques
mark the buildings in which the notable people of the past lived and worked. The scheme started in London in 1866 and continues to this day. There are hundreds of houses and other buildings marked in this way in the area; the following are just a sample of those that can be viewed. This can be a pleasant way to look around the city, something to see on your journey, or the focus of a pilgrimage to see the historic sites related to a specific figure.
Alfred Hitchcock's House

address: 153 Cromwell Road, SW5 0TQ

A plaque erected in 1999 marks the house where the famous director lived from 1926 to 1939.

Bram Stoker's House

address: 18 St Leonard's Terrace, SW3 4QG

In 1977, the London Dracula Society unveiled the plaque that marks the home of the author of Dracula.

Mark Twain's House

address: 23 Tedworth Square, SW3 5DR

The American writer lived at this address from 1896 to 1897.

Oscar Wilde's House

address: 34 Tite Street, SW3 4JA

The famous Victorian writer lived at this house.

Rosalind Franklin's House

address: Donovan Court, Drayton Gardens, SW10 9QS

One of the discoverers of the DNA molecule lived here in the 1950s until her death in 1958.

T.S. Elliot's House

address: 3 Kensington Court Gardens, W8 5QE

The poet lived and died in this house.

Sir William Gilbert's House

address: 39 Harrington Gardens, SW7 4JU

One half of the comic opera writing team Gilbert & Sullivan lived here.

Sir Winston Churchill's House

address: 28 Hyde Park Gate, SW7 5DJ

One of the UK's greatest prime ministers lived and died at this address.
Churches and buildings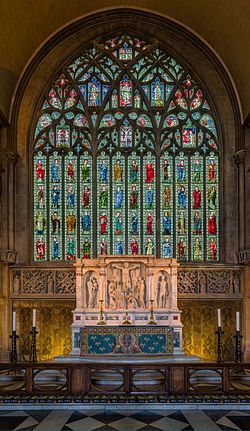 * listed building and possibly the largest private home in the capital.
phone: +44 20 7730 7270

address: Sloane St, SW1X 9BZ

From their website: "In common with the aims of the Arts & Crafts Movement, the architect of Holy Trinity Church, John Dando Sedding, believed that a church should be 'wrought and painted over with everything that has life and beauty—in frank and fearless naturalism.'" Naturalism or not, the church is known as an ornate building.

phone: +44 20 7881-5516

address: Royal Hospital Rd

A retirement home for soldiers created by King Charles II. Tours around the listed building and grounds are regular and include the museum (which can be visited separately) whose exhibits contain military memorabilia donated by Chelsea Pensioners over the years.
Other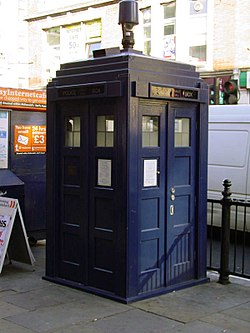 address: entrances on Old Brompton Road and Fulham Rd

One of the "Magnificent Seven" old cemeteries in London. Graves range from plain to ornate and the site can be a tranquil place to walk amid the bustle of the city. It was opened in 1840 and is still a working cemetery, although it was closed for a some time in the late 20th century. Can be nice, if morbid, for an afternoon stroll, especially as a route (and cycle route) between Old Brompton Road and Fulham Road.

Penfold Post Box

address: Kensington High Street, W8

One of the few Victorian hexagonal Penfold post boxes still in use. Although there are others in this district, this one in notable for a narrow escape during Worl War II: minor bomb damage can still be seen in the base of the pillar.

Police Box

address: Earls Court Road, outside Earl's Court station

This police box was intended as part of a 1990s high-tech revival of the 1920s-60s police box system. The experiment failed and this is now the only police box left in London. It remains as street furniture and is quite popular with fans of the TV series Doctor Who.

phone: +44 20 7590-4444

address: Kensington Gore, SW7 2EU

A Victorian school, now a university with a mission to advance knowledge of the fine arts. Exhibitions are common. Times and admission charges vary but can often be free, although visitors may need to book tickets to certain events.

phone: +44 20 7591-4300

address: Prince Consort Rd, SW7 2BS

Victorian school of music created on a suggestion by Prince Albert. It is still an active school but visitors may be more interested in its museum and performances. The free museum houses instruments dating back to the 15th century with several unusual pieces. Performances—by students, professors or visitors—are often free as well.

address: Duke Of York's HQ, King's Road, SW3 4RY

Prestigious contemporary art gallery worth a visit.
Do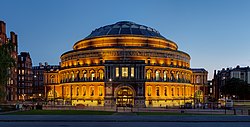 Watch football: Chelsea FC aren't in Chelsea but a short walk west of it. Their home ground Stamford Bridge is just west of Brompton Cemetery, which puts it over the boundary into Fulham.

Boating on the SerpentineRowing boats and pedalos are available for hire from Easter until the end of October.

Earl's Court Exhibition Centre

phone: +44 20 7385-1200

address: Warwick Road, SW5 9TA

Hosts frequent conventions, exhibitions, concerts and events. Located on the site used for Buffalo Bill's Wild West Show in the 19th century. It has two halls, Earl's Court One and Earl's Court Two. See it while you can; the site has controversially been scheduled to be demolished and redeveloped. Times and prices vary.

Hyde Park Tennis and Sports Centre

phone: +44 20 7262-3474

address: South Carriage Drive, W2 2UH

Contains six hard tennis courts, two mini tennis courts, a six-rink lawn bowling green and a nine-hole putting green; plus support facilities such as changing rooms and a café. Bowling greens, tennis courts and nearby football pitches can be booked. Putting is mostly drop-in only (as is some tennis). Some equipment can be rented from the sports centre.

Institut Francais du Royaume-Uni

phone: +44 20 7871-3515

address: 17 Queensberry Pl, SW7 2DT

The first in a worldwide network of institutes to promote and present the best of French culture. The site includes a café-restaurant, a cinema showing French films, the largest French library in the UK and a French language centre, and runs other events. Set in a Kensington block that also includes the French consulate and a French school.
Le BistrotFrench café.

Children's Library

phone: +44 20 7871-3550

address: 32 Harrington Rd, SW7 2DT

phone: +44 20 7838-2144

address: 17 Queensberry Pl, SW7 2DT

Watch French-language movies in the Institute's cinema.

phone: +44 20 7871-3535

address: 13 Cromwell Pl, SW7 2JN

Learn French or take courses on French culture from France's official teaching centre in the UK. Intensive courses can be completed in just two weeks, general courses are closer to 10–15 weeks.

phone: +44 20 7871-3545

address: 17 Queensberry Pl, SW7 2DT

The largest French library in the UK. Read and borrow French books from the library. Non-members are free to browse; members can borrow books.
Buy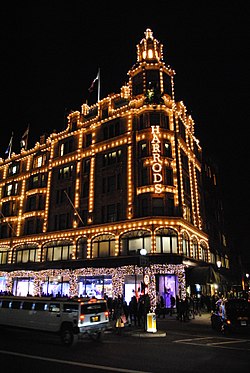 The Duke of York Square Shopping ComplexHas a range of spacious branches of popular fashion chains, but lacks some of the road's character, however the small adjoining public space of Duke of York square is a welcome place for a rest between shopping, and a popular place to hang out.

phone: +44 20 7730-1234

address: 87–135 Brompton Rd SW1X 7XL

The most famous store in London, favoured by the British establishment and owned by Mohamed Al-Fayed. Fairly strict dress code so do not turn up looking like a backpacker and expect to gain entrance.

phone: +44 20 7235-5000

address: 109-125 Knightsbridge, SW1X 7RJ

Large department store full of designer goods and an excellent cafe.

phone: +44 20 7584-0055

address: 47 Old Brompton Rd, SW7 3JP

A nice little bakery with wonderful cupcakes. Try their red velvet cupcake that is incredibly popular with the locals.

phone: +44 20 3053-0760

address: 125 Old Brompton Rd, SW7 3RP

If the expensive clothes and products in other shops don't appeal, expensive cars are also available in this area.

King's RoadOne of London's smartest fashion streets, having evolved from the cutting-edge of bohemia and innovative fashion in the 1960s to a more genteel place to indulge in retail therapy, albeit with a notable presence of trendy young Londoners (including many so called Sloane Rangers). It is a very attractive street that retains the atmosphere of a small town whilst being in the heart of a huge city. There is a huge range of fashion stores from upmarket chains to one-off boutiques, as well as variety of other shops, complimented by cafés, restaurants, bars, pubs and clubs. There is an obvious affluence to the road without any bling or snobbiness. King's Road stretches south-west from here for miles, though the best of the shopping is in the first mile.

phone: +44 20 7589-1472

address: 27 Old Brompton Rd, SW7 3TD

If you fancy a new car and have a lot of spare change, it might be worth a look. Poorer people are allowed to look at the shiny cars too.

Sloane StreetLined with high-end designer label stores, such as Chanel, Dior, Fendi, Gucci, Hermès, Jimmy Choo, Louis Vitton, and many more.

phone: +44 20 7368-4500

address: 63-97 Kensington High Street, W8 5SE

The Kensington branch of this American chain of natural food supermarkets is the largest in the world.

phone: +44 20 7603 2918

address: 95 Hammersmith Road, W14 0QH

Store stocking an extensive range of budget to mid-range costumes, masks and acessories, staff are very approachable and prepared to answer queries.
Eat
Budget
Despite being a very upmarket and affluent area, there are still many places to eat on a budget, especially on the high street areas by the stations, each of which has its share of chain restaurants and fast food outlets. Gastropubs are another eating options, which can be found in the Drink section.
phone: +44 20 7376-4111

address: 63-65 Chelsea Manor Street, SW3 5RZ

Quaint Italian bistro offers 18 different pizzas, three risottos, various pasta dishes, gnocchi and other traditional Italian entrees. It's top-notch food at a great value.

Little Japan

phone: +44 20 7591-0207

address: 32 Thurloe Street, SW7 2LT

Japanese restaurant and take-away between South Kensington station and the museums.

McDonald's

phone: +44 20 7937-3705

address: 108-110 Kensington High St, W8 4SG

This is just a McDonald's, pretty much the same as any other, but this one's easily remembered location and hours of operation make it a useful to know about.

Pop's

phone: +44 20 7835-1442

address: 272-274 Old Brompton Road, SW5 9HR

Simple and straight-forward "greasy spoon" café for a good all-day breakfast or other budget meal.
Mid-range
phone: +44 20 7591-0123

address: 65 Old Brompton Rd, SW7 3JS

Part of the local Maroush chain of Lebanese restaurants based in Edgware Rd.

phone: +44 20 7584 9078

address: 15 Gloucester Road, SW7 4PP

Popular family-run ristorante with great pizzas and Italian dishes. Come early or get on the waiting list or book in advance.

phone: +44 20 7823-1839

address: 109-125 Knightsbridge

The aptly name café on the fifth floor of Harvey Nichols. A roof terrace gives a view of the rooftops of Knightsbridge.

phone: +44 20 7370-2255

address: 116 Finborough Rd, SW10 9ED

Takeaway pizza isn't unusual but this local company produces not only gourmet pizza but square, metric, gourmet pizza. Take out and delivery only.

phone: +44 20 7730-2207

address: 79 Lower Sloane St, SW1 W8DA

One of Chelsea's most popular restaurants. Established by Satir Ahmed in 1960.

phone: +44 20 7589-8947

address: 2 Exhibition Rd

A small, cute, often crowded cafe and authentic French creperie, popular with the local French and various other South Ken expats. Given its location near the tube, it is a fine place to sit outside and watch the fashionable young people pass by.

La Bouchee

phone: +44 20 7589-1929

address: 56 Old Brompton Rd, SW7 3DY

Decent, reasonably priced French Restaurant.

phone: +44 20 7352-2908

address: 35 Old Church St, SW3 5BS

Lively, old-world style pub/restaurant on Old Church Street. Acclaimed bistro fare and a wide selection of wines by the glass.

phone: +44 20 7581-0098

address: 32-34 Thurloe St, SW7 2LT

This Italian bistro-style restaurant offers good food but the prices are too high compared to the rather bad service. The waiters, which change often, are not very attentive and almost yank the plates and glasses from the customer as soon as they have finished. The restaurant can be very busy due to its location, but the service leaves a lot to be desired.
Splurge
Drink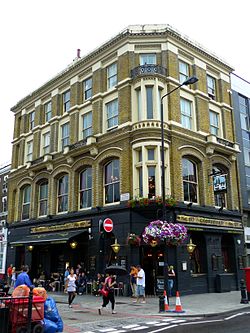 Chelsea
The southern area by the river has had a bohemian reputation since the nineteenth century, when it was a famous artists colony. In the 1960s it was part of the Swinging London culture, in the 1970s it was famous for punks, and in the 80s known for rich Sloane Rangers.
phone: +44 20 7349-9040

address: 13 Britten St, SW3 3TY

Gastropub near the Royal Marsden Hospital and just off the King's Rd.

phone: +44 20 7352-9479

address: 119 Kings Rd, SW3 4PL

Traditional pub fare, but when warm outside, best people watching spot around. Also, Aussie and Kiwi barmen solidify the awesome environment here.

phone: +44 20 7376-3120

address: 87 Flood St, SW3 5TB

Great pints, including Peroni on tap. Best Sunday Roast around, and more of a gastropub than a traditional pub.

phone: +44 20 7352-8512

address: 329 Fulham Rd, SW10 9QL

1980s-themed nightclub. Named after 1980s prime minister Margaret Thatcher, whose speeches can be heard playing in the toilets. At the splurge level of costs, both to get in and at the bar.

phone: +44 20 7730-9182

address: 23 Smith St, SW3 4EE

Great pints, tremendous place for a pint on a sunny day. be sure to grab one of the outdoor tables and enjoy a cool pint on a hot day here (when not raining in London).

Queens Head

phone: +44 20 7589-0262

address: 27 Tryon St, SW3 3LG

LGBT traditional pub; real ale and standard pub food separates it from the trendier Kings Rd establishments. Karaoke every other Saturday.
Earls Court–Brompton
The western side of this destination is, in relative terms, the cheaper end of the area. Major urbanisation, and drinking establishments, came with the underground stations in the 1860s.
Knightsbridge–Sloane Square
The eastern side of this destination is the most exclusive. Knightsbridge was constructed in the 19th century, at a time when pubs and beer shops were considered something only frequented by poor people. The owners and designers of Knightsbridge included pubs in the plans, for their servants, but made sure to place them down side streets where they wouldn't spoil the view.
phone: +44 20 7581-0005

address: 17 Mossop St, SW3 2LY

Gastropub.

phone: +44 20 7824-8512

address: 22 Eaton Terrace, SW1W 8EZ

Traditional pub with many original features preserved from its Georgian origin.

The Hour Glass

phone: +44 20 7581-2840

address: 279 Brompton Rd, SW3 2DY

This small, triangular, very easy-going pub just a little away from the main street bustle is a favorite among the locals, above all because the seating inside is designed to prevent overcrowding, but also for its pavement seating and upscale gastropub fare.
Sleep
This destination has many hotels and accommodation across a range of price points. As with most things in London, cost is often relative to the distance from the centre. For this destination, the hotels around Knightsbridge in the east are more in the splurge range, while those around Earls Court in the west are mostly budget or mid-range. For more splurgey, upmarket hotels, you might want to look at
Mayfair-Marylebone
. For more budgety, affordable hotels, try either
Hammersmith and Fulham
or
Paddington-Maida Vale
.
Hostels
If privacy and luxury are not big concerns, or just not in your price range, these hostels will at least give you a place to sleep for the night.
phone: +44 20 7373-4322

address: 1 Barkston Gdns, SW5 0ER

Youth hostel for those willing to sleep in a bunk bed in a dormitory with many others.

phone: +44 20 7373-2851

address: 227 Earl's Court Rd, SW5 9BL

Women only. Single rooms with shared facilities.
Budget
Many of these listings are converted townhouses, often on streets full of other converted townhouses.
Mid-range
Splurge
This destination has some of the most luxurious hotels in the city, if you can afford them.
Connect
There are public phone booths on the main streets throughout this area.
Internet cafés
Internet Café

address: Earl's Court Rd

Global Talk Internet

phone: +44 20 7584-1277

address: 42-44 Thurloe St, SW7 2TN

Kensington Call Shop

phone: +44 20 7373-0909

address: 124A Cromwell Rd, SW7 4ET
Libraries
There are three public libraries within this destination, all of which have wi-fi networks available to anyone. They all also have computers available for public use but a library membership card is required to book these machines.
phone: +44 20 7361-3010

address: 210 Old Brompton Rd, SW5 0BS

phone: +44 20 7361-3010

address: Chelsea Old Town Hall, King's Rd, SW3 5EZ

phone: +44 20 7361-3010

address: Phillimore Walk, W8 7RX
Cope
Emergencies
For medical supplies, there are pharmacies throughout this area. The principal emergency medical facility in this destination is Chelsea and Westminster Hospital, with more facilities in neighbouring areas.
There is one police station in this area. The next closest are in Notting Hill (
Notting Hill-North Kensington
), Belgravia (
Westminster
) and Fulham (
Hammersmith and Fulham
).
address: 72 Earl's Court Rd, W8 6EQ
General supplies
The two largest supermarkets within this area are in the western, slightly cheaper area. Most general supplies can be found at either.
phone: +44 20 7373-8313

address: 158a Cromwell Rd, SW7 4EJ

A small selection of travel supplies, including visitor-to-the-UK power adaptors, can be found in the pharmacy section.

phone: +44 845 677 9388

address: West Cromwell Rd, W14 8PB

Larger selection of world foods (for the homesick). Some travel supplies split between the pharmacy and electronics sections.
Go next
Your interests may decide your onward journey:
For more shopping like Sloane St and King's Rd, try Mayfair-Marylebone, which includes Oxford St, Regent St, Bond St, etc.
For cultural centres like Albertopolis, you want to look at South Bank, home of (amongst others) the National Theatre and the British Film Institute.
Museums abound in London but one of its other major examples is the British Museum in Bloomsbury.