London (Ontario)
London
is a medium-sized city in
Ontario
,
Canada
. It is west of
Toronto
, between Lake Huron and Lake Erie at the fork of the Thames River, which was named after the River Thames in
London
, England).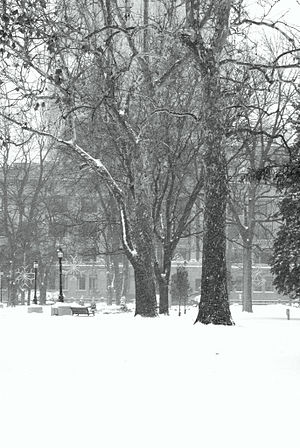 Understand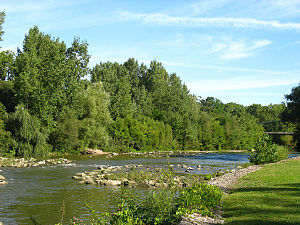 London, population 378,000, is a major manufacturing centre for southwestern Ontario, founded in 1793. Nicknamed the "Forest City," London has an abundance of urban parks and woodlands. Early in its history it was considered as a potential site for the capital city of Upper Canada, but that title eventually went to York (later Toronto). The city is roughly rectangular in shape, approximately 16 km (10 miles) from east to west, and 13 km (8 miles) from north to south.
Many cities, towns, counties, and rivers in this area of Southwestern Ontario take their names from their counterparts in England, and London is no exception. London features landmarks such as Picadilly Street, the Covent Garden Market and the Thames.
In the 1920s, London-born Guy Lombardo and his Royal Canadians hit the U.S. music scene and went on to achieve legendary fame. London's Wonderland Gardens later became a big-band hot-spot in 1935 - being situated on the Thames river where Guy Lombardo developed his love for speedboat racing by racing his father's small motorized boat on the Thames River behind the Labatt Brewing Company.
With 2 major hospitals, London is a regional medical centre, treating patients from up to 200 km away. London also has the region's only university (University of Western Ontario) which has all the typical professional schools (business, law, medicine, engineering, education) as well as sciences and the arts. Since the city is also home to Fanshawe College, students comprise a significant percentage of London's population during the school year.
Visitor information centers are located at:
Dundas Street (Downtown) Information Centre

address: 267 Dundas Street

London Tourist Information Centre

address: 696 Wellington Road South
Get in
By plane
By train
By car
London is most readily accessed from
Highway 401
which runs along the southern edge of the city and connects London with Toronto (200 km to the north east) and Windsor (200 km to the Southwest).
Highway 402
runs due west from its connection to the 401 in south-west London and ends about 100 km to the west at the Ontario-Michigan border in Sarnia. The speed limit on the 401 in most parts is 100 km/h, but expect most people to be travelling at ~120 km/h in good conditions. The easiest exit off the 401 to London is #186, Wellington Road North. This will put you right into a busy shopping district and pointed in the right direction to get to the downtown core. There are no highways running through the city, so getting around by car necessitates travel on 2- or 4-lane roadways with speed limits ranging from 50 to 70 km/h.
London is fairly easy to navigate, as its streets are based on a grid system. Oxford Street, Dundas Street and Commissioners Road are the main east-west arteries. Fanshawe Park Road runs east-west across the northern part of the city. Southdale and Exeter Roads are the main arteries which run east-west through the southern half of the city. The main north-south arterial roads are Wonderland Road in the west, Wellington Road/Richmond Street and Adelaide Street in the centre, Highbury Ave and Clark roads in the east.
By bus
The
Greyhound Canada
bus station, +1 519-434-3245, is downtown at 101 York Street. Various other bus terminals are mostly in downtown London.
Aboutown's NorthLink
connects communities from Owen Sound through to London along Highway 21, Bruce County Roads 6 and 1, Huron County Roads 20 and 22 and Highways 86 and 4. Arrival and departure from the Greyhound terminal.
Get around
By transit
The
London Transit Commission
(LTC) operates within the city at a $2.75 cash fare (2017), ticket strips are available at a reduced price at most convenience stores, and monthly passes are available. Children 12 years and under ride for free. Buses vary from every 5 minutes downtown, to every 15 to 60 minutes in various other areas. The LTC doesn't operate past midnight on major routes, so expect to travel by taxi after that time.
By taxi
U-Need-A-Cab, +1 519-438-2121.
London Taxi, +1 519-657-1111.
By bike or on foot
The city has an extensive bicycle path network, and many (but not ubiquitous) bike lanes on the roads. A biking and walking map can be found
here
(warning - large PDF).
See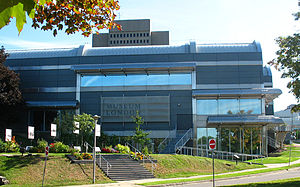 phone: +1 519-661-0333

address: 421 Ridout Street North

Contains art and historical exhibits.

phone: +1 519-661-0333

address: 481 Ridout Street North

London's oldest surviving residence, containing heirlooms and furniture reflecting life in early 19th-century London.

Banting House National Historic Site

phone: +1 519-673-1752

address: 442 Adelaide St. North

Tu-Sa noon-4PM. Chronicles the life and achievements of Canadian Sir Frederick Grant Banting, the discoverer of insulin. Adults $5, students and seniors $4, children under 5 free.

Blackfriars Street BridgeA rare example of a bowstring truss bridge. Built in 1875 and spanning 65.8 m, it is the longest working span of its kind in North America.

Wortley VillageWortley Road between Askin Street and Tecumseh Ave, was voted one of Canada's coolest neighbourhoods in 2002 by enRoute magazine. Filled with eclectic, locally-owned merchants and cafes.

phone: +1 519-642-2767

address: 203 Dundas St

Tu-Sa noon-5PM, later for theatre show nights. A downtown art gallery devoted to rising artists with an adjoined blackbox theatre devoted primarily to alternative fare.

Jet Aircraft Museum

phone: +1 519 453 7000

address: 2465 Aviation Lane, uit 2
Parks
There are lots of parks in downtown London. They include:
Springbank ParkA charming destination west of downtown complete with green space, picnic areas & facilities, formal gardens, wading pool, playgrounds, small family train track, merry-go-round and Storybook Gardens. Its paved trails are part of a 30-km system for walkers, cyclists, runners and roller-bladers.

Victoria ParkAccording to the City's website this park is one of the most important designed landscapes of the 19th century and has been a hub of social and recreational activities since 1874. Many festivals and events take place here throughout the year. Bring nuts to feed the squirrels.
Do
phone: +1 519-457-1296

address: 1424 Clarke Road

Open-air museum tells the story of rural communities from 1820 to 1920. Pioneer Village Café on-site, campground at conservation area.

Storybook GardensSpringbank Park. A family attraction open all year round - animals, rides, games, play areas, a splash area in the summer, skating in the winter, and beautiful gardens.

phone: +1 519-850-TOUR

address: 150 Simcoe St

Simcoe Street Brewery. Guided tours of the brewery where Labatt founder John Kinder Labatt started brewing beer over 160 years ago. The brewery now produces more than 1 billion bottles of beer annually.

Thames Valley TrailWalk or hike part of the 109-km hiking trail which follows the Thames and North Thames Rivers along most of the route. Group hikes for the weekend and following week are listed each Thursday in the London Free Press Thursday Ticket section. The trail is paved for an easy walk in Gibbons, Harris, and Springbank parks.

East Park Golf Gardens and Wally World

phone: +1 519-451-2950

address: 1275 Hamilton Rd

18-hole golf course, driving range, mini golf, waterslides.

phone: +1 519-878-7849

address: 4380 Wellington Road South

Check out the race calendar or find out more about riding on the track. Bike rentals available.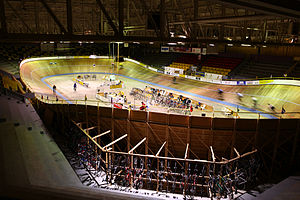 address: 471 Richmond St

Live plays and performances. The mainstage season runs from September to May. There is also a secondary venue downstairs called The McManus Studio which is primarily used for the theatre's UnderGrand alternative theatre series, running roughly from November to March and local theatre group rentals for shows of their own.

address: 99 Dundas St

Check out what attractions are coming to town. You can catch the London Knights - the local OHL hockey team - in action from late August to March. The London Lightning is a professional basketball team in the NBLC playing Nov-Apr.

Labatt Memorial Park

address: 25 Wilson Ave

The Guinness-recognized oldest baseball park in the world, having been continuously used since 1877. The semi-pro London Majors play from April through August.

phone: +1 519-652-5068

address: 1640 Gideon Drive, Delaware

Delaware Speedway is Canada's oldest paved automobile racetrack, open since 1952. It is one of only two tracks in Canada running NASCAR late models. Racing runs on the 1/2-mile egg-shaped oval every Friday night from April through September, weather permitting, with occasional bigger races on weekends.

phone: +1 519-672-1967

address: 550 Wellington Street

Concerts and events - check the event schedule to see what's on.

phone: +1 519-432-1029

address: 710 Dundas Street East

A theatre devoted to primarily classic mainstream revival fare by the amateur London Community Players and musical theatre productions companies with a theatrical season running from October to June. There is also an adjoining smaller secondary venue, The Procunier Hall, for primarily alternative theatre in a more intimate setting. Parking available behind the facility.

The Spriet Family Theatre

address: 130 King Street

90-seat theatre primarily used by the Original Kids Theatre Company, a youth theatrical educational institution, with occasional independent theatre company rental runs.

Western FairThe fair takes place the first two weeks of September. The site is also home to the Western Raceway, for harness racing and 750 slot machines.

SunfestTakes place in July and features top professional world music & dance and jazz ensembles from Canada and abroad. Free admission.

phone: +1 519-227-0756

address: 171 Main Street, Lucan

Museum about the Black Donnellys and local history.
Buy
According to London Tourism, London has "more shopping per capita than anywhere else in North America."
phone: +1 519-679-8420

address: 356 Richmond Street

One of the best used bookstores to be found anywhere, and a city landmark. A huge selection with a particularly good science fiction section.

phone: +1 519-439-3921

address: 353 Clarence St

London's downtown food and crafts market centre. Retail items include fresh produce, baked goods, bulk foods and small crafts along with eating establishments. There is an upper walkway that includes space for special events, retail outlets and services and arts facilities, including the Spriet Family Original Kids Theatre.

phone: +1 519 640 6714

address: 236 Dundas Street

London's last downtown independent record store, specializes in new and used vinyl and hard-to-find CDs.

phone: +1 519-439-4955

address: 186 Dundas St

A large downtown collectable store devoted to pop culture genre print media and collectables. There is a wide variety of comics and books to suit any age and taste, toys like action figures, trading sports cards and T-shirts with a knowledgeable sales staff to help with any questions. Easily accessible a few doors east of London Transit's primary downtown bus transfer point at Dundas and Richmond.

Masonville Shopping Centre

address: Fanshawe Park Road & Richmond St

one of London's two major malls and anchors the major retail development in the north end. Try also the Hyde Park big-box development, two miles west on Fanshawe Park Road.

PT Campbell BookDealer

phone: +1 519-640-5333

address: 388 Richmond St

London's family friendly used book store with over 35,000 titles to choose from. Specializing in out-of-print and antique books.

phone: +1 519-858-2680

address: 294 Springbank Drive

Specializes in punk and metal, with a gigantic, unorganized dollar vinyl section. Surly clerks are right out of Central Casting.

phone: +1 519-681-0434

address: 1105 Wellington Rd

Over 175 stores and services, anchoring a larger big-box retail development stretching up and down Wellington Road between Southdale Road and just south of Highway 401.
Eat
Most of the Canadian and North American chain restaurants are represented in London, including The Keg, Kelsey's, Red Lobster, Tony Roma's, Milestones, Swiss Chalet and East Side Mario's.
Tim Hortons
, the Canadian coffee and doughnut chain, has about 30 locations within the city.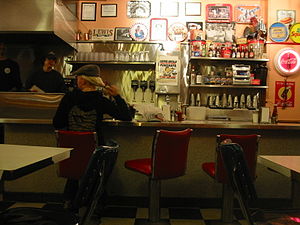 Downtown
Budget
Mid-range
Splurge
South
East
North
Drink
Generally, the locals head to the bars and clubs around 10-11PM and stay until closing time at 2:30AM (last call is at 2AM). Cover charges are minimal ($5-10) or nil, while drink prices are relatively reasonable.
Barney's

phone: +1 519-432-1425

address: 671 Richmond St

A very entertaining bar with good crowds, reasonable drink prices, and pleasant staff. The patio is extremely popular in summer, expect long lines.

phone: +1 519-432-BAND

address: York & Clarence

Live rock music five nights a week, CTO is the anchor of London's independent music scene. Retro night on Sundays is extremely popular.

address: 671 Richmond St

Officially the CPR Hotel, the Ceeps has been in existence since 1890 and has never stopped being one of the most popular UWO bars. The local joke is "your grandfather drank here, your father drank here, and your son someday will too".

phone: +1 519-679-9940

address: 122 Carling St

London's largest selection of beer, specializing in Eastern European lagers and ales. The old-world atmosphere is unique in the city, featuring a gigantic stone fireplace, no TVs, and music provided only by a piano.

phone: +1 519-434-8797

address: 910 Waterloo St

Build-your-own-burgers, wine and draught beer in the heart of London's historic Old North neighbourhood.

Lavish

address: 238 Dundas St

London's only LGBT club. Can be fun but monotonous at times.
Sleep
Budget
Fanshawe Conservation Area (Camping)

phone: +1 519-951-6181

address: 1424 Clarke Road

Popular campsite run by local conservation authority. Usually fully booked on holiday weekends.
Mid-range
phone: +1 519-649-4500

address: 824 Exeter Rd

Near Highway 401 on the south edge of town. All suite hotel. Full kitchens (including dishwasher), jacuzzi, breakfast and dinner buffet is included for around $100. Excellent value. London's #1 rated hotel on TripAdvisor.

phone: +1 519-649-6500

address: 840 Exeter Rd

phone: +1 519-430-1150

address: 774 Baseline Rd E
Splurge
phone: +1 519-679-6111

address: 325 Dundas St

Downtown. Converted from an armoury built in 1905. Indoor pool, whirlpool and children's splash pool, plus saunas and a fitness room. Excellent Sunday brunch ($25pp, reservations recommended). Pet-friendly. Rooms start at $180 per night.

Doubletree by Hilton London Ontario

phone: +1 519-439-1661

address: 300 King St

Downtown. Fitness room and pool. Rooms start at $140 per night.
Stay safe
London is a very safe city for the most part. There is urban blight on Dundas Street east of Adelaide and in the surrounding neighbourhood, but the downtown area is generally safe.

Connect
Central London Public Library

phone: +1 519-661-4600

address: 251 Dundas Street

All London library branches (there are 16 throughout the city) offer free computer/internet access for 90 minutes a day. WiFi access requires a London Library card.
Go next