London Stansted Airport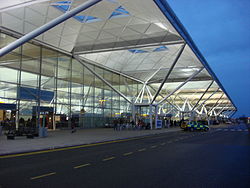 London Stansted Airport
(
STN
) is London's third airport. It's to the north-east of London, half way to Cambridge, so about 30 miles or 50 km from each city. It's the fourth-busiest airport in the United Kingdom, with 27 million passengers in 2018. It's mostly used by budget carriers to European destinations, predominantly Ryanair.
The airport is owned by MAG, Manchester Airport Group, who also own East Midlands as well as Manchester Airport.

Understand
Stansted is excellent for direct low-cost flights across Europe, especially away from the capitals. Thus, from Rome to London there's plenty of choice, but from Bari, Palermo or Turin it would otherwise be difficult to get here without paying three times as much and taking three times longer.
Stansted is okay for travel to central London. It's further out and pricier to reach than Heathrow or Gatwick, see transport options below. Nevertheless there are frequent buses and trains south to London, and north to Cambridge and the Midlands.
Stansted is poor for:
flights beyond Europe, though Morocco and Dubai are served.
transfers to other airports - allow at least two hours to reach Heathrow or Gatwick, on top of the normal two hour check-in & security time.
flight connections at Stansted - as these are budget airlines flying point-to-point, you may have to re-check between flights, at your own risk if your incoming flight is late.
flights within UK, other than for Edinburgh and Northern Ireland.
currency exchange, never good at an airport, is especially poor here, see "Buy"
Flights
Stansted is dominated by the low-cost airlines
Ryanair
and
EasyJet
which have large bases at the airport. Holiday charter airlines
TUI
and
Pegasus
also operate at the airport. A few other scheduled carriers fly to European destinations from Stansted and there are a small number of intercontinental flights.
Flights are normally from 06:00 to 23:00; the airport terminal remains open 24/7 but most facilities close overnight. Delayed passengers arriving during the small hours had better assume everything landside will be closed, so use the toilets in the baggage reclaim hall before emerging onto a draughty sidewalk. See transport section below for first & last buses and trains.
Orientation

Stansted has only one passenger terminal, a single block on a single level which is easy to navigate. Landside, the northeast end (right as you enter) has arrivals, a few shops and cafes, a left luggage and bag-wrap facility, ATMs and currency exchange kiosks, and toilets. The central area is check-in. The southwest end is departure security gates, security fast-track costs £7. Then you enter the airside retail mall which snakes through to the airside concourse, see below for cafes there. Automated trams serve the two satellite departure areas for Gates 1-19 and 20-39.
The are down the ramps just outside the terminal.

Ground transportation
To London
Train
is quickest. The
Stansted Express
runs to
London Liverpool Street
(for mainline, suburban and Underground trains) every 15 mins, taking 50 mins. Trains run between 06:00 and 00:30 and also stop at Stansted Mountfichet, Bishop's Stortford, Harlow and Tottenham Hale (also on the Underground). Single tickets are £18, open returns valid one month are £30; online advance fares can be as low as £7. The Oyster card is not accepted.
For destinations east of the centre (eg Stratford), north (Finsbury Park,
King's Cross
and
Euston
), and
Victoria
, it may be cheaper and quicker to change at Tottenham Hale for the Underground Victoria Line. Consider buying an
Oyster
card there, and see
London#GetAround
.
Buses
by
National Express
are half the price, serve more city-centre locations direct, and run 24 hours so they're the best option for a very early flight. They can take much longer due to traffic, but at 5 am that won't be a problem. Their routes are:
A6 from Portman Square via Marble Arch, Paddington, Baker Street, St John's Wood, Finchley Road, Frognal and Golders Green.
A7 from Victoria Coach Station and Railway Station via Waterloo, Southwark, Whitechapel, Mile End and Bow.
A8 from King's Cross (the actual departure stop is by the St Pancras station taxi rank) via Farringdon, Liverpool Street, Shoreditch, Bethnal Green and South Hackney.
A9 from Stratford non-stop.
Buses by
Airport Bus Express
have similar prices and travel times. They run 06:00-02:00 and their routes are:
A20 from Victoria Coach Station via Baker Street / Gloucester Place.
A21 from Liverpool Street via Stratford.
Taxis and minicabs
to central London may take up to two hours.
Stansted Airport Cars
are based in arrivals and charge £100 per car to central London. It's usually better to take a train to the station nearest your destination, then pick up a taxi there.
To other airports
To Heathrow:
National Express
run a direct bus, hourly, taking 90 mins to LHR Terminals 1, 2 & 3, single fare £25.
Otherwise you have to travel into central London by train, cross the city by Underground then travel out again. Reckon the best part of three hours.
To Gatwick:
take the Stansted Express to Tottenham Hale, then Underground to Kings Cross St Pancras, then a southbound train for Brighton via Gatwick.
=== To other cities ===
Arriva CrossCountry
trains run hourly to Birmingham New Street via Cambridge, Ely, Peterborough (for trains north eg to Leeds, York and Newcastle) and Leicester. Cambridge also has Greater Anglia trains, so that makes two per hour.
National Express buses run directly to
Luton
,
Coventry
,
Birmingham
,
Norwich
,
Ipswich
,
Southend
,
Nottingham
,
Cardiff
and
Bath
.
Local buses run to
Stansted Mountfitchet
,
Bishop's Stortford
,
Saffron Walden
,
Chelmsford
,
Braintree
and Harlow.
By car:
All the major car rental companies have desks at the airport. For fuel there is a BP near the Mid-stay car park and a Shell at the motorway service station, but it's cheaper at Tesco on the west side of the Bishop's Stortford ring road. Driving back to the airport, use Junction 8 of M11. This comes to the turn-off for Long-stay parking, then you briefly join A120 east (so it will feel like you've overshot the airport) then exit towards Mid-stay, the terminal, and car rental lots.
Wait
Landside is as uncomfortable as they can make it. The café seating (by Arrivals) is okay but the others are sharp benches, the kind they put in bus shelters to deter dossers, uncomfortable after 5-10 mins and few of them. The railway station downstairs is also cramped and draughty. Try the bus station adjacent which has a proper waiting room with seats, toilets and café. But it's small, and any general transport disruption will soon make it congested. There isn't really anywhere to stroll outdoors: the area immediately outside the terminal is a busy drop-off with smoking zones, and the access roads are ratty highways with no sidewalk. There's a covered walkway to the airport hotel with a grassy embankment if you're desperate.
Airside is the "Escape Lounge", between Coast-to-Coast and Pret, £25 for a relaxing area with complimentary food, drink and wifi. It's open daily 04:00-20:30. There are no airline lounges at Stansted as there are no full-service airlines here. The seating area for Gates 90-93 downstairs tends to be quiet.
Apart from eating, drinking, shopping, and sitting around there is little to do here. Bring something to occupy yourself, such as a book or smartphone. Wifi is free for 4 hours then £9 for the rest of 24 hours, select network '_stanstedairport' and follow on-screen prompts.
See "Nearby" for places you could visit if you had several hours to kill.

Eat and drink
These establishments are open from first flight until last flight unless described otherwise.
Landside: Remember you can't take drinks through security. Outlets (clustered near arrivals) are Pret (24 hours), Burger King and Costa, plus confectionery etc at Spar and WH Smiths.
Airside eateries are in the concourse after you've run the gauntlet of the duty-free strip. In early 2019 these are Cabin (upmarket bar serving wines, cocktails and food), The Camden (breakfasts and pub food), Coast-to-Coast (American diner), Giraffe (restaurant with fast food), Halo ("fizz bar"), Harris + Hoole (24 hours, coffee shop), Itsu (Japanese), James Martin (bakery), Joe & The Juice, Joe's Coffee House, Leon (Mediterranean), Not Always Caviar (baguettes), Pret, Starbucks (24 hours), and The Windmill (JD Wetherspoon's pub).
The areas around the departure gates, in the main building and two satellites, only have a few small convenience outlets.

Buy
Don't exchange money at the airport if you can help it; the term "currency exchange" implies that you get something back for whatever you give them, but at Stansted that won't be much. The kiosks (landside & airside) are run by Moneycorp and gouge +/- 30% either side of bank rate for major currencies, eg 1.30 Euro > £1 > 70 cents. You're even worse out of pocket on other currencies such as Turkish lira. These are probably the worst rates anywhere in the UK.
Landside there is a WHSmith newsagents and a small Boots chemist.
In the departure lounge there are a number of stores including Hugo Boss, Mulberry, Hamleys and Dixons as well as a large WHSmith. The duty-free store for liquor, tobacco etc is run by Heinemann, you can compare prices in their online catalogue with high street rates.

Cope

There's a multi-faith prayer room landside near arrivals, and another airside near the Escape Lounge. Both are open 24 hours and have ritual washing facilities.

Sleep
In the terminal:
They don't mind you waiting hours in the terminal, but they don't like you getting too comfy, and prohibit the use of sleeping-bags or anything that looks like camping. ("Health & Safety!" they cry - the British recite this phrase whenever they're feeling officious and obstructive.) However out of hours there's often a quiet area where you can hunker down, only disturbed every 20 mins by shrill automated announcements or security staff. Airside, the seating area downstairs for Gates 90-93 is often quiet.
Airport hotels:
Two hotels are adjacent to the terminal, a two-minute walk.
phone: +44 1279 661012

address: Waltham Close CM24 1PP

Good value 4-star, great location, though restaurant erratic and fitness centre kinda worn.

phone: +44 1279 680800

address: Bassingbourn Road CM24 1QW

Good affordable 3-star, great location just SW of terminal.
Two others are next to the Mid-stay car park a mile southwest at Bassingbourne roundabout. There's also a McDonald's, Starbucks, an M&S convenience store and a filling station here. These hotels are reached by a shuttle-bus, £3 per trip, but you can use the free Mid-stay car park bus, getting on and off at the passenger drop-off area just beyond the car park exit barriers. Or you can walk from the terminal, but it's a dreary ratty road without a proper sidewalk.
phone: +44 1279 680015

address: Thremhall Avenue CM24 1PY

Convenient clean mid-range choice.

phone: +44 871 527 9352

address: Thremhall Ave CM24 1PY

Reliable mid-range chain. Overnight parking £8, no long-stay, use airport car parks.
Within ten minutes drive
are a couple of dozen mid-range places geared to airport users. They may offer deals on extended parking and transfers to the terminal.
Nearby
Are you sure? For Ryanair this is a hub and they can stand-up aircraft and crews if they see that a delay is going to embroil them in grief and compensation. Your departure posted as 3 hours late may suddenly go to a boarding call. You can probably only risk leaving the airport for a general shut-down, or an incoming turnaround by some other airline that hasn't even left Malta yet. Check that flight's progress online (eg departure board of the airport of origin) and work out Plans B and C for if your departure time suddenly comes forward, or goes back even further because the crew have timed out on their hours.
Cambridge is top choice if you've four or more hours spare: wander the wonderful old streets and colleges. Thirty minutes by train twice an hour; the station is a mile or so south of town but there's a bus.
Stansted Mountfitchet has a medieval castle with an educational replica Norman village and windmill. It's only six minutes away via hourly trains towards London Liverpool Street.
Bishop's Stortford is a small market town. The ruined castle is just a grassy knoll. Nine minutes away by train towards London Liverpool Street every 30 mins.
Saffron Walden, six miles north off M11, in summer has Audley End Jacobean Mansion and Gardens. The Mansion is a mile from Audley End railway station (trains towards Cambridge) so you could walk, but more likely you'd come here if you had a hired car and were too early for your accommodation or return to the airport. See East Anglia for similar options within an hour's drive, such as Ely.
London itself doesn't work as a side-trip unless you've six or more hours to kill. The train takes 50 mins to Liverpool Street in the northeast of the city but then it's another 30 mins by Underground to the central sights.