Londrina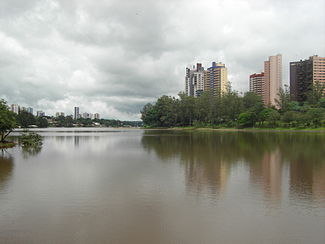 Londrina
is a large city in
Paraná
, southern
Brazil
. It is a wealthy center of a coffee-producing region. It could be a stopover to or from
Foz do Iguaçu
.
Get in
Good long distance bus connections.
Herminio Antônio Pennacchi Highway connects to Maringá to the west
Get around
City buses can be a challenge. They are more frequent during office hours, specially close to the University hours, so it's very likely that they will be crowded with students. Any other time, you'll probably wait very long for your bus, as sometimes they can take longer than an hour to come. Transporte Coletivo Grande Londrina (TCGL)'s website (http://www.tcgrandelondrina.com.br/) has bus lines and time tables, though it's not easy to find your way around it, either.
Taxis are frequent and to be found everywhere. However, Londrina's traffic sometimes won't help you, and you'll find red light after red light. Be prepared to pay R$ 15 to R$ 20 for short distances.

See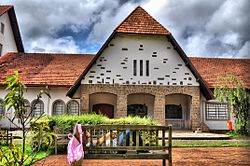 Calçadão

address: Av. Prof. João Cândido

Connecting the core of downtown Londrina with a street that is a dedicated pedestrian walkway has proven to be a huge success here, and along the sidewalk you will find a number of shops (both large and small), various restaurants, a number of banks, and various other businesses of interest to those visiting the city.

Lake Igapo ParkThere are actually several lakes called "Lake Igapo". They are called, naturally, Igapó 1, 2, 3, and 4. There are several parks along the several lakes, but Lake Igapó 1 has the most well known. This park runs alongside the northeastern side of the lake, between Rua Herodoto and Avenida Amithas de Barros. Crossing to the north side of Avenida Amithas de Barros you come to what is called the "zerão" (big zero), which is another park that has a number of sports facilities.

address: Rua Benjamim Constant, 900 - Centro

The museum is a project of the State University of Londrina (Universidade Estadual de Londrina - UEL) and is located in the old train station - which no longer has any track going to it. The location is just north of downtown. The museum survives entirely on donations and the university, as there is no admissions charge.

Parque Estadual Mata dos Godoy

phone: +55 43 3373-8700

address: Rodovia Mário Gonçalves - Fazenda Santa Helena

Located far to the southwest of the city, and in fact located in the countryside quite far outisde the urban limits, Parque Estadual Mata dos Godoy preserves a small section of the original forest of the state of Paranã. Surrounding the state park is what you find has replaced the forest in most areas: corn and other monoculture farmland as far as the eye can see.
Buy
phone: +55 43 3315-5000

address: Rodovia Celso Garcia Cid, s/n, km 377

Open to public in 1990, Catuaí Shopping is the largest shopping center in the southern region of Brazil, with 789 stores, restaurants, amusement squares (including bowling), and a movie theater with 7 projection rooms, including 3D. Parking is paid.
Eat
phone: +55 43 3324-2700

address: Av. Higienópolis, 891

phone: +55 43 3325-6052

address: Av. Santos Dumont, 1300 - Novo Aeroporto

phone: +55 43 3029-4144

address: Rod. Celso Garcia Cid - Gleba Fazenda Palhano

phone: +55 43 3324-6234

address: R. Mato Grosso, 206

Koala

phone: +55 43 3344-0644

address: R. Espírito Santo, 123 - Centro

phone: +55 43 3025-2212

address: Av. Higienópolis, 437

Pátio San Miguel

phone: +55 43 3324-5041

address: Av. Higienópolis, 762

address: Av. Higienópolis, 445 - Centro

phone: +55 43 3398-4220

address: Rod. Celso Garcia Cid, Km 401

phone: +55 43 3322-1866

address: R. Benjamin Constant, 693, Centro

Tchin Min

phone: +55 43 3028-6139

address: R. Sergipe, 1654

phone: +55 43 3324-8181

address: Av. Higienópolis, 479
Drink
phone: +55 43 3066-0488

address: Goias, 477

Beco dos Universitários

address: R. Delaine Negro, 1-1891

Escritório Bar

phone: +55 43 3321-9580

address: R. José Roque Salton, 33

Mustang Bar

phone: +55 43 3327-0925

address: Av. Maringá, 1550
Sleep
phone: +55 43 3321-6161

address: R. Goiás, 877, Centro

phone: +55 43 2104-4200

address: Av. Juscelino Kubitschek, 1356 - Centro

Bourbon Londrina Business Hotel

phone: +55 43 3315-4000

address: Alameda Miguel Blasi, 40

Hotel Fenix

phone: +55 43 3323-0526

address: Av. Duque de Caxias and R. Maranhão

Very basic, fair breakfast.

Hotel do Lago

phone: +55 43 3377-4455

address: R. Bento Munhoz da Rocha Neto, 1505
Go next