Long Island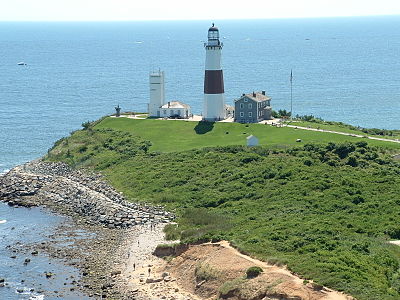 Long Island
is an island stretching eastward from
New York City
in the
Metro New York
region. The island is approximately 115 miles long from
Brooklyn
and
Queens
at the western end, to
Montauk
at the easternmost point. At its widest, the island is approximately 20 miles from north to south. While Long Island geographically includes the New York City boroughs of Brooklyn and Queens, and the more suburban counties of
Nassau
and
Suffolk
, colloquially the term is often applied only to Nassau and Suffolk counties in
New York State
.
While Long Island is home to seven million year-round locals, many commuting in and out of New York City, the Island is home to a lot of discreet tourism (concentrated in certain towns—
Huntington
,
Fire Island
,
Montauk
) and also serves as the zip code for the vacation homes of many wealthy city dwellers, particularly in the Hamptons.
Regions
Cities
Long Island is essentially a suburban area throughout (except for the Twin Forks region, which is rural) and has few major towns.
Understand
From a tourist's point of view, Long Island is most ideal to visit in the summer and the fall when the scenery can be most appreciated. Long Island is a great place to visit whether it be for a family vacation, a group of 20-somethings looking to rent a summer house, or an older retired couple looking to enjoy some natural sight-seeing or tour a museum.
Nassau County and Western Suffolk County is very developed and densely populated, and is home more to the 'suburbia' type neighborhoods Long Island became famous for after World War II, where most year-round residents live. (e.g.
Levittown
and
Oceanside
). Central and Eastern Suffolk County, however, is somewhat rural (for the New York area, anyway) and is home to much agriculture, wineries, and beach towns. Many summer homes and hotels are located here, and is where most wealthy New Yorkers congregate in the summer months when the concrete jungle is too hot to bear. Tourist attractions can be found equally in both counties and throughout the entire Island.
Long Island's only downside to tourism is harsh north-eastern winters that make traveling somewhat difficult, and the fact that it is an expensive place to both live as a permanent resident and also as a tourist. There are towns that are more friendly to the wallet than the notoriously expensive Hamptons, or "Gold Coast" North Shore towns, however, Long Island is home to some of the most expensive zip codes in the entire world. Do not expect a bargain vacation when traveling to Long Island, or anywhere in the New York Metropolitan area for that matter.
Tourist Information
The
Long Island Conventions & Visitors Bureau
provides information about Long Island and the places to visit.
Get in
By plane
By train
The
Long Island Railroad
runs from Pennsylvania Station in Manhattan to various points on Long Island on many branches. Service is not as frequent as the NYC subways.
By boat
There are several ferry services that can be found on Long Island. Always check their schedules carefully as they may not be available during late night.
Ferry Services to Connecticut, Rhode Island and Block Island
The Bridgeport and Port Jefferson Steamboat Company service for passengers, motorcycles, cars, trucks, buses, and trailers. Children aged 12 and under ride for free, but responsible adults must accompany them. Contact: 1-888-44FERRY.
Cross Sound Ferry service for passengers, bicycles, motorcycles, cars, trucks, buses, campers, and trailers. Contact: 860-443-5281 and 631-323-2525.
Viking Fleet Ferry is for passengers only and bicycles and surfboards are accommodated, no cars. Contact: 631-668-5700.
Ferry Services to Shelter Island are unavailable during late night, so always check their schedules.
North Ferry Company is available year-round and allows passengers, bicycles, motorcycles, cars, trucks, and commercial vehicles. Contact: 631-749-0139.
South Ferry, Inc. is also available year-round and allows passengers, bicycles, motorcycles, cars, trucks, and commercial vehicles. Contact: 631-749-1200.
Ferry Services to Fire Island
Davis Park Ferry Co. Inc. does not allow vehicles and is available from March to September. Contact: 631-475-1665.
Fire Island Ferries Inc. does not allow vehicles and has limited services year-round weather permitting. Bicycles are allowed on freight boats with shipping fees paid, not passenger boats. Contact: 631-665-3600.
Sayville Ferry Service does not allow vehicles and is available April to November (May to October to and from Sunken Forest). Contact: 631-589-0810.
By car
There are many controlled-access highways that run through New York City from Connecticut and New Jersey. It is advisable, however, to travel on routes that do not cross Manhattan Island (where traffic is perpetually horrendous). From New Jersey, I-278 runs across Staten Island to Brooklyn where major roads (including State Route 27 and the Long Island Expressway) can be reached. From Connecticut, take I-95 South to I-295 and the Throgs Neck Bridge. Once into Queens, nearly every major thoroughfare is encountered while still heading south on I-295.
A convenient way to bypass most traffic is to take a car ferry from either Bridgeport, CT to Port Jefferson (on the North Shore in the center of Suffolk County) or New London, CT to Orient Point (on the North Fork), but they do not operate overnight, so always check the ferry schedules.
The Southern State Parkway (SSP) runs from East Islip to Queens where it becomes the Belt Parkway. The SSP is a very busy thoroughfare during rush hours and connects most of Nassau to each other. The Northern State Parkway connects Queens with the Grand Central Parkway. The Long Island Expressway (I-495), or The LIE is billed as the world's longest parking lot, especially during peak rush hours. The LIE connects Manhattan to Riverhead. Sunrise Highway, or NY-27, as a divided highway goes from Queens along the south shore of Nassau County, becoming an expressway in Babylon, back to a divided highway in Suffolk County and ending at the east end of the island in Montauk.
When traveling along the North Shore, you may take the scenic and relaxing route of 25-A, a single lane road that runs through historic, wealthy towns on the northern shore.
Get around
Please understand that Long Island is a very large island. At 118 miles in length, it can take hours to travel from one destination to another, especially during morning and afternoon rush hour when the main roads suffer from high congestion and the trains are crowded.
By bus
There are two main bus operators on Long Island: Nassau Inter-County Express (the former Long Island Bus) in Nassau and Suffolk County Transit in Suffolk. Each maintain extensive bus networks throughout their counties. For schedules, fares and route maps for NICE, visit their website: . For the same for Suffolk Transit, visit their website:
By train
The Long Island Railroad crosses the entire island, with stops in virtually every community of note. As it is designed to take residents into and out of Manhattan, connections between branches are virtually nonexistent. However, with the exception of the Port Washington line, every branch does come into Jamaica station in Queens, so if you do need to change branches, Jamaica is where you will likely do it.
The Port Jefferson branch goes all the way out to
Port Jefferson
on the north shore in
Suffolk County
. The Ronkonkoma branch goes to Greenport on the north fork. The Montauk branch goes to its
namesake hamlet
on the tip of the south fork. The Hempstead and West Hempstead branches go into the heart of
Nassau County
. The Far Rockaway and Long Beach branches carry beach goers from the city to the popular beaches on the south shore.
For schedules and fares, visit the LIRR website:
By car
In addition to highways getting into Long Island, there are more to get around:
The Long Island Expressway (the L.I.E.) has the high-occupancy-vehicle (HOV) lanes in both directions in Nassau and western Suffolk Counties. From 6AM to 10AM and 3PM to 8PM from Monday to Friday, it can save time for motorcycles (even without passengers) and cars with at least two occupants.
It is extremely recommended that you use an HOV lane if possible! Traffic jams can last for hours and disrupt travel plans. Just make sure that you know what exit you will get off at. There are only certain points at which you can get out of the HOV lane.
The Meadowbrook Parkway runs from Jones Beach, through Long Beach connecting the South Shore towns to Mineola and The Northern Parkway.
See
The primary tourist attractions are the large number of excellent beaches along Long Island Sound on the North Shore (the setting of the famous novel and movie "The Great Gatsby", and the more famous South Shore, which is home to the Atlantic Ocean's waves and white-sand beaches.
The North Fork is also home to many wineries, farms and culinary outlets.
Other attractions include North Shore harbor towns such as Port Jefferson, Huntington Village, Stony Brook and Northport where a variety of eateries and small businesses thrive in a bohemian atmosphere.
Take a day trip on the Hampton Jitney
Long Island Wine Country on the North Fork
The Hamptons on the South Fork.
Long Island has some great villages, like Great Neck and Huntington where you can just wander around and see cute little stores and take in nice views.
Port Washington has a beautiful bay with a public park where you can see all the boats and the water.
Museums
Garvies Point Museum and Preservehas Native American artifacts.

Sands Point Preservewith two castles.

Old Bethpage Village Restorationhas a farm as well as houses and businesses from the early-to-mid 1800s.

The Village of Roslyna historic town located on Hempstead Harbor on the North Shore. Homes date from the 17th Century.

phone: +1 631-854-0939

address: Montauk Highway and Manor Lane, West Bay Shore

built in 1697, served briefly as headquarters for the British army during the Revolutionary War. President George Washington stayed there during his tour of Long Island in 1790. Take a tour of period rooms through the Manor House led by costumed docents and stroll through the grounds and nearby Gardiner County Park. , .

Vanderbilt Museum

Stony Brook VillageVisit historic Stony Brook Village, and get afternoon tea.
Do
Swim at any of the great South Shore/Ocean beaches. Jones, Hamptons, Montauk, Robert Moses, Smith's Point.

phone: +1 631 727-3600

address: 2549 Splish Splash Drive, Calverton

Splurge at the 'Miracle Mile' shopping resort in Manhasset.
Bar hop through Huntington, Port Jefferson, Smithtown, Babylon, Bay Shore, Farmingdale, Garden City, Mineola, Rockville Centre, Long Beach, Patchogue, Riverhead, Montauk, the Hamptons, Great Neck, and other locales.
Strike Go-Karts/Bowling/Arcade in New Hyde Park.
ICE Nightclub in Farmingdale.
Jones Beach and Captree State Park
Visit the Saint James General Store off route 25-A in Saint James.
Visit "Polish Town" in Riverhead.
Explore Italian-American culture- go to Uncle Giuseppe's Market- trademark store in Smithtown on Route 111.
Drive around Old Brookville and look at how gigantic the houses are.
Learn
Long Island is also the home to Stony Brook University (with campuses in Stony Brook and Southampton), one of the top-100 Universities (U.S. News & World Report), which is part of the State University of New York (SUNY) system, providing a very academic and international community within central Long Island. Brookhaven National Laboratory, affiliated with the U.S. Department of Energy, and Cold Spring Harbor Laboratory is also located on Long Island. Both labs are affiliated with Stony Brook University.
Other notable institutions of higher learning on Long Island include: Hofstra University (Hempstead), Adelphi University (Garden City), Long Island University (Brookville, Brentwood, Riverhead), New York Institute of Technology (Old Westbury), Central Islip), SUNY College at Old Westbury (Old Westbury), Farmingdale State College (East Farmingdale), Polytechnic Institute of New York University (Melville), Five Towns College (Dix Hills), Nassau Community College (East Garden City), Suffolk County Community College (Selden, Brentwood, Riverhead, Sayville), Briarcliffe College (Bethpage, Patchogue), Dowling College (Oakdale, Shirley, Melville), Molloy College (Rockville Centre), Saint John's University (Oakdale), Saint Joseph's College (Patchogue).

Buy
Tanger Outlet Deer Park

phone: +1 631 667-0600

address: 152 The Arches Circle, Deer Park

Tanger Outlet Riverhead

phone: +1 631 369-2732

address: 200 Tanger Mall Drive, Riverhead

Roosevelt Field Mall in Garden City (Nassau)
Smith Haven Mall in Lake Grove (Suffolk).

The Americana Mall

address: Northern Boulevard in Manhasset.

Some of the richest people on the island shop in this stretch of conspicuous consumption, beautiful store layouts, and mind-boggling prices.
Eat
Long Island is a lot like
New Jersey
and parts of
Connecticut
in as much as a there are a lot of 24 hour diners that serve pretty much anything whenever. Young people congregate in these diners at odd hours, and they can be found spread out on the major roads like Jericho Turnpike or Sunrise Highway. There are also many seafood restaurants (especially with local clams and mussels-local Long Island specialty foods). Because there are so many local restaurants (many Zagat-rated), with influence from European families and the nearby international cuisine of New York City, a Long Islander wouldn't recommend to eat at a chain restaurant that could be found anywhere such as Applebee's, the Olive Garden or Red Lobster. They are of course readily available on Long Island, but it is really a shame to not try privately-owned eateries that are equally priced but more distinct than the chain restaurants. Try one of the following:
Little Vincent's

phone: +1 631 423-9620

address: 329 New York Ave, Huntington

Italian food, pizza - make sure to ask for a cold cheese slice. It's amazing.

Peter Luger's SteakhouseEst. 1887 in Brooklyn is one of the best steakhouses in New York

Benten Japanese RestaurantIn Miller Place is a highly rated Japanese restaurant. While dinner is excellent, it can be quite pricey. If cost is a concern try to make it there during lunch hours.

Bulldog in Amityville is an excellent place for burgers
The restaurant at the Jedediah Hawkins House in Jamesport is really good and in a beautiful setting.
The really amazing New York restaurant, Il Mulino, has a location in Roslyn.
Mama's in Copiague has some of the best Italian food
Kitchen Kabaret in East Hills (Roslyn), while not the best ambiance for a restaurant, has great food to take out. Very popular for rich kids getting lunch and upscale north shore catering.
The Cider Mill in Laurel on Route 25 has the best pies.
All-American Drive-in in Masssapequa has the great hamburgers.

Tennessee Jed'sIs an old fashioned family-owned BBQ restaurant in Wantagh.

Bobbique in Patchogue has fantastic real pit barbecue and lots of great beers on tap. Not for vegetarians.
The Milleridge Inn in Jericho is a rustic eatery perfect for dinner or classy lunch.
Briemier Pies in Riverhead- people travel from the city to eat one of these delicious pies- you wonder what is in them that makes them so addicting!
The Kitchen, a Bistro, in Saint James- voted the best restaurant on Long Island of 2009. French Mediterranean cuisine using local Long Island ingredients.
The sister eatery, The Kitchen, a Trattoria, offers light, rustic Italian cuisine. Also located in Saint James, this is a bit different than New York Style Italian that leaves you feeling like a huge salami about to roll out the door- this is the real deal. Light, delicious non-Americanized Italian food that you would find at a trattoria in Italy.
Many major fast food chains and chain casual dining restaurants have locations on Long Island.
Be sure to visit a local farmstand, especially those out east and on the North Fork. Local produce and farming is a major industry on Long Island.
Drink
The well known cocktail, the Long Island Iced Tea, was first created on Long Island. One of the most celebrated local beers is called
Blue Point
, named for the town of the same name.
Drinking on Long Island is tough because you need a car to get around, with this in mind, use the Long Island Railroad to your advantage. Take it from town to town, or take a night out to go into the City. At night, there is little public transportation besides LIRR, but there are taxis. The South Shore in Nassau County has some good bars, (with a somewhat rowdy crowd, however).
On the North Shore you will find a buzzing college-bar scene year-round, mostly for those college students and other 20-somethings looking for a night out that doesn't involve a dorm party, frat or sorority or an expensive trip to NYC. The most popular towns for this kind of bar-scene are Huntington Village, Port Jefferson, (both along Route 25-A) and recently Smithtown along Jericho Turnpike/Route 25, which has developed as an up-and-coming bar scene by night despite their charming shopping and family-oriented atmospheres by day.
Montauk
and
Fire Island
, which are very much touristy beach towns, are home to many bars—what else is there to do on a warm summer's night?!
Stay safe

Be smart, don't travel to towns with a lot of crime at night. These towns include: Roosevelt, Hempstead, North Amityville, North Baldwin, Wyandanch, Rosedale, North Bay Shore, Central Islip, New Cassel, Brentwood, Uniondale and northern Freeport. In the daytime, these areas are generally safe.
Other than those towns, which most locals could tell you is where most of the dangerous crime occurs, crime on the rest of Long Island is related to drug-arrests and burglaries of high-end neighborhoods.
Most robberies are related to hired help, and are low-profile crimes. However, the most recent epidemic crime problem has been the increase in heroin use among Long Island teens, particularly of wealthier neighborhoods along the North Shore. Generally, this should not be a problem for a tourist.

Cope
The daily, Island-wide newspaper is Newsday, which also provides a detailed history of the island. .
News 12 on Cable TV (Cablevision) also covers local news.
Go next
One of the biggest safety hazards Long Islanders face when preparing for natural disasters such as hurricanes is the lack of ways to get off Long Island. There really is only one immediate way out via car, through the highly congested bridges of New York City. You may also exit via Ferry to
New England
, or fly out of one of the three major airports. Fortunately, dangerous hurricanes are very rare for Long Island.
You may leave Long Island to go on day trips to any borough of
New York City
,
Connecticut
,
New Jersey
,
upstate New York
(another great place to visit).