Longmen National Park
Longmen National Park
is in
Henan
Province of
China
. It's inscribed on the
UNESCO World Heritage List
.
Understand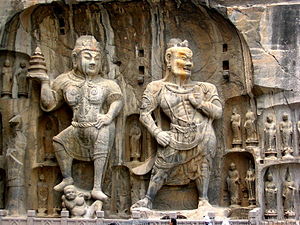 Among Longmen's wealth of world-famous treasures are flying Apsaras, and fine works of Chinese calligraphy, represented by the 20 Longmen Calligraphic Samples. These are 20 pieces of calligraphy deemed perfect and correct representatives of the time they were created.
Enshrined in 2,100 cave-temples are 3,600 stone inscriptions and over 100,000 large and small Buddhist statues. The 17-m-high statue of Vairocana in Fengxian Temple is the most representative of the trove.
History
Construction of Longman Shiku (Dragon Gate Grottoes), one of three major grottoes in China, began in 494 CE, but it was not until the
Sui
and
Tang dynasties
that it acquired the scale as we see it today.
Landscape
Flora and fauna
Climate
Get in
Longmen Caves are about 13 km southeast from the city of
Luoyang
.
Opening hours
:
March-Oct: 7:30AM-7:50PM
Nov-Feb: 7:30AM- 6:50PM
Bus route 81 (¥1.50) from East side of Luoyang train station. Journey lasts 50 min.
The last bus back to Luoyang leaves at 8:50PM
.
Or, you can take a taxi.
Fees and permits

Admission charges: ¥120

See
宾阳三洞 Binyang San Dong (Three Binyang Caves)
万佛洞 Wanfo Dong (Ten Thousand Buddha Cave)
莲花洞 Lianhua Dong (Lotus Flowers Cave)
奉先寺 Fengxian Xi (Ancestor Worshipping Temple)
药方洞 Yaofang Dong (Medical Prescription Cave)
古阳洞 Guyang Gong (Earliest Cave)
石窟洞 Shiku Dong (Stone Room Cave)
Sleep
Lodging
Camping
Backcountry