Longueuil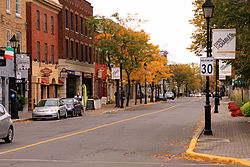 Longueuil
(
lahng-GUUY
) is a city of 240,000 people (2016) in the suburbs of
Montreal
on the south shore of the St. Lawrence River.
Understand
Longueuil is an important centre for Canada's aerospace industry. It is home to the headquarters of Pratt & Whitney Canada and of Héroux-Devtek. Pratt & Whitney Canada is Longueuil's top employer with 5,000 employees, while Héroux-Devtek has 550 employees. Also located in Longueuil is the headquarters of the Canadian Space Agency (John H. Chapman Space Center), adjacent to Montréal/Saint-Hubert Airport.
A large part of Longueuil's work force commutes to Montreal.

History
Charles Le Moyne, lord of the area under the French colonial system starting in 1657, named Longueuil after a village which is today the seat of a canton in the district of Dieppe in his homeland of Normandy.
His son, Charles Le Moyne de Longueuil, built Fort Longueuil as his fortified residence. It was constructed of stone between 1685 and 1690 and had four towers.
Fort Longueuil was believed to be occupied by American troops during the American Revolutionary War. It was subsequently occupied by the British. It was demolished in 1810 due to its poor condition. The archaeological remains of Fort Longueuil are a National Historic Site of Canada. The site extends beneath the present-day Saint-Antoine-de-Padoue Cathedral.

Climate
Longueuil has long winters, lasting from November to March, short springs during April and May, average summers, lasting from June to August, and short autumns during September and October.

Get in
By plane
The (Montreal)
Pierre-Eliott-Trudeau International Airport
(
YUL
) offers flights from numerous popular destinations including New York City, Paris and London. You can get into Longueuil from YUL with the 747 bus (to Downtown Montreal) then take the metro to the Longueuil-Université-de-Sherbrooke station on the yellow line. Single fare of $10 on the 747 with the rest of the day free on all of the STM's public transit network, including the metro. A three-day STM pass is also valid; these cost $18.
Montreal Saint-Hubert Longueuil AirportOffers flights from regional locations in Quebec, including Jean-Lesage Airport in Quebec City. This airport is much closer to Longueuil than YUL, with the RTL bus 28 directly from the airport to the Terminus Longueuil via the Chemin Chambly and St-Charles street, the 2 main commercial and historic streets in the city. The bus fares can be found here.
Get around
There is a wide network of public transit buses managed by the Réseau de Transport de Longueuil (Longueuil-RTL). The fares can be found
here
. Most of the buses depart from/arrive at Terminus Longueuil.
Longueuil is served by the Longueuil-Université-de-Sherbrooke station of the Montreal Metro (Yellow line, also known as 4), housed at the Terminus Longueuil building. Fares can be found
here
.
Longueuil is served by the St-Lambert and St-Hubert stations of the AMT Commuter Trains (Mont-St-Hilaire line, a.k.a. purple). Fares can be found
here
. Tram 3 fares serve all public transit of Laval, Montreal and Longueuil (except St-Bruno-de-Montarville, Tram 5 has to be purchased for this area) (unless noted), while Train 3 will only serve the commuter train network in these areas.
See
Co-Cathedral of Saint-Antoine-De-Padoue

phone: +1 450-674-1549

address: 2 Rue Saint-Charles Ouest

Built 1885 to 1887 in new-Gothic style with stunning polychrome decoration everywhere. It has a stained-glass topped cupola supported by a metallic armature and a quincunx crossing plan with wide corner chapels. In the basement there is a small museum.

phone: +1 450-748-1600

address: 2380 Boulevard Roland-Therrien

A small museum in a 1950s bungalow. The museum aims to raise public awareness about the contribution of women to the development of Quebec and Canada.

phone: +1 450-670-1616

address: 150, rue De Gentilly Est
Do
Yoga, meditation and other seminars
also take place nearby all year round.
Parc Michel-Chartrand

address: 1895, rue Adoncour

Picnicking, walking, jogging (5 km loop), biking, cross-country skiing. Lots of deer and a beautiful pond with ducks during the summer.

Parc Marie-Victorin

address: Chemin de la Rive

Along the south shore of the St. Lawrence River with beautiful views on Montreal. Many kilometres of bike paths.
Parc de la Cité in Saint-Hubert.
A wildlife reserve, the Boisé du Tremblay, is partially in Le Vieux-Longueuil and partially in Boucherville.
Buy
Saint-Charles West Street has a nice ambiance with all its bars, restaurants and centres of interest.

Eat
Drink
address: 4200 Chemin de la Savane

Brew pub with 60 seats, 16 beers on tap, and a enjoy of sandwiches and snacks.
Sleep
Hotel Dauphin Montreal - Longueuil

address: 1055 rue Saint-Laurent West

Near the Jacques-Cartier bridge and the Longueuil metro station.

phone: +1 450-671-7555

address: 3179 Taschereau Blvd, Greenfield Park

phone: +1 450-442-3688

address: 320 Rue de Longueuil

A house built in 1854 in Old Longueuil. Vegetarian and gluten-free breakfast available if requested at time of reservation.

Auberge Objectif Sante

phone: +1 450-486-4816

address: 8665 Chambly Road

Rooms are equipped with refrigerator, microwave and kitchenette, private bathroom, wireless internet. Rooms have outside entrance, and parking in front of the room.
Go next