Looe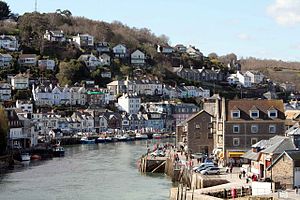 Looe
is a picturesque town on the south coast of
Cornwall
.
Get in
Looe train station
is small and within walking distance of the shops and the beach. The town is also easily accessible by road. The cities of Plymouth and Exeter can be reached with ease by following the main road. However, once in Looe, driving is particularly difficult as the roads are so narrow. There is a large car park at the entrance to the village which many tourists choose to use.
Get around

The town is small enough to walk around on foot, even for elderly people. It is small, and the city centre is flat. The main street of the town is lined with shops and restaurants. This road leads to the beach and banjo pier. There is also a bridge and boat service to allow people to travel from East Looe-West Looe.

See
Looe Island

address: East 1AA, Higher Market St,

Volunteer-run museum in the 15th-century guildhall.
Do
The walk along the banjo pier and along the river observing the boats moored there makes a pleasant stroll on a summer's day. A walk along the footpath alongside the seafront is also a pleasant experience. The village has its own museum which is always an interesting activity. Towards the village entrance there is a large arcade with a bowling alley inside. Many tourists go on boat trips around the coast. Younger children enjoy crabbing of the harbour.

Buy

There are many shops on the main street such as Boots, the Co-op and Cancer Research. There are numerous gift shops selling Looe merchandise. There are many independent shops in Looe that stock brands like Animal, Quiksilver, Roxy and Superdry.

Eat
There are a number of small, locally owned cafés in the town,many of which serve local specialities such as the Cornish pasty. There is a Cornish Pasty Co. shop a short walk from the beach. There is a café on the beach that provides refreshments for tourists. There are additionally many lovely restaurants selling local fish. The harbour on East Looe also houses Sarah's Pasty and Cake stores that are famous throughout the village for their exquisite delicatessens.

Drink
There are lots of lovely pubs in the village. Notably the Jolly Sailor in West Looe. The selection of alcohol is good and the pub also provides a weekly shanty singing as entertainment, which customers can join in with.

Sleep
Go next

Looe Bay Holiday Park and Trelawne Manor are within a ten-minute drive of the village. In terms of local accommodation, there are lots of holiday cottages and apartments that are available to rent.