Los Algodones
Los Algodones
or
Vicente Guerrero
is a town in
Baja California
, Mexico, approximately 16 km (9.9 mi) west of
Yuma
, Arizona. The northernmost town in Mexico, Los Algodones has the distinction that a person traveling from it in any of the four cardinal directions would reach a border with the US.
Understand
Primarily known for providing inexpensive
medical and dental care
to people from the USA and
Canada
(with 350 dentists in a population of 5,500), Los Algodones has tourism as its major industry.
Get in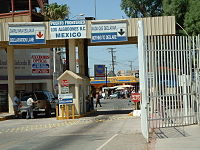 Most tourists enter Los Algodones through the Andrade, California, border crossing. If you enter by car, make sure you have proper documentation and insurance; it is usually easier and cheaper to park on the US side of the border and walk across. You can ride the bus (Blue Route 5) from Yuma, Monday through Saturday during the day.
Every visitor who plans to return to the United States must have a passport or passport card. The US port of entry is open every day, 6am-10pm (Pacific).
Get around
Los Algodones is quite walkable, with most medical, dental, and optical offices within a four-block radius.

Go next