Los Angeles/Downtown
Los Angeles
is a city of diverse cultures, and many of them are showcased in and around the city's
Downtown
. While Downtown L.A. has been considered primarily a business and manufacturing hub for the last several decades, its long-heralded revival has really gained some traction as new restaurants, retail chains, boutiques, and trendy hotels open at a rapid pace. Some highlights for the visitor in Downtown include Grand Central Market, the Museum of Contemporary Art, the Walt Disney Concert Hall, Olvera Street, Chinatown, Little Tokyo, and some unique and stunning examples of American and international architecture sprinkled throughout.
Understand



Bounded by a rough triangle formed by the Santa Monica Freeway (I-10) on the south, the Harbor Freeway (CA-110) on the west, and the Los Angeles River on the east, the Downtown area encompasses several neighborhoods that are remarkably varied in character.
The Historic Core lies east of Hill Street and west of Main Street between 3rd and 9th Streets, and was the undisputed center of the city for the first half of the 20th century. Following the white flight to the suburbs after World War II, the district became a vibrant center of Latino culture. Today, while the area is a little sketchy, a significant amount of redevelopment has occurred here and the neighborhood has many superb examples of early 20th century architecture, including a high concentration of movie palaces along Broadway. South of Pershing Square, the Historic Core overlaps with the Jewelry District, noted for its many jewelry stores. To the north of the Historic Core is the Civic Center complex, which stretches west along Grand Park between 1st Street and the Hollywood Freeway (US 101).
To the west of the Historic Core, sitting between 1st and 8th Streets, are overlapping Bunker Hill and the Financial District, an area that was leveled in the 1960s for the many skyscrapers and plazas that were built here. Because of the numerous office buildings, this area can feel rather sterile in character, but it does hold the grand public library, a pair of major contemporary art museums and the Walt Disney Concert Hall. South of this is the rapidly gentrifying southwest corner of Downtown, labeled by developers "South Park," home to the convention center, L.A. Live, and the Staples Center, as well as many new hotels and high-end residential developments.
The southeast side of Downtown is more industrial in character. Infamous Skid Row sits east of Main Street and west of Alameda Street between 3rd and 7th Streets, and is generally deemed a place to be avoided, though the Greyhound bus terminal is here. Further east, between Alameda Street and the Los Angeles River, is the Arts District, a neighborhood of old industrial buildings converted to loft and studio spaces. South of Skid Row, roughly between Main Street and Central Avenue, is the Fashion District, a nexus of the West Coast apparel industry with its numerous manufacturers and wholesale stores.
The north side of the Downtown area is home to a few colorful ethnic and historic neighborhoods. Little Tokyo, a cultural center for Japanese Americans, is centered around the intersection of 1st Street and Central Avenue. On the north side of the Hollywood Freeway, across Alameda Street from the Union Station complex, is El Pueblo, the site of the original settlement of Los Angeles and today a Mexican-themed district with some historic structures centered around touristy Olvera Street. Spreading to the north is the sprawling Chinatown district, centered along North Broadway and housing many Chinese and Southeast Asian restaurants and shops.

Get in
Downtown LA is simultaneously the hub of the freeway network, road network, commuter rail network, subway / light rail network, and bus network in the region, and thus very easily accessible. Parking lots are also plentiful, though rising steadily in price.
By car
Downtown LA can be accessed directly via the Pasadena Freeway (SR-110), the Santa Monica Freeway (I-10), and the Santa Ana Freeway (I-5 and US-101). Just outside Downtown LA, these freeways connect to the Golden State Freeway (I-5), the Hollywood Freeway (US-101), the San Bernardino Freeway (I-10), the Harbor Freeway (I-110), and the Pomona Freeway (SR-60).
Drive your car to a parking lot and go by foot from there. Downtown isn't that big and quite walkable, and there are plenty of Metro buses and DASH shuttles (see below) to shorten the walk. Some people are partial to parking at any one of the lots around the Music Center or Civic Center, in roughly the area bounded by Grand to Spring and Temple to 2nd. Pershing Square has good parking central to many attractions. On the south side of Downtown, the Convention Center has a large parking garage, although it is near the Staples Center and spaces will be in high demand on game days.
By commuter rail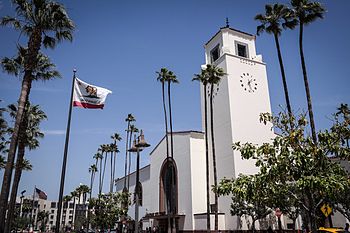 If your point of origin is within the urban and suburban areas of Los Angeles, Ventura, San Bernardino, Riverside, Orange, or San Diego Counties, you may be able to avail of the growing commuter rail network known as
Metrolink
to visit Downtown LA. Six of the seven Metrolink commuter rail lines terminate at Union Station in Downtown LA's El Pueblo district. Tickets can be purchased from vending machines at each station, and fares are determined by time (peak or non-peak hour, weekday or weekend) and distance:
The San Bernardino Line runs 34 trains on weekdays between Downtown LA and the eastern suburbs (the "Inland Empire"), running through the San Gabriel and Pomona Valleys, and San Bernardino County. There is also limited weekend service, and terminating in Downtown San Bernardino.
The Riverside Line runs 12 trains on weekdays between Downtown LA and the eastern suburbs (the "Inland Empire"), running through the San Gabriel and Pomona Valleys, and Riverside County, and terminating in Downtown Riverside.
The 91 Line runs 8 trains on weekdays between Downtown LA and the eastern and southeastern suburbs (the "Inland Empire"), running through the Orange and Riverside Counties, and terminating in Downtown Riverside.
The Orange County Line runs 20 trains on weekdays between Downtown LA and the southeastern suburbs, running through Orange and San Diego Counties, and terminating in Downtown Oceanside. There is also limited weekend service.
The Ventura County Line runs 20 trains on weekdays between Downtown LA and the northwestern suburbs, running through the San Fernando Valley and Ventura County, and terminating in Ventura's Montalvo neighborhood.
The Antelope Valley Line runs 24 trains on weekdays between Downtown LA and the northern suburbs, running through the San Fernando, Santa Clarita, and Antelope Valleys, and terminating in Downtown Lancaster. There is also limited Saturday service.
By subway / light rail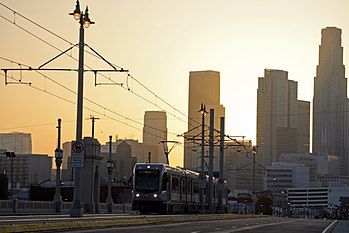 For those visitors coming from within Los Angeles County, local subway and light rail service may be the best option to get to Downtown LA. Five of the six subway and light rail lines in the
Metro Rail
system terminate in Downtown LA at either Union Station or 7th/Metro Center.
The Line and Line subway routes cut across Downtown, making four stops: Union Station, Civic Center, Pershing Square, and 7th/Metro Center. The Red Line continues northwest to Hollywood and the San Fernando Valley, while the Purple Line continues west to Mid-Wilshire.
Two light rail lines bring riders to Downtown from the south: the Line from South Central and Long Beach, and the Line from Santa Monica, Culver City, South Central, Exposition Park, and the University of Southern California. In Downtown, both lines stop at Pico Station in the South Park district and 7th/Metro Center in the Financial District, where riders can transfer to/from the Red and Purple Lines.
The Line light rail passes through the northeastern side of Downtown, bringing riders from the San Gabriel Valley, Pasadena, and East Los Angeles to three Downtown stations: Chinatown, Union Station (where riders can transfer to/from the Red and Purple Lines), and Little Tokyo/Arts District.
By bus
Most major intercity bus carriers that serve L.A. stop in Downtown: Greyhound has a bus terminal at 7th St and Decatur in Skid Row, while Megabus and BoltBus stop at Union Station. From within Los Angeles,
Metro buses
radiate out of Downtown to many of the city's neighborhoods. Metro buses going to/from downtown are numbered 1-99 (frequent local routes with multiple stops, orange colored); 300s (limited routes at peak commuting hours only, orange colored); 400s (express routes, blue colored); and 700s (Metro Rapid routes w/ limited stops and frequent service, red colored). There's also the frequent Metro Silver Line, which operates along busways to/from El Monte, East Los Angeles, South Los Angeles, Harbor Gateway, and San Pedro. Additionally, many of the other transit agencies of the broader Los Angeles area provide some sort of express service into Downtown.
By plane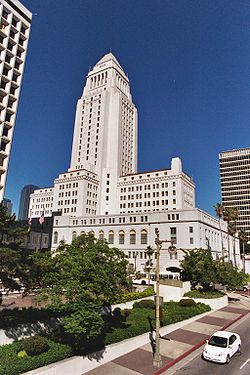 Downtown LA is not directly served by an airport, but can be accessed via public transportation from
Los Angeles International Airport
(
LAX
) in Westchester and Bob Hope Airport in Burbank.
From LAX, there are two relatively frequent public transportation options to Downtown LA: the FlyAway Bus and Metro Rail. The FlyAway Bus is the most direct and convenient option, running 24 hours a day, 7 days a week between Union Station and LAX, stopping outside each terminal (be sure to take the Union Station-bound bus, or you'll end up far from Downtown). The Metro Rail option is cheaper, but also much slower and requires several transfers: first you must board the free LAX G-shuttle to the Aviation/LAX station on the Green Line, then take a Norwalk-bound Green Line train to Willowbrook station, then transfer to a Los Angeles-bound Blue Line train. The Blue Line ends in the Financial District at 7th/Metro Center, where you can connect to the Red and Purple Lines. Metro Rail trains run from 4AM until about 1AM everyday.
Bob Hope Airport is served by two rail lines, both of which use the Burbank Airport train station within walking distance from the main terminal building. The Metrolink Ventura County Line runs on weekdays during peak commuting times. During evenings or on weekends, take the Amtrak Pacific Surfliner train (the last Amtrak train departs the airport at 9:13PM daily). For either train, use the ticket vending machines on the platform to purchase a ticket to Union Station.

Get around
Downtown is one of the few areas of L.A. that one can reasonably cover on foot.
By public transit
Metro
is the most extensive transit system in the region, operating buses, subway, and light rail across Los Angeles County. All major streets have at least one (and in some cases, several) bus lines running daily. Additionally, Downtown LA is served by four
Metro Rail
lines; see the Get in section above for details on individual lines and stations.
In addition to Metro is
DASH
, a shuttle service run by the L.A. Department of Transportation, which is handy for when your feet get tired or to better expand your travel area. It has several convenient routes that whisk you to almost all of the worthwhile spots Downtown. Most DASH buses run every 5-10 minutes weekdays 6AM-6:30PM, with spotty weekend service and no service after 7PM. A ride costs 50 cents (25 cents for seniors) and pamphlets are available from most Metro stations (Union Station, 7th/Olive) and convenience stores Downtown.
By bicycle
Metro operates a
bike share
system, with numerous stations scattered across the Downtown area. Single trips are $3.50 for 30 minutes of use (credit or debit card required), or you can load a monthly pass onto a TAP card for $20 which gives you free rides shorter than 30 minutes and $1.75 for every thirty minutes after that.
See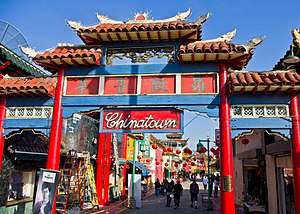 ChinatownCentered along North Broadway north of Cesar Chavez Avenue, Los Angeles' Chinatown is unlike those of many other cities in that it has a much more modern appearance, with a mixture of traditional Chinese and modern architecture along wide, busy streets. North Broadway is lined with shops, restaurants, and institutions serving the local Chinese-American population, as well as several urban malls and plazas leading off the street which hold many small shops, restaurants, and stalls.
Chinatown GateAn impressive arch which spans over North Broadway near the intersection of Cesar Chavez Avenue, with two striking golden dragons regarding an orb-like lantern.

Chinatown Central PlazaA pedestrian mall off Broadway north of College Street that's the historic center of the neighborhood, with lots of touristy shops housed in traditional pagoda architecture with Chinese lanterns strung over the alleyways. A couple of highlights for visitors are an elaborate wishing fountain and a statue of Bruce Lee in combat stance.

Saigon PlazaAn open-air bazaar off Broadway between College and Alpine Streets with stalls selling bargain goods (be sure to haggle!).
Los Angeles State Historic Park

phone: +1-323-441-8819

address: 1245 N Spring St

Also known locally as the Cornfield, this expansive public park on the north side of Chinatown opened after an extensive overhaul. The site has a long history, having been used as agricultural land near the original El Pueblo before becoming the first railyard in Los Angeles. A visitor center offers exhibits on the park's history. Outside are fields, a public orange grove, a naturalistic arroyo, and a pedestrian platform which offers an excellent view of the downtown skyline and passing Metro trains.
Little TokyoLos Angeles' Japanese district features numerous attractions, restaurants, and shops geared towards the local Japanese-American population or those who take an interest in Japanese culture. The district is centered along 1st and 2nd Streets between Los Angeles and Alameda Streets.
Japanese American National Museum

phone: +1-213-625-0414

address: 100 N Central Ave

A museum devoted to the Japanese-American experience, with a particular emphasis on the Japanese internment camps of World War II, including numerous artifacts and historic photographs. Besides the permanent collection, the museum also holds changing exhibits on Japanese-American art and history.

Japanese Village PlazaA bustling urban mall with traditional Japanese architecture and lanterns.

Weller CourtA pedestrian shopping mall with a view of City Hall up the street and a monument to astronaut Ellison S. Onizuka, who perished in the Space Shuttle Challenger disaster.
El Pueblo de Los Angeles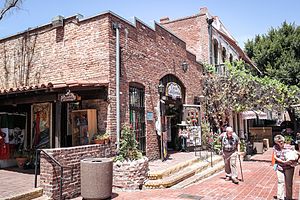 El Pueblo de Los Angeles Historical Monument
phone: +1-213-485-6855
This small district is where Los Angeles was founded as
El Pueblo de Los Angeles
. Today, this touristy district holds a collection of museums and historic buildings sandwiched in a few square blocks centered around the and along , which is lined with Mexican-themed trinket stands and restaurants. Free guided tours led by volunteer docents are led by
Las Angelitas del Pueblo
.
Avila Adobe and Visitor Center

phone: +1-213-628-1274

address: 10 Olvera St

The oldest house in Los Angeles, built in 1818 and today open as a museum furnished as it might have appeared in the 1840s. The house also holds the El Pueblo Visitor Center, with information on the district and a gift shop selling books, maps, and souvenirs based on El Pueblo.

América Tropical Interpretive Center

address: 125 Paseo de La Plaza

Visitors can take a look at the restored and controversial mural América Tropical by famed Mexican artist David Siqueiros, complete with its own museum.

phone: +1-213-485-8567

address: 425 N Los Angeles St

Housed in the last surviving building from Los Angeles' original Chinatown, which was almost entirely demolished to make way for Union Station, this museum has exhibits on the Chinese American experience in the region, with artifacts and a recreation of a Chinese herb shop.

phone: +1-213-542-6200

address: 501 N Main St

A small campus of historic buildings and gardens with interactive exhibits and films on the Mexican American history of the area.

phone: +1-213-613-1096

address: 115 Paseo de la Plaza

Housed in the 1925-era La Plaza Methodist Church and operated by the United Methodist Church, this small museum has changing exhibits drawing from the church's extensive historical photo archive.

Plaza Firehouse Museum

phone: +1-213-625-3741

address: 134 Paseo de la Plaza

This was the original fire station for the City of Los Angeles. Built in 1884, it has been restored to its original condition. The knowledgeable docents offer a peek into Los Angeles in the 19th Century.

Sepulveda House

address: 12 Olvera St

A Victorian-style house dating back to 1887, today open as a period museum.
Arts
Architecture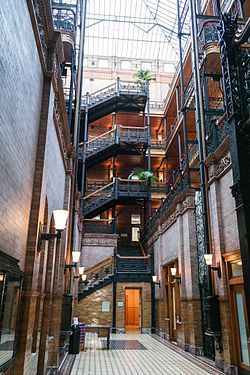 Bradbury Building

address: 304 S Broadway

Built in 1893, the Bradbury Building is one of Southern California's most remarkable architectural achievements. Behind its modest exterior lies a light-filled Victorian court that rises 50 feet with open cage elevators, marble stairs and ornate iron railings. The building has been a set for many movies, perhaps most notably the conclusion of Blade Runner. Visitors without business in the building are allowed into the lobby and up to the first landing of the staircase.

Cathedral of Our Lady of the Angels

phone: +1-213-680-5200

address: 555 W Temple St

This large and austere cathedral, dedicated to Saint Vibiana, is the head of the Archdiocese of Los Angeles. It was opened in 2002 at a cost of nearly $200 million, replacing The Cathedral of St Vibiana which was heavily damaged in the 1994 earthquake.

Los Angeles Central Public Library

phone: +1-213-228-7000

address: 630 W 5th St

The huge central library, completed in 1926 and refurbished in the 1990s, is a remarkable Art Deco structure surrounded by a pleasant garden with pools and fountains. Inside is a monumental rotunda with elaborate murals and decorations, while most of the stacks are housed in the newer Tom Bradley Wing on the east side of the building, with its glass-roofed atrium. The library almost always has a public exhibition going, usually showing off local art or historical artifacts.

Los Angeles City Hall

address: 200 N Spring St

Completed in 1928, this towering Art Deco building is the center of the city's government, housing the mayor's office and the city council meeting chambers, and was the city's tallest building for nearly forty years after it was built. An observation desk on the 27th floor offers a marvelous view of Downtown; you'll have to check in at the security desk at the entrance, and they'll give you directions to the observation desk. On the way up admire the spacious rotunda on the 3rd floor and the "Hall of Mayors" on the 26th floor.

address: 202 West 1st Street

Art Deco classic. Tours available a few times each month, check the website for details.

phone: +1-213-972-7211

address: 135 N Grand Ave

Impressive music hall architecture, with public tours available most days. The Dorothy Chandler Pavilion is open to the public Christmas Eve day with almost round the clock performances by amateur cultural arts groups. The Walt Disney Concert Hall has daily tours; check website for schedules.

address: 7th St, between Broadway and Hill

A tranquil hideaway tucked in the heart of the Jewelry District.

2nd Street TunnelA somewhat obscure but very recognizable landmark is this tunnel, built in the 1920s beneath Bunker Hill and lined with glossy white tiles that bathe the tunnel in a soft glow. If you don't recognize it from one of the many films shot here (Blade Runner, The Terminator, Independence Day, and many, many others), chances are you've seen it in at least one of the dozens (possibly even hundreds) of car commercials that have made use of its unique lighting scheme. The Figueroa Street entrance is the more attractive (and recognizable) one; the tunnel looks considerably grittier on the other side.

The Theater DistrictThe Theater District along Broadway had fallen into serious disrepair for decades, with most of the theaters being occupied by swap meets selling discount jewelry, electronics and $2 socks. Fortunately most of the architecture and marquees remain, and are being renovated and turned into glorious destinations once again - starting with an Urban Outfitters and the Ace Hotel.

address: 800 N Alameda St

No trip to Downtown LA would be complete without a visit to the historic train station, built in 1939 with a Spanish mission exterior. The large waiting room and restaurant looks just as it did in the 1940s, which has made it a popular filming location for period films, and the interior courtyards with their bubbling fountains make for a pleasant space to wait for your bus or train.

phone: +1-213-894-9000

address: 633 W 5th St

At 73 floors and 1,017 feet, this was for a time the tallest building in the Western United States. And while it has been surpassed in height by the Wilshire Grand tower, it still dominates the Los Angeles skyline. An indoor and an open-air observation deck, the OUE Skyspace, is on the 70th floor, with a glass slide on the outside between floors 70 and 69. Note to photographers: the building's security personnel will try to discourage you from taking pictures of this building if you're on the grounds of the tower, but as long as you are standing on a public sidewalk you may legally take as many pictures of the building as you like.

address: 900 Wilshire Blvd

Completed in 2017, this skyscraper has claimed the title of tallest building in Los Angeles, owing to the tall mast atop the structure. A sail-shaped roof tops the building, which is brightly illuminated at night. A hotel occupies most of the building, with the top four floors holding restaurants and bars including a rooftop bar perched on the 73rd floor.
Do
Sports
address: 1111 S Figueroa St

Home to four of LA's pro sports franchises; Lakers (NBA), Kings (NHL), Clippers (NBA), and Sparks (WNBA), plus many concerts, shows and conventions.
address: Staples Center

Do they need an introduction? They are the most popular basketball team in the city. Prices are very high (the most expensive ticket in the NBA) but you will rarely be disappointed with the beautiful Staples Center.

address: Staples Center

The Los Angeles Clippers are a rising NBA team. Tickets are slightly cheaper than Laker tickets but most likely will not remain so for long as the Clippers are taking over the title of best "LA NBA team." The basketball season runs from late October to June.

address: Staples Center

LA's hockey team - One of the NHL's brightest young teams with stars like Anze Kopitar and Dustin Brown. A fun hockey experience and a great, affordable way to experience the Staples Center.

LA Sparks

address: Staples Center

LA's women's basketball team - they especially need your support! A good, inexpensive family outing and a chance to be shown that women are just as capable of dazzling the crowd with their athletic prowess as men!!
Entertainment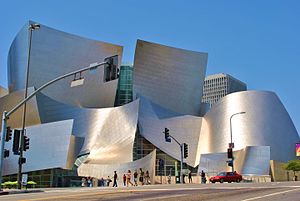 A number of music, theater, and convention venues are in Downtown Los Angeles.
Nightclubs
phone: +1-213-745-0162

address: 800 W Olympic Blvd

A nightclub at L.A. Live specializing in Latin music
Buy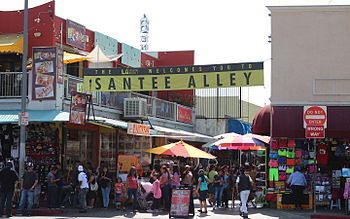 Downtown's shopping districts are sights in themselves.
Fashion DistrictThe area is largely a manufacturing and wholesale showroom center, with hundreds of retail shops carry cheaply made and priced goods catering to budget shoppers and the large Latin-American community that work in the area. It's being injected with a dose of young trendy brands like Acne, Oak, and Aesop, mostly centered around 9th & Broadway, but still a good spot to stock up on cheap basics like socks and t-shirts, or, for the DIY crowd, hit one of the numerous huge fabric stores that stock just about every type of fabric, lace, and general bric-a-brac imaginable.

Arts DistrictThe Arts District houses a plethora of unique clothing, houseware and knick-knack boutiques, amidst a rapidly evolving area.

address: 766 Wall St

The cheapest place to buy flowers in the city, it's where most of the florists get their supply. Come very early for the best selection. Two huge warehouses spread across both sides of Wall Street (the Original Los Angeles Flower Market and the Southern California Flower Market).

Jewelry DistrictWonder where all of those West Coast Rappers get their bling bling? Well, if they are frugal, they get it in the Jewelry District. Bounded by Olive-Broadway and 6th-7th, it is conveniently close to Pershing Square (parking and Red line access).

Santee AlleyA bustling outdoor flea market crammed in an alley, home of knock off designer labels and impossibly crappy jewelry. Come here for interesting atmosphere, or to buy cheap socks.

phone: +1-213-488-0599

address: 453 S Spring St – Ground Floor

California's largest used/new book and record store in downtown LA. In a downtown LA loft totaling 22,000 square feet, it has over 250,000 used and new books and 10,000 records for sale on 2 floors with a yarn gallery, arts and rare book annex and a small art gallery. Events like book reviews, book signings and open mic nights are held here as well.
Eat
Budget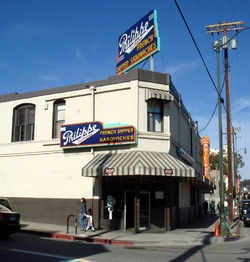 phone: +1-213-628-3781

address: 1001 N Alameda St

An LA landmark a couple of blocks north of Olvera Street and Union Station is a nostalgic shop with hay and sawdust covered floors. Famous for their 'French Dip' sandwiches dipped in au jus ($4.90), but the real reason to go is the atmosphere and the pastrami — the joint opened in 1908 and the menu still features things like pickled eggs and pig's feet. Coffee is ten cents a cup, but their 60-cent lemonade is even more popular. Expect to line up at any time and the place is mobbed on the nights of Lakers and Dodgers games.

phone: +1-213-265-7544

address: 155 S. Main St

Not really authentic it's sort of a variation on Baja-style Mexican -- Senor Fish downtown does just one thing well, but they do it better than anyone. Luckily, that one thing is an important thing: grilled fish tacos. Grilled, not fried. Their Shrimp Taco is amazing as well.

phone: +1-213-626-0535

address: 640 N Spring St

Among the best barbecue in town. 27 microbrews.

Scoops Ice Cream

phone: +1-323-739-8675

address: 727 N Broadway Ste 125 (in Far East plaza)

Very good ice cream shop with excellent ice cream in the Far East Plaza in Chinatown
Mid-range
address: 644 S Figueroa St

Comfort food at its best. A restored actual fire station that churns out great meatloaf, fried chicken and lemonade, all in an elegant atmosphere with great service.

phone: +1-213-972-7322

address: 135 N Grand Ave

Great French menu at a perfect location to catch any of the great evening programs at the surrounding venues. Whatever you order, do not miss their French Fries!

LA Chapter

address: 929 S Broadway

Run by the Five Leaves team from NY, excellent burgers and other changing menu items.

phone: +1-213-802-1770

address: 448 S Hill St

Great rooftop setting on the 15th floor of a building, a nice place for a sunset meal, snack, drink, and to lounge with good company. French bistro style. 21+ after 9PM.

phone: +1-213-629-1765

address: 107 W 9th St

Features Brazilian-inspired dishes that are different from what most American restaurants serve as "Brazilian". Rice, beans and plantains are in use, but entrees such as a Brazilian-inspired pot pie and cinnamon water will be new to most diners. Jacqueline, the very gracious chef, will usually make the rounds once the kitchen closes and can tell some very interesting stories about her life after coming to the States.

phone: +1-213-625-0811

address: 819 N Broadway

Be sure to order the slippery shrimp and the dry sauteed vegetables (green beans and asparagus).

phone: +1-213-629-3020

address: 610 W 6th St

Yorkshire Grill has been operating since 1954, with many a lucrative business deal having been negotiated over the famous Yorkshire pastrami sandwich. Open early, the Yorkshire breakfast dishes are some of the best in the area and their old school diner coffee will get you off to a strong start to your day! Lunch is always packed at Yorkshire so be sure to get there early, however Yorkshire also offers delivery to your home or place of business.

phone: +1-213-627-1673

address: 648 S Broadway

Newly re-opened in October 2015 after a $10 million renovation, this legendary establishment contains a variety of bars and restaurants distributed over five floors. The decor includes a 40-ft artificial redwood tree, a waterfall, taxidermy dioramas of California wildlife, and a 250-lb meteorite among other things.

address: 301 Ord St

Chinese with an emphasis on Hong Kong dishes. No liquor license, but you can bring your own.
Splurge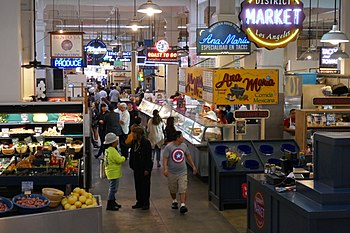 Drink
Cafés
address: 582 Mateo St

Popular and excellent spot for coffee in the arts district.

phone: +1-213-337-0936

address: 548 S Spring St

Small coffee shop with sidewalk tables and delicious coffee.

phone: +1-213-337-0936

address: 806 S Santa Fe Ave

Straight out of Portland, one of the newest coffee roasters to LA.
Alcohol
Sleep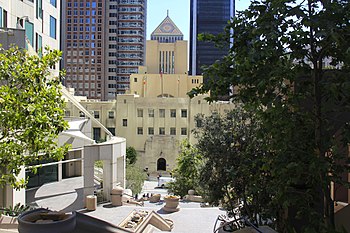 Downtown has a plethora of hotels catering primarily to business travelers. While most others have tended to stay further west, the last couple of years have seen the addition of some hipper hotels catering to younger crowds.
Budget
Mid-range
The large number of business hotels can be used to your advantage if the timing is right; try for deep discounts on weekend stays.
Splurge
Stay safe

The area bounded by 3rd Street, 7th Street, Alameda Street and Main Street is often referred to as "Skid Row" or "the Nickel" and has one of the largest homeless populations in the United States. The Greyhound Station is here, but the area is unsafe for pedestrians regardless of the time of day.

Connect
phone: +1-213-221-2836

address: 816 S Broadway

A coworking space if you need easy access to a desk and internet access, short term or long term.
Go next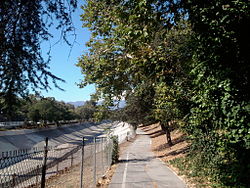 South Central LA – Despite its rough reputation, this neighborhood south of downtown is worth a visit for its museums, the University of Southern California, and the space shuttle Endeavour.
Wilshire District – Northwest of downtown, the Wilshire district is home to Koreatown, as well as attractions that include the LA County Museum of Art (LACMA), the Peterson Auto Museum, and the world-famous La Brae Tar Pits.
Northwest LA – Northwest of downtown, this area is home to Dodger Stadium and the massive Griffith Park and its world-famous observatory.
East LA – The Eastside of LA is home to several neighborhoods that date back as far as the late 19th century and includes Heritage Square, a historic collection of old buildings moved from other parts of LA. The Eastside is east of downtown.
Gateway Cities – The Gateway City of Huntington Park borders downtown to the south.

Arroyo Seco Historic ParkwayDrive the Parkway, a National Scenic Byway that runs for 9.4 miles (15.1 km) between Downtown Los Angeles and Pasadena. The Parkway passes from the skyscrapers of Downtown, through Chinatown into the Arts-and-Crafts style neighborhoods of South Pasadena and ends in Pasadena at Colorado Blvd, home to the famous Rose Parade. There is also a bike path that runs along the LA River, roughly the same route.