Los Angeles/Eastside
The
Eastside
of
Los Angeles
includes the unincorporated communities of East LA and City Terrace, and the Boyle Heights, Lincoln Heights, and El Sereno neighborhoods of Los Angeles proper, just east of Downtown. We also cover Northeast LA here, including Atwater Village, Eagle Rock, El Sereno, Garvanza, Glassell Park, Hermon, Highland Park, Lincoln Heights, Montecito Heights and Mount Washington.
Understand
The Eastside of the City of Los Angeles was originally settled in the late 19th and early 20th centuries. It contains relics of a number of architectural styles, chiefly Craftsman, Mediterranean and Spanish Colonial Revival. For much of its history, it contained many of Los Angeles'
ethnoburbs
. Lincoln Heights once had a substantial Italian-American population, and Boyle Heights had substantial Jewish, Eastern European, and Japanese populations. The Eastside has always had a substantial Hispanic population, and today Mexican-American is the predominant ethnicity on the Eastside. Many prominent Latino demonstrations have taken place on the Eastside. The Eastside is also the epicenter of the various Latino gangs in Los Angeles, particularly in Boyle Heights and Glassell Park (The Avenues).
Topographically, much of the Eastside consists of rolling hills. Many of the streets on the Eastside are at incline, and there are several instances of stairways.
Get in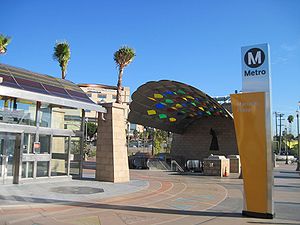 Six freeways serve the Eastside of Los Angeles.
Interstate 5
parallels the Los Angeles River in Atwater Village, Glassell Park, Cypress Park and, Lincoln Heights, before veering east in Boyle Heights. U.S. Route 101 and California State Route 60 also have a few exits in Boyle Heights before ending at the East Los Angeles Interchange. Interstate 10 runs for a few miles between Boyle Heights and Lincoln Heights. California State Route 110 (the Arroyo Seco Parkway) parallels the Arroyo Seco through Northeast LA. California State Route 2 runs north-south through Glassell Park and along the edge of Eagle Rock.
The Eastside and Northeast Los Angeles are served by the
Metro Line
, which also serves Union Station in Downtown Los Angeles. The Gold Line has three stops in East Los Angeles (on 3rd Street at Atlantic Blvd, Mednik Avenue and Ford Boulevard), four stops in Boyle Heights (along 1st Street at Indiana Street, Soto Street, Boyle Avenue, and Utah Street), one stop serving Lincoln Heights and Cypress Park at Avenue 26, two stops in Mount Washington (at French Avenue and Museum Drive), and one stop in Highland Park at Avenue 57.
A number of bus lines connect the Eastside to Downtown. These include Metro Bus Lines 18, 30, 62, 66, 70, 71, 76, 78, 79, 81, 83, 84, 94, 378, 794, and Montebello Bus Lines 40 and 50 (see below for timetables). The
Metro Silver Line
bus has one stop near the USC+LAC Medical Center, and another at Cal State University Los Angeles. The CSULA Silver Line station is also a Metrolink station.
Get around
Here are some of the major streets in the region:
See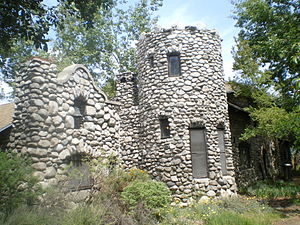 Do
phone: +1-323-221-2255

address: 4700 N Griffin Ave

An urban nature center showcasing the native habitat that used to fill the Los Angeles Basin.

address: 1906 Cypress Ave

Music venue and beer bar specializing in Punk Rock, Hard Rock, Jazz, and experimental music; featuring local bands and touring acts from Latin America, Asia, Australia, Europe, Canada, and the US. Beer only. 21 and over
Eat
Drink
phone: +1-323-257-7866

address: 3056 Roswell St

One of the only breweries based in the city of Los Angeles.

phone: +1-323-330-8715

address: 737 Lamar St

The oldest winery in the City of Los Angeles, founded 1917, and the only winery operating in Los Angeles from the 1930s to the 2000s.

phone: +1-323-355-7115

address: 5702 York Blvd

Stocks more than 700 different kinds of soda, and 600 types of craft beer and hard-to-find wine and spirits. The sodas come from all over the world, especially from old-fashioned, small-batch, family-owned businesses. If you've ever wondered what a cucumber soda would taste like, whether your childhood favorite still exists, or what to get for a homesick visitor, then stop by and look around. While you're in the neighborhood, the Los Angeles Police Museum is just a short stroll east along York Boulevard.
Sleep
Lodging options are few and far between in this area, with nearly all accomodations being budget motels, many of which have lousy reputations. A much wider variety of lodging can be found in nearby
Pasadena
,
Glendale
, and
Downtown LA
.
phone: +1-323-257-8168

address: 2378 Colorado Blvd

Standard chain motel; free Wi-Fi, TV, non-smoking rooms.
Go next
Downtown LA - southeast of the Eastside, downtown Los Angeles has been revitalized, and is now home to the impressive architecture of Disney Concert Hall, sporting and concert events at Staples Center, and a variety of dining and lodging options.
Northwest LA - northwest of the Eastside, this area is home to Dodger Stadium and the massive Griffith Park and its world-famous observatory.
Glendale - The third largest city in Los Angeles County is notable for the influence of Armenians on its food and culture, and also for the massive Forest Lawn Cemetery where a multitude of Hollywood stars are interred, including Walt Disney and Jimmy Stewart. The city is located to the north of the Eastside.
Pasadena - The Eastside's northeastern neighbor, known as the "City of Roses", is famous for its New Year's Day parade and college football Bowl Game. Just beyond, the adjacent community of La Cañada Flintridge is the home of NASA's Jet Propulsion Laboratory, where tours of interplanetary missions being prepped are available by reservation only.
South Pasadena - east of the Eastside, South Pasadena is a small residential town with a number of places of historic interest, including a portion of Route 66 that passes through the town.
Alhambra - This city's Lunar New Year Parade and Festival draws huge crowds and is well worth a visit if you are around for it. Alhambra is located to the east of the Eastside.
Monterey Park - southeast of the Eastside, Monterey Park was known as "Little Taipei" in the 1980s and is a great place to experience authentic Chinese businesses and restaurants.
Gateway Cities - The Gateway Cities of Huntington Park, Commerce and Montabello border the Eastside to the south.