Los Angeles/Northwest
Northwest Los Angeles
is a region of the city that roughly comprises the neighborhoods of
East Hollywood
,
Los Feliz
,
Silver Lake
,
Echo Park
,
Elysian Park
and
Westlake/MacArthur Park
, as well as the spacious
Griffith Park
.
Understand
For the last several decades these areas have been occupied mostly by low-income Hispanic families. Many areas had fallen into disrepair, but over the last few years skyrocketing rents and the increasing cost of living has pushed a younger population further and further east and towards
Downtown
. Area neighborhoods are changing rapidly, and rents are increasing to reflect this. Hip new restaurants and shopping boutiques open regularly as the property owners renovate and raise rents, pushing the immigrant communities further east and south.
Get in
The area is roughly bounded by an inverted triangle created by the 101 freeway to the west, the 5 freeway to the east, and Griffith Park to the north, and both freeways have multiple exits into the area. The 2 freeway begins/ends in Northwest Los Angeles. Major streets that serve the area include Vermont Avenue and Sunset Boulevard.
The
Metro
Line subway passes through East Hollywood, with stops at Hollywood & Western, Vermont & Sunset, and Vermont & Santa Monica. Continuing north on the line will take you through
Hollywood
and
Universal City
to the
North Hollywood
Arts District, while continuing south will take you into
Koreatown
and eventually Downtown LA, terminating at Union Station. Both the and Lines stop in Westlake at Westlake/McArthur Park station, along Wilshire Blvd between Downtown and Koreatown.
Lots of frequent Metro bus lines serve the area as well, in particular the 2, 4, and Rapid 704 along Sunset Blvd out of Downtown LA, with the 2 continuing along Sunset through Hollywood while the 4/704 split off along Santa Monica Blvd. Less frequent but also useful routes include the 180/181/Rapid 780 along Los Feliz Blvd between Hollywood and Glendale, and the 96 along Crystal Springs Drive through Griffith Park. LADOT's
DASH
service operates a set of local shuttle routes, including a daily route to Griffith Observatory and the Greek Theater from the Vermont & Sunset Red Line station.
Get around
Major streets in this region include:
3rd Street: Runs east-west between Beverly Hills and Downtown. Served frequently by Metro Lines 16 and 316
Alvarado Street: Runs north-south between Pico-Union and Elysian Heights. Served frequently by Metro Line 200
Beverly Boulevard: Runs east-west between West Hollywood and Downtown. Served frequently by Metro Line 14
Echo Park Avenue: Runs north-south in Echo Park. Served frequently by the Pico Union/Echo Park DASH.
Los Feliz Boulevard: Runs east-west through Los Feliz and Atwater Village. Served frequently by Lines 180, 181 and Rapid 780.
Glendale Boulevard: Runs east-west in Echo Park and Silverlake. Served by Line 92.
Silverlake Boulevard: Runs through Silverlake. Served by Line 201.
Sunset Boulevard: Runs east-west between West LA and Downtown. Served frequently by Metro Lines 2, 4, 302 (limited) and 704 (rapid)
Temple Street: Runs east parallel to the 101 freeway in the Rampart District. Served by Metro Line 10
Wilshire Boulevard: Runs east-west between Santa Monica and Downtown. Served frequently by Metro Lines 20, 720, and the Metro Purple Line
See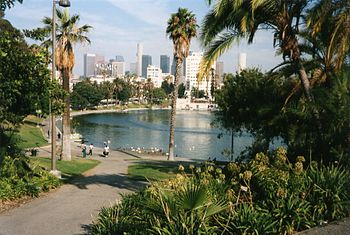 Angelino HeightsA historic neighborhood between Echo Park and Downtown which contains many Victorian residences that are nationally or locally registered as historic places.

phone: +1-323-913-4031 (Hollyhock House), +1-323-644-6269 (Municipal Art Gallery)

address: 4800 Hollywood Blvd

A small hill in East Hollywood with sweeping views of the neighborhood as well as an arts complex on top that serves the local community, with an art center that offers classes to adults and children, a community theater, the Los Angeles Municipal Art Gallery, which holds changing exhibits of art from local artists, and the Frank Lloyd Wright-designed Hollyhock House, which is open for tours. It's one of eight buildings by Wright to be listed as a world heritage site.

Echo ParkA nice lakeside park, recently reopened after a major renovation, with views of the Downtown skyline. There's a major fountain at the center of the lake and paddle boats are available for a ride on the lake. The park is very popular and good for picnics, though often crowded. It has also been featured in various media: film buffs may recognize the lake from a scene in Chinatown, while OK Go fans might recognize the park as the setting for their time-lapse music video for the song End Love. The surrounding area is a hub for underground/indie culture and houses a number of venues.

address: 2607 Glendower Ave

Perched in the foothills of Los Feliz beneath Griffith Park on a winding residential street is this massive Frank Lloyd Wright-designed house, constructed using textile blocks reminiscent of an ancient Mayan temple. The building is notable for its use as a filming location, appearing in numerous films and television shows including the 1959 House on Haunted Hill, the mansion in Buffy the Vampire Slayer, and most notably in Blade Runner, as well as numerous commercials, fashion shoots, and music videos. Unfortunately, the house is only open for tours a handful of days each year, but both sides of its impressive exterior can easily be viewed from the street.

MacArthur ParkThis park has been famous for a long time, starting with Charlie Chaplin, who made several films at the lake here. In the 90s its reputation was tainted by violence and drug use, but the park has been cleaned up over the last few years, and is once again a decent place to visit. Take a paddle boat out on the small lake or watch one of the ever-present soccer matches.

Music Box Steps

address: 923-925 Vendome Street

A public staircase that was the setting of the 1932 Laurel and Hardy short film The Music Box, a slapstick flick where Laurel and Hardy try to move a piano up the steep steps to wacky results. Today it's a scenic walk through a pleasant neighborhood.
Griffith Park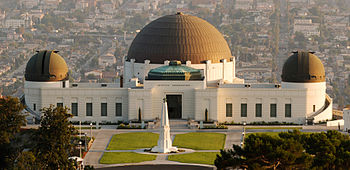 A large municipal park at the eastern end of the Santa Monica Mountains above Los Feliz,
Griffith Park
covers 4,210 acres of land, making it one of the largest urban parks in North America. It has been referred to as the "Central Park of Los Angeles," but is much larger and with a much more untamed, rugged character. Griffith is a great place for hikes, picnics or hanging around with friends, with great views of the city. One of the main hiking trails is located on Bronson Avenue; the street ends at the trailhead.
Despite the vastness of the park, Griffith Park's primary attractions lie along its edges. The iconic Griffith Observatory and the Greek Theatre (see below under Do) sit on the southern edge of the park, perched above the Los Feliz neighborhood. Most of the other attractions are located along Crystal Springs Drive on the eastern side of the park, many of which are geared towards kids, including the Los Angeles Zoo, the Autry Museum of the American West, a miniature railroad, a carousel, recreational facilities, and a Christmas light display in December (expect heavy traffic). A pair of railroad museums sit along Zoo Drive on the northern edge of the park. An
equestrian center
sits at the very northern edge of the park in
Burbank
.
phone: +1-213-473-0800

address: 2800 E Observatory Ave

A popular tourist attraction, this Art Deco landmark was built in the 1930s and has since appeared in many films, most notably Rebel Without a Cause, which is honored at the observatory with a statue of James Dean on the grounds. The outside offers a beautiful panorama of the city of Los Angeles, which is especially stunning at night, as well as some of the best views of the Hollywood Sign. Inside is an extensive array of space- and science-related displays, including a Foucault pendulum and a Tesla coil. The planetarium shows are entertaining, with a live narrator.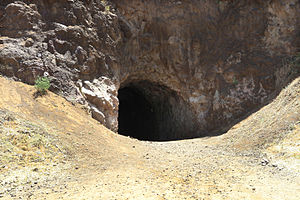 address: 3200 Canyon Dr

A popular spot for film buffs, this former rock quarry consists of a short man-made tunnel through the hillside that was quickly embraced as a filming location once the quarry ceased operations in the 1920s. Since then, many television shows and low-budget sci-fi and Western films have been shot here, given its remote, craggy appearance and easy accessibility to Hollywood. Besides its portrayal as the entrance to the Batcave in the 1960s Batman series, you may have seen it in The A-Team, the original Star Trek series, Bonanza, The Lone Ranger television series, or perhaps one of the countless B-films from the 1950s and 60s that made use of it.

Autry Museum of the American West

phone: +1-323-667-2000

address: 4700 Western Heritage Way

A combination art/history museum, with continuing and changing exhibitions of art from the American West, a major collection of Native American art, and historical artifacts of the West, including a permanent firearms gallery. A unique highlight of the museum is an exhibit on cowboys in popular culture, with many costumes and film props from popular Westerns and their Hollywood stars.

Los Angeles Zoo and Botanical Gardens

phone: +1-323-644-4200

address: 5333 Zoo Dr

A classic zoo at the northern end of Griffith Park. Popular exhibits include a chimpanzee complex, a gorilla area, a large elephant complex, a newly built rainforest exhibit, a reptile house, and a children's zoo. There's also a few animal shows, including a bird show, elephant training, and a rhino feeding; check the website for times.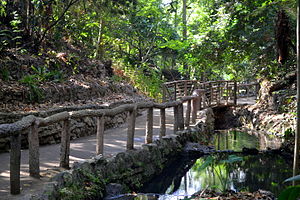 phone: +1-323-666-5046

address: 5375 Red Oak Drive

A shady oasis tucked alongside one of the main entrances into Griffith Park, this naturalistic area has numerous ferns and tropical plants alongside a small stream, with a nature trail and a picnic area that makes it a wonderful retreat on hot summer days.

Griffith Park & Southern Railroad

phone: +1-800-438-1297

address: 4400 Crystal Springs Drive

A 1/3-scale miniature railroad that offers rides along a mile-long track and that's very popular with kids.

phone: +1-323-664-3266

address: 4400 Crystal Springs Dr

An outdoor equestrian arena that's been offering pony rides for decades, making it a classic and very popular attraction for children and families. Wagon rides are offered for grown-ups and those too big to ride the ponies.

phone: +1-323-665-3051

address: 4730 Crystal Springs Dr

An antique carousel dating back to 1926 with a large band organ. A large children's playground sits nearby.

Old Los Angeles ZooBefore the current zoo was built in 1966, this spot a couple of miles to the south had served as Los Angeles' zoo since 1912, built at a time when small iron bar cages were common in zoos. Today, the rusting cages and stone grotto enclosures are still standing and are open for exploration alongside a picnic area, making this a popular spot for urban explorers.

phone: +1-323-662-4253

address: 5200 Zoo Dr

A free exhibition of historic trains from Southern California, including locomotives, cabooses, passenger cars, and streetcars, as well as model trains and an exhibit hall with old automobiles. Trains rides for children on a miniature railroad are also available.

Los Angeles Live Steamers Railroad Museum

phone: +1-323-662-8030

address: 5202 Zoo Dr

Run by a local group of railroad enthusiasts, this museum is essentially a large scale model railroad, with miniature train rides for children and a few historic train cars. Most notable among the historic exhibits is the actual workshop owned by Walt Disney that he used to make his backyard model railroad (only open on the third Sunday of each month, when volunteers from a local historical society are available).
Do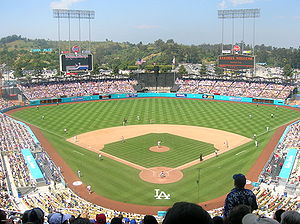 phone: +1-323-224-1507

address: 1000 Elysian Park Ave

Who wouldn't want to grab a Dodger Dog and enjoy watching a game of baseball? This venerable stadium, in the hills north of Downtown near Echo Park, opened in 1962 and is home to Major League Baseball's 6 time world champion Los Angeles Dodgers. For $35 you can get all-you-can-eat hot dogs, sodas, and nachos at the Right Field Pavilion. Behind-the-scenes tours of the ballpark are available at 10AM, 11:30AM, and 1PM on days when there isn't an afternoon Dodgers game.

El Cid Theatre

address: 4212 W Sunset Blvd

Built around turn of the century and, after several reincarnations, offers one of the only dinner theater options left in Los Angeles. The menu is heavily Spanish and the shows differ depending on the night and range from flamenco performances to tongue-in-cheek burlesque.

address: 2700 N Vermont Ave

An outdoor amphitheater, opened in 1930 and so named because the stage is modeled after a Greek temple, set in Griffith Park and regularly used for concerts. Parking can be a problem as it is on a hill in the middle of a residential neighborhood.

address: 1910 Temple St

LA has revived a sport that peaked in the 1970s, and tickets to roller derby matches can be purchased by those 21 and over. The sport is probably best summarized with a quote from the Derby Doll's own site: "Quad Skates. Short Skirts. Scars."

Los Angeles RiverWhile it's still in the process of a long restoration, the section of the Los Angeles River past Northwest L.A. is actually already open as a recreation zone, with a soft-bottomed bed that supports trees and wildlife. A bike path runs along the western bank of the river between Riverside Drive at the north end of Griffith Park and the neighborhood of Elysian Valley, better known to locals as Frogtown, an up-and-coming area that has been the subject of much interest lately with the restoration of the river. Pocket parks dot the banks and there are opportunities for kayaking along this stretch of river. On summer weekends, the Friends of the Los Angeles River operates on the bike path in Frogtown, with various vendors, live music, and plenty of river-based outdoor activities.

Silver Lake ReservoirA scenic lake encircled by a nice walking and jogging path. Just over 2 miles long, it offers a beautiful way to get outdoors.

Vista Theatre

phone: +1-323-660-6639

address: 4473 Sunset Dr

An LA landmark large cinema with one screen, typically screening popular films.
Buy
Los Feliz VillageA hip and trendy strip of N Vermont Ave, with shops such as X-Large, Weltenbuerger, and Squaresville.

Sunset JunctionHas long been known for cheap furniture and antique shops, and now is home to several trendy clothing stores and some good restaurants and cafés. It's also the center of a summertime street fair of the same name known for its indie rock shows.

phone: +1-213-413-3388

address: 1714 Sunset Blvd

Apparel, supplies, and sundries for the discriminating time traveler. You got your canned Mammoth Chunks, your robot repair parts, and the ever-popular Viking Odorant. (All proceeds from sales go towards the shop's real reason for being: the 826LA writing workshop program for school-age students.) There's another location in Mar Vista.
Eat
In East Hollywood you can find countless "pupuserias". These thick, hand-made corn tortillas come with quesillo (Salvadorean cheese), pork, chicken, rice, beans, or "queso con loroco" (cheese and vine flower bud). Just look for signs that say "pupuserias." They usually run around $1.50-2 a pupusa. A very delicious food.
East Hollywood's
Little Armenia
district has a few excellent cheap food options.
Falafel Arax
at 5101 Santa Monica Blvd has excellent Falafel and Shawerma.
Sassoun Bakery
, at 5114 Santa Monica has great Lahmejun (Armenia pizza), boregs, zahtar (thyme) and tahini breads.
Zankou Chicken
at 5065 W Sunset Blvd has popular rotiserrie chicken with great garlic sauce.
Carousel
at 5112 Hollywood Blvd has an amazing mezze (appetizer) selection, and great food.
Budget
Falafel Arax

phone: +1-323-663-9687

address: 5101 Santa Monica Blvd

Hole in the wall with what many consider the best falafel and best shawerma sandwiches in Los Angeles. An institution among Armenians.

Sassoun Bakery

address: 5114 Santa Monica Blvd

Incredibly good Lahmejun (a super thin crust Armenian meat pizza - under a dollar), plus great boreg and zahtar bread. Have a tahini bread for dessert.

phone: +1-323-660-8060

address: 5112 Hollywood Blvd

Truly fantastic Arabic and Armenian food for cheap. The mezzes (appetizers) alone can make an amazing meal.

address: 4441 W Sunset Blvd

El Chavo Restaurant serves traditional Mexican fare ranging from sweet green corn tamales to the infamous "El Chavo" Butterfly New York Steak.

phone: +1-213-738-9197

address: 2306 W 11th St

Utterly delicious and authentic Mexican fast food for those on a budget, and a favorite hangout of the locals. In a lower-income neighborhood on the corner of Olympic & Hoover; a good place to eat if passing near USC. Looks questionable from the outside, but don't let that deceive you; El Taurino is the real deal.

Fred 62

address: 1850 N Vermont Ave

This hipster diner features a diverse range of foods from Udon to mac and cheeze balls, with Thai cobb salad and chicken pot pie in between. Their Bearded Frenchy (french toast covered with corn flakes and then deep fried) are a late night/early breakfast favorite for stoners or sweet tooths alike. Most menu items end with $.62.

House of Pies

phone: +1-323-666-9961

address: 1869 N Vermont Ave

A diner in the extremely hip Los Feliz/Silverlake district where you're likely to see and be snubbed by the stars of your favorite up-and-coming indie bands. Has a huge selection of delicious pies along with a typical diner menu. Sandwiches and breakfast items are great, too. Anything else can be hit or miss.

phone: +1-213-483-8050

address: 704 S Alvarado St

Known citywide for its pastrami sandwiches and other deli delights.

phone: +1-213-487-7474

address: 2124 W 7th St

A good selection of tamales and other Mexican food. Visit their carts along the sidewalks around MacArthur Park on the weekends.

phone: +1-323-664-3333

address: 2764 Rowena Ave

A cozy pizza (and pasta) joint with a nice deck out back for warm LA nights.

phone: +1-213-389-9060

address: 2575 Beverly Blvd

A Los Angeles landmark since 1946, Tommy's is a can't-miss for any hamburger lover. Although they have 30 locations across Souther California, you cannot miss the atmosphere of the 1st Tommy's (especially late at night on weekends). Serving hamburgers, French fries, hot dogs, and tamales with their "secret blend" of chili you will always find a line for food at all hours, especially late night/early mornings.

address: 5140 W Sunset Blvd

Head here for excellent South Indian vegetarian food in a charming garden. Especially wonderful masala dosas.

Pho Café

phone: +1-213-413-0888

address: 2841 W Sunset Blvd

Great for cheap cold or hot Vietnamese noodles in a hip atmosphere. Also try the Vietnamese iced coffees. There's no sign, it's in the middle of a strip mall, a few doors to the left of Rambutan Thai retaurant.

Scoops

phone: +1-323-906-2649

address: 712 N Heliotrope Dr

There's nothing quite like a giant cone of ice cream on a hot summer's day in LA, and scoops does all your favorite flavors plus some innovative creations like black currant lychee and brown bread!

Taco Zone Truck

address: On Alvarado just north of Reservoir

One of the best taco trucks on the east side, with delicious tacos, burritos, and quesadillas. Be prepared to wait if there is a crowd, and there usually is, but the homemade salsas alone are well worth it. Opens most evenings around 8-8:30PM.

Yai

phone: +1-323-462-0292

address: 5757 Hollywood Blvd

By general learned agreement, the most authentic Thai food in the States can be found at "the Thai restaurant behind the 7-11 on Hollywood Boulevard by the 101." That's how it is known. If you are not from L.A., this can also serve as an introduction to L.A.-style directions. The Pad Thai here is light and perfumed and the curries hot enough to kill. And by authentic, that's exactly what is meant...don't expect any catering to tastes here.
Mid-range
Splurge
phone: +1-213-483-6000

address: 1310 W 6th St

Don't be surprised if you run into a city politician or other public figures in this LA landmark that is located partly inside a railway train car, and has been open since 1921. Ask for the breakfast menu any time, day or night, for a more affordable and quite delicious menu.
Drink
Cafés
phone: +1-323-663-6173

address: 3922 W Sunset Blvd

Popular Silverlake cafe, which makes some of the best coffee in LA. It's prime location and free wifi keep the limited seating pretty full.

phone: +1-323-660-9930

address: 1750 Hillhurst Ave

Neighborhood cafe attached to the popular Home Restaurant. Nice sitting areas indoors and outdoors, good coffee, free wifi.
Bars
phone: +1-323-666-4460

address: 4100 W Sunset Blvd

Once a leather daddy bar, this has turned into one of the newer hip bars in the area.

phone: +1-323-665-6810

address: 4356 W Sunset Blvd

It's long been popular with a mixed crowd for its decent drinks and good jukebox. The addition of a hot and sweaty dance club in the back room has recently brought in the hip gay crowd.

address: 4441 W Sunset Blvd

This hip lounge is filled with sexy lighting and the perfect cocktails. There's a juke box full of music from Sergio Menendez to Santigold to the Silversun Pickups. Resident Dee Jays Kave-In & J-Mo spin everything from Soul, R&B and Jazz to Garage & French Pop... every Sunday Night. Join in on the party every Monday night where Dee Jay Karrie K spins all 60s Psychedelic Vinyl. Drink specials and appetizers served every day

phone: +1-323-668-0318

address: 4212 W Sunset Blvd

Very mediocre Mexican food and tapas, but more popular for the rock/punk shows that it hosts at night.

phone: +1-213-482-5259

address: 1558 W Sunset Blvd

Divey bar with a mix of Echo Park hipsters and Latino immigrants. The interior looks like the inside of a limo from the 80s. On certain nights they offer $5 beer+tequila shot specials.

phone: +1-323-662-5337

address: 2366 Glendale Blvd

Kitchy Bavarian-style pub that serves sausages and steins of German beer. Downstairs is darker and more mellow; upstairs is more raucous with a great outdoor patio.

The Short Stop

phone: +1-213-482-4942

address: 1455 W Sunset Blvd

Once popular with off-duty cops, the Echo Park trendophiles have taken it over in the last few years. One of the best jukeboxes in the city with a variety from rock, current/classic hip-hop, 80s, Hi-NrG, country, etc. The bar is owned by Greg Dulli, former lead singer of the Afghan Whigs and now The Twilight Singers.

phone: +1-323-669-9381

address: 4427 W Sunset Blvd

"Tiki-tastic" this tiny tiki bar is full of all the fun and booze a tiki bar should have.

phone: +1-323-662-5757

address: 1831 Hillhurst Ave

Friendly Los Feliz dive bar with strong drinks and a good mix of people. They also have a pretty solid food menu with tasty wings. Can get loud and crowded on weekends.
Sleep
There's a surprising lack of decent hotel accommodation in the area, but
downtown
has a handful and is a short drive away.
Go next