Los Angeles/South Central
South Central
is a large region of
Los Angeles
made up of the neighborhoods south of
Downtown L.A.
This is a relatively impoverished area of the city, infamous for gang violence and for being the epicenter of major race riots in the 1960s and 1990s. However, despite its negative reputation, it would be a mistake to overlook South Central; the crime rate has improved considerably and the area offers some wonderful cultural attractions for visitors. This is where you will find the campus of the University of Southern California, the museums and stadiums of Exposition Park, the famous Watts Towers, and significant centers of African-American culture.
Understand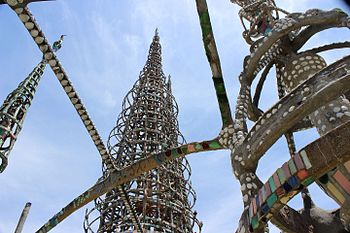 Climate
Get in
South Central L.A. is characterized by a grid system of streets spread across a vast area. The major streets are wide enough to prevent too much traffic congestion, although they can make walking a challenge.
Metro
operates public transit in L.A., and the bus system in South Central is well-developed, with frequent service on most major streets. Three rail lines also serve South Central: The Line, which runs north-south parallel to the 110 Freeway, operates between
Downtown
and
Long Beach
and offers easy metro access to the Watts Towers. The Line also connects the area to Downtown, serving Exposition Park and the USC campus before heading west along Exposition Blvd to
Culver City
and
Santa Monica
. The Line cuts east-west through the southernmost part of the area, running down the median of the 105 Freeway and connecting with the Blue Line at Willowbrook/Rosa Parks station. Additionally, the Line express bus line operates on a busway along the 110 Freeway, running through the area between Downtown and
San Pedro
; note that the Silver Line requires an extra fare in addition to the standard Metro fare.
See
phone: +1-213-847-4646

address: 1765 E 107th St

A notable example of non-traditional vernacular architecture and naïve art, the Watts Towers are a series of 17 interconnected structures, two of which reach heights of over 99 feet (30 m). All of the structures were built using salvaged materials and embedded with found objects, such as glass, ceramic tiles, and seashells, often arranged in elaborate displays. Next to the towers is a small museum and a cultural center. Guided tours are available for a fee and at limited hours, but you can always view the towers from the outside for free.

Leimert ParkA famous center for Los Angeles' African-American culture, this neighborhood (just south of Crenshaw/Martin Luther King- accessible by bus) is a must-see if in the area, with shops, restaurants, art galleries, and performance venues catering to the city's African-American population. A quick sidetrip into nearby Baldwin Hills offers beautiful views of Downtown Los Angeles and a nice peek at lifestyles in the "Black Beverly Hills".

phone: +1 213 740-4561

address: 823 Exposition Blvd
Exposition Park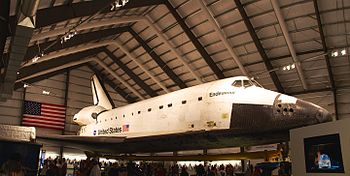 Just south of the University of Southern California campus, in a square formed by Exposition Boulevard, Martin Luther King Jr Boulevard, Vermont Avenue, and Figueroa Street, is this complex of stadiums, museums, and gardens (including a massive rose garden) that make up one of the primary attractions in the area.
Natural History Museum of Los Angeles County

phone: +1-213-763-3466

address: 900 Exposition Blvd

A crown jewel of Los Angeles' museums and a national leader in exhibitions, education and research, this museum dates back to 1913 and was L.A.'s first cultural institution to open its doors to the public. It's the largest natural and historical museum in the Western United States, safeguarding more than 35 million spectacular, diverse specimens and artifacts. Exhibits on display include lots of dinosaur and ancient mammal skeletons, taxidermy figures, a gallery on the history of Los Angeles, a gem and mineral hall, interactive exhibits for children, and an outdoor nature garden.

phone: +1-323-724-3623

address: 700 Exposition Park Dr

A huge science museum with lots of interactive science exhibits and a rather impressive air and spacecraft collection. The museum's large exhibit galleries cover technology and biology, with highlights including a high wire bicycle, a surgery simulator, an aquarium with a kelp forest and a touch tank, and fighter jets and other aircraft on display. The highlight of the museum's spacecraft collection is the Space Shuttle Endeavour, one of only three remaining craft from the retired American space shuttle fleet (free timed reservations are required). The museum also holds an IMAX theater and travelling exhibitions. Best times to visit are weekdays after 1:30PM or weekends, since weekdays before 1:30PM are often busy with school groups.

California African American Museum

phone: +1-213-744-7432

address: 600 State Dr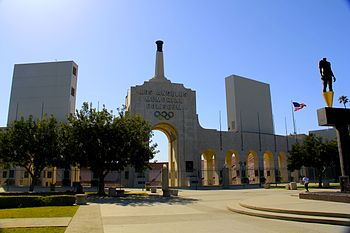 phone: +1-213-747-7111

address: 3911 S Figueroa St

A historic stadium that opened in 1923 and is the home of the USC Trojans football team as well as the NFL's Los Angeles Rams until the Rams' new stadium in Inglewood is finished. Over the Coliseum's history, it has hosted the opening ceremonies of the 1932 and 1984 Olympics, the Los Angeles Dodgers for their first few years in L.A., the UCLA Bruins football team before their move to the Rose Bowl, and many of L.A.'s previous football franchises, including the first iteration of the Los Angeles Rams before their move to St. Louis, as well as several other pro football teams and a number of soccer teams. It will also host the opening and closing ceremonies of the 2028 Olympics alongside the Inglewood stadium. The east side of the stadium holds the Olympic cauldron (which is still lit for special occasions) overlooking a "Court of Honor" outside the stadium with plaques commemorating memorial events in the history of the Coliseum.

phone: +1-323-648-6060

address: 3939 S Figueroa St

A stadium that opened in April 2018 as the home of new Major League Soccer side Los Angeles FC. It will also be one of several soccer venues for the 2028 Olympics.
Do
Kenneth Hahn State Recreation Area

phone: +1-323-298-3660

address: 4100 S La Cienega Blvd

A state park atop the Baldwin Hills, with marvelous views overlooking much of the Los Angeles Basin and some challenging hiking trails. Other amenities include sports fields, a fishing lake, picnic areas, a Japanese garden, and a visitor center. A shuttle connects the park with the La Cienga/Jefferson Metro Expo Line station on weekends and holidays.

phone: +1-213-748-5116

address: 665 W Jefferson Blvd

A huge venue that once served as host to a number of awards shows. Located on Jefferson Blvd and Figueroa Street across the street from the University of Southern California, famous for its red bricks and nightlife. Closed to visitors.
University of Southern California hosts many musical and theatrical performances throughout the year that are free or cheap. USC football games are one option. Tickets can be purchased on campus at the Ticket Office next to Tommy Trojan, but can sometimes be hard to come by.
Go to a Baptist (or AME) African-American Church for a peek into local spiritual culture.
Go to a Leimert Park coffee shop at night for some spoken word or freestyle rap.
Buy
phone: +1-310-559-0800

address: 2766 S La Cienega Blvd

Photography gallery with rotating exhibits.

address: 3215 S Hoover St
Eat
phone: +1-213-741-9795

address: 3009 S Figueroa St

On Figueroa two blocks north of USC, this restaurant serves its famous "mulitas de res," a must-try Mexican dish.
Drink
Lots of cheap bars abound. For a peek into Greek university student life head to the 2-9 a few blocks west of Figueroa (just north of USC) or the 9-0 right on Figueroa (USC students' favorite dive).
La Barca

phone: +1-323-735-6567

address: 2414 S Vermont Ave

Another favorite hangout of USC students, locals, and law enforcement officers alike. Although it is actually a restaurant, La Barca is famous for its "two dollar Tuesdays", when you can get strong and delicious margaritas and piña coladas for under three dollars. Expect a long line for seating on Tuesdays.
Sleep
phone: +1-213-746-1531

address: 3101 S Figueroa St

address: 3540 S Figueroa St
Stay safe

South Central has long had a reputation for violence. It was the scene of the 1992 L.A. riots and is known for producing the Bloods, Crips, and other notorious gangs. Although its reputation has preceded itself over the past couple of decades, it's no longer quite as dangerous or violent as some might suggest — though it's still not really a destination for the average tourist. While muggings still occur, most happen at night on smaller streets. Stay in groups of at least three if you must be on foot.

Go next
The cities and neighborhoods that border South Central include the following: