Los Angeles/West
West Los Angeles
is an area of the city of
Los Angeles
within the larger area of the
West Side
of Los Angeles County. The area includes the neighborhoods of
Bel-Air
,
Brentwood
,
Century City
,
Cheviot Hills
,
Mar Vista
,
Palms
,
Sawtelle
, West LA, and
Westwood
(the neighborhood around the University of California, Los Angeles).
Understand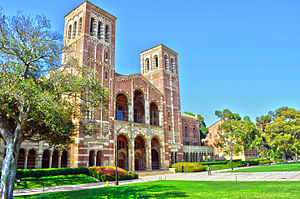 West Los Angeles is made up of a set of very distinct neighborhoods, ranging from wealthy suburbs to prominent business centers to communities where you'll find a mix of ethnicities that would make the United Nations proud.
Perhaps the most prominent West L.A. community is
Westwood
, an area somewhere between a neighborhood and a city that surrounds the main campus of the University of California, Los Angeles (UCLA). Most of the area's businesses cater to the college population, with a number of used and new bookstores, art movie theaters, inexpensive restaurants and coffee houses. While the main village of Westwood had its heyday from the 1960s throughout most of the 1980s, it is picking up in popularity again as a trendy hangout for local teens and students of UCLA. Despite an increasing number of homeless people, Westwood is still known as one of the safest neighborhoods in the city, albeit with some of the worst traffic. South of Westwood are the densely populated and highly diverse neighborhoods of
Sawtelle
,
Mar Vista
, and
Palms
, where you'll find many established ethnic and minority communities with plenty of local shops and restaurants catering to these local populations.
The other prominent economic center in West L.A. is
Century City
, a small but dense collection of highrises adjacent to Beverly Hills that was built around the headquarters of 20th Century Fox. To the south of Century City is the affluent neighborhood of
Cheviot Hills
, with lots of parks and large suburban homes. On the foothills of the Santa Monica Mountains to the north of Westwood are the fashionable and famous neighborhoods of
Bel-Air
and
Brentwood
, both of which are full of mansions overlooking the city, some of which have been the home of celebrities.
Climate
Due to its proximity to the Pacific Ocean, West L.A. enjoys a cooler climate than the rest of Los Angeles. During the summer, temperatures can be as much as 10-15 degrees cooler in West L.A. than locations further inland, in large part due to the constant sea breezes in the area. Fog is a common occurrence, especially in the months of May and June.
Get in
By car
Interstate 405
passes through West Los Angeles just south of the Sepulveda Pass. The area is noted for high levels of congestion, especially during rush hour.
By plane
Los Angeles International Airport
(
LAX
) is about 20-30 minutes away, and has a very large number of flights to and from the airport. The LAX FlyAway provides a shuttle service from Westwood to LAX for $10 each way; the FlyAway stops at 11075 Kinross Ave, adjacent to UCLA Lot 32, where parking is available for a fee.

By public transit



On the west side, local transit is provided by three main carriers.

Metro is the major operator of bus and rail services in Los Angeles County. The Metro Rail Expo Line roughly parallels I-10 through West L.A. and tends to be the fastest transit service to the area from Downtown L.A., stopping in the Palms and Sawtelle neighborhoods on its way between Culver City and Santa Monica, with bus connections to other Westside neighborhoods available at each station. Frequent Metro bus routes that pass through the area include the 2 (Sunset Blvd), 4/Rapid 704 (Santa Monica Blvd), 20/Rapid 720 (Wilshire Blvd), and the 33/Rapid 733 (Venice Blvd), with the Rapid lines stopping only at major intersections. Additionally, the 28/Rapid 728 connect Century City to Downtown L.A. via Olympic Blvd, while the Rapid 734 (weekdays only)/234 (weekends only) link the Expo Line Sepulveda station, Westwood, UCLA, the Getty Center entrance, and the San Fernando Valley via Sepulveda and Westwood Blvds. Metro fare is $1.75.
Big Blue Bus primarily serves Santa Monica and UCLA/Westwood (and the major streets between), but also has a network of routes that serves just about every neighborhood in the area, as well as routes that head out to Pacific Palisades, Beverly Hills, Culver City, Venice, and an express route (#10) along I-10 to Downtown L.A. Additionally, the #3 bus reaches the LAX Airport Transit Center, making it a handy way for air travelers to reach the Westside cheaply. The standard fare on all buses (except #10) is $1.25.
Culver City Bus primarily serves Culver City, but also runs buses to UCLA/Westwood (#6), Century City (#3), and LAX (#6), thus also serving as a primary carrier of tourists from LAX to the UCLA area. The base fare is $1.
See
Annenberg Space for Photography

address: 2000 Avenue of the Stars

A small public art gallery dedicated to photography. Often, but not exclusively features exhibits with entertainment and music industry themes.

Fox PlazaIn the middle of Century City is this otherwise nondescript postmodern skyscraper that's notable for being the headquarters of 20th Century Fox and will be instantly recognizable to Die Hard fans as the fictional Nakatomi Plaza.

phone: +1-310-443-7000

address: 10899 Wilshire Blvd

A UCLA-affiliated institution which houses changing exhibitions of contemporary, modern, and classical art, with a particular focus on Los Angeles-based work. The basis of the museum's collection is a set of significant European works collected by the institution's founder, Armand Hammer. The museum also holds many free public programs, including lunchtime "Art Talks" every Wednesday at 12:30PM.

phone: +1-310-553-8403

address: 9786 W Pico Blvd

Focusing on the history of the Holocaust, this museum contains many interactive exhibits designed to challenge visitors to assess their own levels of tolerance. Many of the exhibits are meant to engage kids (about 10 and older), and you may find your kids asking you about things such as racial and economic tensions. A highlight of the museum is live testimonies by Holocaust survivors who serve as museum volunteers.

phone: +1-310-440-4500

address: 2701 N Sepulveda Blvd

In the hills above Sepulveda Pass is this expansive contemporary facility devoted to Jewish heritage. Among its libraries, classrooms, conference rooms and gardens is a museum with a permanent collection of historical artifacts, artwork, and interactive exhibits on Jewish history and culture, with an emphasis on the Jewish-American experience. A highlight of the museum is a large children's area modeled after Noah's Ark, with animal puppets and figurines that kids can play with.

Westwood Village Memorial Park

phone: +1-310-474-1579

address: 1218 Glendon Ave

See the final resting places of some of Hollywood's most famous celebrities, including Marilyn Monroe, Dean Martin, Natalie Wood, Jack Lemmon, and Don Knotts, in a compact 2 acre cemetery.
Getty Center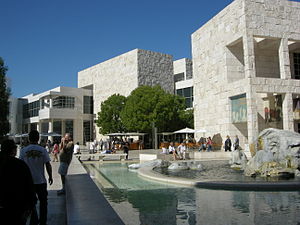 phone: +1-310-440-7330
address: 1200 Getty Center Dr
One of two locations of the
J. Paul Getty Museum
, the Getty Center is unquestionably one of the finest museums in the nation, with a collection of European art from the Middle Ages to the modern era set against a backdrop of dramatic architecture and tranquil gardens. Perched atop the Santa Monica Mountains and accessible only via tram from the bottom of the hill, the museum offers spectacular views of the L.A. basin and the Pacific Ocean.
The focal point of the expansive museum campus is a central courtyard ringed by several buildings which display most of the museum's holdings, linked by bridges and terraces which offer superb views of the museum campus and the surrounding landscape. The courtyard level hosts the Getty's permanent collection of European sculpture and decorative arts, as well as some changing exhibits, while the upper level displays the museum's European paintings. Outside is a large garden centered around a reflecting pool with a flowering maze set within the pool, surrounded by specialty gardens and expansive lawns that make an excellent place for a picnic.
The other museum location, the Getty Villa in
Pacific Palisades
, is about 11 miles to the west via Sunset Blvd and covers the arts and cultures of ancient Greece, Rome, and Etruria; you can visit both in the same day (Wednesday through Sunday) and pay the parking fee only once (save your ticket stub), but don't expect to have any time left over for other activities.
University of California Los Angeles
Spread out over 400 acres on the northern end of Westwood, UCLA is the largest branch of the University of California system by student population and is a major center of activity. The campus is a massive complex of academic facilities, residence halls, museums, gardens and pathways which make for a pleasant stroll. The original center of campus is , a grassy quad framed by the beautiful red brick Italianate structures of Royce Hall and Powell Library, with a fountain on the west side overlooking the rest of campus. From here a long stairway, the Janss Steps, leads west to the focal point of campus life: , where you'll find the student union, the bookstore, and the student rec center, as well as a statue of Bruin Bear, the university's mascot.
phone: +1-310-825-4361

address: 308 Charles E Young Dr N

A cultural museum that hosts changing and permanent exhibitions featuring art and archaeological artifacts, with a particular focus on non-Western cultures. A number of striking artifacts from Africa, Asia, the Pacific, and the Americas are on regular view, including tribal masks, religious figurines, headdresses, and a Chinese hand puppet.

Franklin D. Murphy Sculpture GardenIn the middle of the arts and social sciences section of campus, this noted sculpture garden showcases dozens of modern and contemporary sculptures from masters such as Calder, Matisse, and Rodin.

Mildred E. Mathias Botanical Garden

phone: +1-310-825-1260

address: 100 Stein Plaza Driveway

Created as an experimental garden of rare and exotic plants for the university's botany program, this garden makes for a tranquil retreat from the urban landscape, with many tropical and subtropical plants as well as a stream running through the middle of the garden.
Do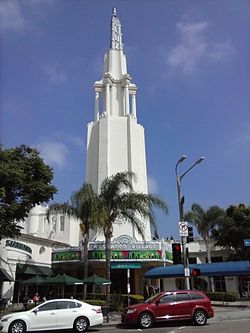 Buy
address: 225 26th St

A small shopping on the border of Brentwood and Santa Monica. The motif may be rural, but the shopping is less 'shabby', more 'chic'. Features boutique shops and the Farmshop market/restaurant.

phone: +1-310-478-1819

address: 2015 Sawtelle Blvd

Featuring Japanese pop-culture toys and merchandise.

Mitsuwa Marketplace

address: 3760 S Centinela Ave

A Japanese supermarket with several locations in the US, boasting a collection of Japanese food shops in its food court such as Santouka Ramen, Tendon Hannosuke tempura, Sanuki Sandou Udon, Misasa, and Daikichi Sushi.

phone: +1-310-575-3300

address: 2130 Sawtelle Blvd

A Japanese market located in the 'Little Osaka' neighborhood. Can be a slightly pricier option, but the selection and variety are good. Their produce department is a good place to start when looking for harder-to-find fruits and ingredients.

Westfield Century City

phone: +1-310-277-3898

address: 10250 Santa Monica Blvd

An upscale shopping center in the Century City neighborhood, featuring an AMC 14 Cineplex, Bloomingdales, Gelson's Market, and Macy's. Underground parking garage.

phone: +1-310-470-8752

address: 10800 W Pico Blvd

One of the few closed-roof malls remaining on the West Side. Anchored by Macy's and Nordstrom department stores. The 12-screen Landmark Cinema often features Limited-release films and special screenings, to complement the more expected mall appurtenances.

Westwood VillageA pedestrian friendly shopping district adjacent to UCLA. Features American Apparel, Bel Air Camera, Buffalo Exchange thrift store, Target, Trader Joe's market, Urban Outfitters, Whole Foods, and a selection of smaller shops and services.

phone: +1-310-915-0200

address: 12515 Venice Blvd

Apparel, supplies, and sundries for the discriminating time traveler. You got your canned Mammoth Chunks, your robot repair parts, and the ever-popular Viking Odorant. (All proceeds from sales go towards the shop's real reason for being: the 826LA writing workshop program for school-age students.) There's another location in Echo Park.
Eat

West LA has a wide variety of food types and pricing. Westwood Boulevard features numerous restaurants of Iranian, Indian, and Pakistani cuisine, while Sawtelle Boulevard features many Japanese restaurants. There are a number of Indian and Pakistani restaurants along Venice Boulevard in Palms, mostly offering North Indian cuisine. Westwood Boulevard between Pico and Wilshire is filled with Persian restaurants, serving the largest Iranian population outside of Iran (which is concentrated in Westwood, Beverly Hills, and Santa Monica). There is a large cluster of Jewish delicatessens and restaurants on Pico Boulevard south of Beverly Hills, with both Ashkenazic and Middle Eastern Jewish cuisines represented. There is a small cluster of (mostly) Japanese restaurants colloquially known as Little Osaka on Sawtelle Blvd (just west of 405) bounded by Santa Monica Blvd to the north and Olympic Blvd to the south.

Budget
Mid-range
Splurge
Desserts
Drink
address: 1037 Broxton Ave

A sports bar with 40 beers on draft and 160 bottled beers that has had locations in Los Angeles since 1920.

phone: +1-310-820-6667

address: 12238 Santa Monica Blvd

Trendy bar that maintains a dive bar atmosphere. Happy hour is lively-to-loud with prices that are budget-friendly. They may be a line on peak nights, so visitors are advised to plan accordingly

address: 10877 Wilshire Blvd
Sleep
Go next