Los Angeles/Wilshire
Greater Wilshire
is an area of
Los Angeles
. Its boundaries are Melrose Avenue/
Hollywood
to the north, La Cienega Blvd/
West Hollywood
to the west, the 10 Freeway to the south, and Hoover Street/
Westlake
to the east. The area encompasses the neighborhoods of
Mid-City
,
Mid-Wilshire
,
Fairfax
,
Hancock Park
,
Windsor Square
,
Koreatown
, and
Pico-Union
.
Koreatown is a major attraction and extends along Olympic Blvd from about Alvarado west to Western Ave. The majority of residents in this area are actually Hispanic, however practically all businesses are Korean. K-town is known for its excellent array of restaurants and for its lively nightlife.
Get in



Apart from the easy to understand but crowded road system, use a Metro train or one of the many bus routes to get in and around this pedestrian-friendly region of Los Angeles.

By train
Metro Line trains (marked for Wilshire/Western) run from Downtown Union Station through the area with stops at Wilshire/Vermont, Wilshire/Normandie and terminate at Western Avenue (Koreatown).
Metro Line trains (marked for North Hollywood) share the same tracks from Union Station to Wilshire/Vermont, where they turn north to Hollywood, stopping at Vermont/Beverly.

By bus
Of the many routes that cover the region, the Metro Rapid 720 is good for east-west coverage along Wilshire Boulevard. The 720 starts in Santa Monica and runs down Wilshire through Downtown to East Los Angeles and Commerce, stopping only at major intersections. For local service along Wilshire, consider the less-frequent Metro Local 20. Other frequent east-west Metro routes serving the area are the 14 along Beverly Blvd, the 16 on 3rd St, the Local 28/Rapid 728 on Olympic Blvd, the 30 along Pico Blvd, and the Local 33/Rapid 733 on Venice Blvd, while frequent north-south routes include the Local 204/Rapid 754 on Vermont Ave, the Local 207/Rapid 757 along Western Ave, and the Local 217/Rapid 780 on Fairfax Ave.

See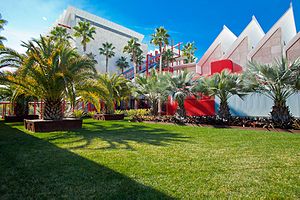 Head over to Hancock Park for a peek at LA's wealthiest (but least-well known) neighborhood. Once there, walk along Larchmont Blvd and look into the overpriced but homey boutiques along Hancock Park's main street. For local Oaxacan & Salvadoran culture, walk along Pico Blvd between Vermont & Normandie (the "Byzantine Latino District") and investigate Latino Catholic imagery & icons at one of the numerous local markets before heading over to Papa Cristo's for Greek. If you're over on La Brea between 1st and 2nd, walk a block over to Sycamore to see gorgeous Art Deco homes and apartment buildings. Walk along the busy, multicultural Wilshire Blvd, the Champs Elysees of Los Angeles, between Hoover and Wilton before checking out Korean nightlife on 6th Street and Oaxacan nightlife on 8th.
Pan Pacific ParkHas a gym, senior center, baseball fields, picnic benches, and children's play areas. Right next to the Fairfax branch of the Los Angeles Public Library.
Museums
Los Angeles County Museum of Art

phone: +1-323-857-6000

address: 5905 Wilshire Blvd

This huge museum features a vast array of works on display from around the globe, with particularly strong collections of Asian, Latin American and American art. You'll want to devote the better part of a day to seeing this place, as the museum is spread out across several buildings. The collection is incredibly varied: iconic pieces of modern art sit a floor removed from artifacts of ancient Greece and Rome. Among the many highlights you'll find are a marvelous pavilion devoted to Japanese art, a remarkable collection of pre-Columbian art from Latin America, and the new Broad Contemporary Art Museum (BCAM) with its many large-scale and innovative installations. On the grounds (and viewable to all for free) are several massive installation pieces, including Chris Burden's photogenic Urban Light, a veritable forest of working street lamps arranged in front of the Wilshire Blvd entrance, and Michael Heizer's Levitated Mass, a huge boulder perched over a walkway behind the museum. LACMA also hosts many special exhibitions, the subjects of which are often just as varied as the museum's permanent collection.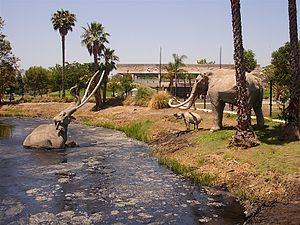 Page Museum at the La Brea Tar Pits

phone: +1-323-934-7243

address: 5801 Wilshire Blvd

An excellent museum that displays fossils of animals – including saber-toothed cats, dire wolves and mammoths – that got stuck in tar pits during the Ice Age 10,000 to 40,000 years ago. Visitors can watch fossils being prepared and learn about the natural and human history of the tar pits. However, the real highlight is just outside the museum in Hancock Park, where you'll find a Pleistocene Garden and the tar pits themselves, with life-size replicas of extinct mammals and where you can witness the ongoing excavation of the pits.

phone: +1-323-930-2277

address: 6060 Wilshire Blvd

Has a great display of more than 150 rare and classic cars, trucks and motorcycles amidst its four floors and . The first floor traces the history of the automobile, the second floor has five rotating exhibits of cars, the third floor is a hands-on Discovery Center, and the top floor is an all-glass penthouse conference center that is used primarily for special events. The intersection outside is the site of the Biggie Smalls murder. Recently reopened after an extensive renovation, the exterior of the building sports a striking array of steel ribbons that wrap around the structure.

Craft & Folk Art Museum (CAFAM)

phone: +1-323-937-4230

address: 5814 Wilshire Blvd.

Hosts exhibitions of traditional folk art and contemporary craft. Also offers classes and workshops where participants can create their own works of art.
Photo galleries
La Brea Ave has a string of great photo galleries with changing exhibitions - a great place to see excellent photography, and if you can afford it, to buy some. Wilshire and Beverly Blvd also have several dotted around.
phone: +1-323-934-2250

address: 148 N La Brea Ave

Home of some great photographers, such as Herb Ritts.
Do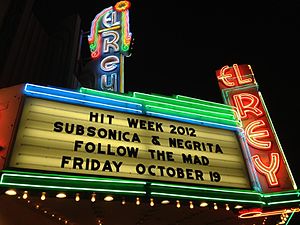 Buy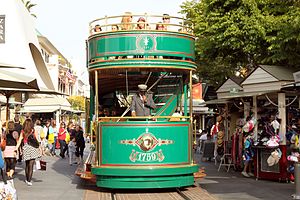 Shop along La Brea between 1st & 2nd for a good selection of vintage as well as expensive jeans.
phone: +1-323-900-8080

address: 189 The Grove Dr

An outdoor shopping and entertainment complex that will appeal to tourists that want to shop, with most of the fashion chains you can expect to find at any upscale mall, as well as some restaurants and a movie theater. At the center of the complex is a dancing fountain, and a tourist trolley offers free rides between The Grove and the adjacent Farmers Market.

phone: +1-323-933-9211

address: 6333 W 3rd St

A historic market complex dating from the 1930s with lots of produce stands, shops and gourmet restaurants, and today it remains a popular spot for locals to pick up fresh produce. A tourist trolley offers free rides between the Farmers Market and The Grove.
phone: +1-323-935-9451

address: 6333 W 3rd St

If you enjoy cheese and wine, then you'll love shopping here! Monsier Marcel is a delightful French deli in the Farmers Markets on 3rd Avenue where you can stock up on a range of gourmet produce, but most importantly there's over 500 vintage of wine on offer with a range of experienced staff to help you make your decisions.
Decades

phone: +1-323-655-1960

address: 8214 Melrose Ave

This Melrose Avenue shop is the place to go for vintage 1960s and 1970s couture and accessories.
Eat
Eating one's way through Koreatown is an adventure that could take years. Korean restaurants tend to specialize in one thing or another and are pleasantly surprised when outsiders show up and take an interest. Koreans in Los Angeles and in the mother country are now affluent enough to explore their own specialty foods and regional cuisines. This evolving scene seems less formal and more accessible to outsiders than Japanese or Chinese counterparts. Local Channel 18 (KCSI) runs foodie shows that are often captioned in English.
Apart from the ubiquitous Korean frozen yogurt shops (most famously, Pinkberry) and the numerous soju & norebang(karaoke bars, try one of the Korean BBQ places at Chapman Market along 6th a few blocks west of Vermont Ave for delectable Korean meat.
Budget
phone: +1-213-487-0968

address: 2819 James M Wood Blvd

Good Korean BBQ at a really great price (around $20 is enough to stuff two people). The decor isn't as fancy as more expensive places, but it has charm. The menu is family style, so one order is enough to feed two people. Like most Korean BBQ places, servers bring the meat out for you to cook at your table (but that doesn't mean you shouldn't tip!) With your meal comes a variety of traditional Korean side dishes and a plate of julienned scallions to enjoy with your freshly grilled meat. For finicky eaters or those new to Korean food, the bulgoki (marinated beef) is always a good choice. On warmer days, or whenever you want a lighter meal, try their cold noodle soup (white somen noodles in a cold soup of clear, mild kimchi) with your meal instead of rice.
phone: +1-323-931-4223

address: 709 N La Brea Ave

Serving the most famous hot dogs in Los Angeles since 1939, their chili dog will set you back just $2.50. Open every day from 9:30AM to 2AM or later. Expect a long but fairly fast-moving line.

Toast

phone: +1-323-655-5018

address: 8221 W 3rd St

Serves traditional American breakfast all day for a reasonable price. Also great lunch food! Popular with famous people.

address: 8393 Beverly Blvd

Offers a variety of soy meat-substitutes & tofu choices in the entrees. Also veggie burgers, salads, soups, and noodles. Recommend the papaya salad, spring rolls, spicy eggplant, and yummy carrot cake. The lunch specials are good bargains (soup, salad, spring roll, brown rice, and choice of entree). Friendly service in a casual, clean setting. Parking available in the lot and on the street.
Mid-range
address: Two locations in Koreatown

The menu includes various types of soon tofu stews (at around $8) and combination meals including other traditional Korean entrées (Korean BBQ, bibimbap, etc.) along with a small bowl of soon tofu stew (at around $11-14). Each order comes with a bowl of rice and the standard array of traditional Korean side dishes. Service and atmosphere are always great. The décor at the location on Wilshire is particularly nice. For those new to eating soon tofu, particularly at BCD Tofu House, there is a certain order to follow in eating your meal (such as cracking the optional raw egg into the stew while it's still boiling). Don't be afraid to wave your server down and ask questions. (Many Korean restaurants have implemented bells at each table in case you have a particularly hard time getting the attention of any servers). Several locations (including the 2 in Koreatown) are open 24 hours.
BCD Tofu House

phone: +1-213-382-6677

address: 3575 Wilshire Blvd

BCD Tofu House

phone: +1-213-380-3807

address: 869 S Western Ave
phone: +1-323-951-9191

address: 7371 Melrose Ave

Good food with options for everyone. Even some Czech items.
phone: +1-323-931-8588

address: 7475 Beverly Blvd

Tasty California-style Asian food.
phone: +1-323-651-2030

address: 419 N Fairfax Ave

Awesome Jewish deli on Fairfax, a few blocks north of 3rd. This place has been around since 1931 and you'll know why if you stop by.
phone: +1-323-734-2773

address: 1121 S Western Ave

One of the original LA Mexican restaurants is wildly popular, especially for their green corn tamales, when they're in season.
phone: +1-323-939-2255

address: 7312 Beverly Blvd

Known for its margaritas, fun atmosphere, and cute/tacky decor, this Mexican restaurant opened in 1931 at 1st and La Brea, and in 1951 moved to its present location on Beverly Blvd. It is the restaurant where Sharon Tate and her friends ate their last meal before being murdered by the Charles Manson family in 1969.
phone: +1-323-653-2121

address: 8222 W 3rd St

The "Most Romantic Indian Restaurant in Los Angeles" offers authentic Punjabi cuisine at reasonable prices for lunch and dinner; a beautiful, candle-lit dining room and open-air courtyard; unique cocktails; and warm, professional staff.
phone: +1-213-427-0608

address: 3014 W Olympic Blvd

For the best mole this side of Oaxaca, go to Guelaguetza in Koreatown. The interior is charming, often with a Mexican band is playing. But the star is the mole -- three types are on offer. Try them all, and from then forward when you are stuck eating an everyday lunch, you will dream of Guelaguetza.
phone: +1-323-525-0588

address: 7119 Melrose Ave

One of the hottest new places in Hollywood. If you've been infected with Organica or Macrobiotica, head here now. It's often impossibly crowded and parking's a nightmare. They've got lots of premade things that are handy if you're short on time, otherwise it's better to order fresh, considering how far you'll be set back.
Soot Bull Jeep

phone: +1-213-387-3865

address: 3136 W 8th St

Classic Korean BBQ where thinly sliced and/or marinated meat is grilled right at the table. Gets fairly smoky, so don't wear anything that needs dry-cleaning.
phone: +1-323-653-5858

address: 8020 Beverly Blvd

Overly trendy and very popular for an update on diner-style food. Great for breakfast at anytime of the day... and salads, sandwiches, a large menu. Prepare to be assaulted by hipness.
Splurge
phone: +1-323-782-9225

address: 435 N Fairfax Ave

Somewhat of an anomaly in an increasingly vegetarian Los Angeles, Animal does what it does extremely well. Jon and Vinny (Two Dudes Catering, Iron Chefs) have finally opened their first restaurant, and their hard work and determination most certainly shows up in the super tasty and creative cuisine. Pescatarians will do just fine with the daily fish, but vegetarians beware, there's not much here for you.

phone: +1-323-655-6566

address: 8225 Beverly Blvd

Popular for yummy steaks and an inventive menu.
Drink
phone: +1-213-381-7047

address: 3440 Wilshire Blvd

Dive-y lounge featuring karaoke

phone: +1-323-852-1552

address: 8138 W 3rd St

Tequila's the order of the day here, tasty margaritas, greasy tacos and a chill atmosphere.

HMS Bounty

phone: +1-213-385-7275

address: 3357 Wilshire Blvd

Old Hollywood dive, cheap drinks, neighborhood bar
Sleep
Beverly Laurel Motor Hotel

phone: +1-323-651-2441

address: 8018 Beverly Blvd

A popular hotel, next door to Swingers.

address: 6301 Orange St

A small, elegant inn.
Connect
C and C Internet Cafe

phone: +1-213-251-0150

address: 3500 Wilshire Blvd
Go next