Los Angeles 2028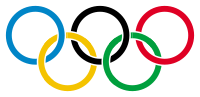 The Los Angeles and Orange County articles provide a more comprehensive guide to those visiting the city and locations where the games will be taking place.
As is usual for the Olympics, soccer events will also take place at other sites with not all of them fully determined yet.
Prepare
Tickets

===Accommodation===

Get in
General information about traveling to Los Angeles appears in the
Los Angeles
article.
By train
It is possible that construction of a new
high speed rail
line linking Los Angeles and San Francisco will be sped up in order to open the line in time for the games, similar to what was done with the first Shinkansen ahead of the 1964 Tokyo Olympics
Get around
During the 1984 Olympics traffic was feared to be nightmarish and local media were drumming on about this for months ahead of the games, which led many locals to forego driving during the games, actually resulting in better than usual driving. Back then the LA Metro did not yet exist, while it includes roughly of light and heavy rail lines as of 2017 with a lot of new construction planned to happen before the games - much of it approved in a 2016 ballot measure unconnected to the games. Many venues are connected to public transport already and for many others, such a connection is planned. Choosing lodging with good public transit access can make getting around much easier.

See

==Where==
One of the selling points of Los Angeles for these Games, as well as for the earlier 1932 and 1984 editions, was its number of pre-existing facilities, some of them left over from 1984 or even 1932. Some new venues are being built, but these are mostly stadiums for major U.S. professional sports teams that would have been built with or without the Olympics, and are scheduled to be completed years ahead of the Games.