Los Angeles International Airport
Los Angeles International Airport
(
LAX
) is the primary airport serving Los Angeles. LAX—as the airport is more commonly known—is on the West Side of Los Angeles in the suburb of Westchester. The airport is one of the busiest in the world, and is a major point of entry to the USA for flights from Asia and Oceania.

Understand

LAX is a massive airport, with nine terminals built in different eras in a variety of architectural styles, of which the common element is that they all seem cramped on the inside (that is, relative to the size and importance of the airport). Some terminals have been renovated and look relatively modern, while others are definitely showing their age. Most were built before the Transportation Security Administration (TSA) implemented modern security checkpoints, which means the checkpoints were shoehorned into the existing buildings with very awkward results. There is ongoing construction to modernize or upgrade several terminals and infrastructure which can result in changes to the locations of airline check-in desks, airline gate assignments, and bus/shuttle stops. Expect delays getting to and from the airport. See
LAXisHappening.com
or follow on Twitter for construction updates and for any such changes.
Flights
LAX serves dozens of airlines offering flights to numerous cities across the country and around the world.
Terminal 1
Southwest Airlines
international departures and all domestic flights; their international arrivals are at TBIT (Terminal B). It is undergoing an extensive renovation that is expected to be completed in 2018.
Terminal 2
Delta Air Lines, and a few foreign airlines that do not use TBIT, including Aer Lingus, Aeroméxico, Virgin Atlantic, and WestJet.
Terminal 3
Delta Air Lines
. Check-in facilities for Avianca, Copa, Interjet, and Virgin Australia (whose flights are at TBIT).
Tom Bradley International Terminal (TBIT/Terminal B)
Most international flights on all other foreign flag carriers, and international flights for Southwest Airlines.
Terminal 8
Smaller jets, and used by United Airlines and United Express as an extension of Terminal 7. Terminal 8 is not accessed from the roadway and only accessed from Terminal 7 from the public side.
Many international flights don't use Tom Bradley International Terminal.
To avoid missing flights, always determine in advance which terminal your international flight will be flying in or out of, especially if you are connecting through LAX. Most of the time, the first digit of your gate number determines what terminal you depart from. Gate 9 is an exception, being located in terminal 1. If your gate number has three digits excluding letters, you are going to the TBIT.
Ground transportation
Arrive at the airport at least 1½-2 hours before your flight (2-3 hours if traveling internationally) as check in procedures and lines for security can be long and time-consuming.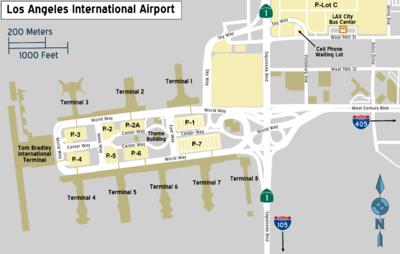 The upper level of the airport structure is used for drop-offs (departures) while the lower level is used for pick-ups (arrivals). The lower level roadway is divided into an inner and outer roadway, with private vehicles using the outer (right-hand side) roadway and commercial vehicles (including shuttles), circling the inner (left-hand side) roadway and stopping at islands that divide the two roadways.
When departing the airport, the
lower level
roadway outside of each terminal is divided into zones indicating the transportation options available. The different pickup zones are clearly marked by brightly colored signs corresponding to the type of transportation you are looking for:
White

- Passenger pick-ups, including private vehicles, UberBlack and Lyft Lux Black, and hotel and rental car shuttles

Green

- LAX-it shuttles

Blue

- LAX FlyAway buses

Red

- Shared ride vans, and long-distance vans and buses

Magenta

- Airport shuttles for airline connections, Lot E economy parking, and connections to the LAX City Bus Center and Aviation/LAX station
The green, blue and magenta zones use the inner lower level roadway, while the white and red zones use the outer roadway.
By public transportation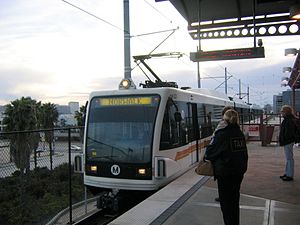 Public transportation connections for the airport are not good. LAX is 16 miles (25 km) from downtown Los Angeles. To connect with the city's rail system, take the free shuttle bus (the "G" or "Green Line" shuttle) from the airport terminals to the Aviation/LAX station, where you can board the
Metro Rail
system. Or get on the "Lot C" or "C" shuttle to the LAX City Bus Center, where you can board buses to the nearby areas in
Torrance
,
Santa Monica
, UCLA in
Westwood
,
Norwalk
,
Redondo Beach
and
Manhattan Beach
. The shuttles pick up from the
MAGENTA 'Airport Connections' signs at the inner curb in front of each of the LAX terminals. See the below as to what transit options are available:

at the south side of the former Parking Lot C on West 96th Street & Skyway/Vicksburg Avenue:
Big Blue Bus #3/3R (goes northwest to Santa Monica via Lincoln Blvd and south to the 'LAX Aviation Station')
Culver City Bus #6/6R (goes north to Culver City and the UCLA campus in Westwood via Sepulveda Blvd and south to the 'LAX Aviation Station').
Torrance City Bus #8 (goes south to Torrance)
Beach Cities Transit #109 (to Redondo Beach via Aviation/LAX Station, El Segundo, Manhattan Beach and Hermosa Beach)
Metro #40 (goes north to downtown Los Angeles via Hawthorne, Inglewood and Lennox neighborhoods along Hawthorne/La Brea and MLK Blvd and south to Redondo Beach. Airport service is only available on the late night/early morning runs between 12:58 AM and 4:23AM, during which there is no Metro Rail service - check linked schedule)
Metro #102 (goes east to Palm & Seville in South Gate via La Tijera Blvd & Exposition Blvd; stops at the Expo/Western, Expo/Vermont, Expo Park/USC and Jefferson/USC stations on the Expo Line, and Florence station on the Blue Line)
Metro #111/311 (goes east to Norwalk station on the Green Line along E Florence & Studebaker Rd; stops at Florence station on the Blue Line)
Metro #117 (goes east to the Lakewood Blvd station on the Green Line in Downey via Century Blvd & Imperial Hwy; stops at the 103 St/Watts Towers station on the Blue Line)
Metro #232 (goes south to Long Beach via Sepulveda Blvd & Pacific Coast Hwy
(nearest Metro Station) further south at Aviation Blvd and Century Freeway (I-105):
Metro Green Line Train(goes east to Norwalk and south to Redondo Beach. You can ride east on the Green Line to Willowbrook station, where you can transfer to the Metro Blue Line to Downtown Los Angeles or to Long Beach in the other direction.)
Big Blue Bus #3/3R (goes northwest to Santa Monica via the 'LAX City Bus Center')
Gardena City Bus #5 (goes east to the 'Imperial' Metro station in Willowbrook along El Segundo Blvd through the northern part of Gardena)
Culver City Bus 6/6R (goes north to the LAX City Bus Center and the UCLA campus in Westwood via Sepulveda Blvd).
Beach Cities Bus #109 (to Redondo Beach via El Segundo, Manhattan Beach and Hermosa Beach in one direction and LAX City Bus Center in the other)
Metro #120 (goes east Whittwood Mall in Whittier via Imperial Hwy)
Metro #625 (goes west to the LAX administration offices, aircraft maintenance hangars and airline cargo terminals at the opposite side of the airport grounds via Imperial Hwy and World Way W)

A more direct service is the LAX FlyAway bus, which takes you from the BLUE 'LAX FlyAway' signs at the inner curb in front of each of the LAX terminals. Different buses pick up with the following destinations:

:* A second Van Nuys stop is on the south side of Victory Boulevard just east of Woodley Avenue, near the Woodley station on the Metro Orange Line bus route, hourly from 4:45am to 11pm.


The fare is $8-$10 depending on destination and can only be paid by credit or debit card (all major cards accepted). No cash is accepted
Click here for the trip planner program which tells you which bus(es) to take to get to your final destination. Nearby hotels and hostels do send their own shuttles to the terminals to pick up and drop off guests so no need to use public transportation to get there. Their shuttles pick up from under the WHITE 'Passenger Pickup' signs at the outer curb, in front of each terminal.

By long distance bus and van
The long distance buses and vans to the adjacent Ventura, Santa Barbara, Kern, North Los Angeles (Lancaster & Antelope Valley) and Orange Counties pick up and drop off from under the RED signs at the outer curb in front of each of the LAX terminals:
There are no shuttles from LAX to San Diego or Tijuana. To continue to San Diego take the LAX Flyaway bus (see above) to the downtown Union Station and transfer to the Amtrak Pacific Surfliner Train or take a taxi to the Greyhound terminal at 1716 E 7th St and continue by bus to San Diego. Take the Intercalifornias or Tufesa bus from downtown Los Angeles to Tijuana. Alternatively take the Flyaway bus going to Long Beach and transfer to a taxi or bus (Rt #1,51,52) from the downtown Long Beach bus station to the Greyhound station at 1498 E Long Beach Blvd (at 15th & Long Beach Blvd) for the onward connection to San Diego.

By car
Being that you are in Southern California, renting a car may be your best option for getting about. If you rent a car, there are around 10 companies with very frequent shuttle buses picking up on the lower level around all terminals and going to large offsite lots. If you want to compare prices, you will need to do so using the telephones in the arrivals area or on the internet in advance of arriving. There are no details from the shuttle drivers or negotiable prices. Signing up to one of the car rental club schemes can get the shuttle bus to drop you at your car, thus saving substantial time.
Most traffic enters the airport from (West) Century Boulevard exit of the 405, due to heavy traffic and road works the last mile of Century can take 2 minutes to drive. The airport operates a long-term parking lot outside of the main airport that is accessible by shuttle bus. Private companies including hotels offer many additional options and include everything from open-air lots to garage parking with car washes. For those waiting to pick up passengers there is a cell-phone waiting lot adjacent to the LAX City Bus Center where you can wait in your car for up to two hours.

Central Terminal Area Parking StructuresThis option is useful for those making pick-ups or drop-offs. Approximately 8000 parking spaces are available in multiple structures in the center of the airport.

Economy Parking - Lot E

address: 5455 West 111th St.

2,690 open-air parking spaces just outside of the main airport, replacing the former Lot C. The 'Lot E' shuttle buses run regularly to bring passengers to and from this enormous lot.
Rental cars
Most rental car companies have locations along Aviation Boulevard north of Century Boulevard and along Century Blvd. Shuttle buses are available from under the WHITE 'Passenger Pickup' signs along the outer curb, in front of the airport terminals (about 10-20 minutes ride). For rental companies that don't have their own shuttle, take the Lot C Shuttle bus from the MAGENTA 'Airport Connections' signs along the inner curb to the designated parking lot where you'll meet the car rental company's representative. Expect up to 20 minutes to take a shuttle through traffic.
This being Los Angeles, there are plenty of choices for luxury and exotic rentals in addition to the usual national and regional chains.

phone: +1-310-670-2020

address: 9220 S Sepulveda Blvd

Luxury cars and SUVs, exotic and sports cars.

address: 204 Hindry Ave

Classic and exotic cars, luxury cars and SUVs.

phone: +1-310-665-9000

address: 5250 W Century Blvd, Suite 102

Luxury cars and SUVs, exotic and sports cars, and several electrics.

There are a couple of gas stations on Aviation Blvd, although stations a little further away may be cheaper.

By taxi or ridesharing
All taxis and UberX, Lyft (including Lyft Lux) and Opoli now pick up passengers from the new LAX-it lot beside Terminal 1. LAX-it was only implemented in October 2019, and the new pick-up system still has its fair share of teething issues, although the process has become smoother than when it was first implemented. Arriving passengers can either walk to the LAX-it lot, or take shuttle buses from the GREEN 'LAX-it' signs at the inner curb in front of each of the LAX terminals. Unlike other shuttles serving the airport, LAX-it shuttles serve only designated terminals, so make sure to board the right shuttle.
When requesting for an Uber, Lyft or Opoli, you will receive a code which, after arriving in the zone for the ridesharing service booked, you will need to show to the driver in order to be picked up. Taxis may be hailed normally from the taxi rank in the LAX-it lot. Unlike other vehicles which may only pick up passengers at LAX-it, UberBlack and Lyft Lux Black vehicles may continue to pick up passengers direct from the terminals at the WHITE 'Passenger Pickup' signs at the outer curb in front of each terminal, and vehicles entering LAX may continue to drop off passengers directly at the terminals.
Taxis to Downtown cost $45.00 and take 30 min in good traffic but can be far slower (and more expensive) in rush hour. Taxis to Santa Monica cost $35, while those to Disneyland cost $70. UberX and Lyft prices are competitive with that of regular taxis.

By shuttle bus
Many area hotels and private parking lots run frequent shuttles between their establishment and the terminals. All shuttles pick up and drop off from under the WHITE 'Passenger Pickup' signs at the outer curb, on the lower level in front of each terminal.

Get around
By shuttle
There is a free shuttle bus connecting the terminals landside. The "Airline Connections" or "A" shuttle bus loops around all the terminals on the lower level roadway; it stops at the zone marked "LAX Shuttle and Shuttle Connections." If you are transferring between directly adjacent terminals, walking is nearly always quicker than the shuttle.
American Airlines operates an airside shuttle bus between Terminal 5 (Gate 52) and the remote American Eagle Terminal (east of Terminal 8), while Delta Air Lines operates an airside shuttle bus between Terminal 2 (Gate 21A), Terminal 3 (Gate 35B) and TBIT (Gate 133) which is open to all passengers, whether flying on Delta or not.

By foot
Terminals 4-8 and the Tom Bradley International Terminal are linked by walkways on the secure side, so you can pass between them without having to go through security again. The walk takes about 3-5 minutes between each terminal, and most walkways don't have moving sidewalks. The walkway connecting Terminals 4-6 is underground, accessed from the midpoint of each terminal (respectively near gate 44, between gates 53B and 55A, and between gates 64A-B). The walkways between Terminals 6-8 and between Terminal 4 and TBIT are near the security screening areas.
Including shuttle buses, it is possible to walk from Terminal 2 all the way to Terminal 8 without having to exit the terminal. Terminal 1, however, is not connected to any other terminal behind security, so to get there walking landside or taking a landside shuttle bus is necessary.
Before security, it is possible to walk from one terminal to another along the sidewalk of either the upper or lower level. A streetside sidewalk connects all the terminals. It is no more than a 10-minute walk between any two adjacent terminals (with the obvious exception of 1 and 8).

Wait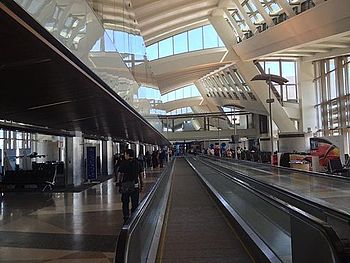 Air Canada Maple Leaf Lounge

Qantas First Lounge

KAL Lounge
Lounges
Tom Bradley International Terminal
phone: +1-310-646-5260

This lounge is for Gold/Senator members only, or those with first/business class tickets. The lounge has 40 seats and 2 VIP rooms for first class passengers and 375 seats for business class passengers. There is a business center, wireless internet access, telephone access, showers, hot and cold beverages, hot and cold snacks, newspapers and magazines, and private rooms available by reservation.

Oneworld Alliance LoungeAccess to First Class Lounges is restricted to Emerald members and those travelling in First Class.

Los Angeles International Lounge (Japan Airlines)
Other terminals
Admirals Club (American Airlines)

Flagship Lounge (American Airlines)

Board Room (Alaska Airlines)

United ClubThese lounges are accessible to United Club Members, first and business class passengers, and Star Alliance Gold members.
Eat and drink
Restaurant options at LAX are extremely hit-or-miss, though an effort to improve dining choices in 2010 did result in more locally based and high-end dining being available. A lot depends on which terminal you're in; some terminals have more choices than others, and restaurants before security are very limited. You can always visit another terminal, if you're landside, but you're in for a bit of a hike, which can be annoying if you're dragging luggage with you. Note that the Encounter Restaurant, which previously occupied the Theme Building in the center of the airport, closed in January 2014.
Tom Bradley International Terminal (TBIT)
Air side has several branches of local restaurants such as Ink Sack, Petrossian, and Umami Burger. 800 Degrees in the Time Tower food court area make reasonably good and fresh pizza.
The land side restaurants no longer exist.
Terminal 1
Terminal 2
Terminal 3
Terminal 4
Kogi TruckOne of Roy Choi's famous kogi Korean taco trucks, this taco and burrito eatery is in an actual food truck and is one of the airport's more reasonably-priced options. Short rib, pork, chicken and tofu tacos are the specialty, but the other options are unique and tasty.

Dunkin Donuts

Homeboy Cafe
Terminal 5
Terminal 6
Redondo Beach Brewing CompanyBeer on tap, bar.

Jody Maroni's Sausage KingdomSausage sandwiches and fries.

Ruby's Dinette

address: in between gates 64-65

Small, sit-down casual restaurant

Monet's California Deli

address: in between gates 64-65

Sandwiches, breakfast burritos.

Home Turf Sports Bar

address: in between gates 64-65

Fairly large sports bar, near the Alaska Airlines Board Room.

Coffee Bean

address: in between gates 64-65
Terminal 7
Klatch CoffeeCoffee, snacks, sandwiches.

Food Court: ¡Loteria! Mexican Grill & Bar, Yogurtland, The Coffee Bean, Counter Burgers

address: in between gates 74-77

Mexican food, frozen yogurt, coffee and pastries, and custom built burgers and breakfast.

B Grill by BOA Steakhouse

address: in between gates 71B & 73

Bright, modern sitdown steakhouse and bar. Entrees including pasta, steaks, burgers, breakfast. Expensive.

Wolfgang Puck Express

address: Near Gate 75B

Bar, takeout counter, and sit-down restaurant. The usual menu of pizza, salads and roast chicken. Restaurant is large and features low lighting, wood paneling and a view of the runways.

Rolling Stone Bar and Grill

address: Gate 72

Open sports bar.
Terminal 8
Food Court: Marmalade Cafe, The Coffee Bean, Carls Jr. & The Green Burrito

address: in between gates 81-82

Casual, small food court area. The Marmalade Cafe has deli salads and pasta; the Coffee Bean has coffee and pastries; Carl's Jr. has fast-food burgers and burritos.

Corona Beach HouseMidrange. Across from gate 86. Bar serving Corona and a few other beers on tap, as well as a full bar and food including nachos and sandwiches, as well as breakfast. Has comfortable lounge type seating as well as table.

Engine Co. No 28Fire-company themed restaurant, bar, and takeout counter with a menu of burgers and entrees.
Buy
Terminal 1
I Love LA

Brookstone

Sol Surf
Terminal 4
Sees Candy

address: Gate42b

Chocolates.

Sunglass Hut

address: Gates 44 and 45

Sunglasses.
Terminal 7
CNN News / Hudson News

address: Gates 71A and 73

Snacks, magazines, gifts.

Universal Studios shop

address: Gate 71A

Movie and theme-park themed souvenirs.

Bartels' LAX Harley-Davidson

address: in between gates 71B & 73

Harley-Davidson store featuring apparel and gear.

Kitson

phone: +1-310-642-0971

address: in between gates 71B & 73

Novelties, apparel and LA-theme gifts.

Hugo Boss Store

address: in between gates 71B & 73
Terminal 8
E! News

address: Next to gates 81-82

Snacks, magazines, gifts.
Connect
As in many other large airports, a WiFi network is available in the terminals, so you can get online with your laptop, tablet or smartphone. The network name is LAX Free WiFi. You can choose between a slower version of it (free, after an advertisement) and a faster premium version provided by Boingo ($4.95/1 hour, $7.95/day). As with other airports, those with lounge access get to enjoy free WiFi sponsored by the lounge's operator.

Cope
LAX Luggage Storage
is an offsite location for baggage storage. Rates are somewhat high and are only charged by the day.
Sleep
The stretch of West Century Boulevard leading into the airport from I-405 is lined with hotels. Additionally, you can find many airport hotels south of the airport in
El Segundo
or east of I-405 in
Inglewood
and lined up along Sepulveda. A number of them do offer a free shuttle or for a fare to and from under the
Red Hotel Shuttles
along the outer curb, in front of the airport terminals. Ask them.
Nearby