Los Glaciares National Park
Los Glaciares National Park
is the second largest national park in
Argentina
and a
UNESCO World Heritage site
. This area of over 4000 km² in Argentine Patagonia is complete with mountains, glaciers, lakes, wildlife and arctic views. The giant ice cap in Los Glaciares National Park feeds over 40 glaciers, the largest outside of Antarctica and Greenland. One third of the park is covered by ice that can tower up to 1500 m in the air.
Understand
Los Glaciares National Park has an area of . It is in the Santa Cruz Province of Argentina and is near the
Chile
border. Its many glaciers include Perito Moreno, best known for the dramatic icefalls from its front wall, into Lake Argentino. In the north, Mount Fitz Roy's jagged peak rises above the mountain town of El Chaltén and Lake Viedma. Los Glaciares, of which 30% is covered by ice, can be divided in two parts, each corresponding with one of the two elongated big lakes partially contained by the park.
Lake Argentino, in the south, is the largest in the whole country, and as such dominates this region of Patagonia. Many tourists begin their journey in the town of
El Calafate
, which is on the shore of the lake. Excursions leave from here by land to the Perito Moreno Glacier. Other excursions venture by boat between the icebergs to many other glaciers, since a majority of them can only be seen by boat.
Lake Viedma, in the north, is home to the Viedma Glacier and Mount Fitz Roy. The village of El Chalten, at the foot of the Fitz Roy Massif, is another starting point into the park (and lacks the
AR$
100 entrance fee present at the Perito Moreno entrance). This is the most popular spot in the region for those who love to climb and trek with its numerous trails. Although most of these are effectively day trails, there are possibilities for staying overnight in a number of campsites.
History
Los Glaciares National Park was established on May 11, 1937. Due to its magnificent natural beauty, it constitutes being a wonder of the world, and was declared a "World Heritage Site" by UNESCO in 1981.
Landscape
Flora and fauna
The park is home to many birds, such as condors and black-crested buzzard eagles.
Climate
Get in
Los Glaciares National Park can be divided into two different entrances, one near the Lake Argentino and the other near Lake Viedma.
El Chalten
is the base from which overnight excursions to the Marconi Glacier are launched.
See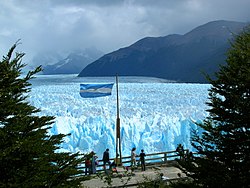 Sleep
Lodging
Camping
Backcountry