Los Llanos (Venezuela)
Los Llanos
is the vast plains region covering much of central and southwestern
Venezuela
.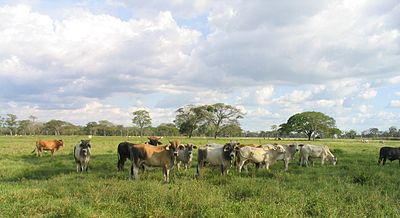 Regions
Understand
Venezuela's Llanos is sparsely populated, mostly by tough farmers and cowboys living off the region's main activity, extensive cattle-ranching.

See
Amazing wildlife including anacondas, the ubiquitous capybaras and caimans, hundreds of bird species, and the much rarer jaguars and anteaters. This is also the last stronghold of the Orinoco Crocodile.
Stunning flat landscapes.
Do
Go on a plains safari from at one of the ranches in the region.
Dance to joropo - the traditional Llanos music.
Eat
Chiguire, or capybara, meat.
Venezuela's best beef
Sleep
Budget
Mid-range
phone: +58 414 3254188, +58 414 468874

address: At km 51 of the Calabozo-San Fernando de Apure national highway, right at the entrance to the town of Corozopando, Guarico state

phone: +58 251 269-2304 (Reservations), +58 273 552-3208 (Posada)

address: On the San Silvestre-San Rafael de Canaguá road in Barinas state, 60 minutes from the state capital.

phone: +58 240 8083662, +58 416 5409420

An excellent ranch and biological station

phone: +58 212 7818995

address: Near Mantecal, in the lower Llanos of Apure

phone: +58 212 991-8935,+58 212 9910079

address: In the central Llanos, southwestern Cojedes

Hato Araguaquén

address: in Cunaviche
Splurge